One Would Never Guess What These Actresses Look Like In Real Life
By Karen D November 13, 2023
---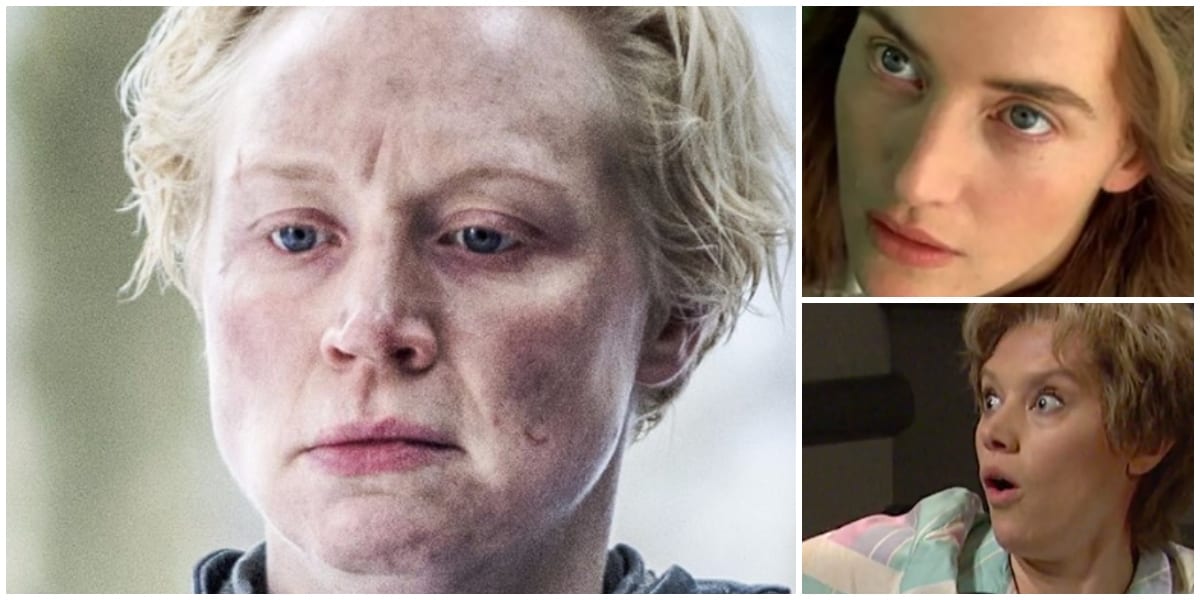 We all know what some makeup and the right outfit can do for our self-esteem. Sometimes, even just some blush and mascara are enough to make us feel more empowered and ready to start the day looking fresh. So, it only makes sense that some makeup and a poor choice of clothing could also change someone's look for the worse. When it comes to these actresses, professional make-up artists and costume designers were hired specifically to help them complete a transformation, to change their looks so much that they ended up barely unrecognizable in their roles on TV and films. Here are some of the most dramatic changes actresses have gone through to look more like their characters, and less like themselves.
America Ferrera
Let's start with the classics. This is America Ferrera in Ugly Betty. We have all seen some sort of version of this show, a beautiful actress is covered in makeup, loose clothes and possibly glasses and orthodontic braces until one day the ugly duckling goes through some kind of transformation and then suddenly starts looking smoking hot.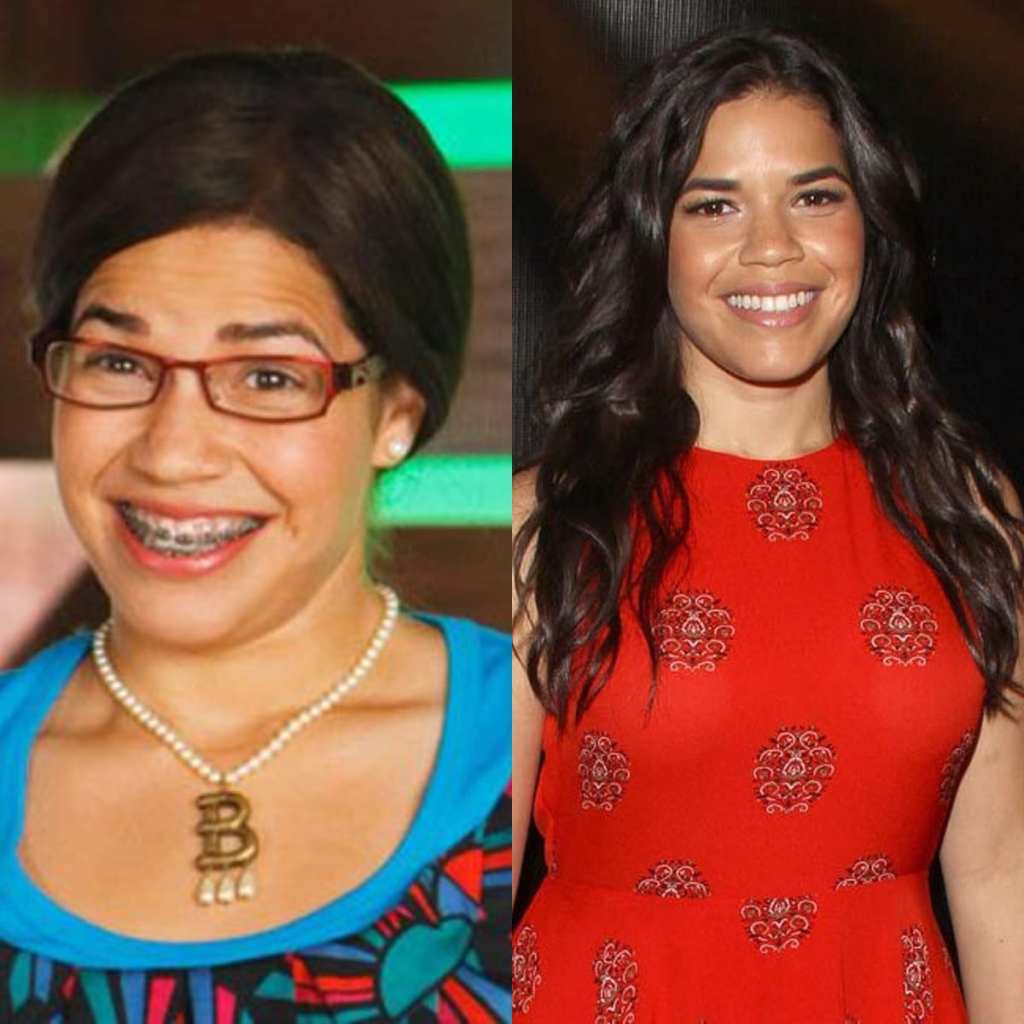 This American show was originally based on the Colombian telenovela Yo soy Betty, la fea, which first aired in 1999. Since then it has been recreated in over a dozen different countries, for different audiences, such as Brazil, China, Israel, and even Thailand.
Charlize Theron
In the 2003 movie Monster, Charlize Theron played the role of Aileen Wuornos, a serial killer who murdered seven of her clients while she worked as a prostitute. Without makeup, light-colored eyebrows, and frizzy hair, the South African actress barely looks like the fierce, attractive woman she is known to be.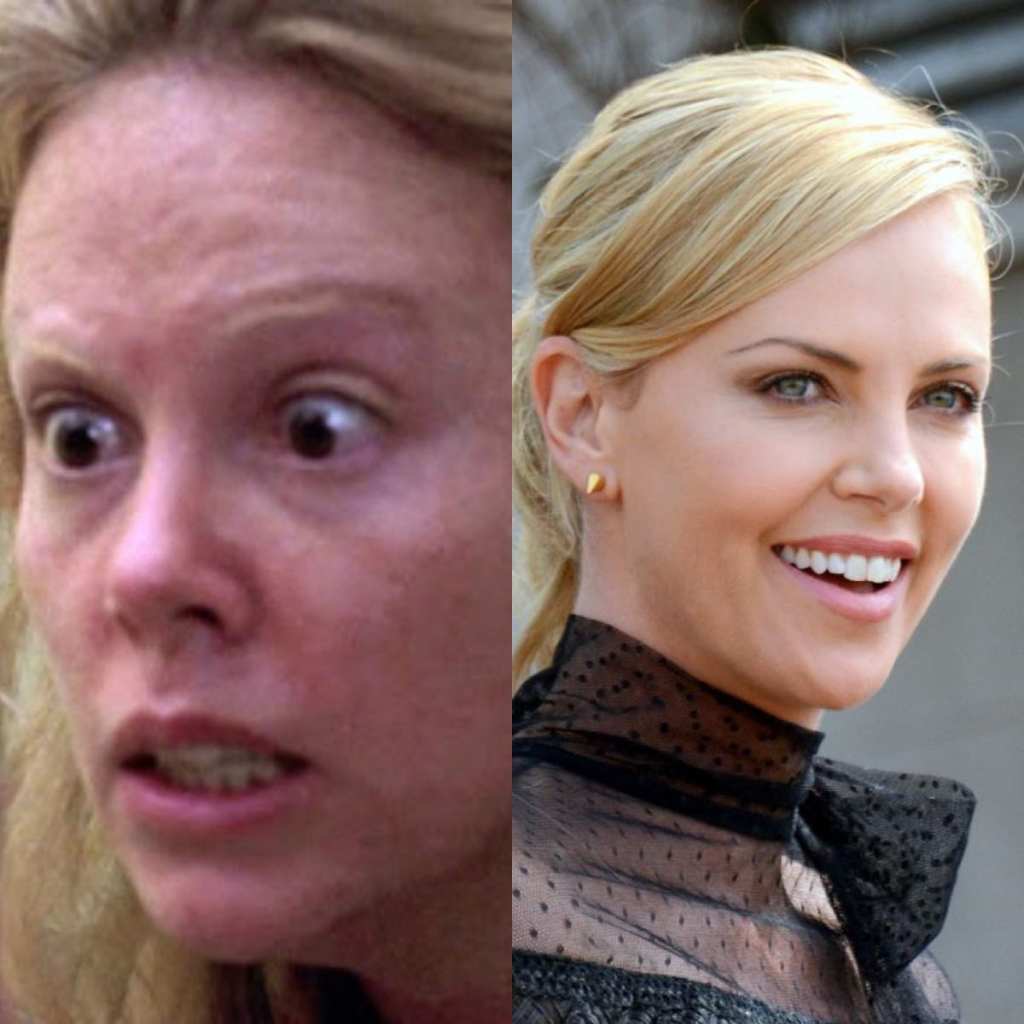 The movie was written and directed by Patty Jenkins and is based on the real story of serial killer Aileen Wuornos, who was sentenced to death for six of the seven murders she committed and was later executed in 2002 in Florida.
Judy Greer
Known for her roles in several big Hollywood movies such as 13 Going on 30, Love & Other Drugs, Dawn of the Planet of the Apes, and Jurassic World, actress Judy Greer also enjoys playing comedic roles in shows and movies.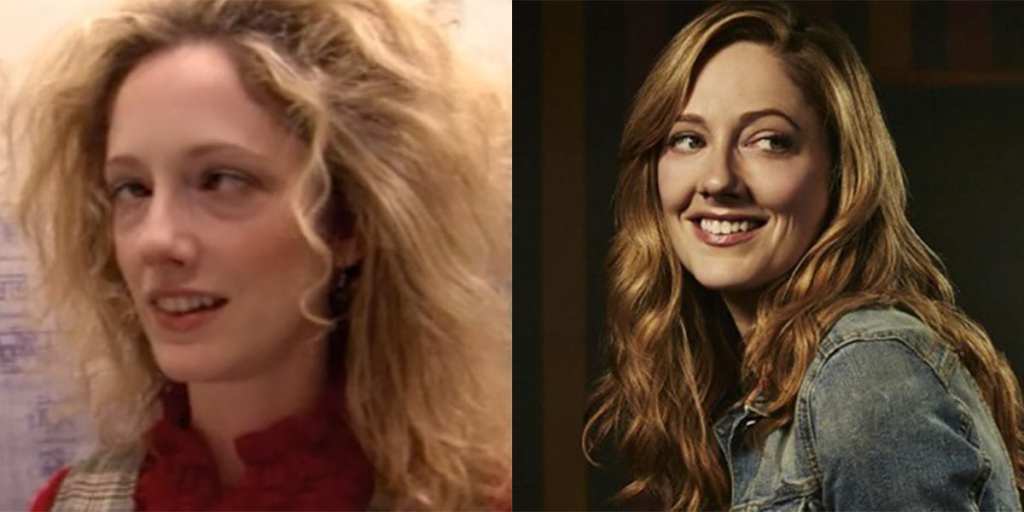 One of these comedic characters is Kitty Sanchez in the hit TV show Arrested Development, originally aired by FOX and then bought by Netflix. Judy appeared in thirteen episodes throughout the show in her role as George Bluth Senior's assistant, lover, and partner-in-crime.
Meryl Streep
This iconic actress can do literally anything. She has played everything from a Polish Auschwitz survivor in Sophie's Choice to a cruel fashion magazine editor in The Devil Wears Prada, a Danish countess in colonial Kenya in Out of Africa, and even portrayed the iconic British prime minister Margaret Thatcher in the biographic movie The Iron Lady.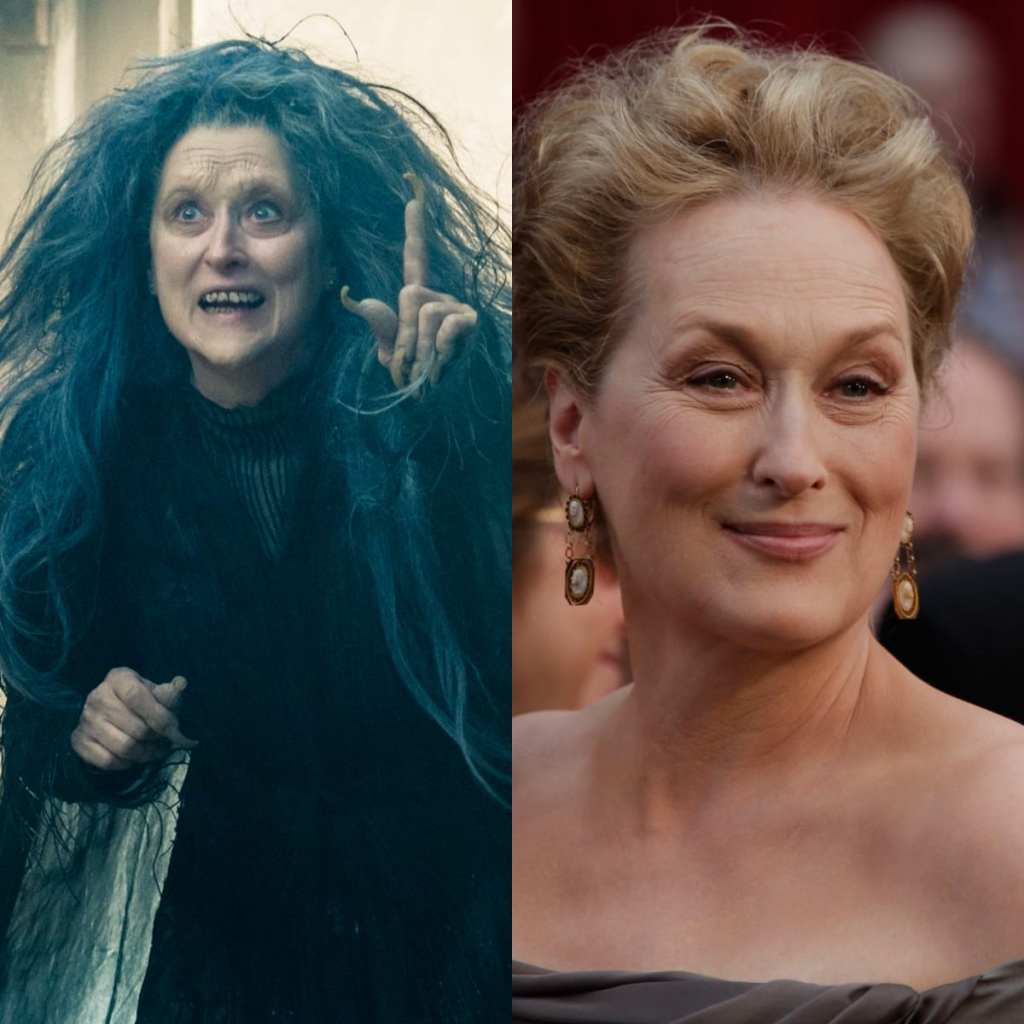 One of her most impressive roles was as The Witch, in the film adaptation of the musical Into The Woods, released in 2014. In this musical fantasy film, Meryl wore a gray-haired wig, spending hours in the hair and make-up chair creating wrinkles on her face, and she became completely unrecognizable.
Tori Spelling
Known for her role as Donna Martin on the original version of Beverly Hills 90210, at the beginning of 1990, Tori Spelling has even made it on to the New York Times Best Sellers list after releasing her autobiography, Stori Telling.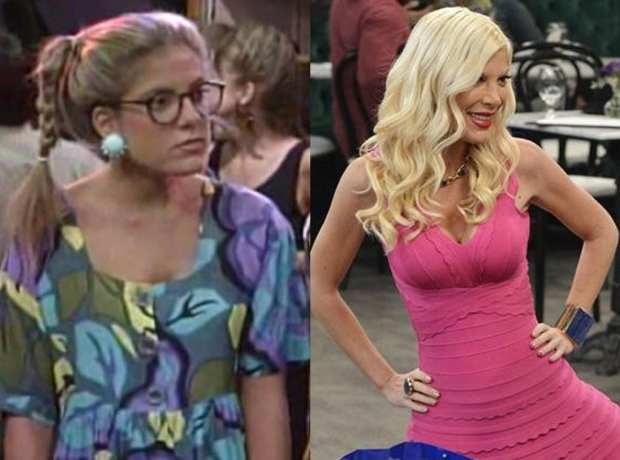 However, 90210 is far from the only show Tori has been a part of. She was also cast as Violet Anne Bickerstaff in Saved By The Bell, in 1990. In the three episodes her character appeared in, Tori played the small role of Screech's girlfriend.
Taryn Manning
Even though she is mostly known for her role as Tiffany "Pennsatucky" Doggett in Orange is the New Black, Taryn Manning has had numerous other roles as an actress during her career. You may have seen her in the 2002 movie Crossroads alongside Britney Spears, or in Eminem's biographic movie 8 Mile.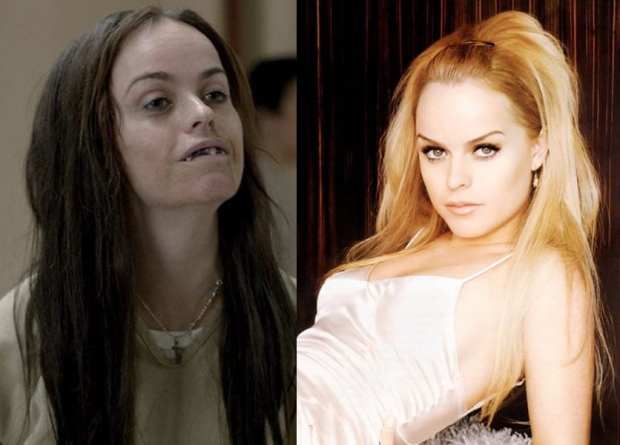 Taryn is not only a talented actress who looks like a completely different person from her character Tiffany Dogget;, and she is also a musician and clothing designer. She is the vocalist of Boomkat, an electronic duo, and the co-owner of the clothing brand Born Uniqorn. She truly is a chameleon.
Naomi Grossman
With the help of incredibly talented makeup artists, the beautiful Naomi Grossman had to spend three hours every single day in the makeup chair to be completely transformed into her character Pepper for the TV show American Horror Story.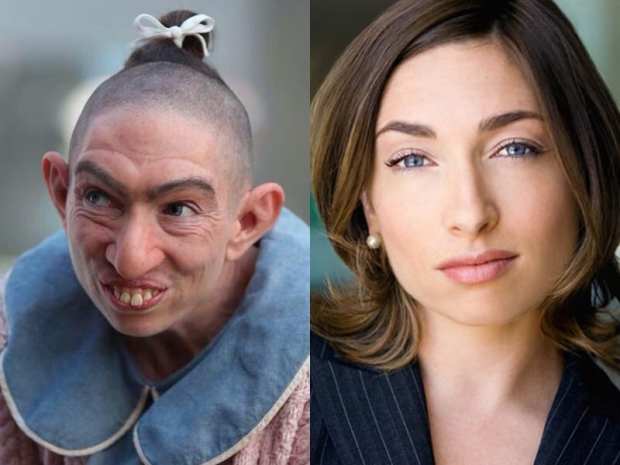 In two different seasons of the show, American Horror Story: Asylum and Freak Show, Pepper is a microcephalic woman who has previously been a performer with Fräulein Elsa's Cabinet of Curiosities. The work done by the make-up artists is so impressive that many people do not even suspect that Naomi looks nothing like her character in real life.
Maisie Williams
Internationally known as Arya Stark from the hit TV show Game of Thrones, Maisie Williams looks nothing like her character in real life. Arya is full of scars all over her body, including her ribcage and forehead, that were the work of her makeup artists.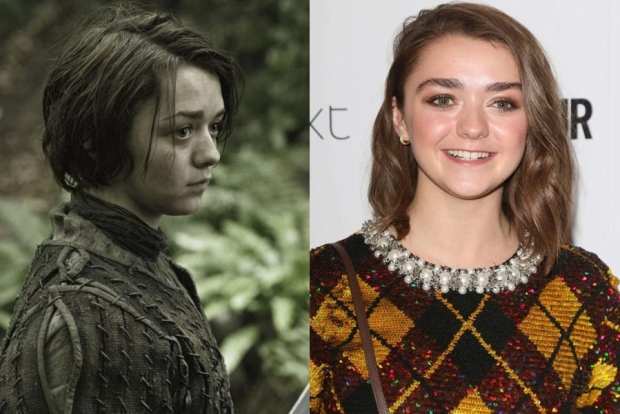 Taking advantage of the fame she conquered due to her role as Arya Stark, Maisie uses her voice to raise awareness for important causes such as bullying, animal rescue, and dolphin hunts. She is also a Greenpeace and WaterAid supporter.
Cameron Diaz
During her years as an actress, Cameron Diaz interpreted dozens of characters. From her breakout role as Tina Carlyle in The Mask to Mary Jensen in There's Something About Mary, she has always been able to look like a different person for each role.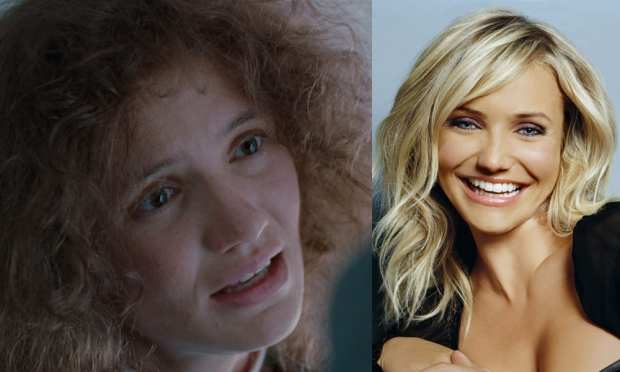 But in the Oscar-nominated movie Being John Malkovich, Cameron is barely recognizable in her role as Lotte Schwartz. In fact, this 1999 movie had a huge impact in Diaz's career, since not only was the movie nominated for three Oscars and four Golden Globes, but she was also nominated for a BAFTA award as Best Supporting Actress.
Salma Hayek
The Mexican beauty looks so much like her character Frida Kahlo in the 2002 movie Frida, that we almost forget what she looks like in real life. The no-makeup look and full eyebrows make her almost unrecognizable as she portrays the Mexican painter.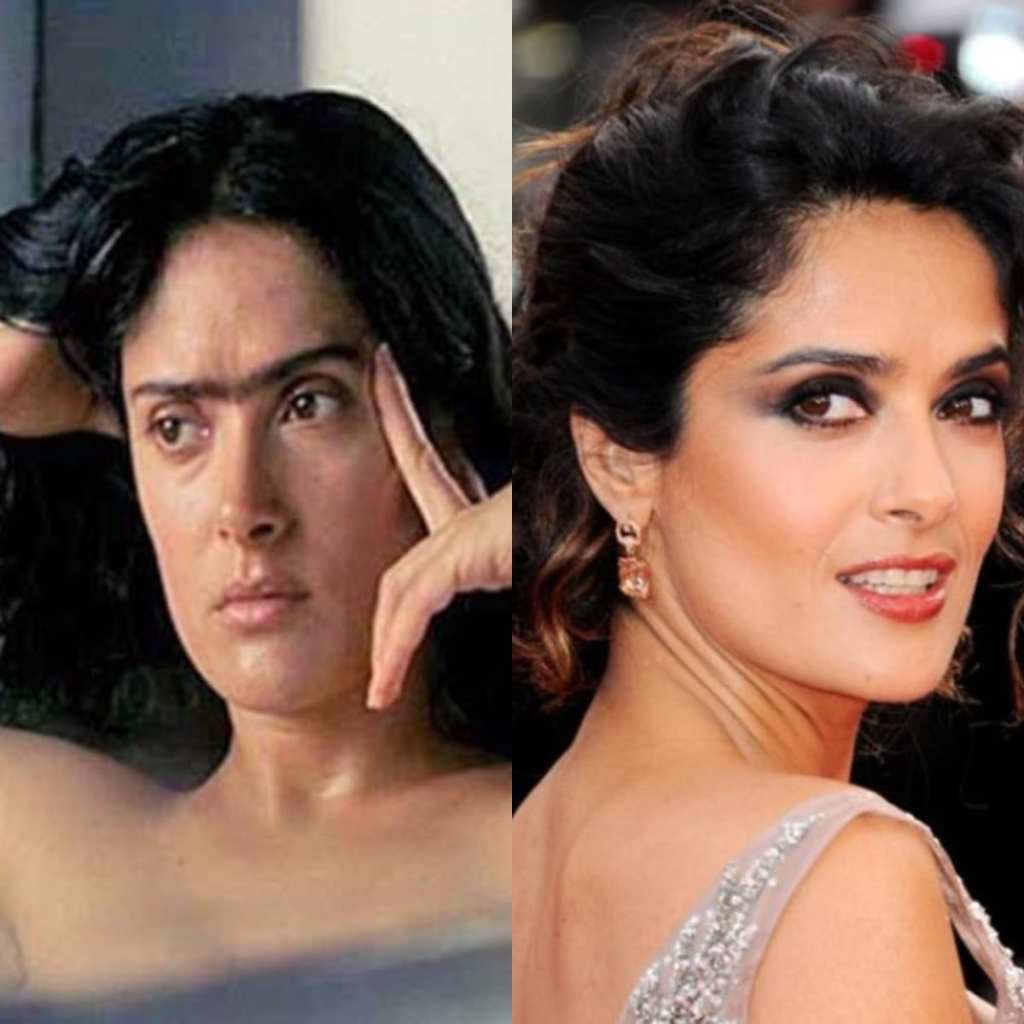 Co-produced by Salma, the movie earned an Oscar and a BAFTA for Best Makeup/Hair – which proves how impressively unrecognizable she looked as Frida. In fact, Salma was also nominated for an Oscar, BAFTA, and Golden Globe for Best Actress for this movie.
Linda Cardellini
If you look at Linda Cardellini without the classic thick rectangular glasses and short haircut, you will never guess that she was the actress that portrayed Velma Dinkley in the 2002 movie version of Scooby-Doo and its sequel a couple of years later.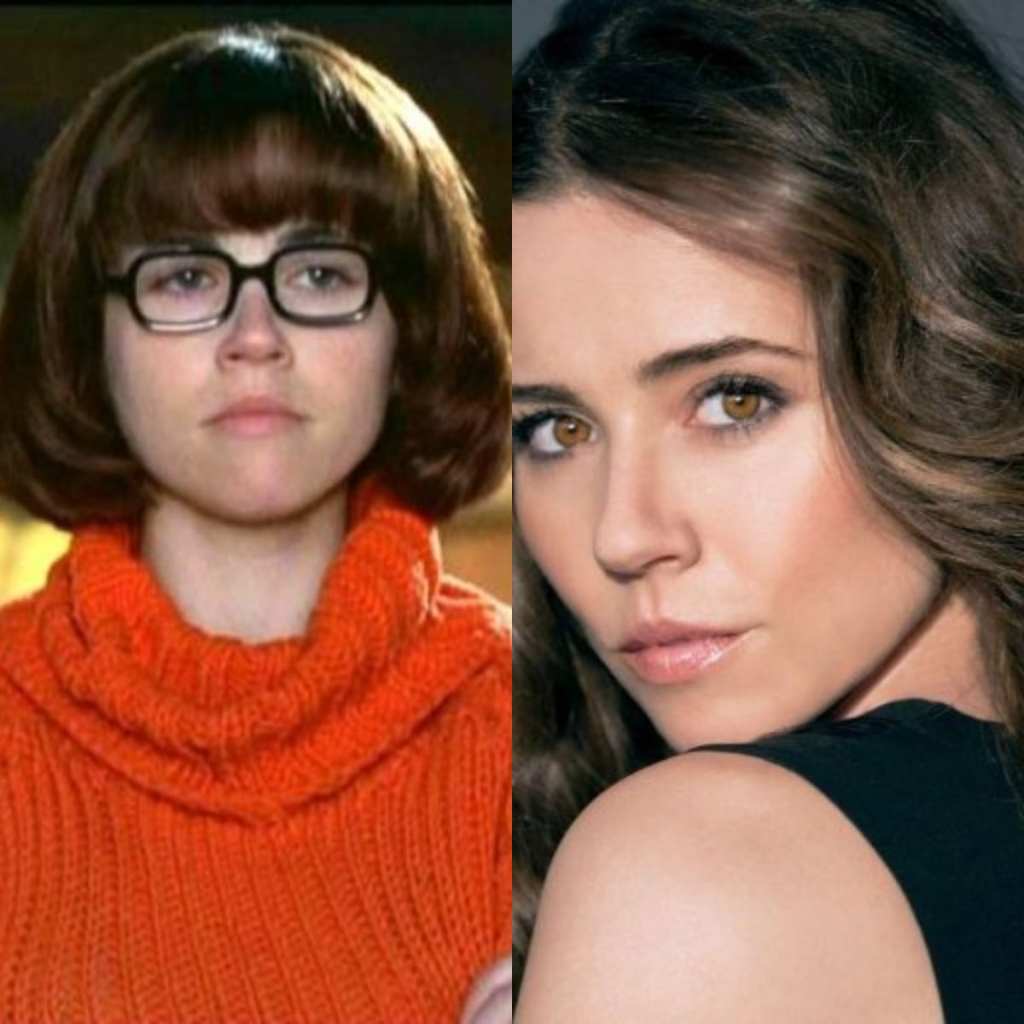 Linda has also had many other leading roles during her career, such as Samantha Taggart in the TV series ER, Judy Hale in Dead To Me, and Meg Rayburn on the Netflix show Bloodline. She also guest-starred in the hit TV show Mad Men, which led to an Emmy Award nomination.
Tina Fey
Tina Fey is an incredibly versatile comedian, writer, and producer. Some of her best-known works include Saturday Night Live, 30 Rock, Unbreakable Kimmy Schmidt, as well as in the unforgettable teenage classic, Mean Girls. Her character in 30 Rock, Liz Lemon, looks nothing like Tina in real life.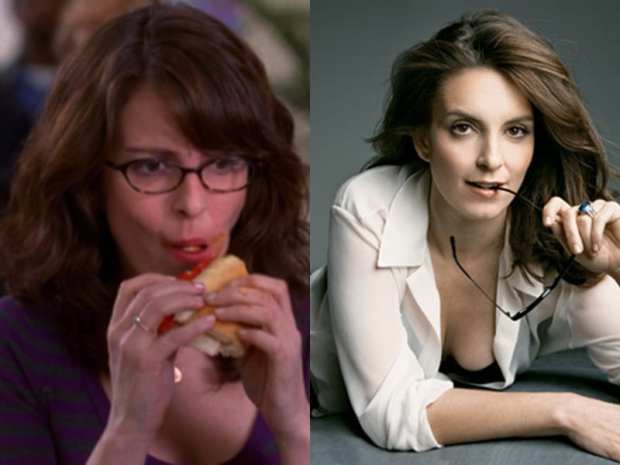 Tina has earned a long list of awards during her career, including three Golden Globes, five Screen Actors Guild Awards, and seven Writers Guild Awards. She uses her fame to help organizations such as Autism Speaks, Make-A-Wish Foundation, Love Our Children USA, and Mercy Corps, an organization that fights to end world hunger.
Kaitlin Olson
As Deandra "Dee" Reynolds on It's Always Sunny in Philadelphia, Kaitlin Olson's second main role in a TV show, she portrays a selfish, greedy, and prejudiced bartender at Paddy's Pub. During the seasons of the show, the gang often mocks her for her alleged resemblance to a bird.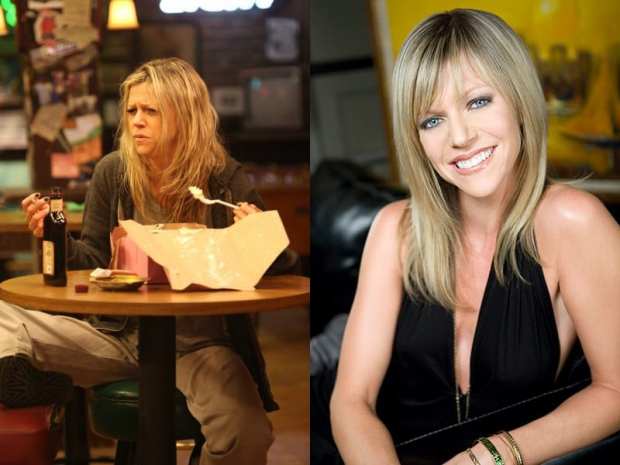 In real life, however, Kaitlin is a very successful actress who has worked on numerous TV shows and movies, including her voiceover roles such as Destiny in the 2016 movie Finding Dory, a sequel to the classic Disney movie Finding Nemo.
Aimee-Ffion Edwards
This Welsh actress had her big break in television back in 2008 on the British drama Skins. In the popular sereis, Edwards played the role of Lucy "Sketch", a girl obsessed with Maxxie, who tries everything to be noticed by her loved one.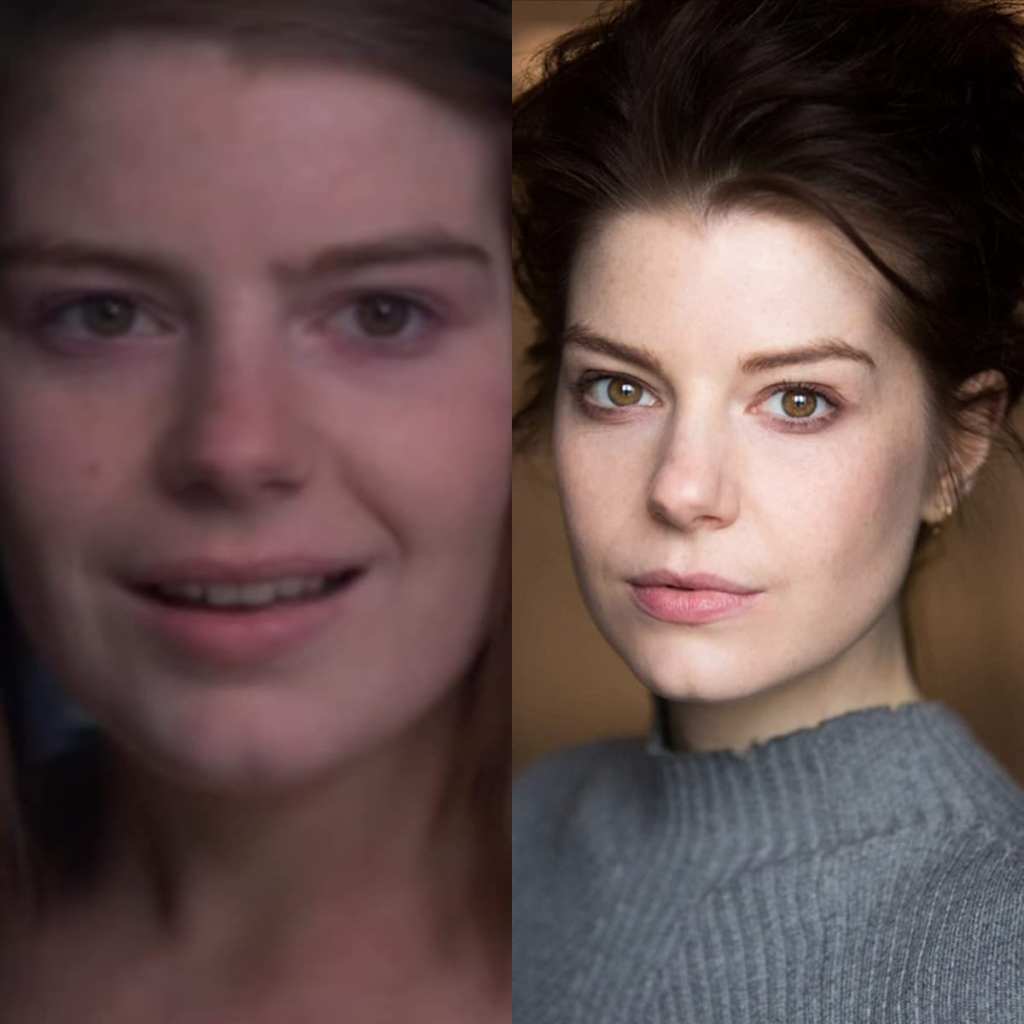 In real life, Aimee is nothing like that cruel and obsessive character. And thanks to her incredible performance in the show, she got to play the part of Sophie in the award-winning series Detectorists and Esme Shelby in the period crime drama Peaky Blinders.
Gwendoline Christie
In real life, Gwendoline Christie is not only a spellbindingly talented actress but also a model, which is something you would never have guessed by judging by the gruff appearance of her iconic character, Brienne of Tarth, in Game of Thrones.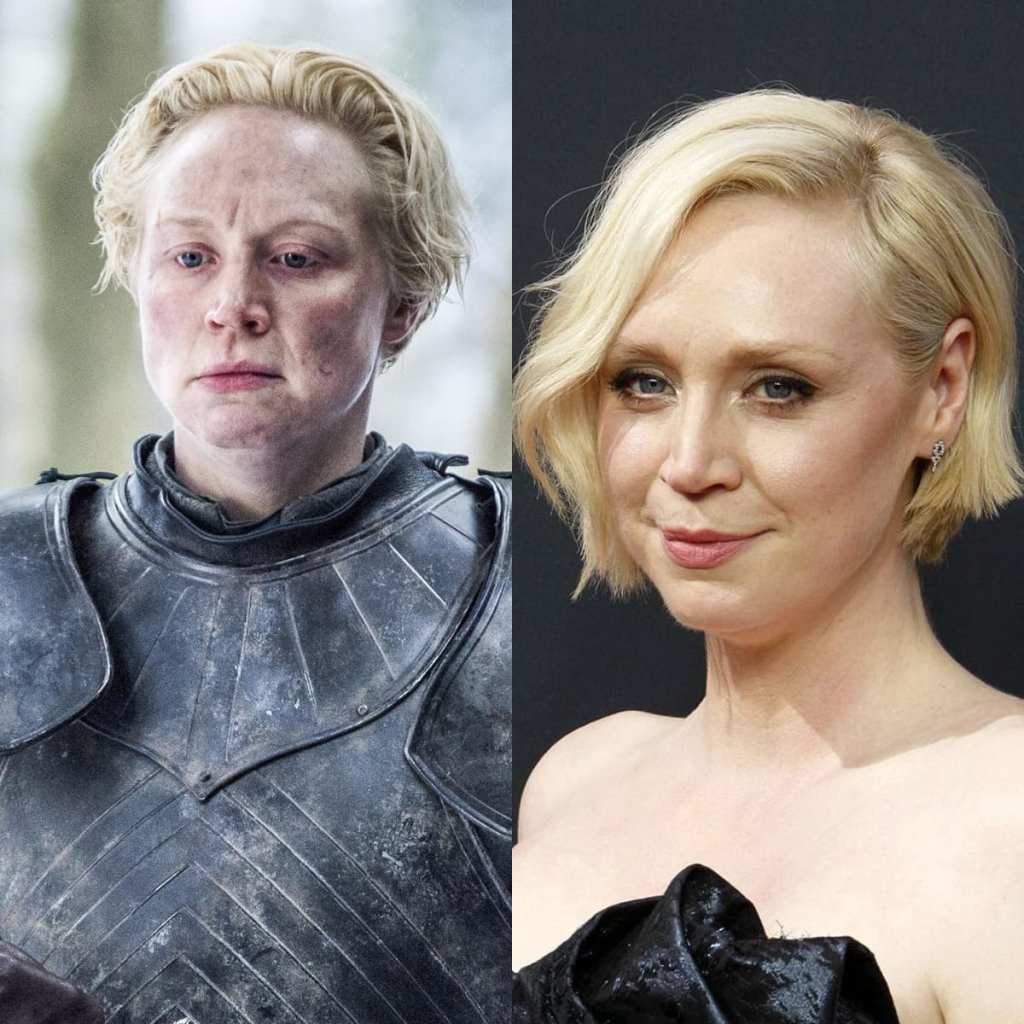 Due to her height, which is a great attribute for a model, she was told by her agent she would never get to work as an actress. But Gwendoline has stated that she kept pursuing her goal after being inspired by Tilda Swinton's role in the movie Orlando.
Kate Winslet
Even though she will always be remembered as Rose DeWitt Bukater from Titanic, Kate has played numerous roles in other big blockbuster movies, such as Eternal Sunshine of the Spotless Mind, Finding Neverland, Sense and Sensibility, and Divergent and Insurgent, from the Divergent series.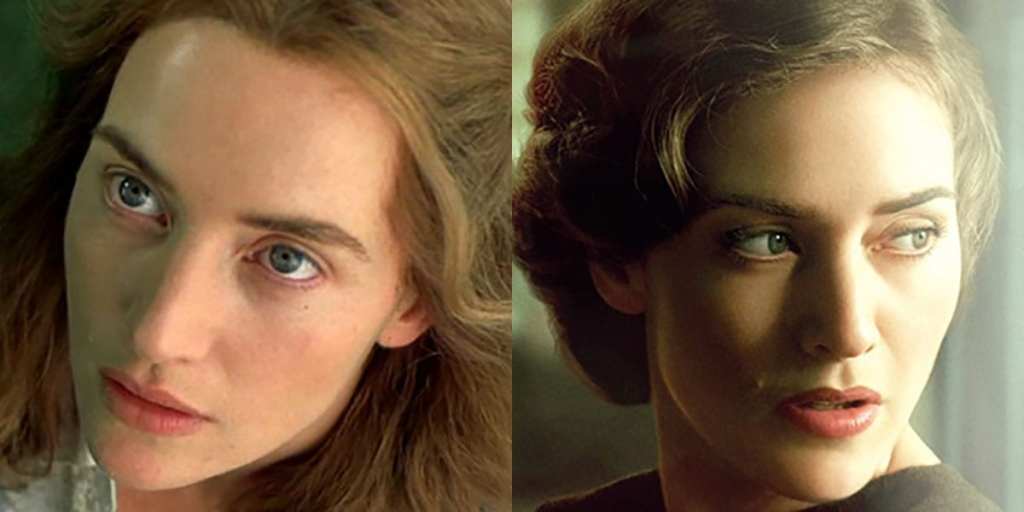 In Little Children, Kate portrays Sarah Pierce, a stay-at-home mom in a Boston suburb who gives up her studies and career to take care of her daughter and husband. Her performance in the movie led her to Academy Awards, BAFTA Awards, and a Golden Globes nomination for Best Actress.
Sophie McShera
With all the modest, simple clothing and barely any makeup, Sophie McShera looks like a different person from her character on Downton Abbey. Daisy Robinson, aka Daisy Mason, is a timid kitchen assistant on the show and her look personifies that exactly.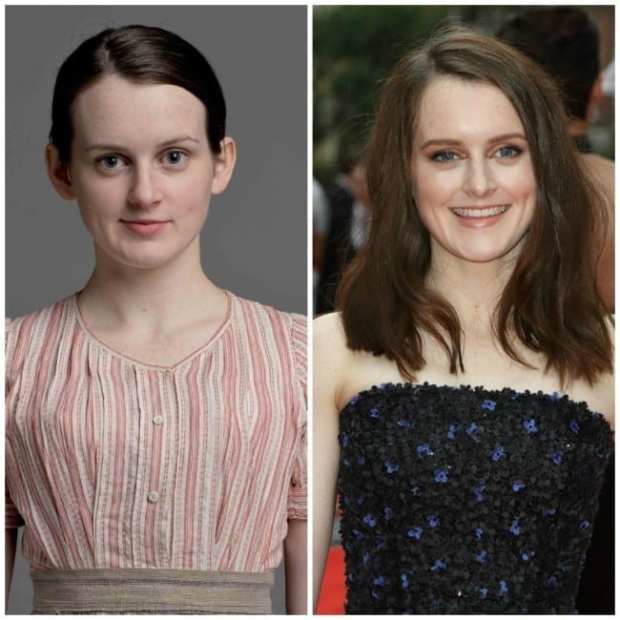 The English actress has also been cast as Ros McCain in the TV series Waterloo Road, as well as Drizella Tremaine in the 2015 Disney film Cinderella and Mrs. Crupp in the 2019 movie The Personal History of David Copperfield.
Mae Whitman
The full bangs and baby face that make Mae Whitman look like mayonnaise enthusiast Ann Veal on Fox's series Arrested Development are not her style anymore. The Angeleno actress has since ditched the bangs and chooses to wear bolder makeup in real life.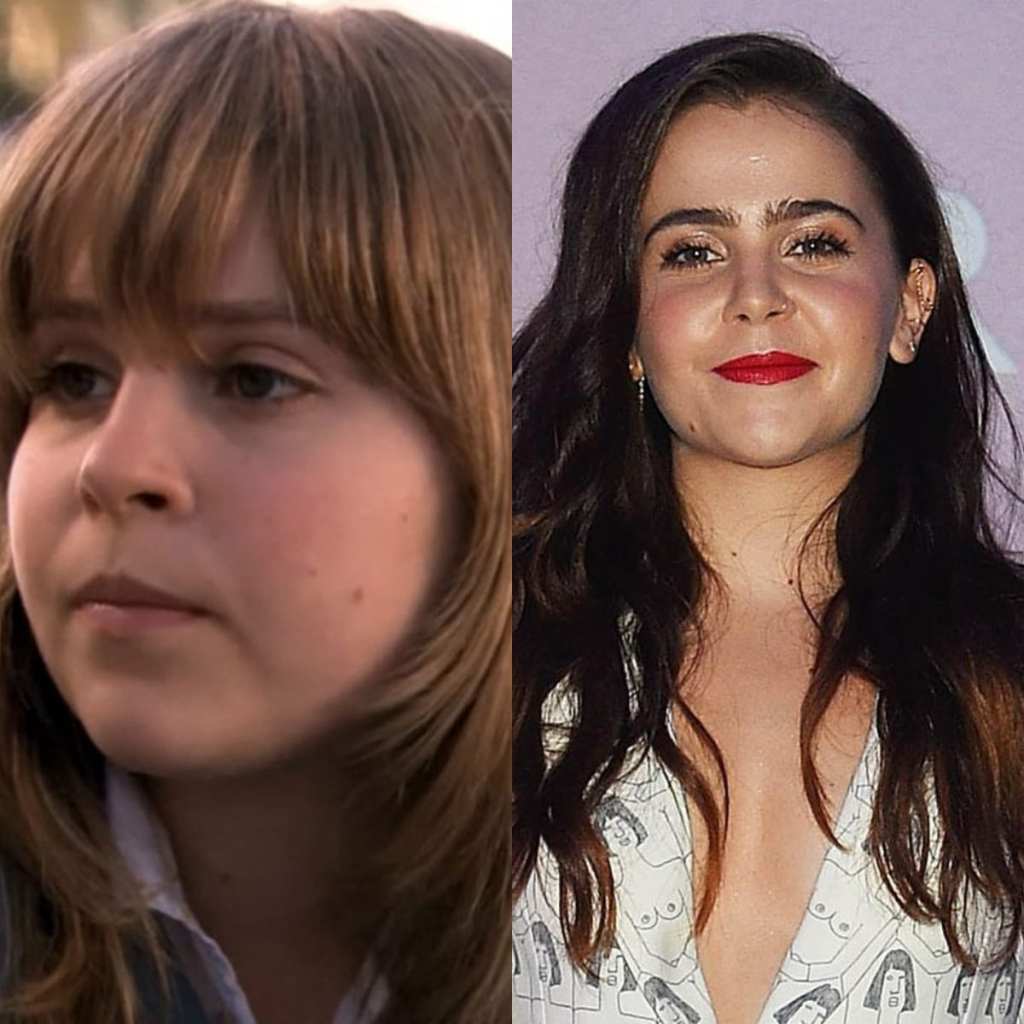 Also, besides her role in Arrested Development, Mae has worked on numerous other shows and movies, such as Scott Pilgrim vs. the World, Independence Day, The Perks of Being a Wallflower, Grey's Anatomy, Parenthood, and is currently acting as Annie Marks in Good Girls.
Sandra Oh
This Canadian actress is best known for her role as Cristina Yang on the award-winning medical drama series Grey's Anatomy between 2005 and 2014. Since leaving the cast of that show, Sandra has worked in numerous other shows and movies and is currently portraying Eve Polastri on BBC's Killing Eve.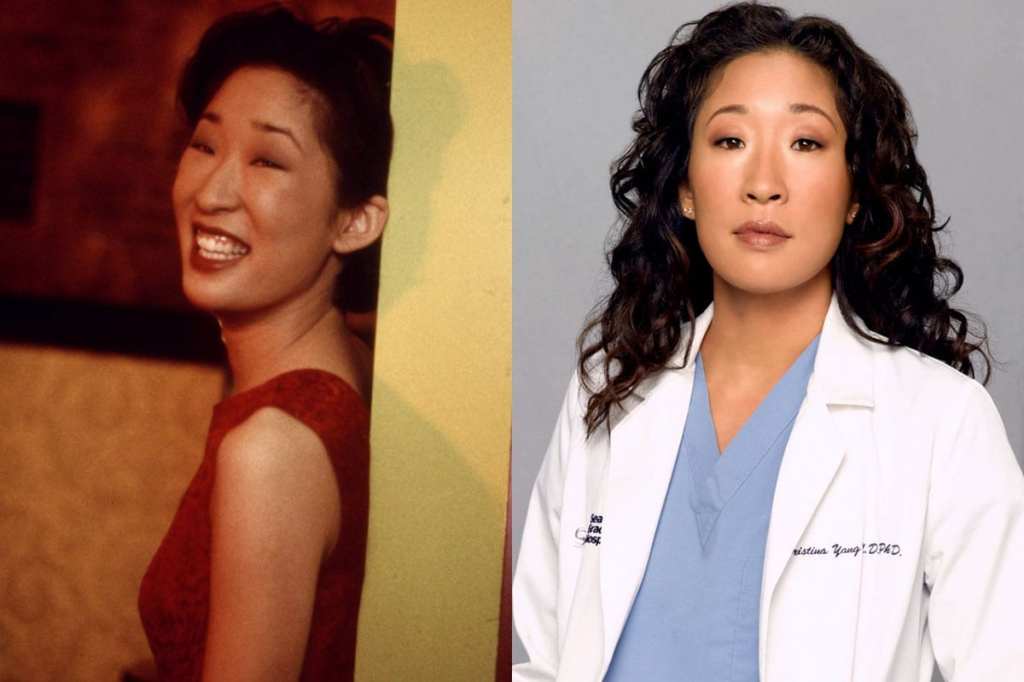 Her brilliant work as a doctor on Grey's Anatomy has earned her five Primetime Emmy Award for Outstanding Lead Actress in a Drama Series nominations, as well as a Golden Globe in 2006 and two SAG Awards in 2006 and 2007.
Vanessa Hudgens
Best known for her breakout role as Gabriella Montez, the main female character in the High School Musical series, Vanessa Hudgens has taken on many challenging roles since the Disney Channel franchise, including the controversial Spring Breakers in 2013 and Gimme Shelter later the same year.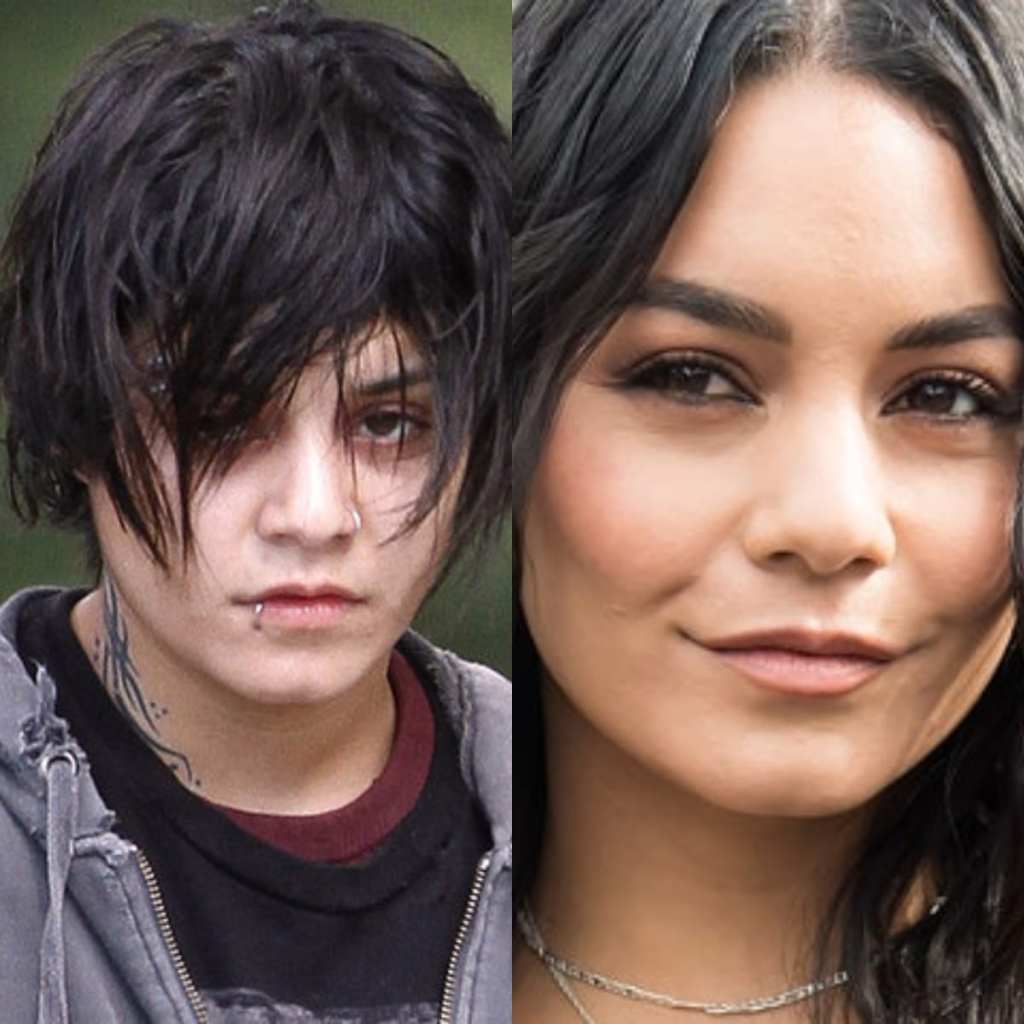 Vanessa is not only an incredible actress but also an extremely talented singer. She has played the part of Gigi in the Broadway musical Gigi, as well as Rizzo and Maureen Johnson in the live versions of Grease and Rent for the TV channel FOX.
Lea Michele
Just like Vanessa Hudgens, Lea Michele has also had some Broadway musical experience, in fact, she started her career as a child actress in Les Misérables in 1995. However, Lea's breakout role was as Rachel Berry on the FOX series Glee.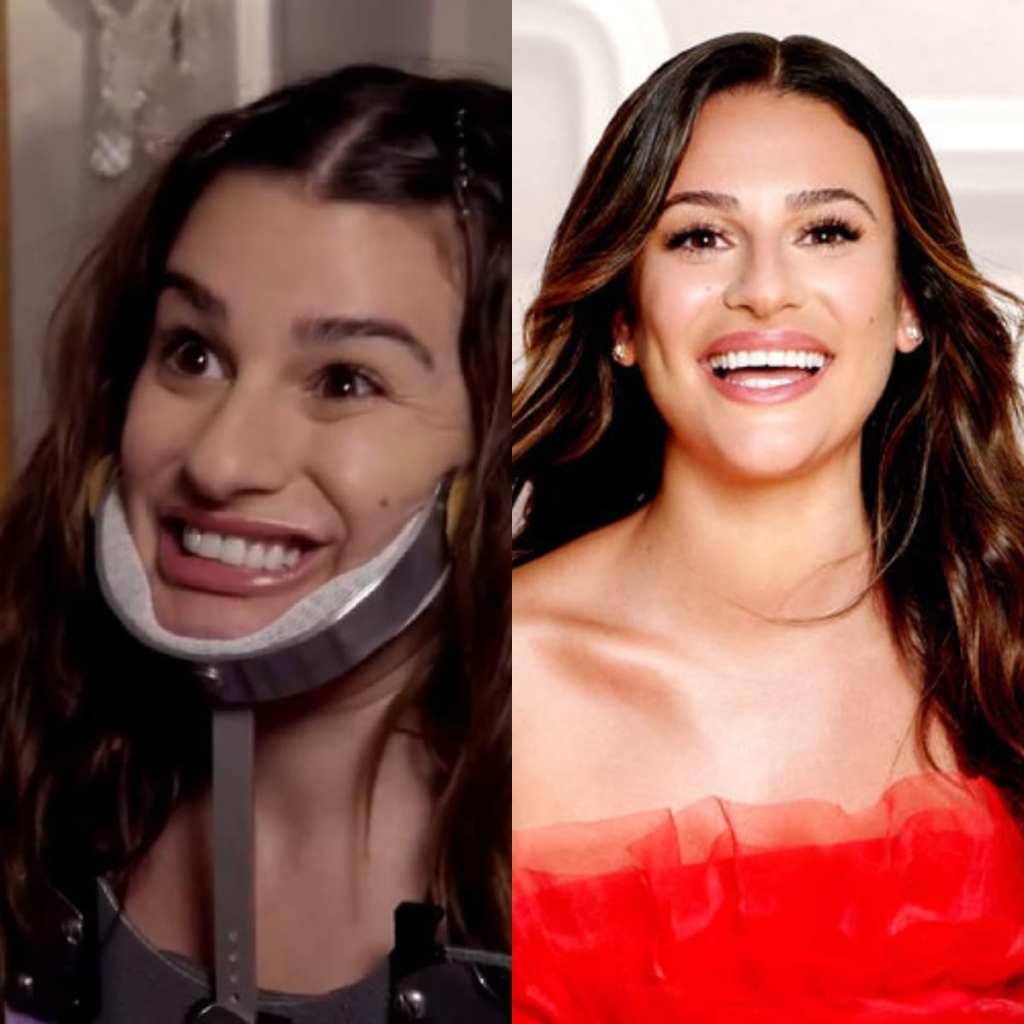 Thanks to the show, Lea was included on Time's 100 Most Influential People In the World list in 2010, and has received much recognition for her talents: she has received not only an Emmy but also two Golden Globe nominations, besides three Grammy nominations. She also had a leading role in Glee creator Ryan Murphy's series Scream Queens.
Alyson Hannigan
Alyson has had her fair share of big roles during her career. She played Willow Rosenberg in Buffy the Vampire Slayer, Lily Aldrin in How I Met Your Mother, and of course, the ever-quotable Michelle Flaherty in the American Pie film series.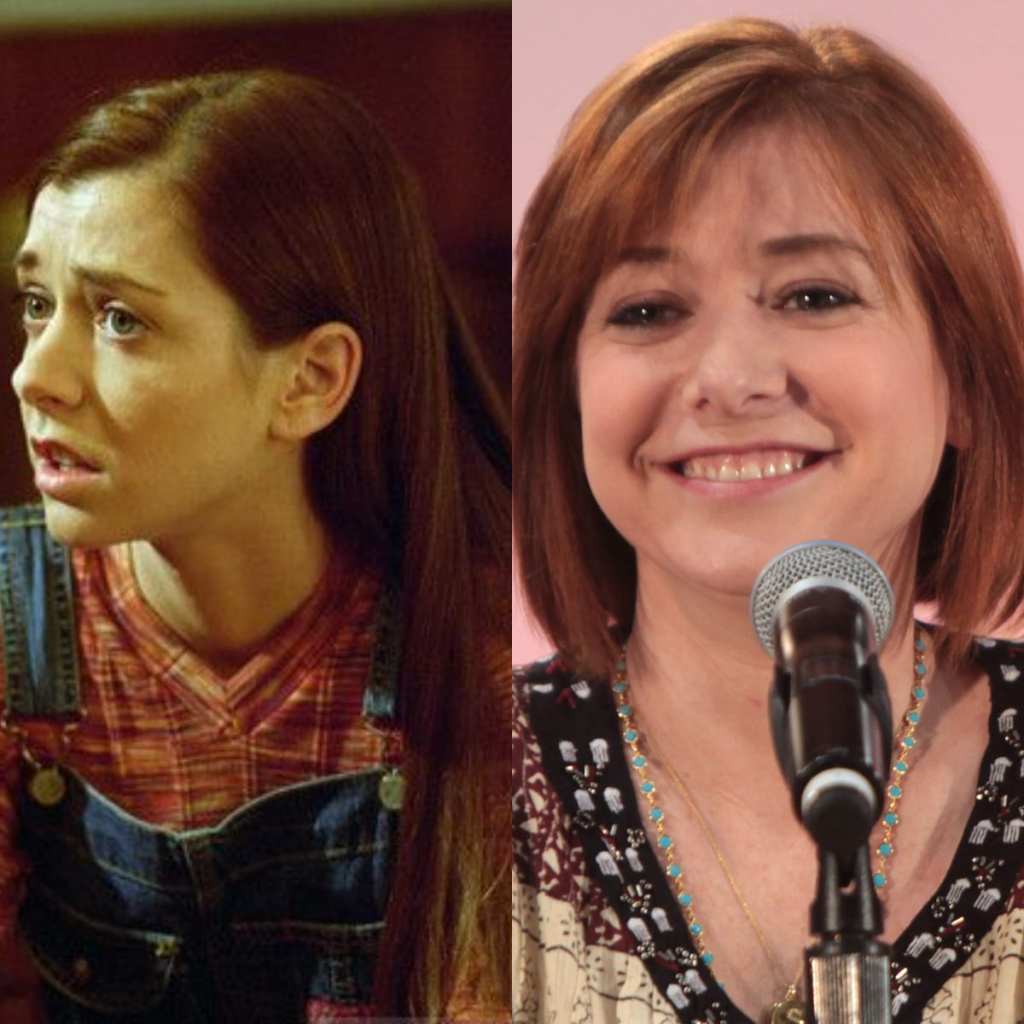 And even though most people would argue that in her late 40s she still looks as beautiful as she did when she started acting as Buffy's best friend in the Buffy the Vampire Slayer series, she looks very different without her long hair and school uniform.
Jenna Fischer
Best known for her role as Pam Beesly in the hit NBC sitcom The Office, Jenna has been working as an actress since 1998. But it wasn't until NBC decided to remake the British comedy The Office that Jenna got her big break.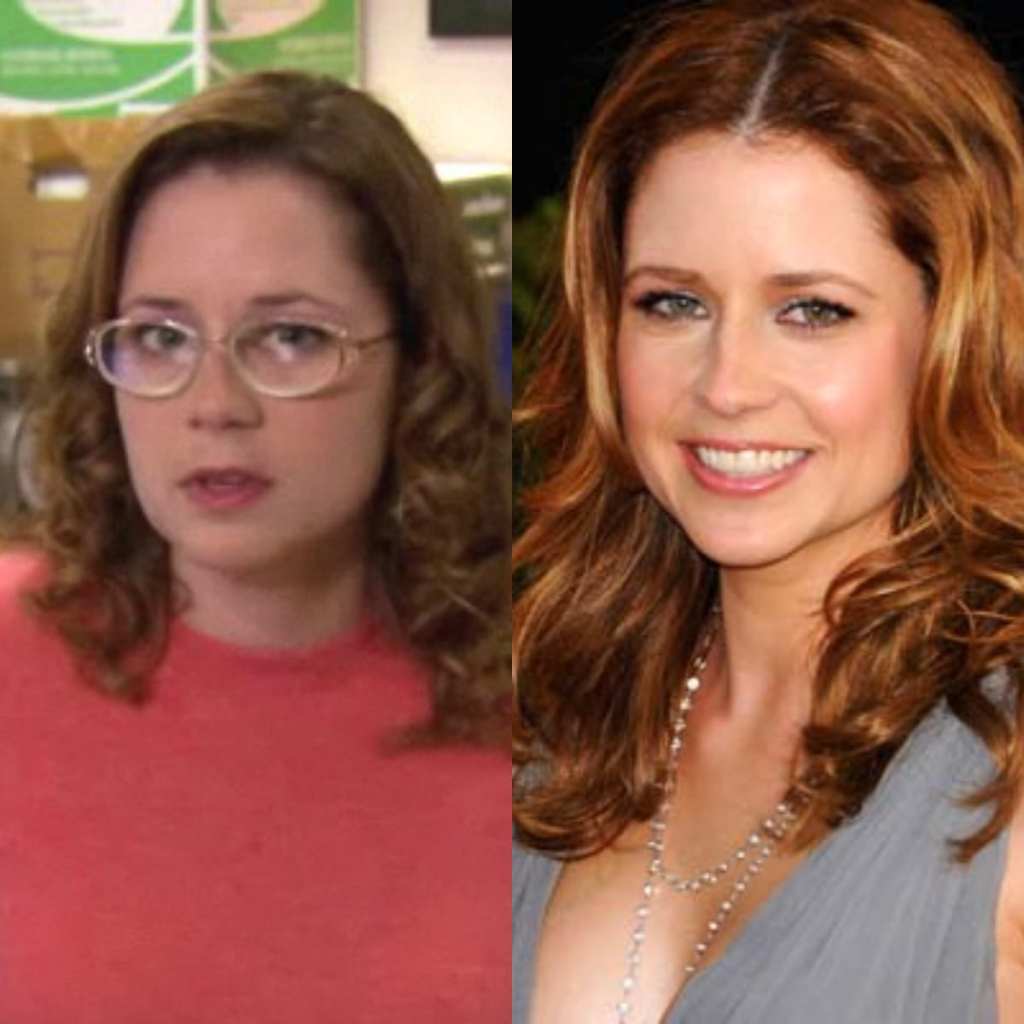 Her iconic role as Dunder Mifflin's witty receptionist gave Jenna Fischer great recognition: she has received a few Screen Actors Guild Awards and nominations, as well as a Primetime Emmy Award nomination and a Teen Choice Award for Choice TV Actress – Comedy.
Emma Thompson
The beautifully talented Emma Thompson looks completely unrecognizable in her role as Nanny McPhee in the 2005 fantasy movie. The actress not only plays the main character in the movie, but she also had a hand in writing the screenplay.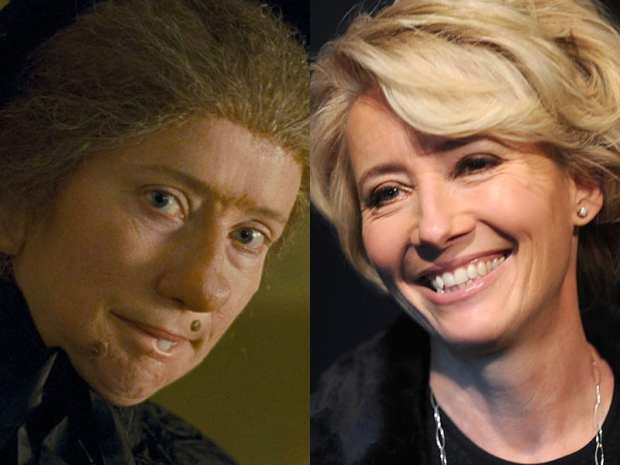 Emma uses her voice and fame to raise awareness for human rights causes. She is an ambassador for ActionAid, chair of the Helen Bamber Foundation for the Care of Victims of Torture, a patron of the Refugee Council, and a patron of the Elton John AIDS Foundation.
Bette Midler
This Hawaiian artist began her career in off-Broadway musicals and has later acted in plays such as Fiddler on the Roof and Salvation on Broadway. Her debut album, The Divine Miss M, reached Billboard's Top 10 and became a Platinum-certified album, which earned her a Grammy Award for Best New Artist.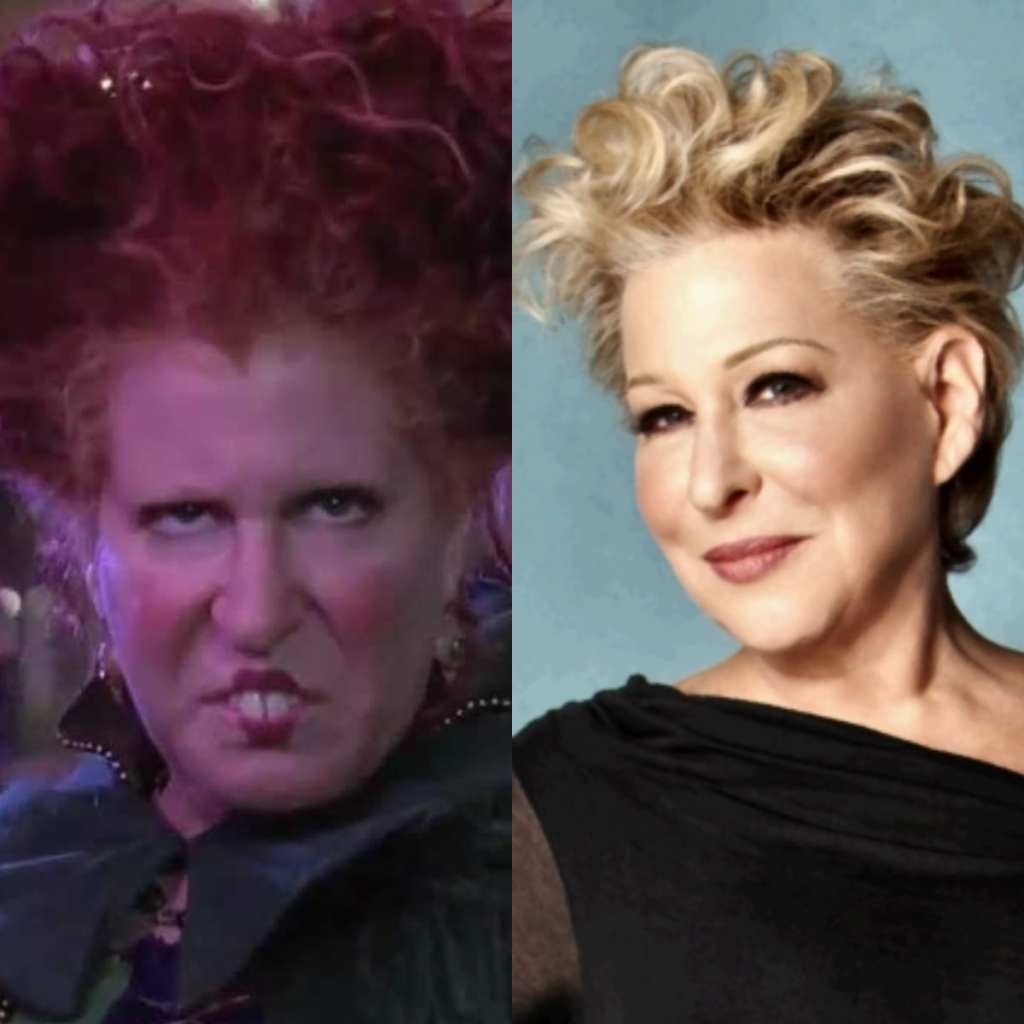 As an actress, Bette interpreted many roles, but her part as Winifred 'Winnie' Sanderson in Hocus Pocus is one of the most memorable. The 1993 comedy horror movie about three witches resurrected in Salem on Halloween night also starred another big celebrity: Sarah Jessica Parker.
Mayim Bialik
This impressive woman does a little bit of everything: she is an actress, an author, as well as a neuroscientist. Even though she started her career back in 1987 and became famous in 1990 for her role as the starring character on the TV show Blossom, it wasn't until 2010 that Mayim got an even bigger break as an actress.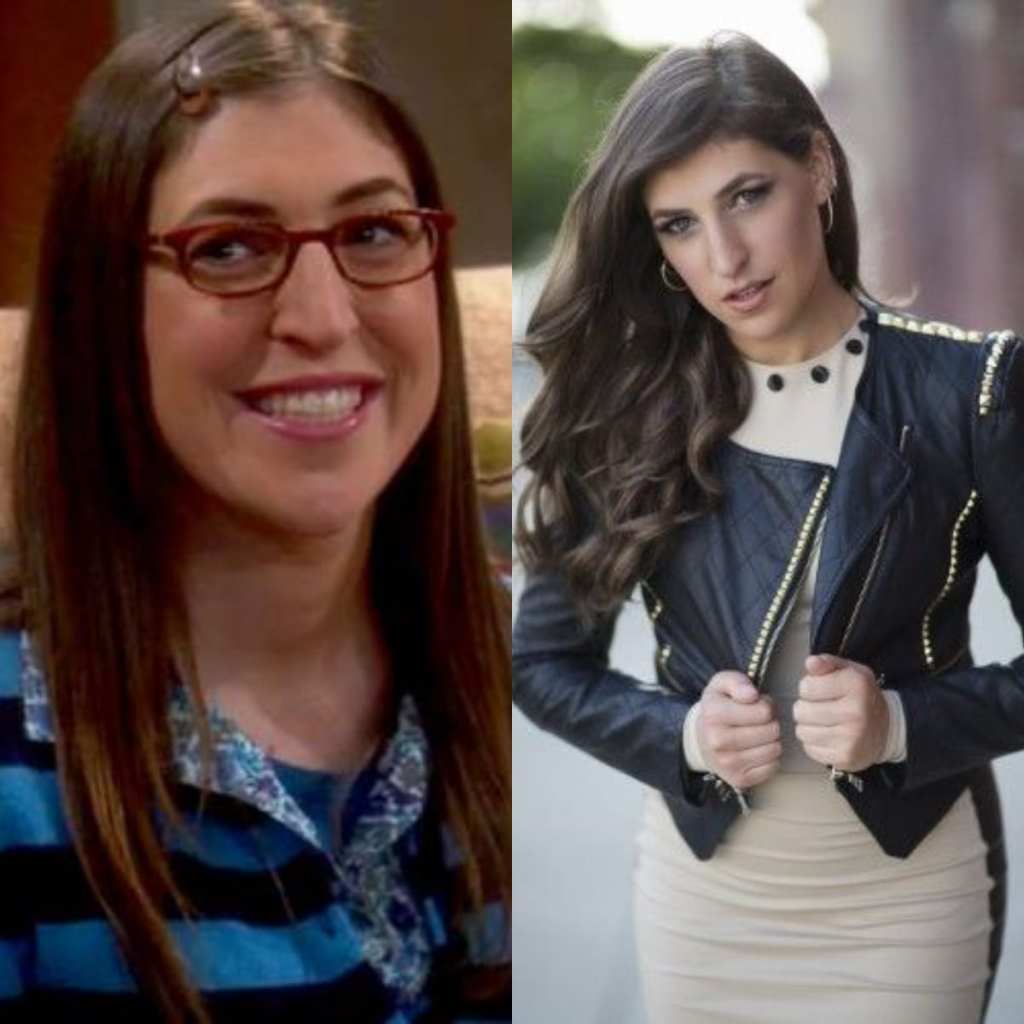 Thanks to the CBS show The Big Bang Theory, where Mayim Bialik played Amy Farrah Fowler between 2010 and 2019, she has been nominated for four Primetime Emmy Awards for Outstanding Supporting Actress in a Comedy Series and has won two Critics' Choice Television Awards for Best Supporting Actress in a Comedy Series.
Drew Barrymore
Drew was born into a family of actors; her father was John Drew Barrymore and her grandfather was esteemed screen legend John Barrymore. For that reason, her career started very early, when she was only 11 months old. But her first big role was as Gertie, in Spielberg's E.T. the Extra-Terrestrial, at the age of 7.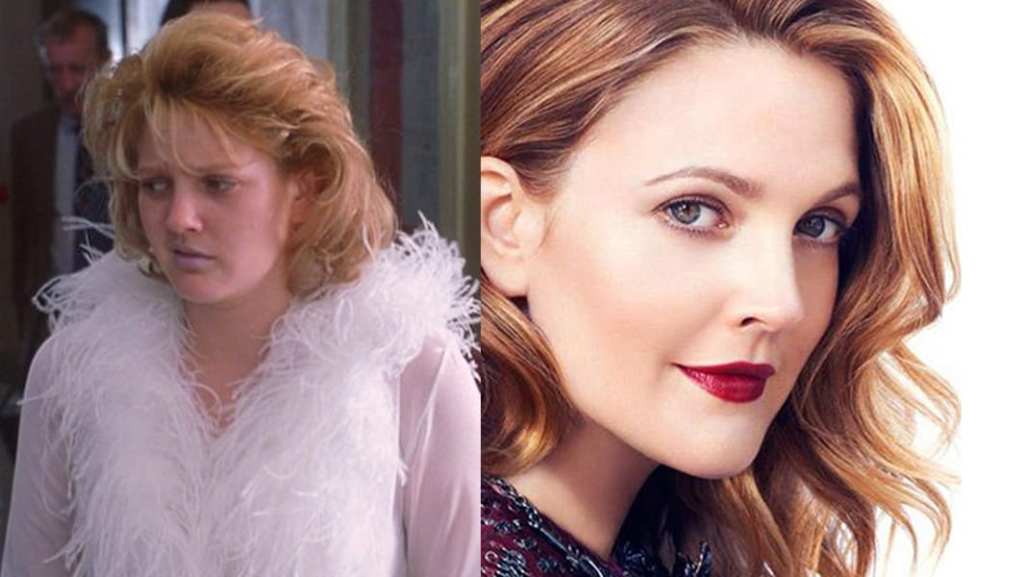 In 1999, Drew not only starred but also co-produced the extremely successful rom-com Never Been Kissed. Her role as Josie Geller, a 25-year-old journalist who had never had a relationship, required her to look insecure and weird – even though these adjectives would never be used to describe this fierce actress and entrepreneur in real life.
Kate McKinnon
This charismatic blonde is known for her impeccable impressions of famous people on Saturday Night Live. Since her debut in 2012, she has famously disappeared into portrayals of several celebrities and public figures, including Iggy Azalea, Hillary Clinton, Angela Merkel, Ellen DeGeneres, Shakira, and even Justin Bieber.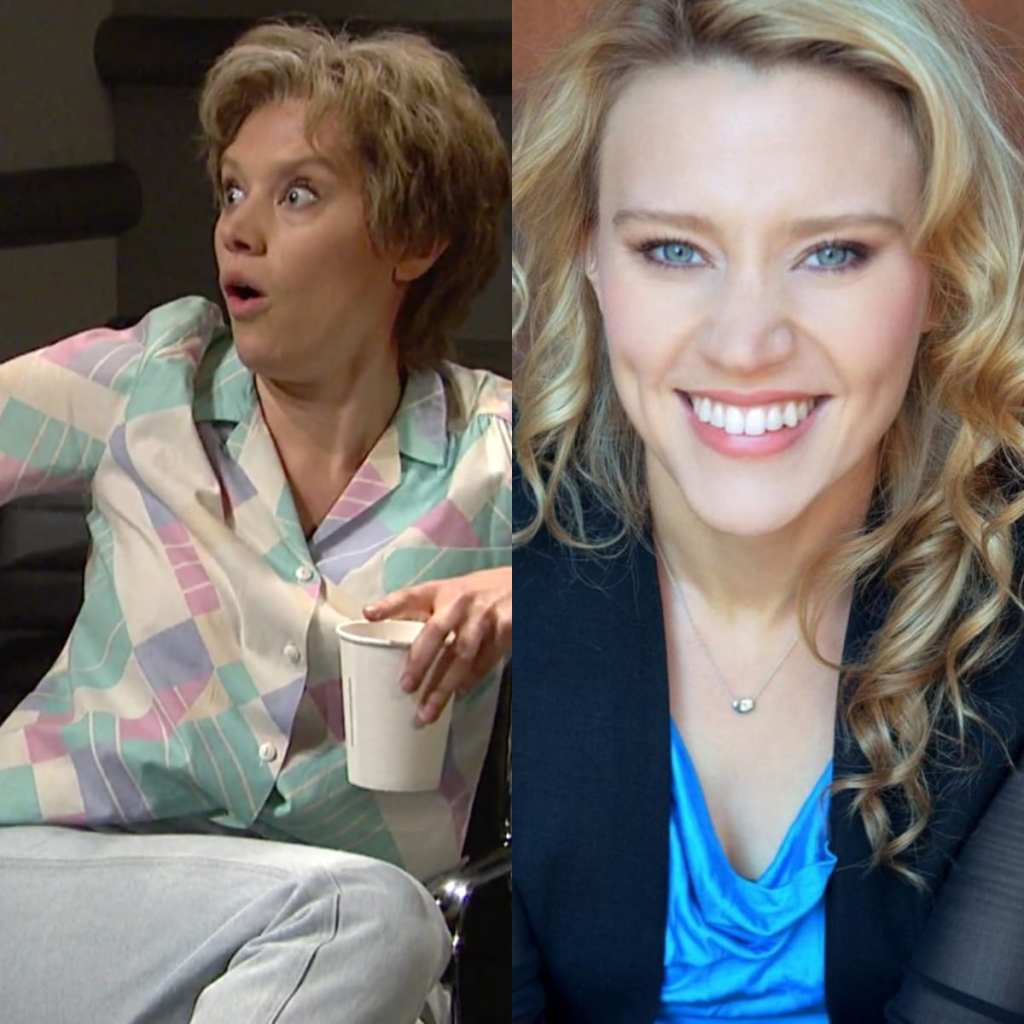 She has been nominated several times and won two Primetime Emmy Awards. In this picture, Kate is portraying Ms. Rafferty in a sketch where three people have been abducted by aliens and they are then asked to recall and tell the story of what happened.
Thesy Surface
Thesy started her career on television in 2006, on the TV movie The Danny Comden Project. But it was only after a few short movies and series, did she manage to get her big break on It's Always Sunny in Philadelphia.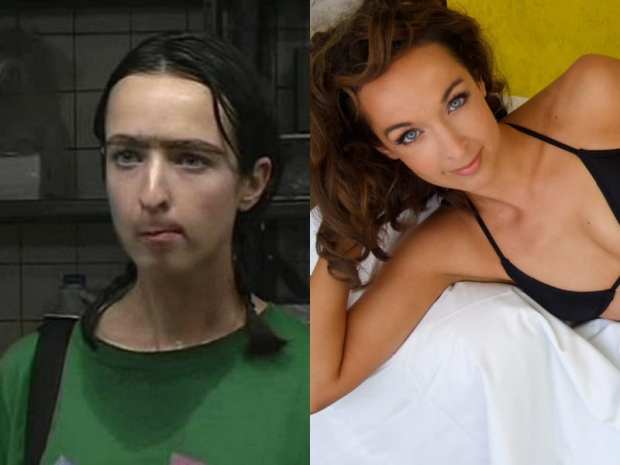 Judging by the totally weird appearance of Margaret McPoyle, no one would ever have guessed that a beautiful actress was hiding under all that makeup. In real life, Thesy Surface is not only a gorgeous actress, but she also models.
Demi Moore
Famous for her roles in Ghost, Indecent Proposal, The Scarlet Letter, The Hunchback of Notre Dame, and Striptease — which made her the highest-paid actress in film history at the time — Demi Moore has been working as an actress since 1981.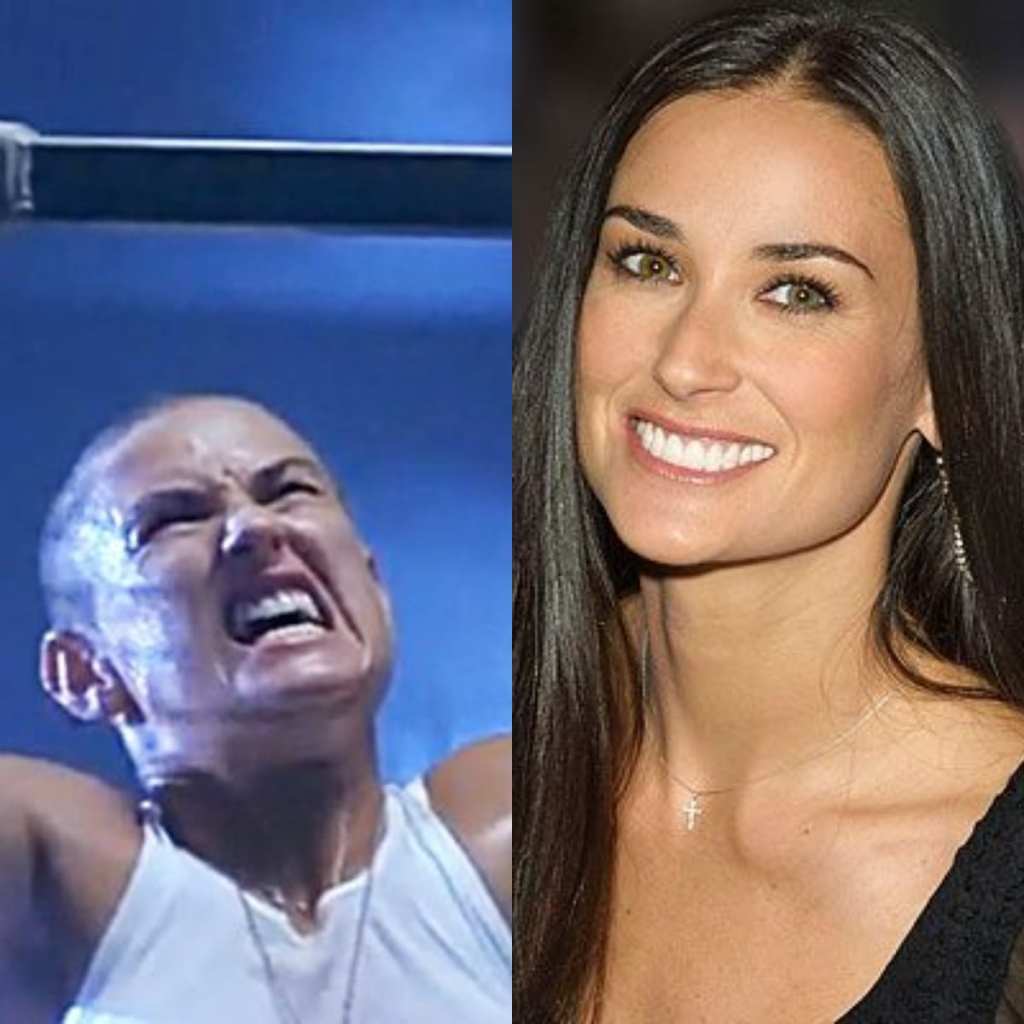 But it was in her role as Lieutenant Jordan O'Neil in G.I. Jane in 1997 that she looked the most unrecognizable. The movie received mixed reviews and earned her a Razzie Award for Worst Actress, but still, in her memoir, Inside Out, Demi called G.I. Jane her proudest professional achievement.
Melissa Rauch
Just like Mayim Bialik, Melissa Rauch gained mainstream recognition when she started acting in the CBS sitcom The Big Bang Theory. Her character, Bernadette Rostenkowski-Wolowitz, who was supposed to be temporary, ended up becoming a regular on the show.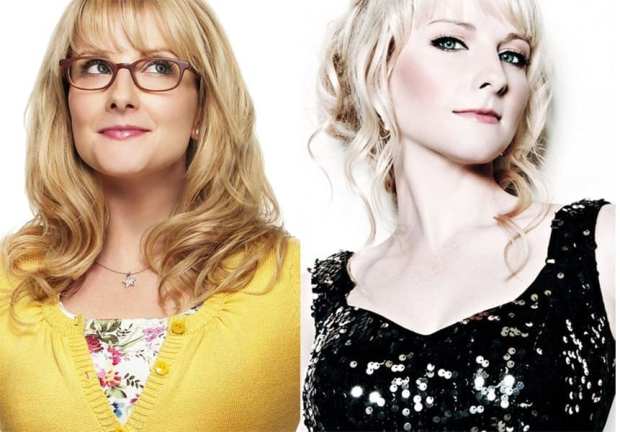 Besides The Big Bang Theory, Melissa has also acted in other TV shows and movies, such as True Blood, The Office, and the movie I Love You, Man. And thanks to the nerdy series, she was nominated for a Critics' Choice Television Award for Best Supporting Actress in a Comedy Series back in 2013.
Pauley Perrette
Pauley is not only an actress and writer, but she is also a huge civil rights advocate who became known thanks to the series NCIS, which aired between 2003 and 2018. She has also appeared in the sitcom Frasier, and movies such as The Ring and Almost Famous.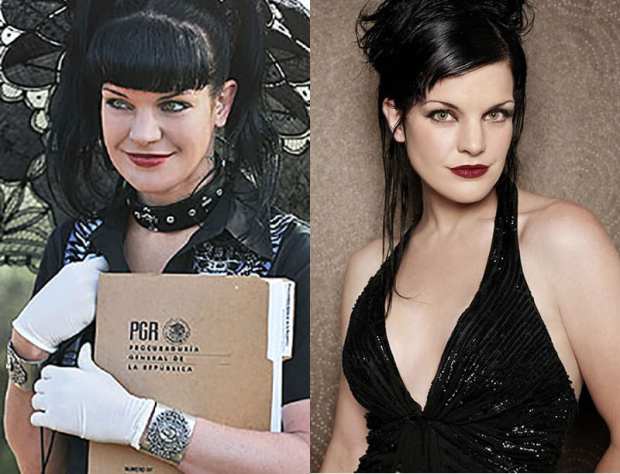 The definition of Abby Sciuto, according to her creator Donald P. Bellisario, is an "alternafreak", which is most definitely not a category that Pauley can fit into in real life. But thanks to her impeccable acting in that role, Pauley has been nominated three times for a People's Choice Awards.
Phyllis Logan
Scottish actress Phyllis Logan is best known for her roles as Lady Jane Felsham in Lovejoy and as Mrs. Hughes in Downton Abbey. But she has also appeared in shows such as Doctor Who, Bones, The Royal, and NCS: Manhunt.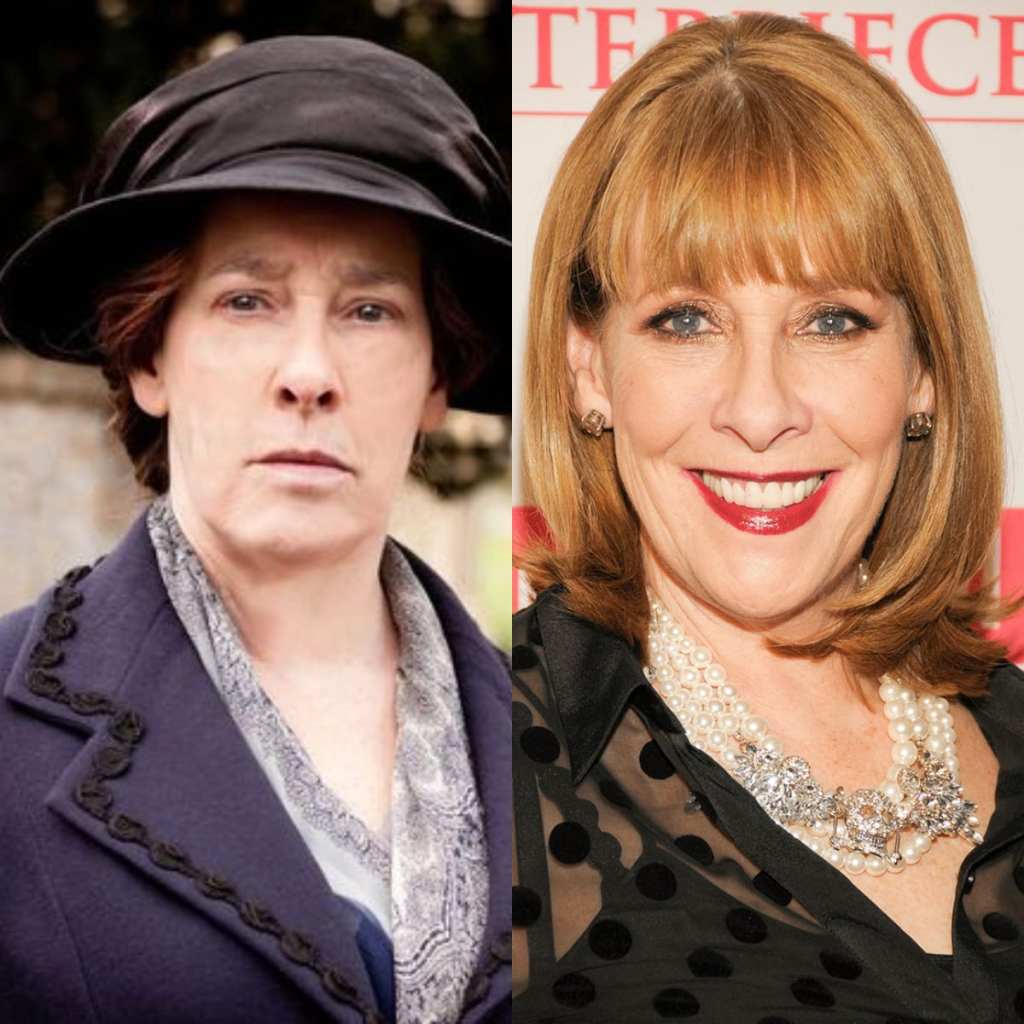 In her role as housekeeper Elsie Hughes, Phyllis Logan looks absolutely unrecognizable from her real-life self, which goes to show how much makeup and outfit choice can make or break an entire look, and completely alter the way that someone appears.
Ellie Kemper
Sometimes, it doesn't even take that much makeup to make an actress look like a completely different person. In Ellie Kemper's case, it's all about the bright-colored outfits and impeccable acting, that transform this brilliant actress into the naïve Kimmy Schmidt.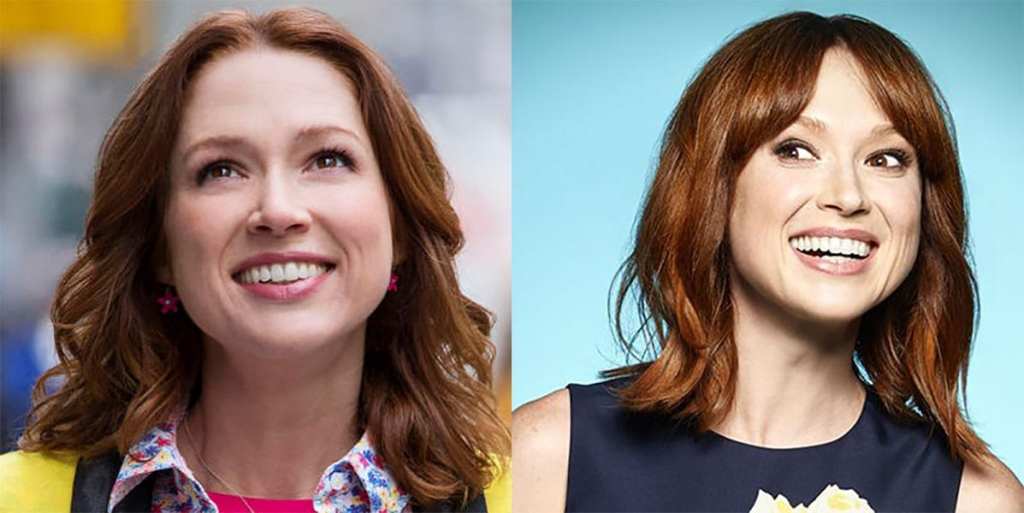 Before portraying the main character in the Netflix original series Unbreakable Kimmy Schmidt, Ellie worked in movies such as Bridesmaids, Get Him to the Greek, and 21 Jump Street, as well as TV shows such as The Office and The Mindy Project.
Janel Parrish
This Hawaiian actress is best known for her role as Jade in the Bratz movie and Mona Vanderwaal in the TV series Pretty Little Liars. However, she is also an incredible singer, having had her start in musical theater – her first role as an actress was Young Cosette in the Broadway musical Les Misérables.
Janel's character in Pretty Little Liars and its spin-off, Pretty Little Liars: The Perfectionists, is nothing like her real-life self. Mona Vanderwaal is a ruthlessly cruel villain who does everything to make four of her high-school peers suffer out of jealousy.
Patricia Heaton
This American actress is well known for her roles as Debra Barone in Everybody Loves Raymond and, more recently, as Frances "Frankie" Heck in The Middle. In fact, her work in Everybody Loves Raymond has won her three Primetime Emmy Awards for Outstanding Lead Actress in a Comedy Series.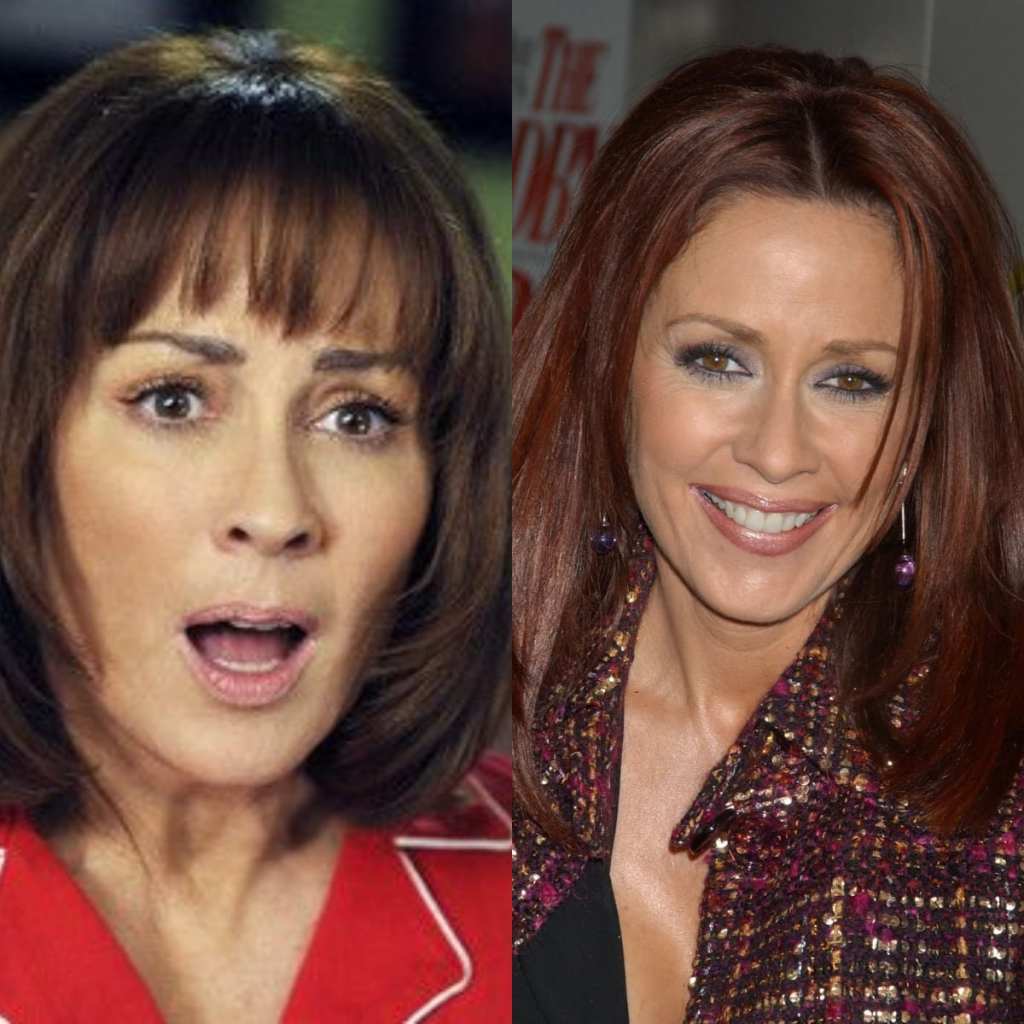 Between the years of 2009 and 2018, Patricia Heaton impeccably portrayed the main character, Frankie Heck, in the series The Middle. Frankie is a lower-middle-class woman who lives in Indiana with her family, and she serves as the narrator of the show.
Elisabeth Moss
This incredibly talented actress with an extensive filmography is best known for her roles as Peggy Olson in Mad Men and June Osborne in The Handmaid's Tale. In the series Mad Men, the beautiful actress portrays Peggy, a secretary who does not stand for the existing sexism in the business and climbs the corporate ladder by becoming the first female copywriter in her company.
Her incredible acting as Peggy Olson in this hit show has given her six Primetime Emmy Award nominations, a Golden Globe nomination, three Critics' Choice Television Award nominations, as well as two individual nominations for the Screen Actors Guild Awards.
Rooney Mara
The gorgeous Rooney Mara looks truly unrecognizable in her role as Lisbeth Salander in the movie The Girl with the Dragon Tattoo. The piercings, short bangs, bleached eyebrows, and dark eye makeup made the actress look like a brand new person.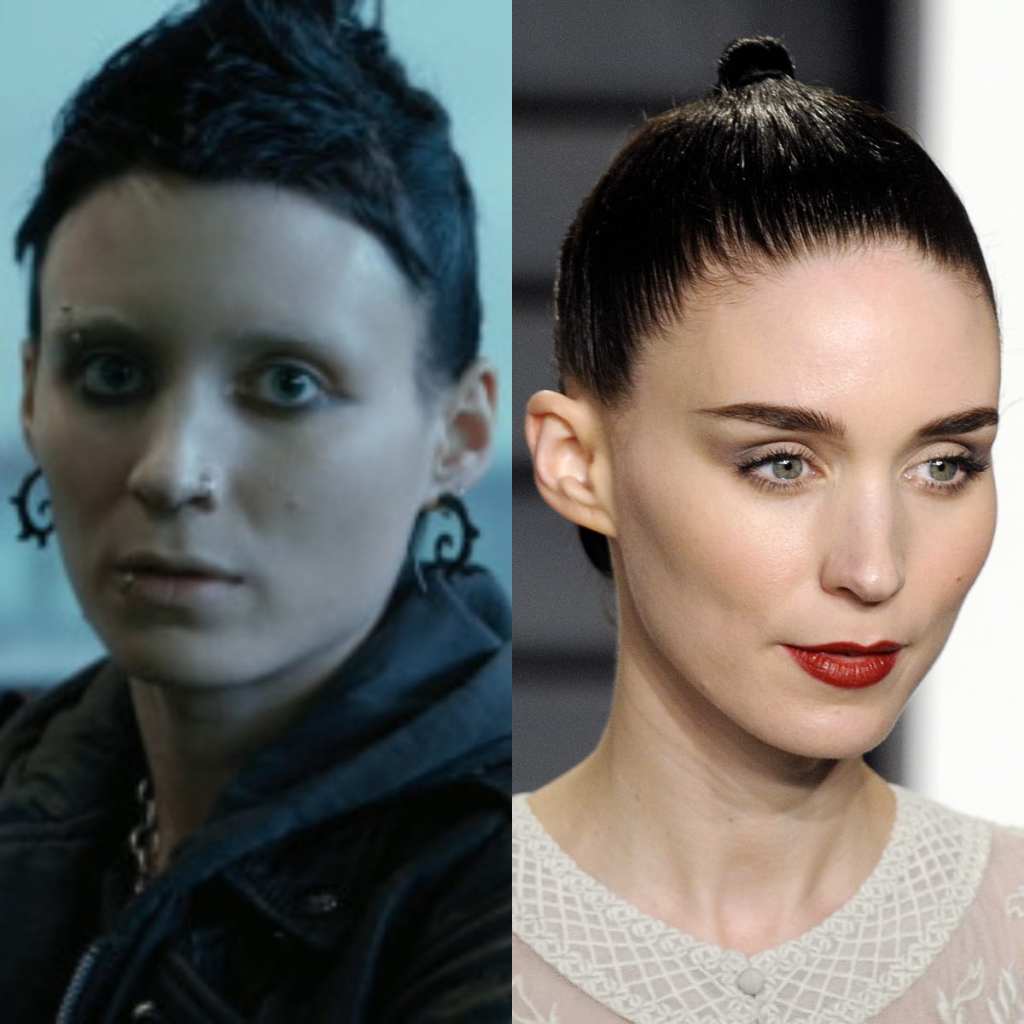 Thanks to that movie role, Rooney Mara was nominated for an Academy Awards for Best Actress and a Golden Globe Award for Best Actress – Motion Picture Drama. And since then she has been in other Oscar-nominated movies, such as Carol.
Anne Hathaway
Another brilliant actress, Anne Hathaway has had all types of roles in blockbuster movies. Some of her most recognizable appearances were as Mia Thermopolis in The Princess Diaries series and Fantine in the musical movie Les Misérables, based on Victor Hugo's book and the Broadway play.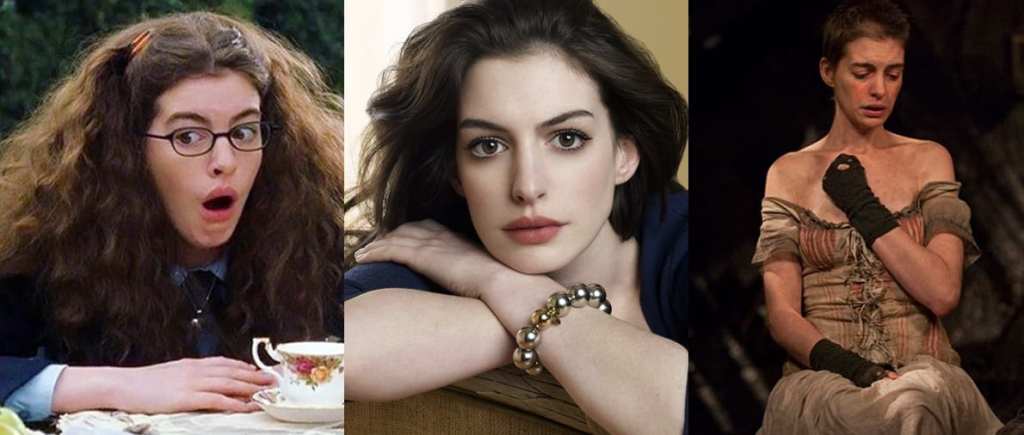 For her role as Fantine, a French seamstress who becomes a prostitute out of desperation, Anne lost 25 pounds. The actress explains that to play her character, she lost all that weight in an unhealthy period of only two weeks, which led to an identity crisis.
Delphine Chanéac
This French model, actress, and DJ is best known for her character Dren, in the Canadian science fiction horror drama Splice. The 2009 movie, directed by Vincenzo Natali, centered around a young scientific couple attempting to introduce human DNA into their work by splicing animal genes.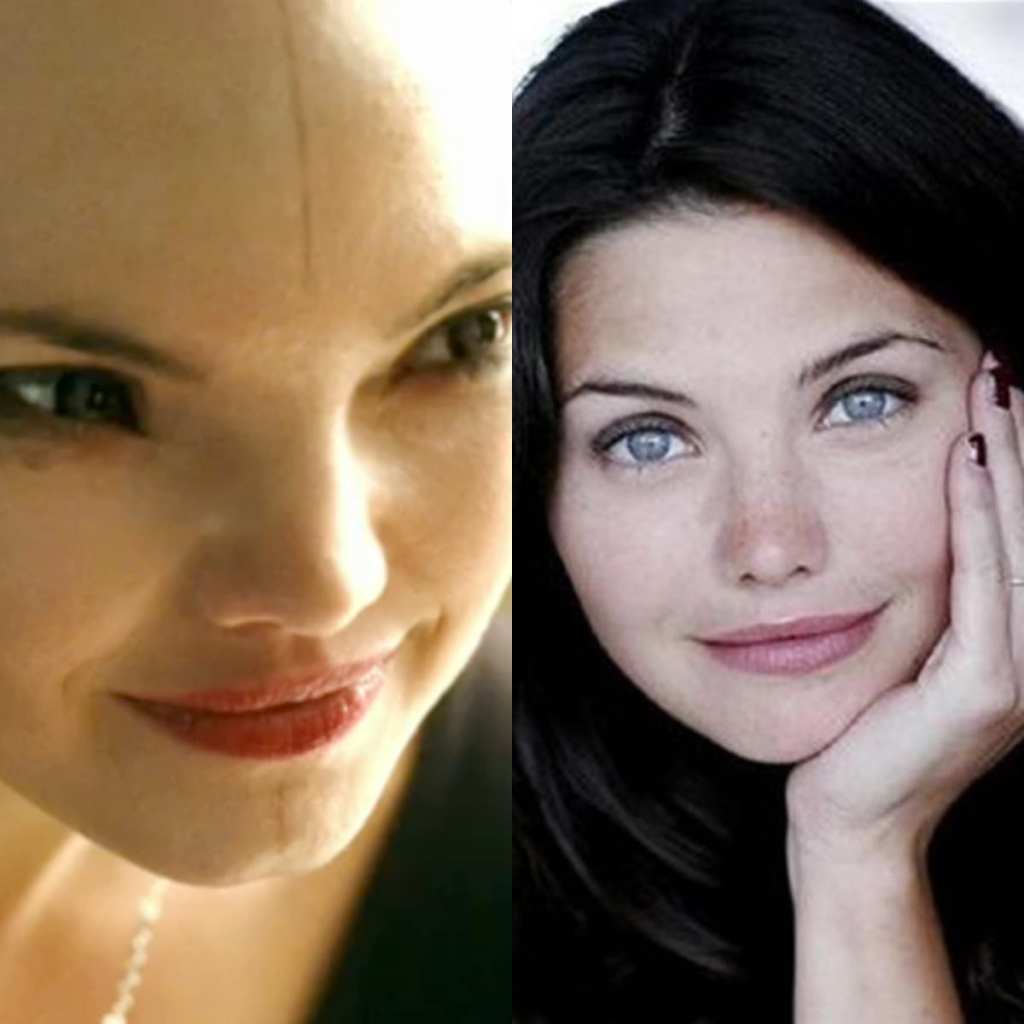 To prepare for her role as Dren in Splice, Delphine listened to the band The Cure as well as to classical music and shaving off all of her hair. Fun fact: before Splice, Delphine Chanéac had appeared in the 2006 movie The Pink Panther, starring Steve Martin.