40+ Inspirational Sports Quotes That Should Replace "No Pain, No Gain"
By Peace L August 11, 2022
---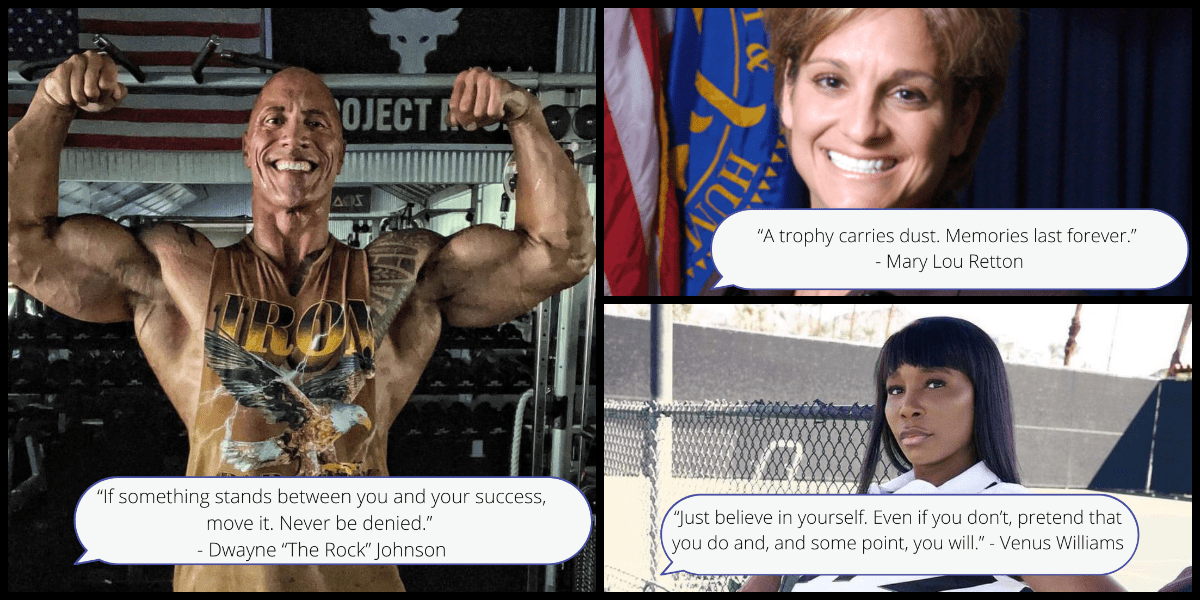 Sports are a universal phenomenon that unites people from all over the world and highlights global talent. Athletes in every sport need to develop a strong work ethic, make sacrifices, and consistently give everything they've got, regardless of what happens on the field or court. More than anyone else, they understand the value of pushing outside of one's comfort zone to accomplish goals they never imagined attainable. Even the most naturally talented athletes must put their all into their sport to reach the top. They have taught us the value of perseverance and that nothing worthwhile ever comes easily.
These factors allow athletes to uplift, inspire, and leave an enduring impression on fans. Here are some notable sports quotations from some of the greatest athletes, coaches, and lecturers in case you need some motivation.
Mike Singletary
Mike Singletary is a former player and current professional football coach. Every athlete works hard to play, participate in the game, and display their skills to everyone. Due to injury or a lack of talent, many athletes are denied the opportunity to compete.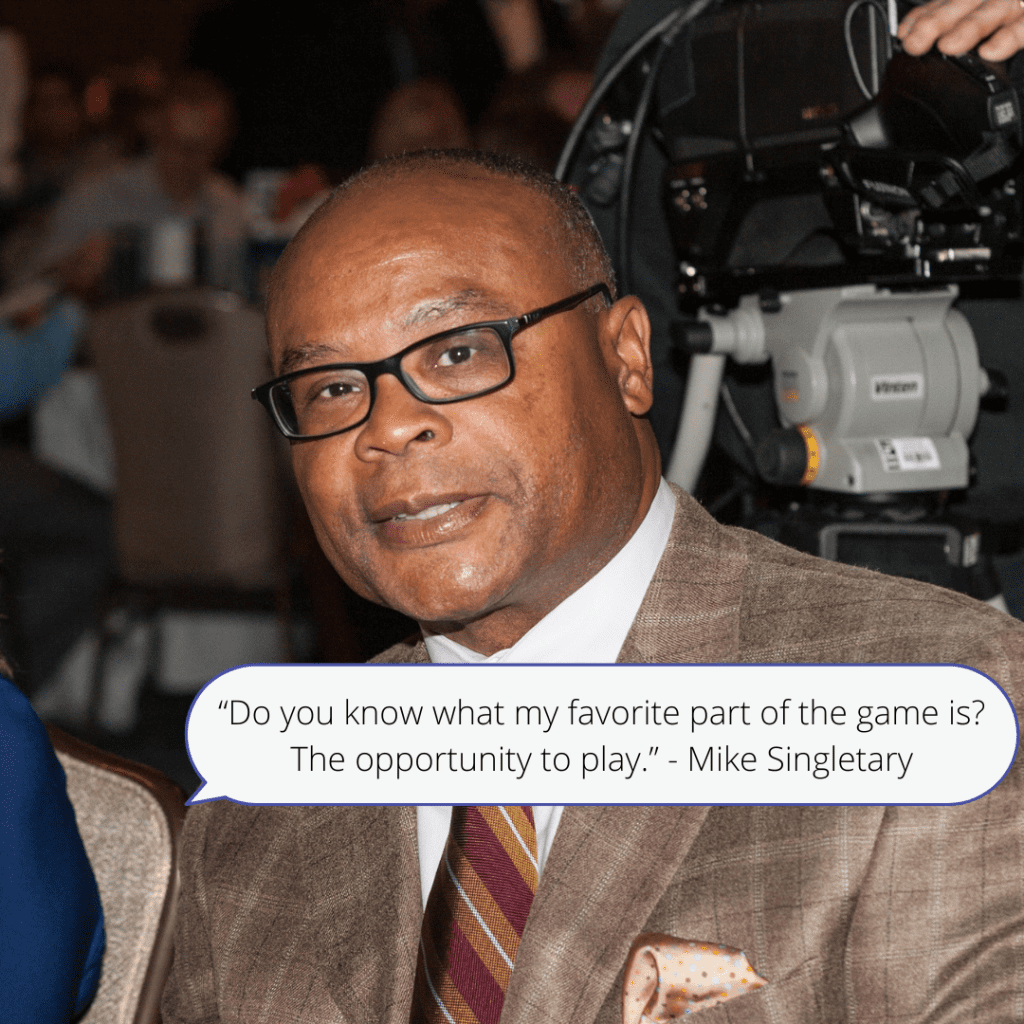 Although the remark is from a football player, we think it relates to all of us. Everyone has a choice in their life, and some people choose to watch the game and not participate. Every day in life is like a brand-new game.
Simone Biles
Regret is a persistent negative emotion that you may experience for a short period or linger for a very long time. The majority of athletes regret performing hesitantly and holding back during a tournament. Listen to Simone Biles, a seven-time Olympic medalist, on this one.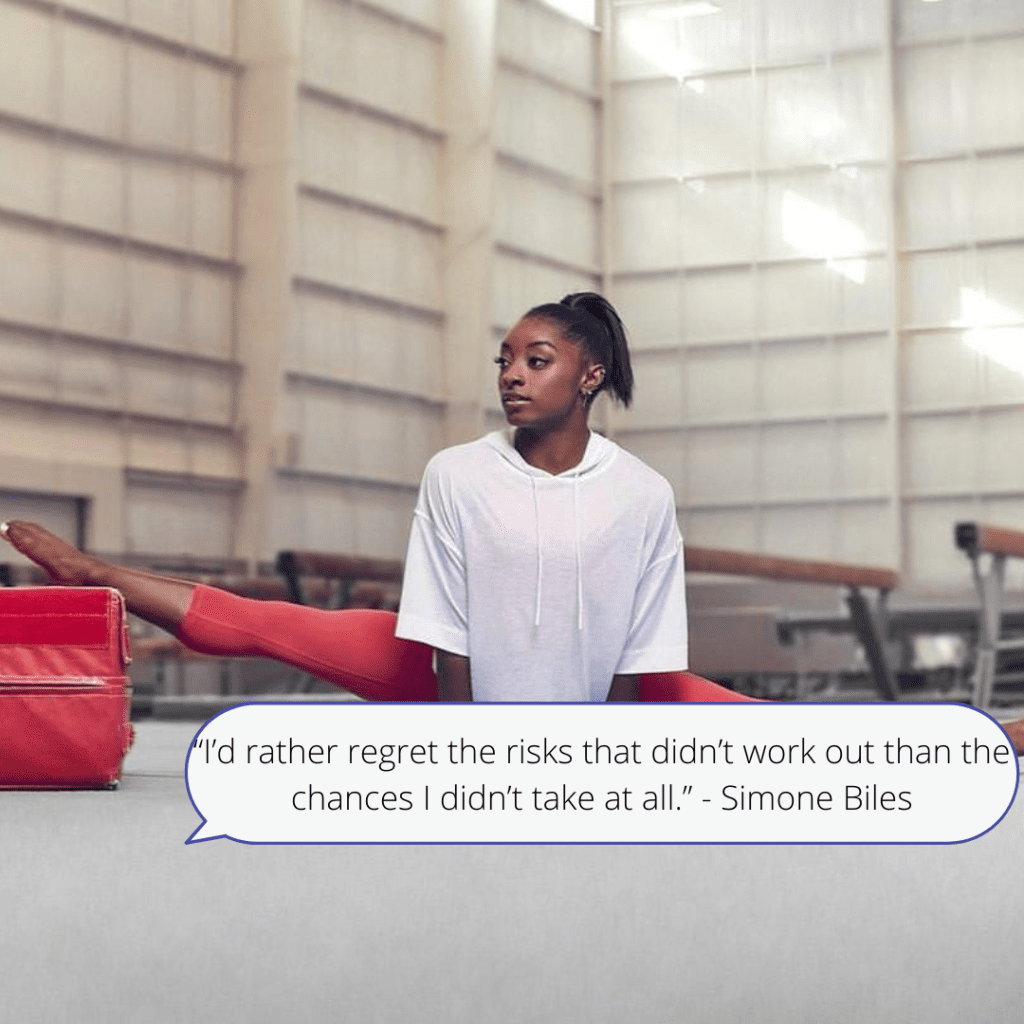 It's always advised to stay safe, especially when starting something new. But you can't be too cautious, otherwise, you'll underperform and won't take the risks needed to thrive. Simply put, you must take chances if you want to perform at your best.
Tom Landry
We often squander time considering what has happened and what we may have done differently. Thomas Wade Landry was an American coach and professional football player. He served as the Dallas Cowboys' first head coach in the National Football League.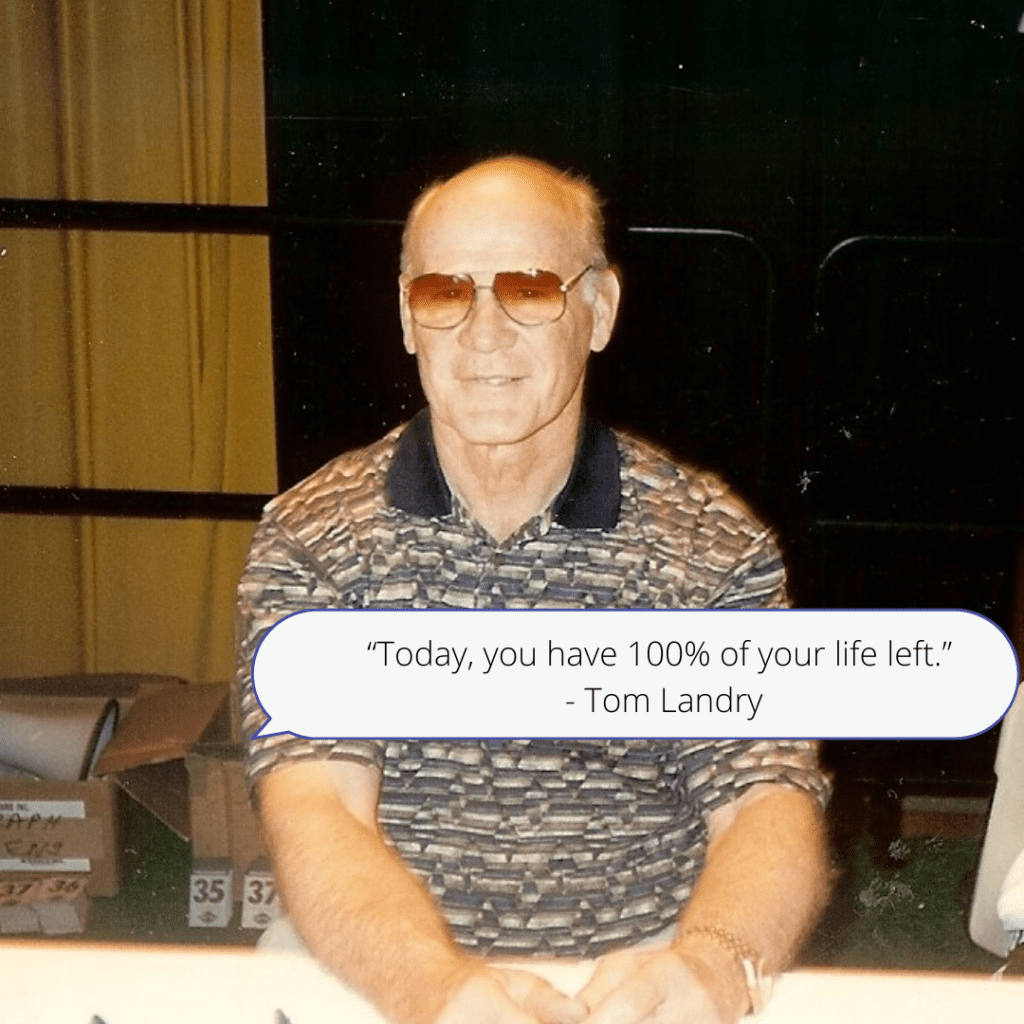 While yesterday has passed, and today is a given, no matter how uncertain tomorrow is, the opportunities are endless. Whether you have ten months or ten years, you still have your entire life to live and make the most of it.
Cristiano Ronaldo
The captain of Portugal's national team is a professional footballer from Portugal named Cristiano Ronaldo dos Santos Aveiro. Before the match between Portugal and Denmark in October 2011, Ronaldo tweeted, "We don't want to tell our dreams. We want to show them."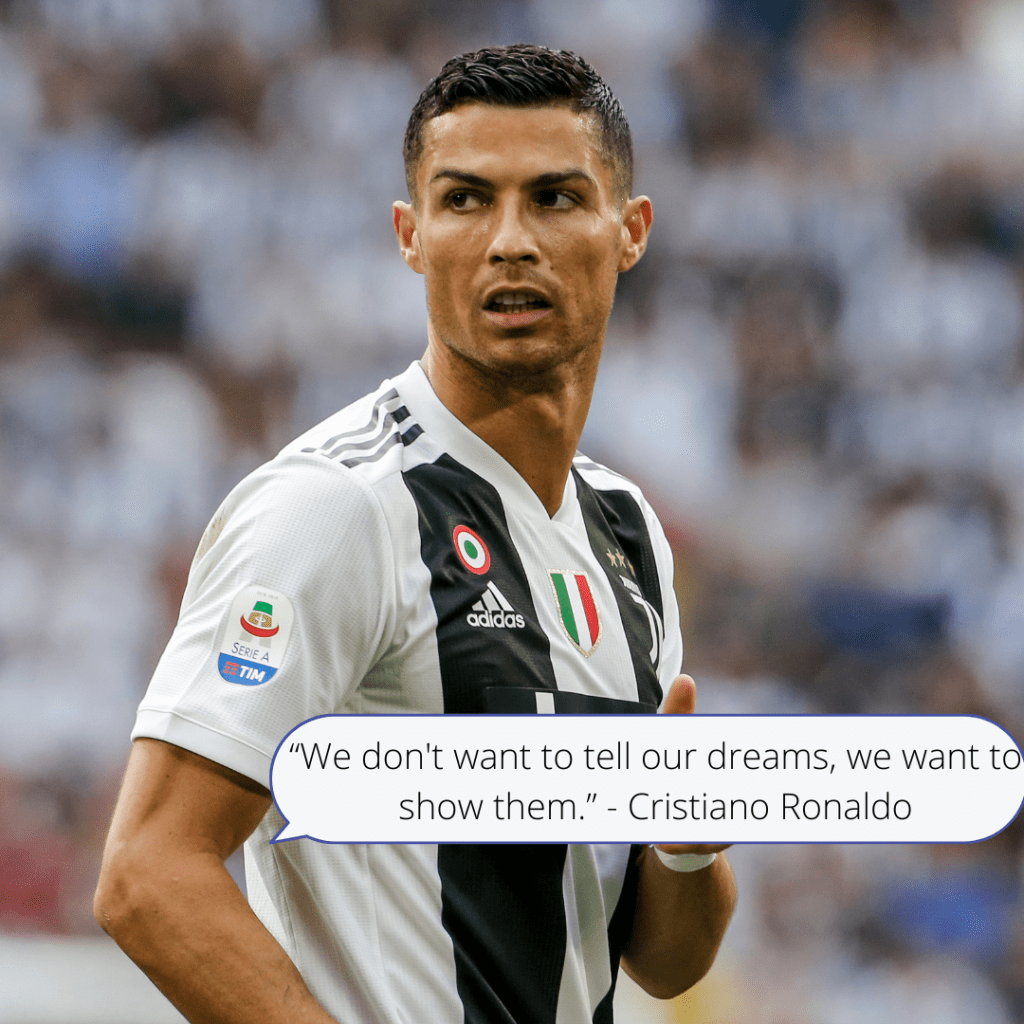 The player was asking the fans for their support, informing them that the squad would let its deeds speak for itself rather than simply announcing what it hoped to accomplish. What you do reveals your genuine intentions, which are more significant than what you say.
Kobe Bryant
Soon after Kobe Bryant joined the NBA, fans couldn't help but draw comparisons between him and retired basketball superstar Michael Jordan. Previously, Jordan competed in the National Basketball Association for fifteen seasons, earning six NBA titles with the Chicago Bulls.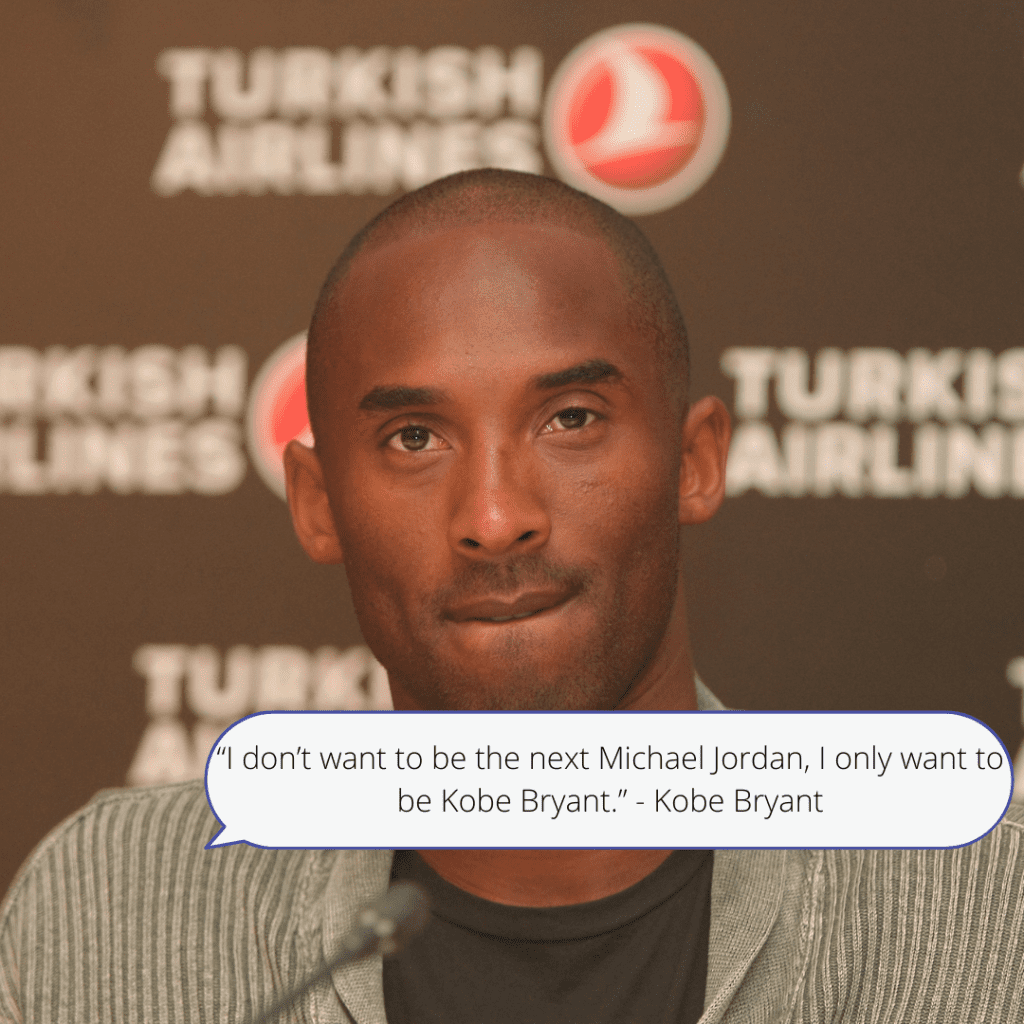 Kobe Bryant held a high level of respect for Jordan. Kobe's achievements in the NBA led to frequent claims from fans that he was attempting to emulate Michael Jordan. In 1997, he tried to dispel these claims by stating, "I don't want to be the next Michael Jordan; I only want to be Kobe Bryant."
Vince Lombardi
Undoubtedly, we all fail. However, this does not mean that you shouldn't strive for greatness because you cannot, and will not, win them all. Vincent Thomas Lombardi was a coach and NFL executive. What matters is that competitive spirit and determination.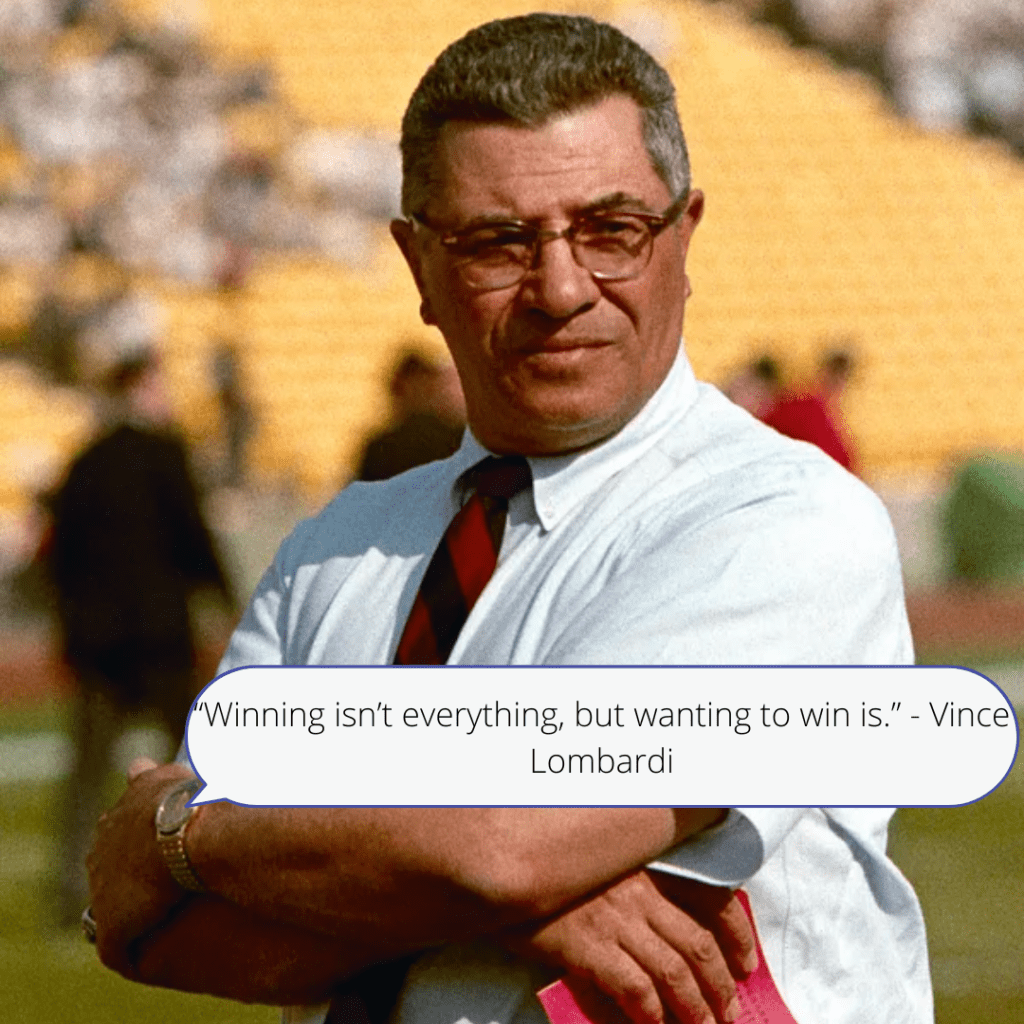 While striving to win is important, winning itself is not. Remember, you deserve to win; pursue it even if you can't win them all. Many believe Vince Lombardi to be the best coach in football history. Vincent is one of the finest leaders in all of American sports history.
LeBron James
One of the unavoidable aspects of life is failing. There's no one who hasn't experienced failure at least once. During an interview, the American pro basketball player LeBron admitted to his fear of failure. LeBron made the statement, "don't be afraid of failure; this is the way to succeed."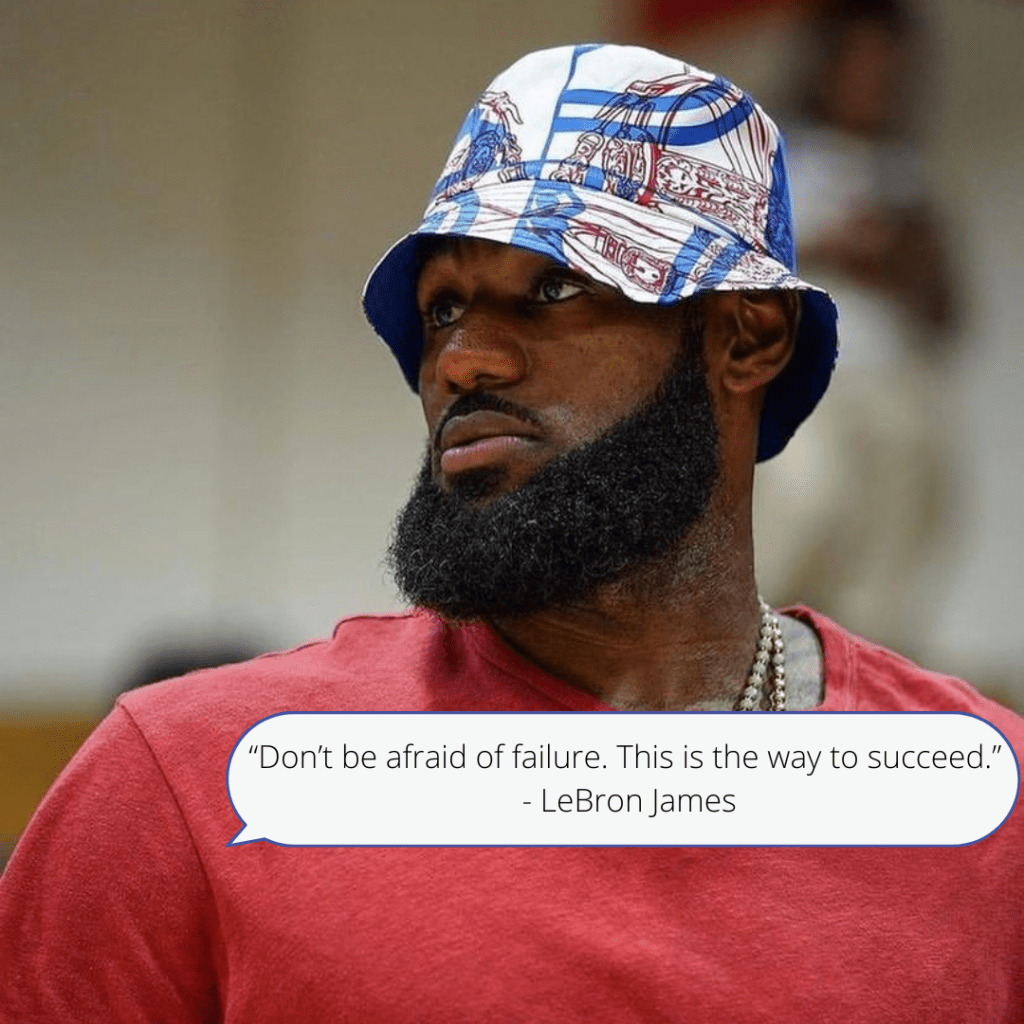 The majority of us detest failure, and instead of focusing on its benefits, we believe that failure spells the end of everything. However, we prefer to think of it as failure is one of life's greatest instructors. You could learn some of the most significant life lessons when you don't succeed.
Mark Spitz
Most of an athlete's time is spent in the gym, with the physios, and in team meetings. No matter how smart, skilled, or informed you are in your field, you must spend time planning every day. While you can improvise in some aspects of life, it's not a way to go through life.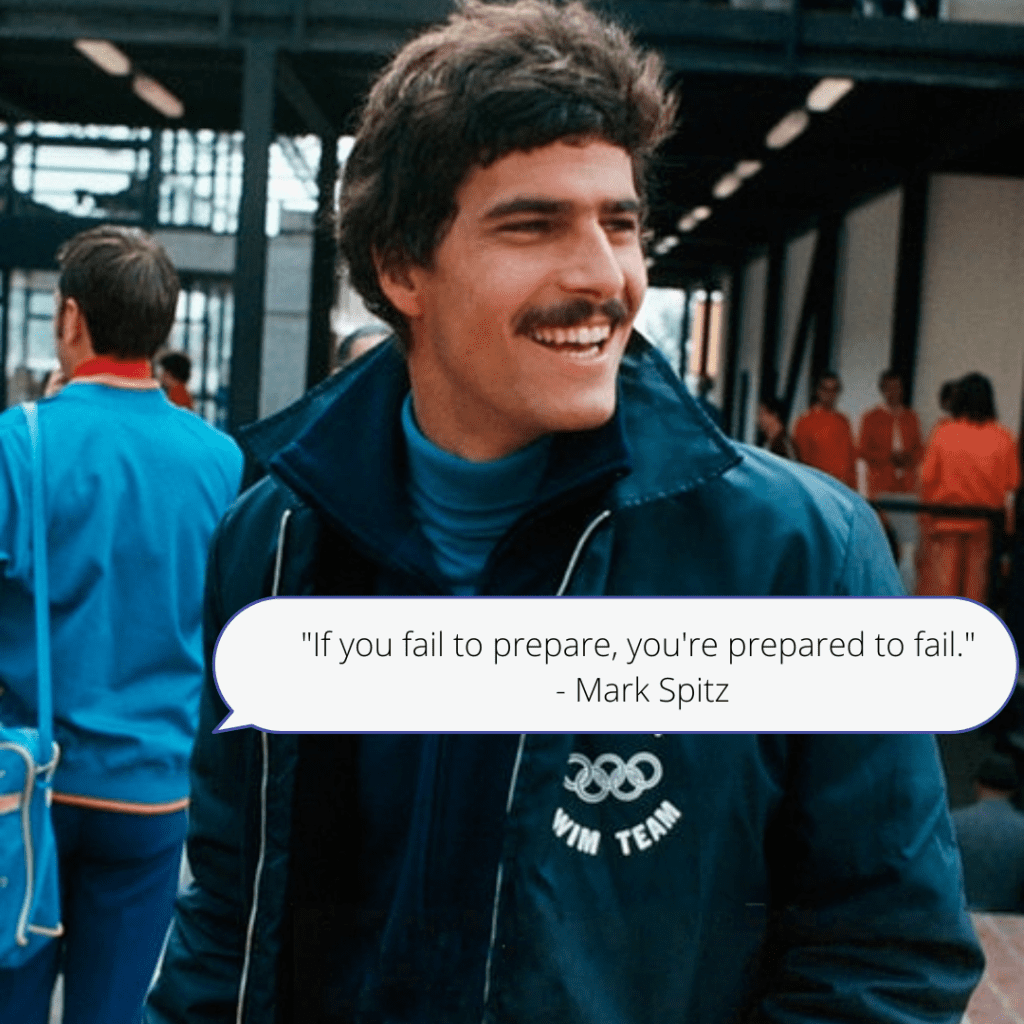 You never know when the next opportunity may present itself, so be prepared for the next objective, the next major occasion, and the subsequent step. The people with the biggest regrets are those who missed an opportunity because they were unprepared.
Lance Armstrong
The difference between struggle and failure is clearly evident in this sentence. People can become dejected in life when things don't go as planned. Because he won the Tour de France seven times straight from 1999 to 2005, Lance Armstrong is revered as a sports legend.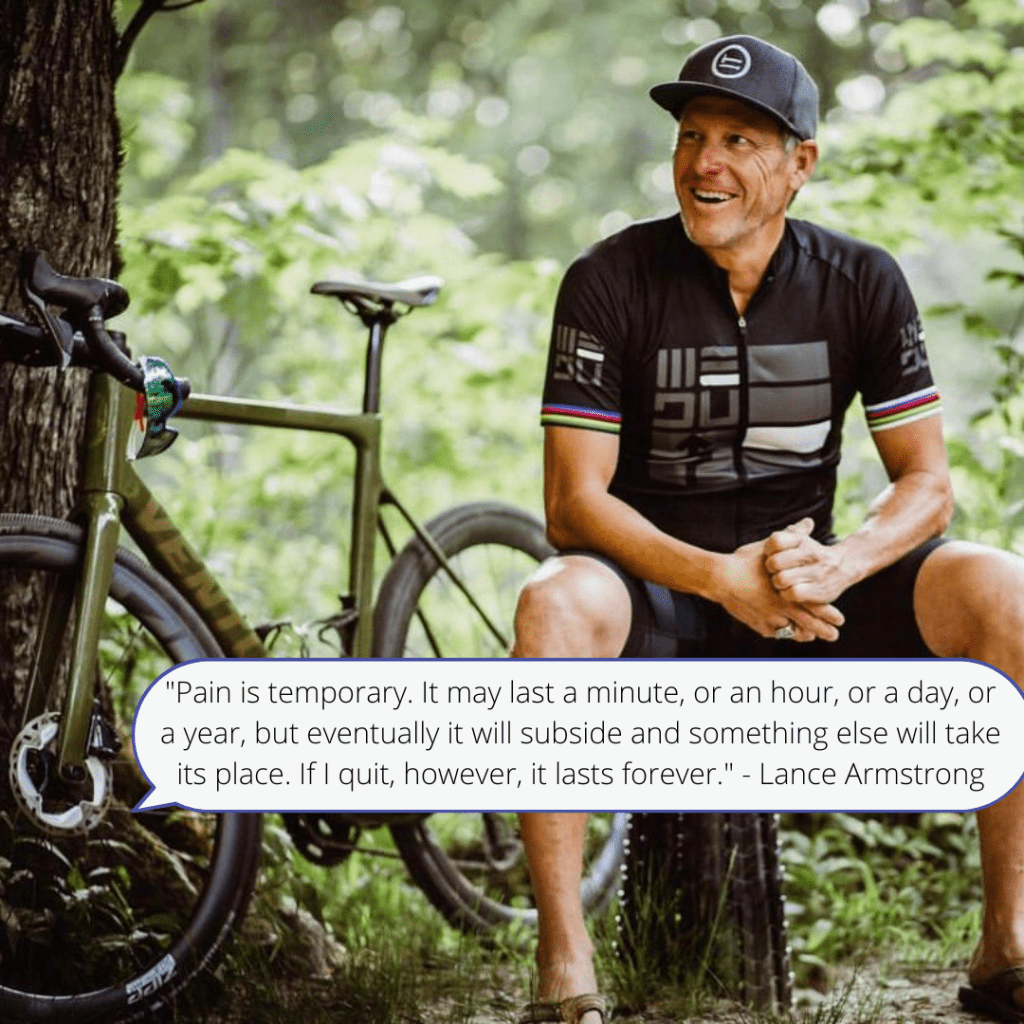 Armstrong and his belief system stand for the belief that individuals can achieve success through persistent hard work. Roadblocks will always crop up, but success is guaranteed if you put in the effort, no matter how difficult it may be.
Charles Barkley
Being paralyzed by fear of failure prevents you from moving forward since you are unsure that you will be successful. The desire to achieve may be overshadowed by the fear of failure, which can be extremely intense. Many people unknowingly harm their chances of success because they are afraid of making mistakes.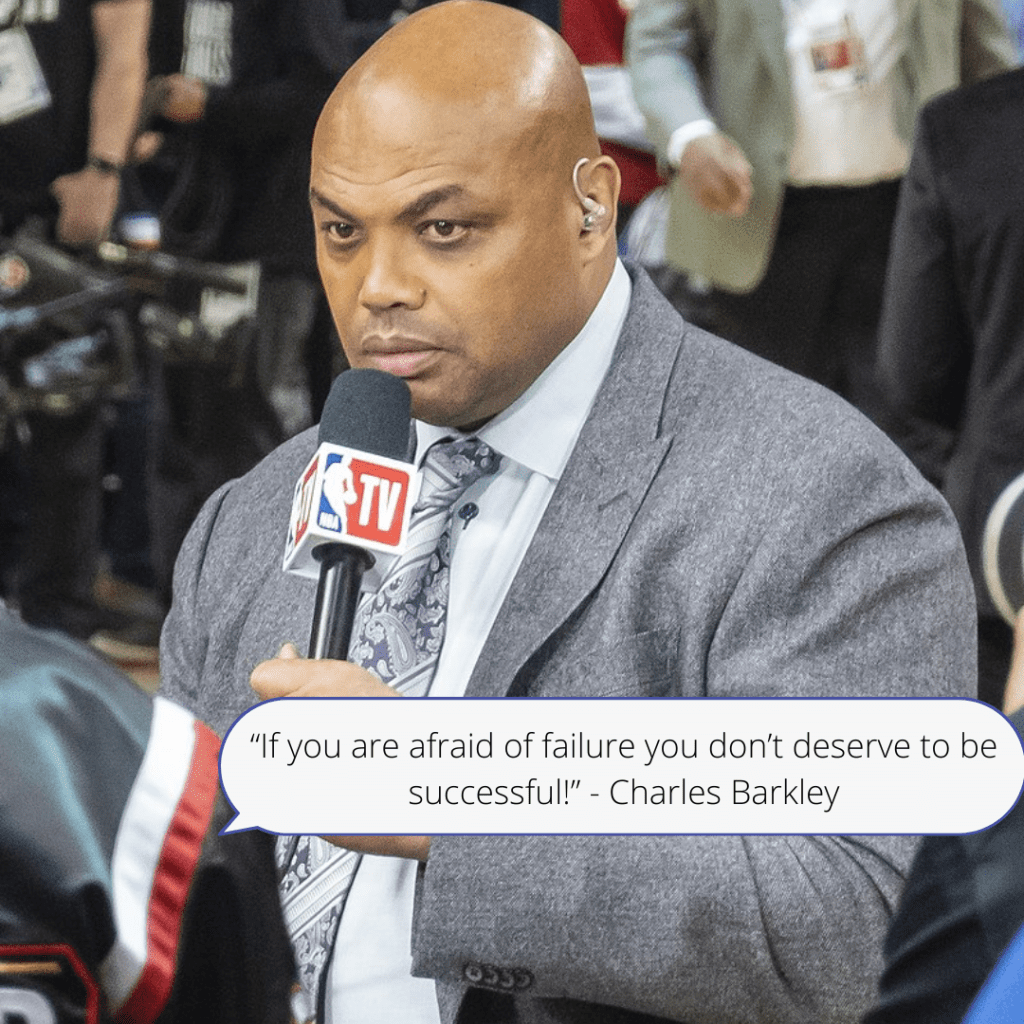 Most people are terrified of failing because they believe they don't deserve to succeed in the first place. To succeed, one must go through several phases of failure and achievement. Our success may very well depend on how we view failure.
Mickey Mantle
Failure does not equal disgrace. Mickey Charles Mantle was a professional American baseball player. Throughout his Major League Baseball career from 1951–1968, Mantle was a member of the New York Yankees. Many consider Mantle to be the best switch hitter in baseball history.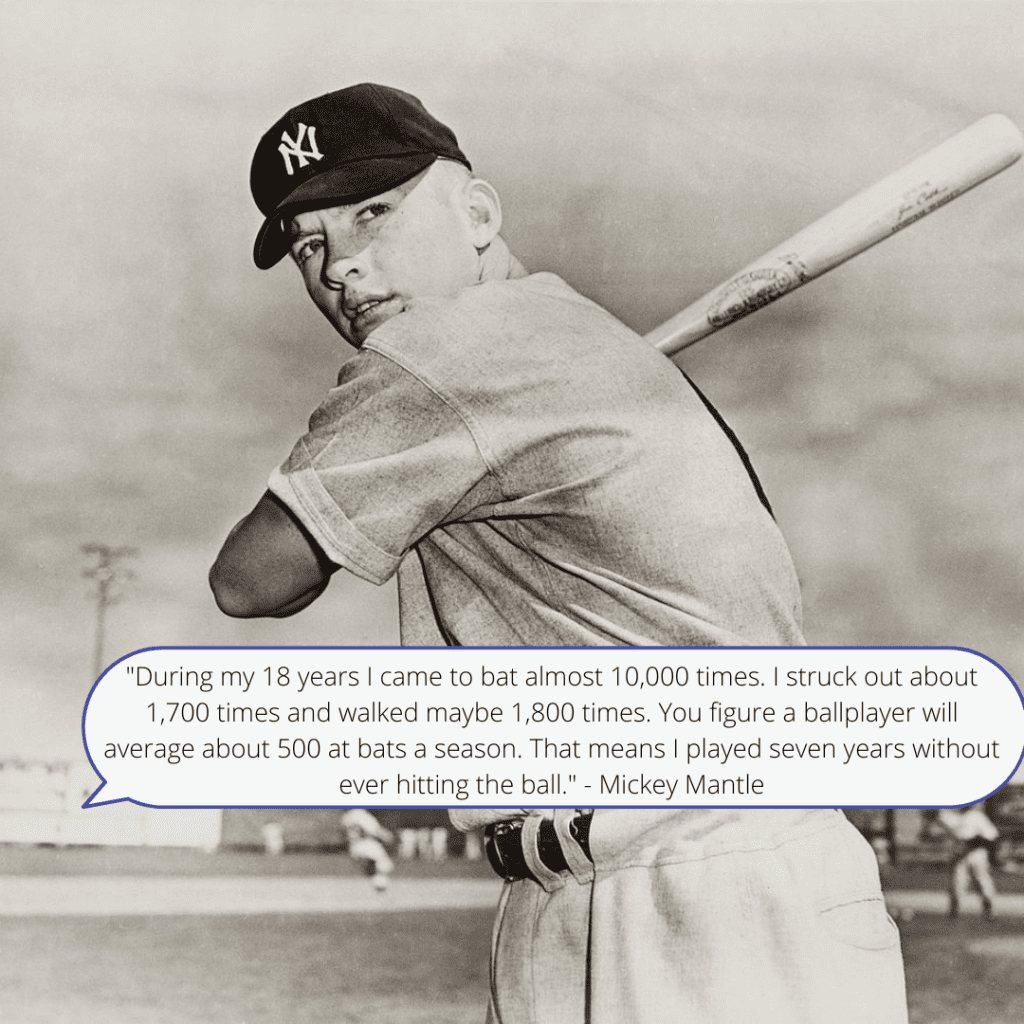 Although it is true that Mickey frequently missed the ball, his entire career proves that he was in no way a failure. His success was a result of what he did when his bat made contact with the ball. Keep trying and learn from your mistakes.
Dwayne "The Rock" Johnson
"The Rock" might have started off as his Wrestling name, but Dwayne Douglas Johnson's "stage" name has followed him through his career as an actor. He is widely considered one of professional wrestling's greatest and most influential wrestlers and is among the highest-paid actors in the world.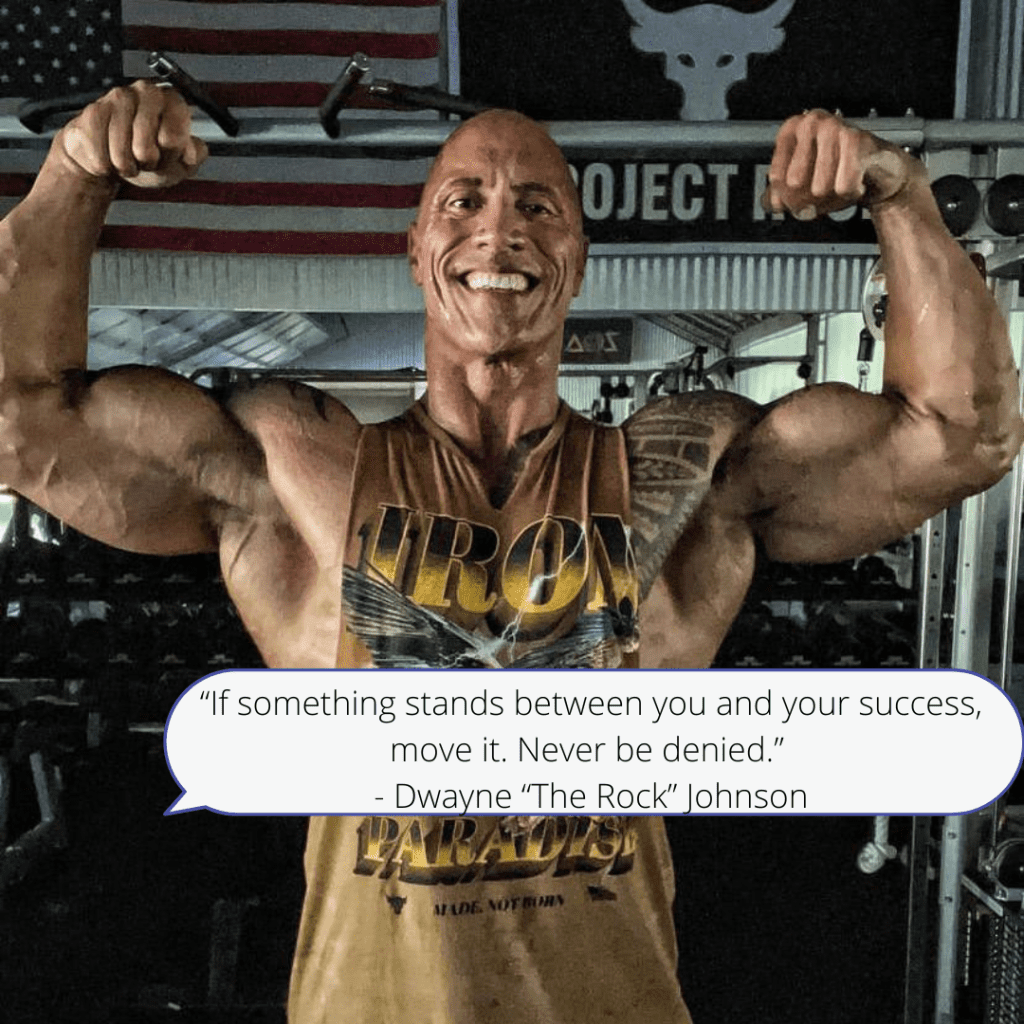 Dwayne is renowned for his numerous inspirational sayings. He tweeted, "If something stands between you and your success, move it. Never be denied," in 2012. There will be challenges on the road to achievement, but never give up; always persevere.
Maria Sharapova
Accept responsibility for your games, good and bad. Players who constantly find reasons to justify their subpar play rarely improve. Making excuses for failing and placing the blame on other things that are beyond your control makes it far more difficult to do better.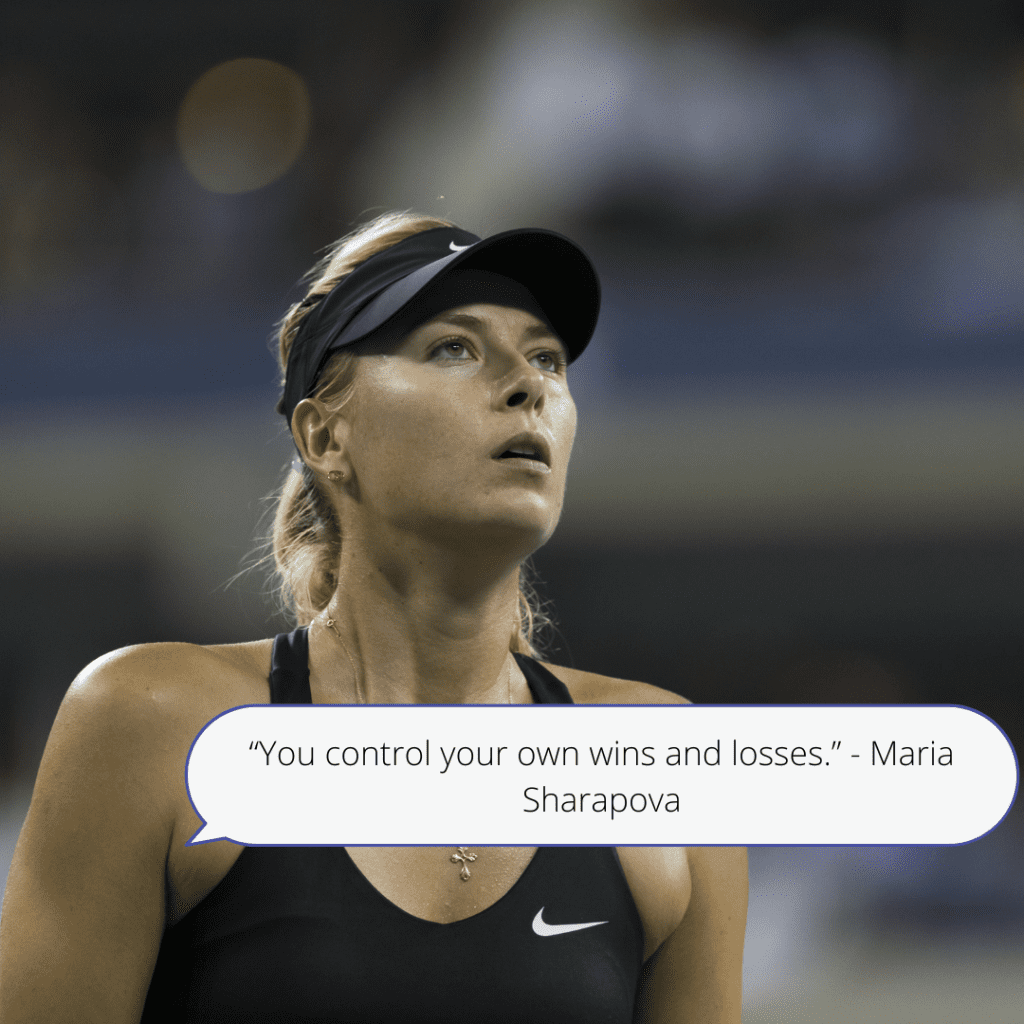 Contrary to what you may believe, you greatly impact your wins and losses. Find the positives, set goals, and keep progressing. There is no benefit to being self-critical of your performance and dwelling on your defeat. After a setback, setting new objectives and moving ahead might help you recover and keep improving.
Ronnie Lott
Our thoughts have absolute power. We become what we think. It's easy to believe that the most prosperous individuals constantly behave with conviction and self-belief. However, even the most revered and successful people experience self-doubt every once in a while.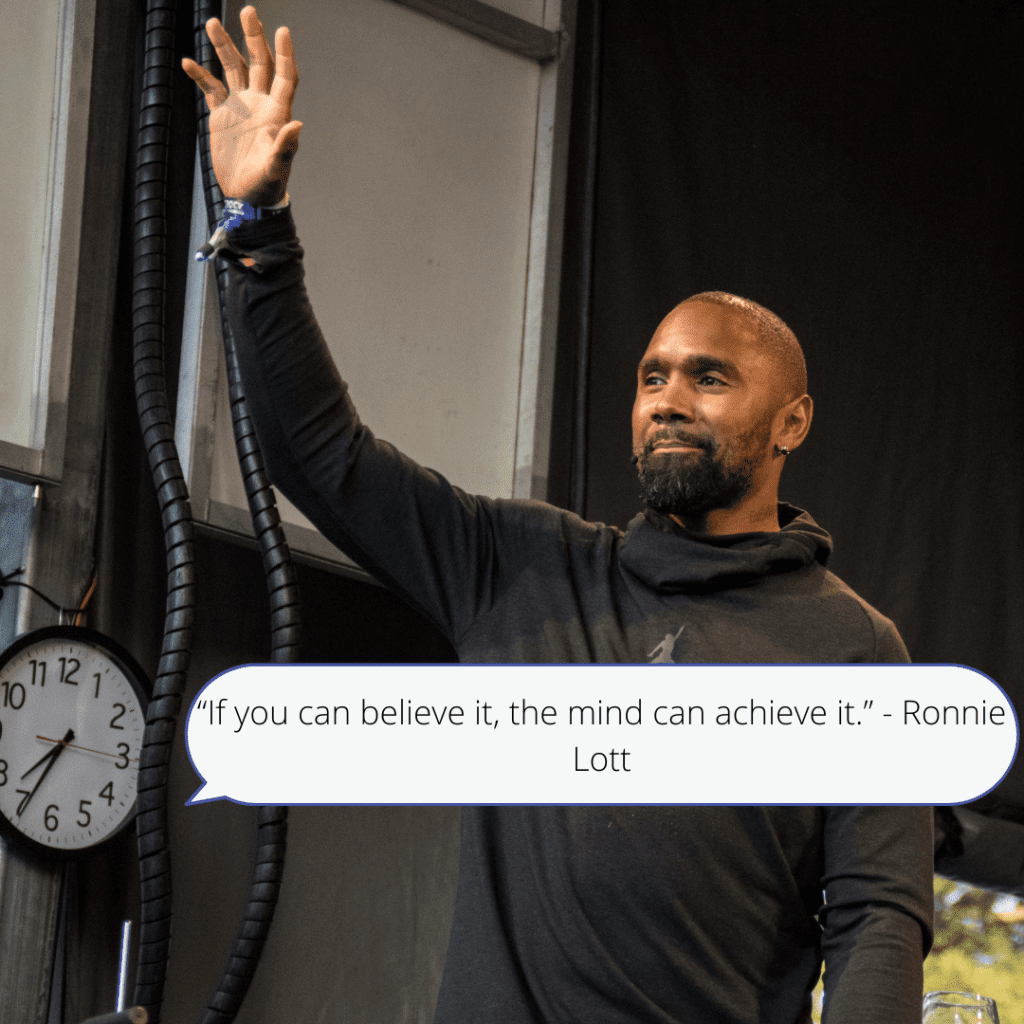 You possess all the skills required for success. You can have an ambitious desire or goal, but you won't achieve it if you don't think you deserve it. Believe in your ability to continue to advance and reach your well-earned dreams.
Arthur Ashe
The person or squad on the opposite side is never really your opponent at the end of the game or day. Your greatest adversary is you. Together with your internal critique and amount of resolve, you are testing your own abilities by playing yourself.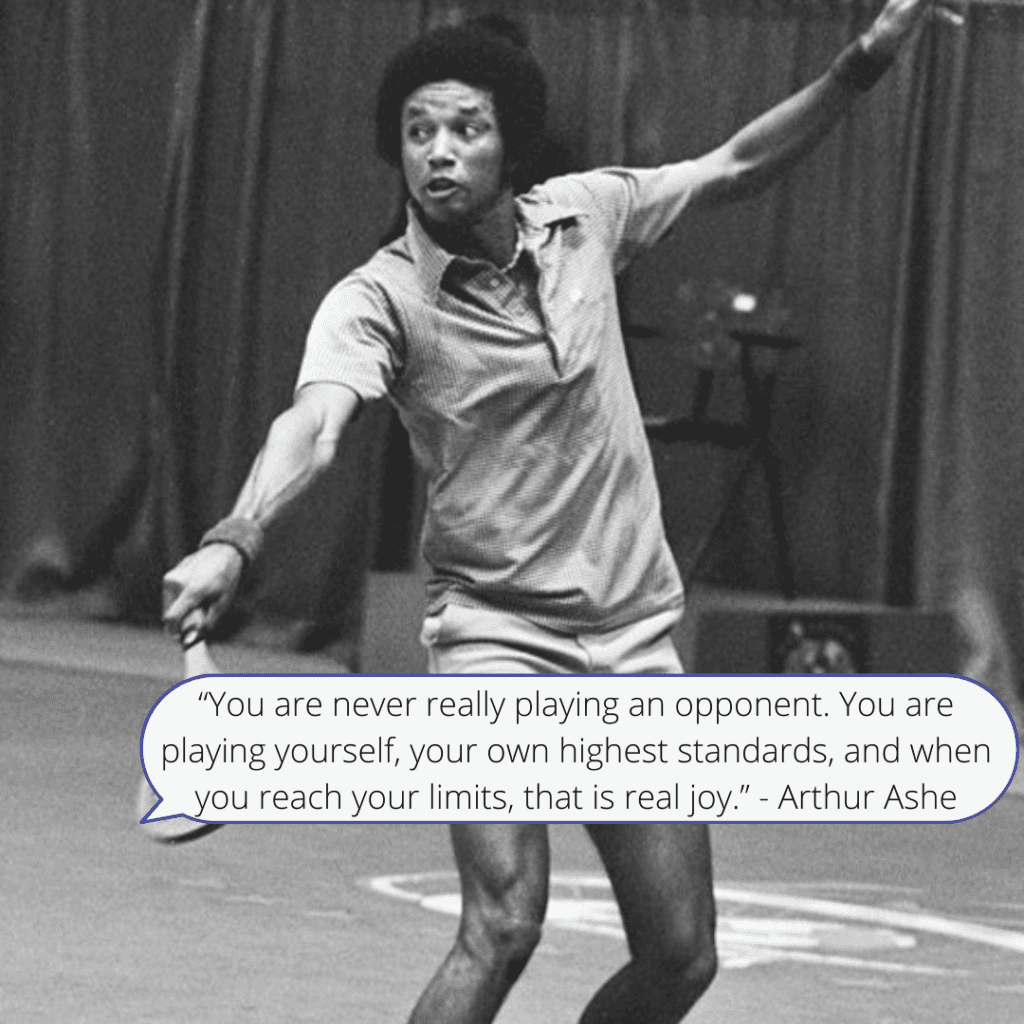 When you are at your best, you will be pleased with the amount of effort you put out and the progress you have made. When you are trying to accomplish something amazing, remember that only you will be accountable if you fail. Things will improve and become simpler if you continue to challenge yourself and set higher expectations.
George Halas
George Stanley Halas Sr. was a team owner, professional football player, and coach. He established and was the owner of the NFL's Chicago Bears. He had many opportunities as a coach to observe people giving their all. He also had to endure watching players who didn't put in the effort.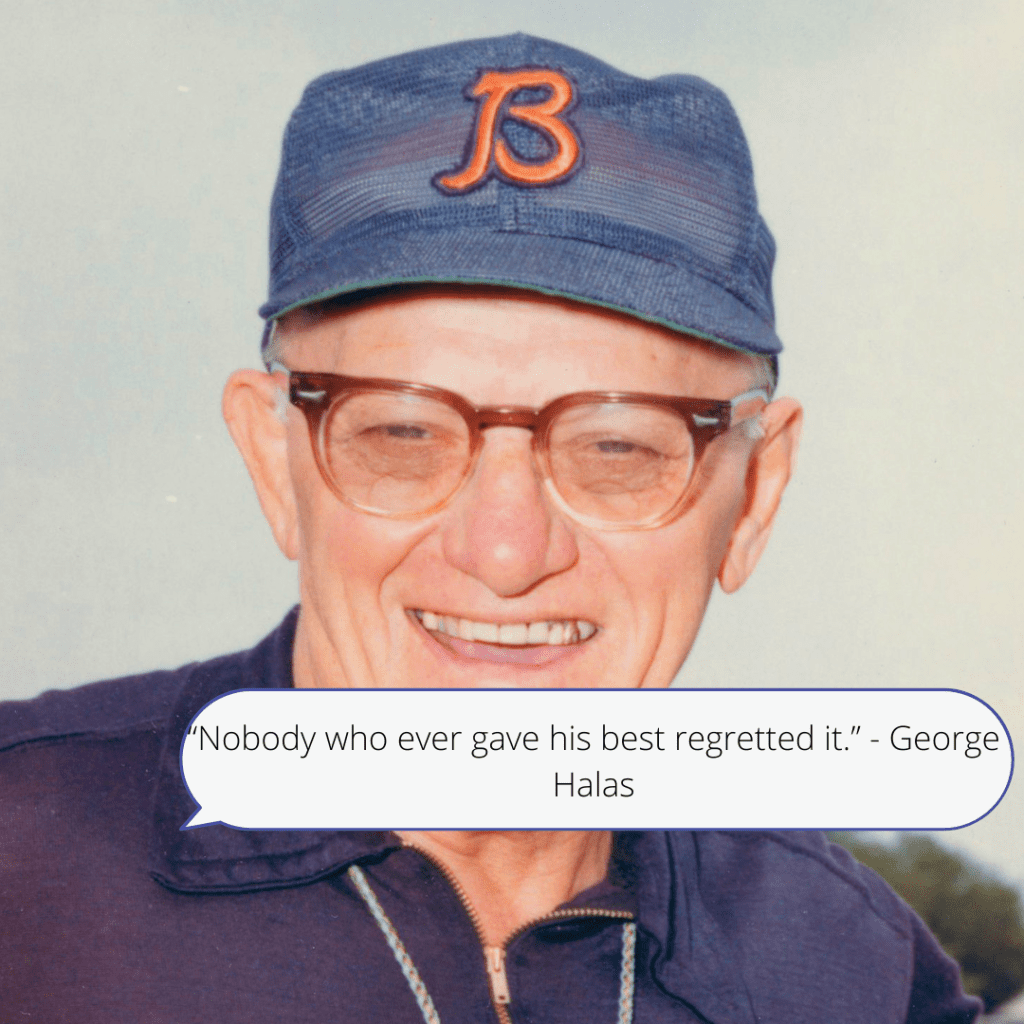 In athletics, as in life, there are wins and losses. Even if you lost and gave it your all and kept nothing back, you will feel better than if you slacked. To live your life to the fullest, do your best and try your hardest at whatever you choose to do.
Wayne Gretzky
You must bring every bit of your preparation to the playing field. You put all your practice, talent, and emotion into whatever game you're playing that day. Even if it's just practice! That is how you compete and become a champion.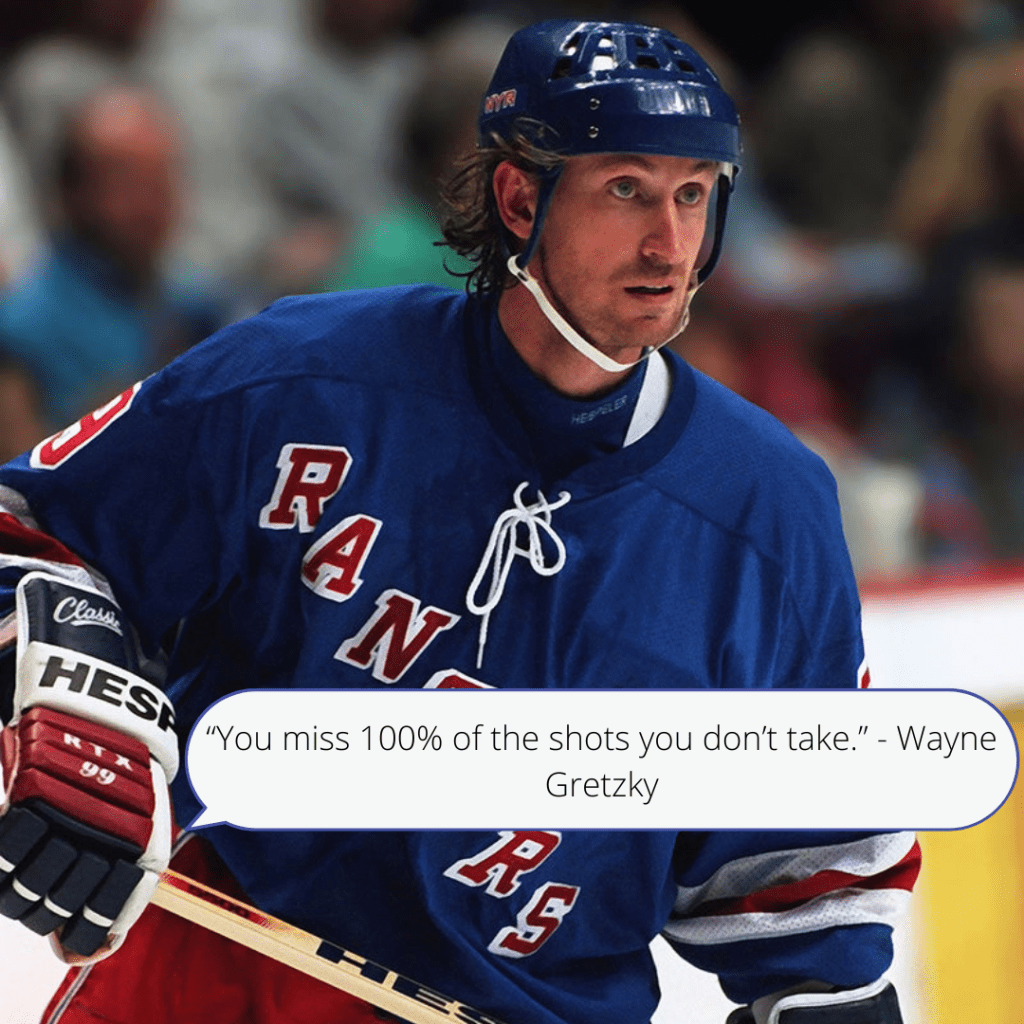 If you have a desire or a goal but don't go after it, you lose the chance to succeed. You must take a risk if you want to realize your ambition. Gretzky has previously claimed that the statement was said to him by his father.
Hayley Wickenheiser
Hayley was really committed to playing women's hockey. Hayley persevered with her dream until she succeeded. Even before her Olympic career, she put forth a lot of effort. Everybody encounters difficulty occasionally, but some people are able to thrive under trying circumstances.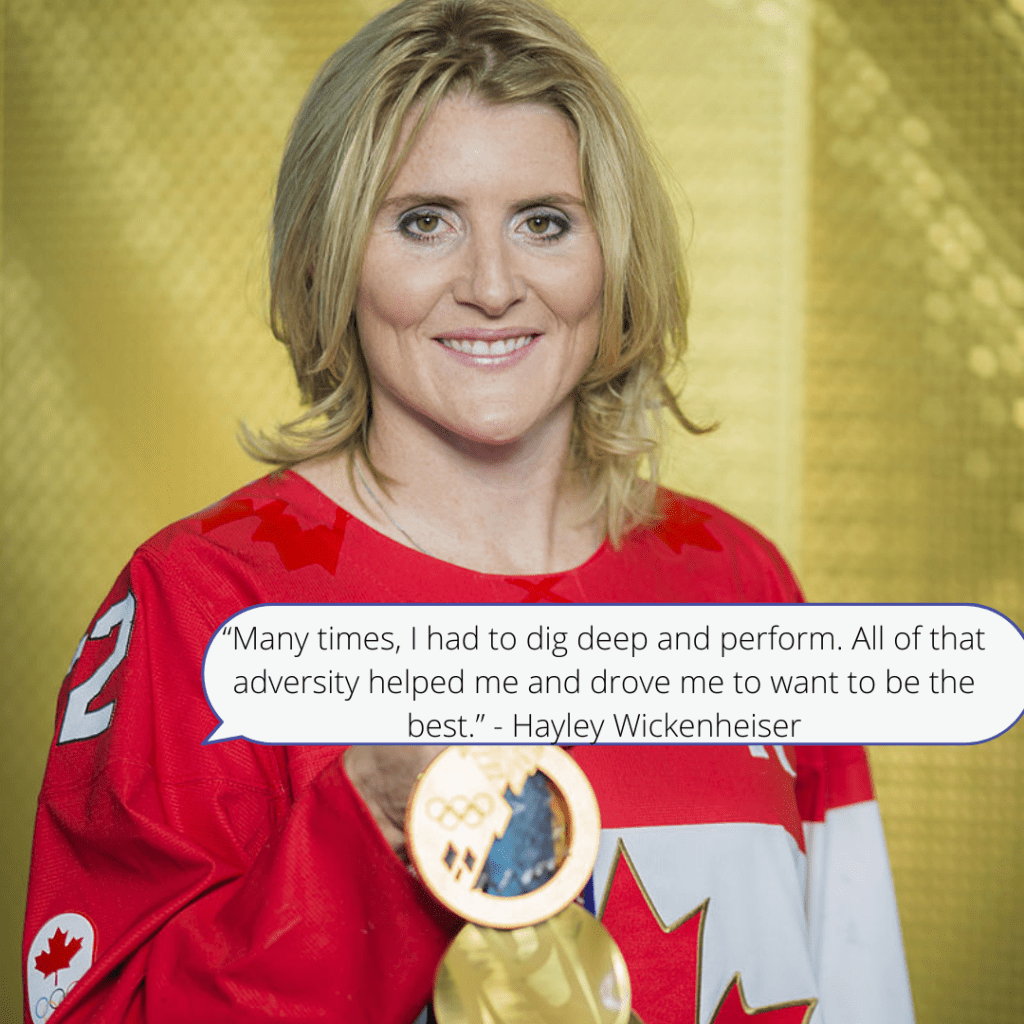 Let your mistakes, setbacks, and difficulties serve as your next triumph. Don't allow yourself to be overcome by unpleasant feelings or thoughts. Gain the ability to persevere through struggle and failure in pursuit of your objectives and dreams and the resilience to pick yourself up after defeat.
Serena Williams
We believe that a champion is someone who wins. More specifically, if you succeed at anything, others will consider you the winner. We can all agree that winning requires a lot of commitment, enthusiasm, and effort. But merely succeeding at something won't turn you into a champion.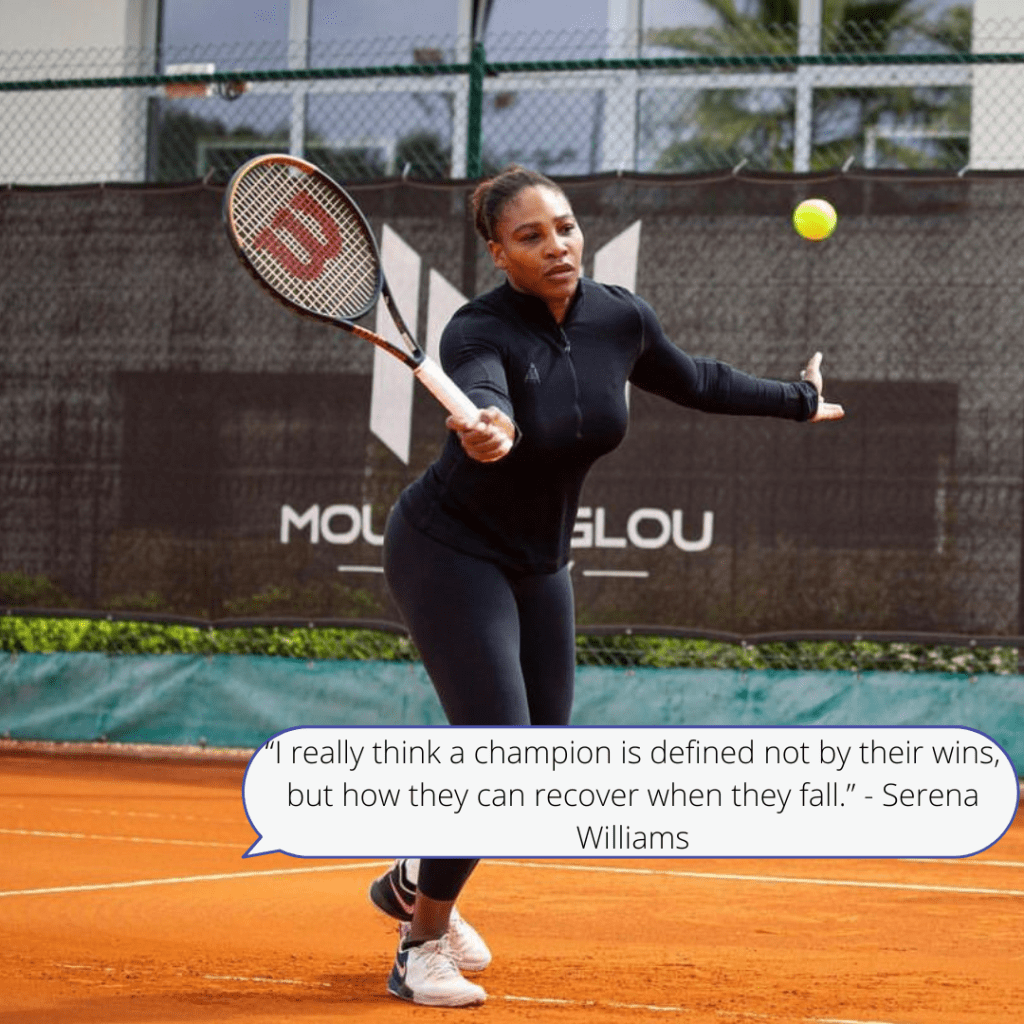 You must bounce back from your failure in order to succeed. We enter a depressive state of mind when we fail. We believe there is nothing we can do and give up all hope. You will be regarded as a champion if you are able to emerge from that dire situation.
Babe Ruth
The Major League Baseball career of George Herman "Babe" Ruth Jr., a legendary American professional baseball player, lasted a whopping 22 seasons. Everybody experiences adversity at some point in their lives, and how well you can overcome it determines everything.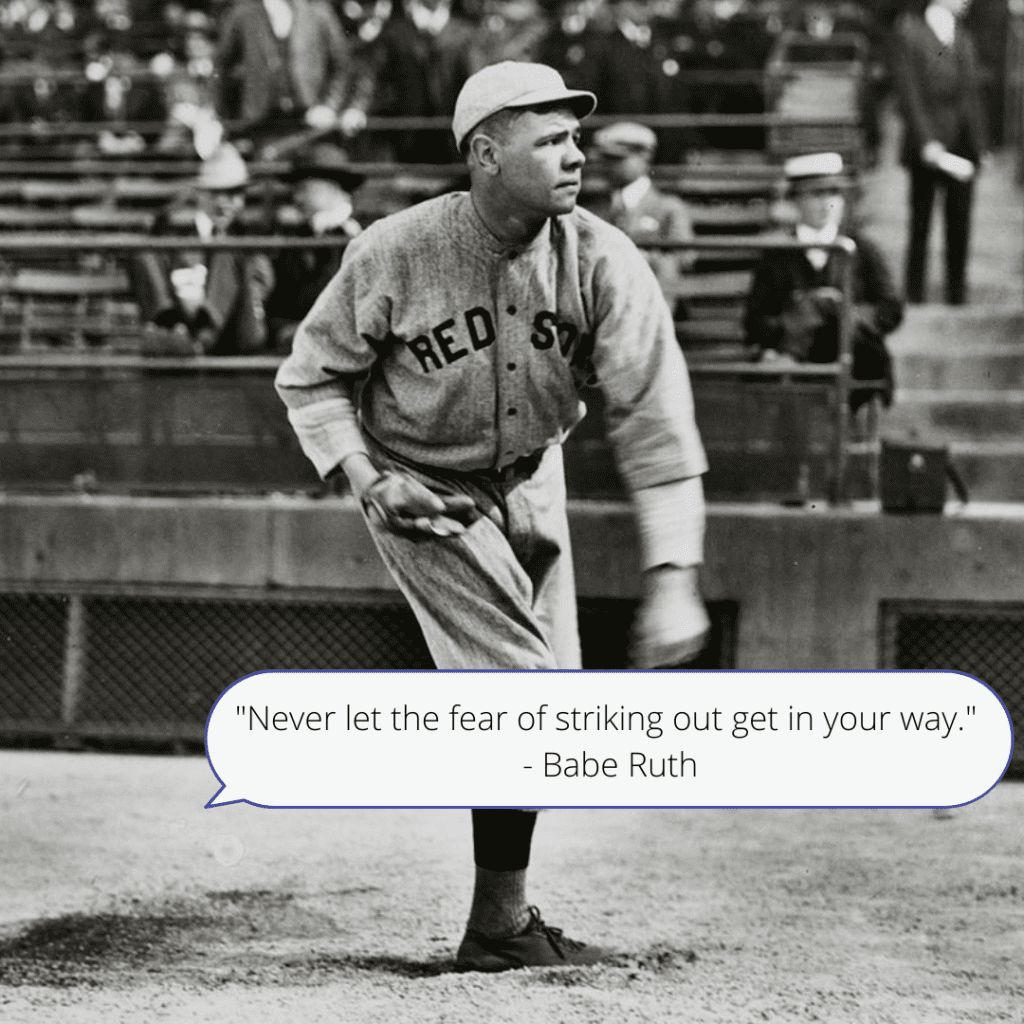 It requires strength to face up to our own fear, which brings us down. You will never achieve the goals you set for yourself, and you will constantly be held back if you let your fear of failing the game stop you from playing. You must persevere and never give up.
Jack Dempsey
Being a champion entails many different factors. You must possess both physical and mental strength. In addition, you must possess the capacity to endure suffering and hardship. The most crucial thing is to get back up after being knocked down.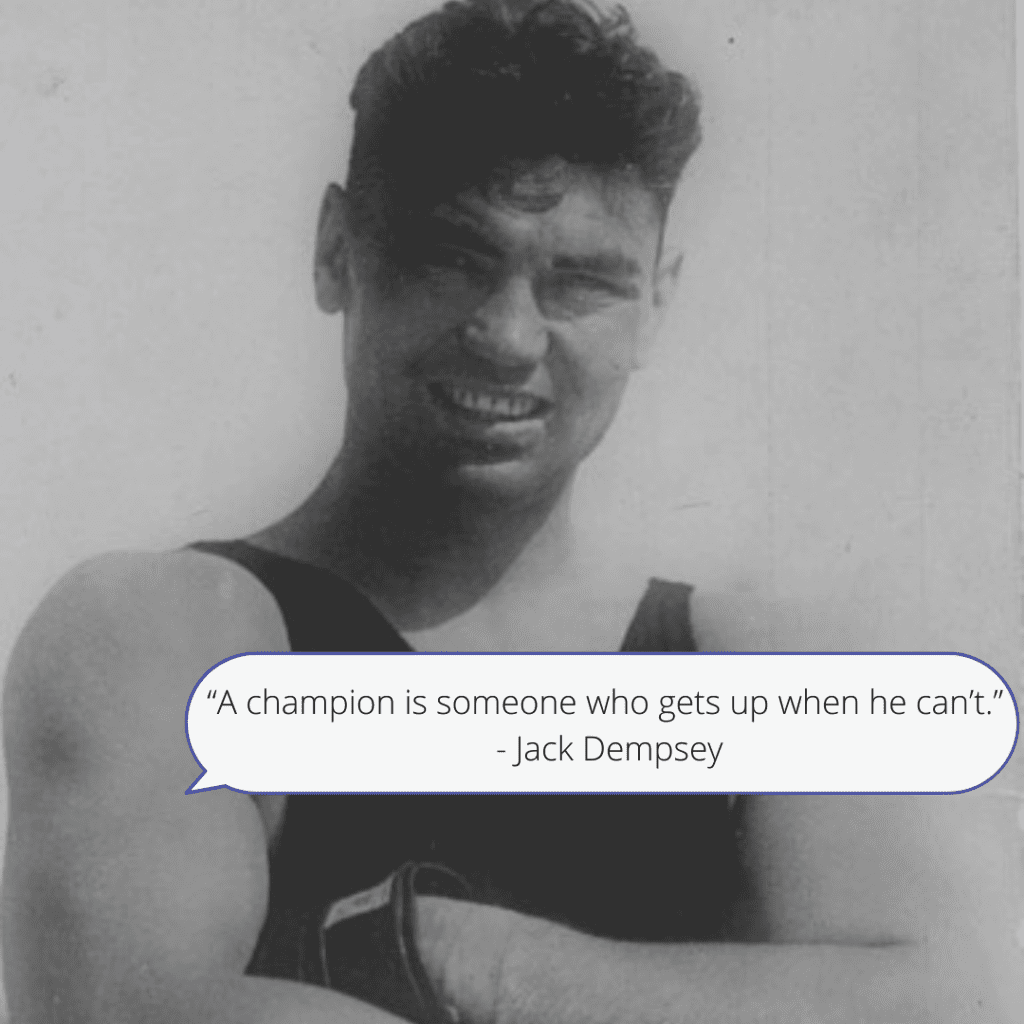 Your mind can endure pain and fatigue even though your body is entirely destroyed after being knocked down; always pull yourself back up. When things are difficult, it's easy to give up. But if you stand back up after falling, you're sure to succeed.
Wilma Rudolph
By the end of the 1960 Olympics, Rudolph had won three gold medals in track and field. Rudolph is the first African American woman to accomplish such a feat. Without going through all the adversity first, we wouldn't be able to appreciate what we have accomplished and what we have acquired.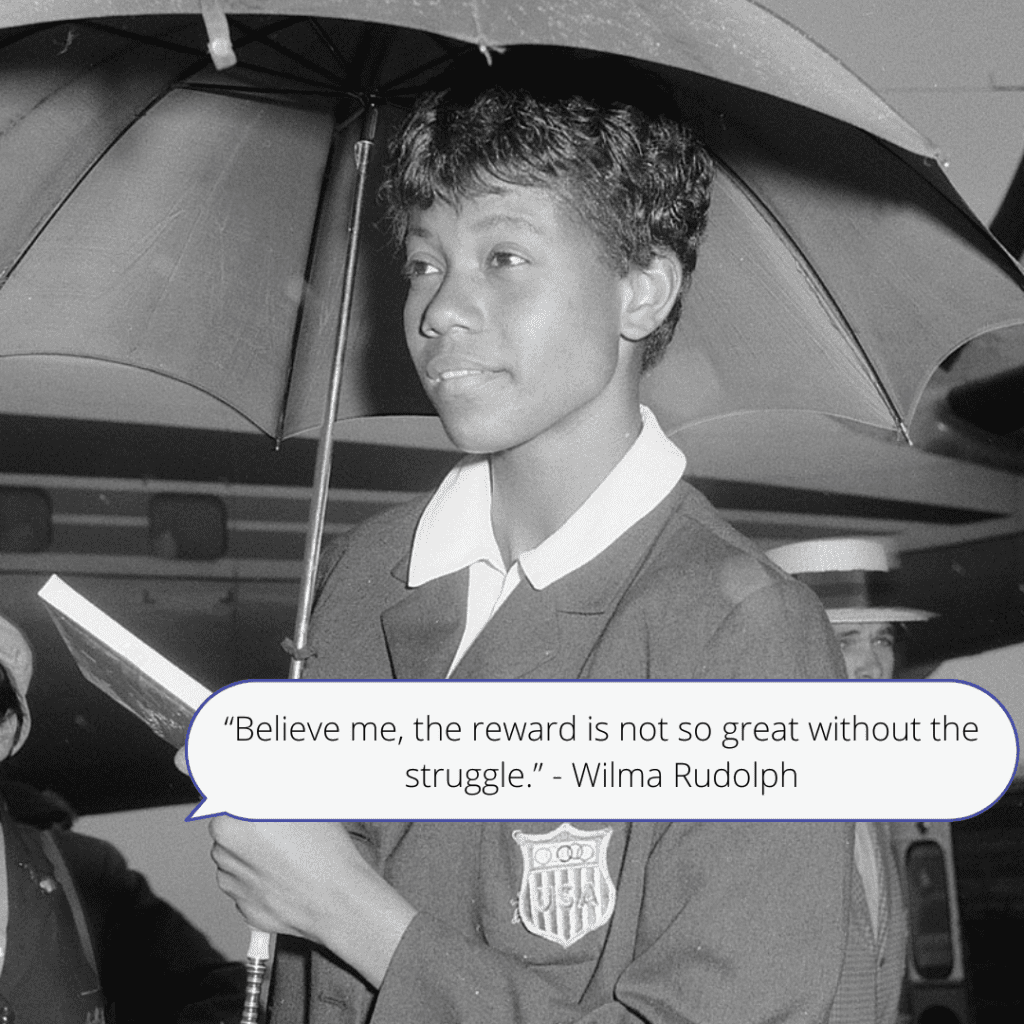 Wilma stated in an interview with the Chicago Tribune in 1989 that winning isn't everything. Without the hardships, the rewards fall flat. Rudolph dedicated her entire life to attempting to convey what it has been like for a woman to make strides and break conventions in sports.
Michael Phelps
In life, there will inevitably be difficulties and hurdles. People might drag you down and express doubts about your abilities and efforts. They might also question your strength and potential. It's essential that you have faith in yourself and your teammates.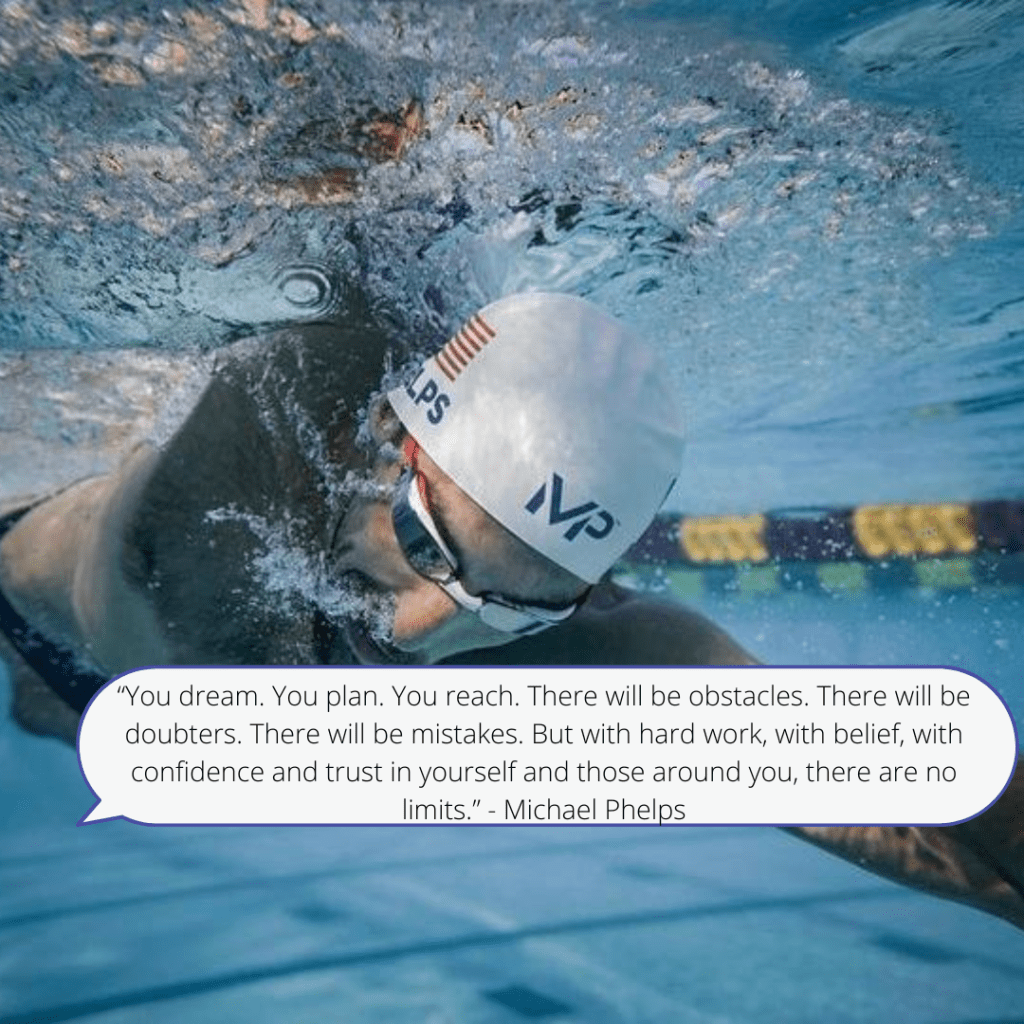 With preparation and planning ahead, no goal will be too far out of reach. Understand that a person's patience and hard work may not always result in the win or success that they hoped for. But it will undoubtedly bring them much closer than if they did not work as hard.
Venus Williams
If you want to succeed, you need to have confidence in yourself and not undervalue your abilities. After all, you never know how far you can push yourself. The only reason we sometimes fail is that we accept defeat before we actually lose.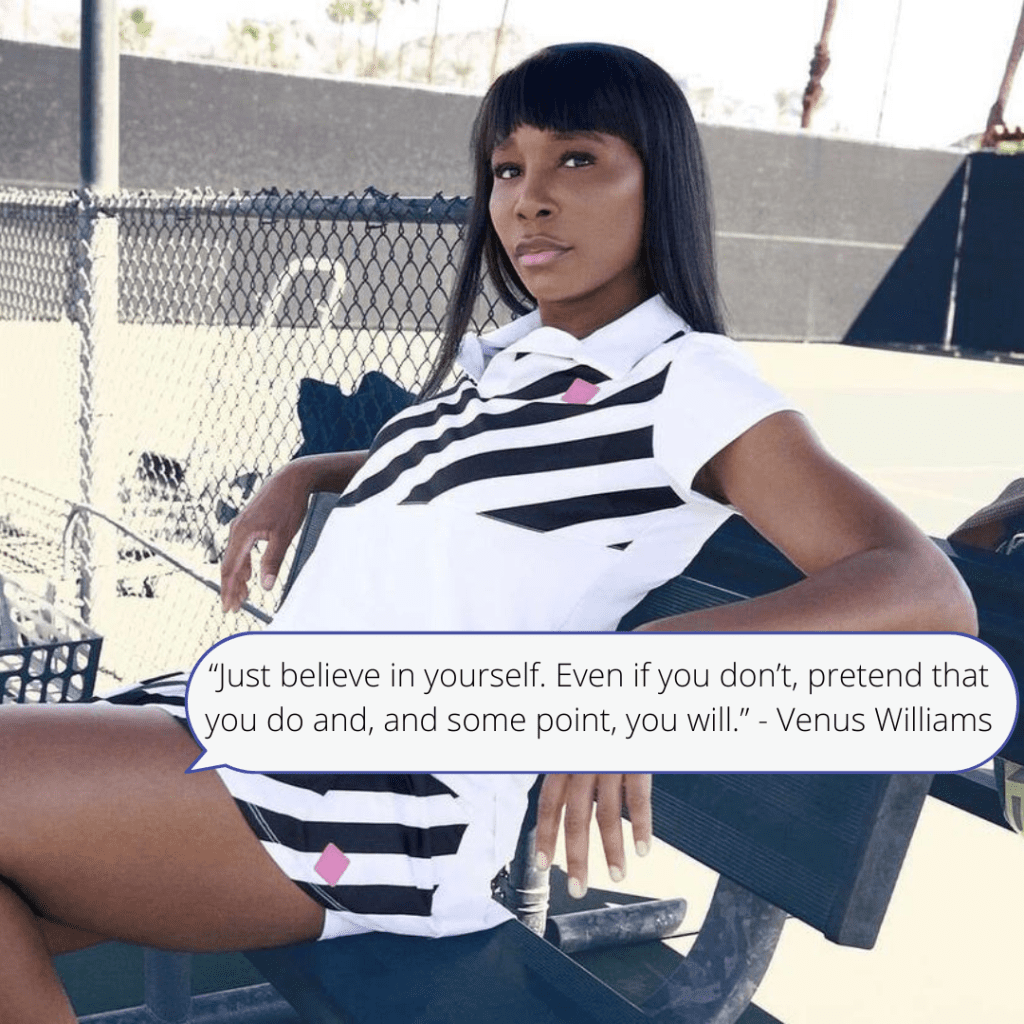 A key element that can help you get stronger over time is self-belief. Anyone may find it exceedingly challenging to believe in themselves during bad situations. Even if you don't believe in yourself right then, keep acting as though you do, and someday you will.
Adeel Alam
Nothing, not even yourself, can stop you from achieving your life's purpose or ambitions. You'll be more successful and efficient in every area of your life the more self-confidence you have. You'll understand your impact, be clear about your values, and have a better sense of self-worth.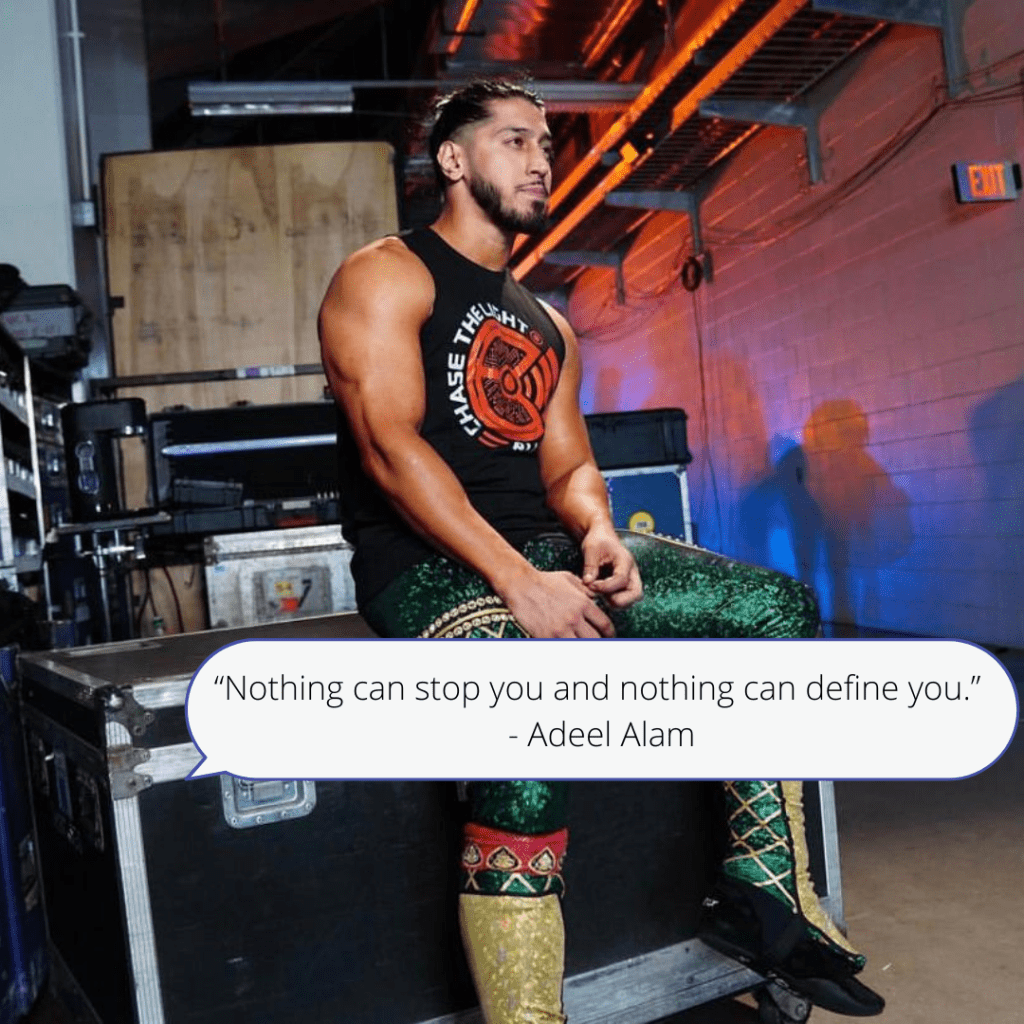 If you are terrified of failing, you will not be able to take the required actions needed to succeed, thereby obstructing your path to success. Understanding your worth and capability can change your life for the better. Believe in yourself.
John Wooden
There are certain things you simply cannot accomplish, despite who you are, and that's okay. Each of us has unique talents, flaws, and strong points. Everyone should be free to select and pursue a passion of their own. One develops their core competencies and areas of expertise when they pursue their own interests.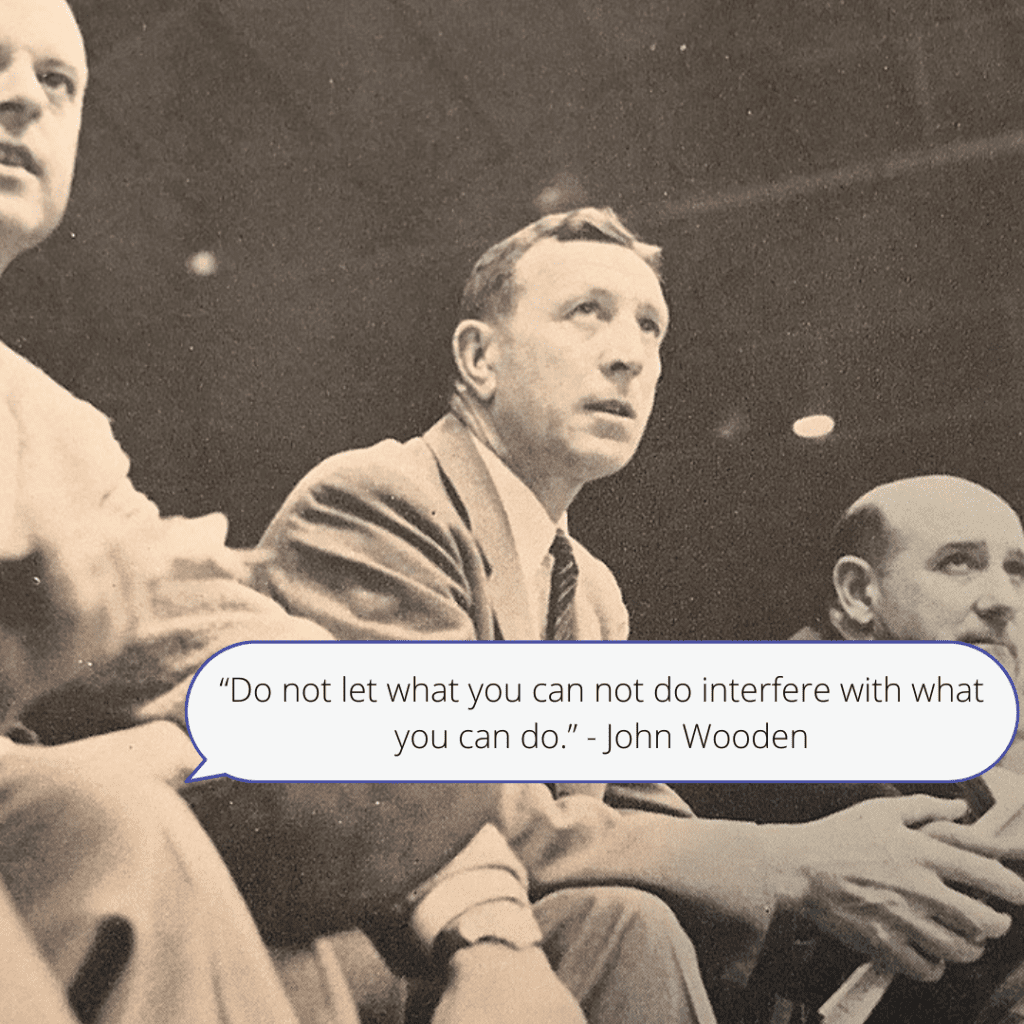 So remember that no one can do everything the next time you think of putting yourself down for the things you can't do. Concentrate on what you are capable of. Do not let what you are unable to do deter you from what you can accomplish.
Hank Aaron
During his 23 seasons in the MLB, Henry Louis Aaron kept swinging. Of course, swinging a bat isn't the only way to win in baseball. When you pick up that bat, you don't swing just to get it over with. And you can't expect every hit to be a home run.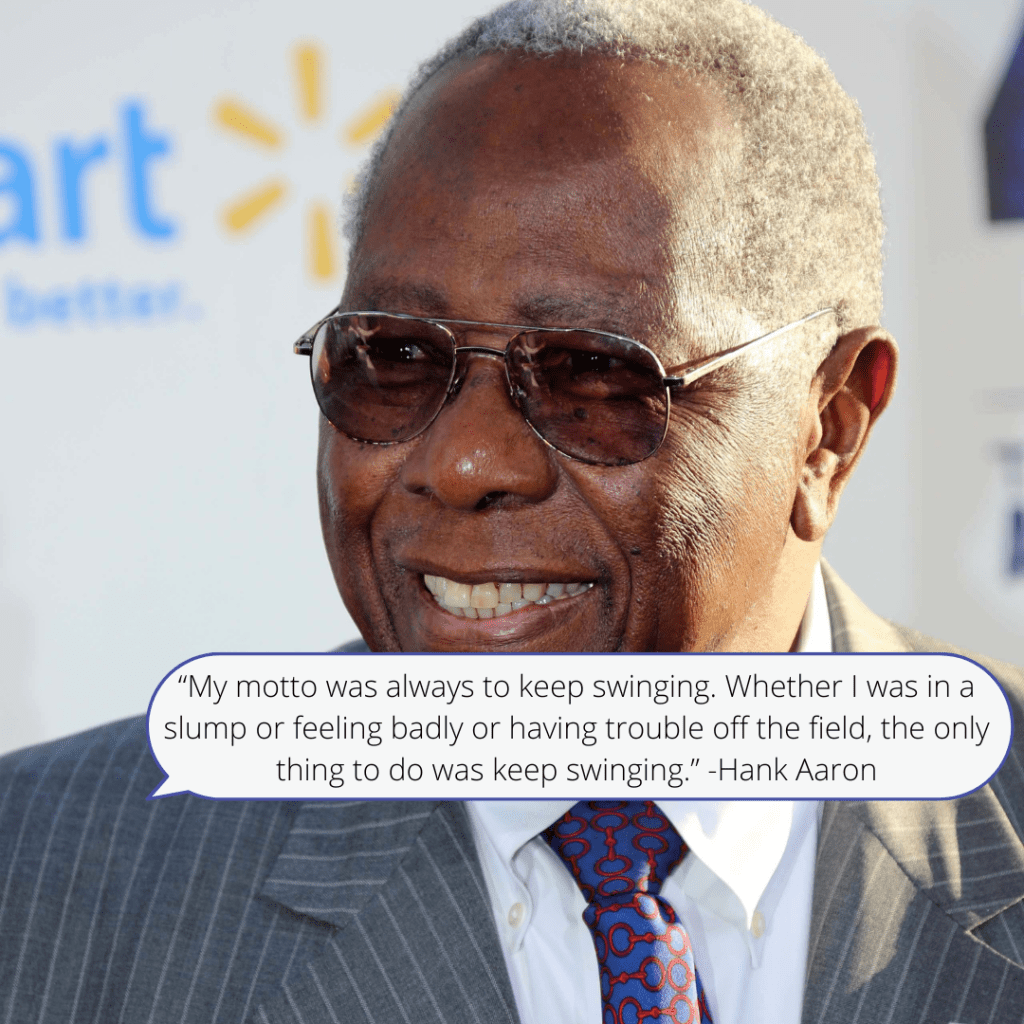 You're not the only one who can score, though. In order to win the game, or at least have a chance to win, your other teammates depend on you to swing that bat. You'll succeed if you persist in your efforts. No matter the situation, keep moving forward.
Lindsey Vonn
People should live life to the utmost. You'll regret it if you let fear paralyze you and prevent you from making choices and exploring. Lindsey Caroline Vonn is a former US Ski Team World Cup alpine ski racer. She took home four World Cup titles.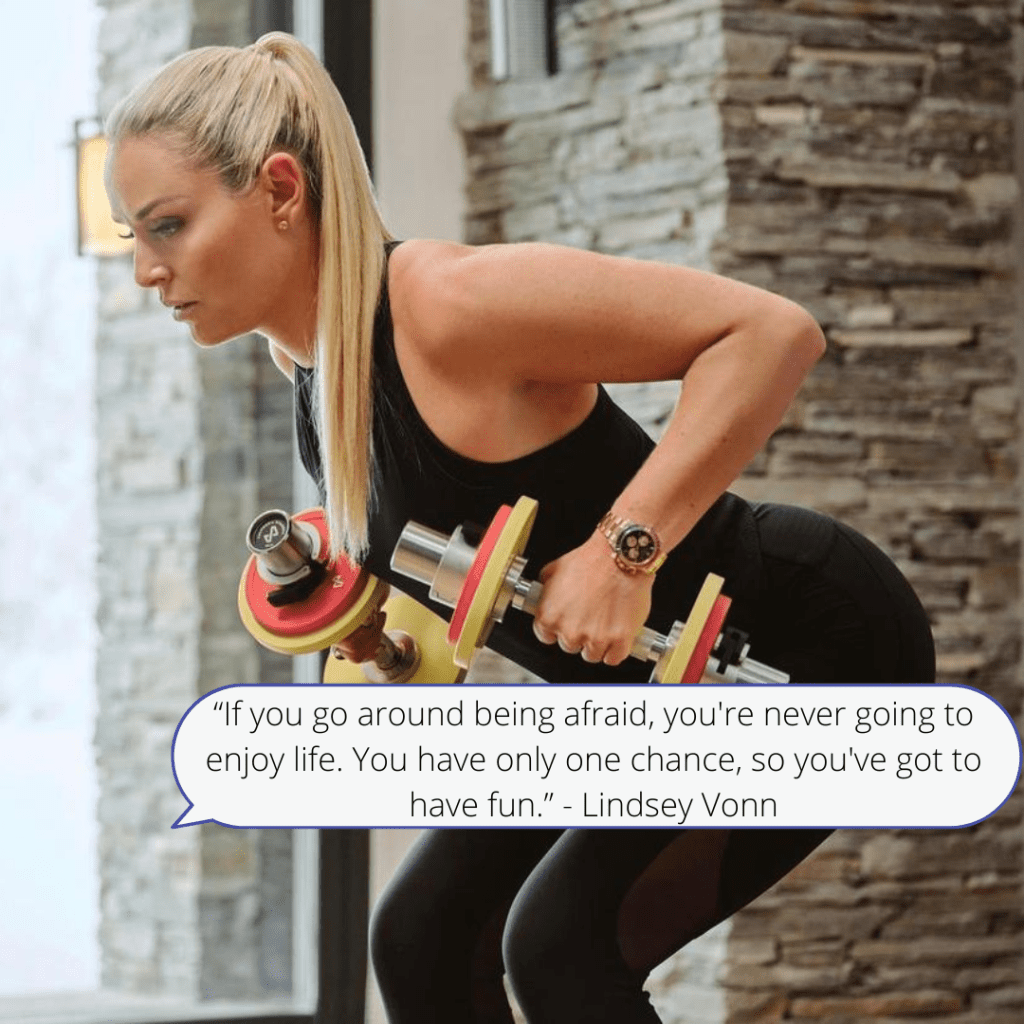 You lose the chance to achieve your goals or dreams when you don't try to make them a reality. You must take a risk if you want to realize your ambition. Risk-taking is the key to living, not just existing.
Terry Bradshaw
All athletes have something to prove. Athletes strive to prove they can start, join the team, and advance to the next stage. Even when there isn't a game going on, they are always competing. They are battling against each other, their teammates, and everyone who doubts their abilities.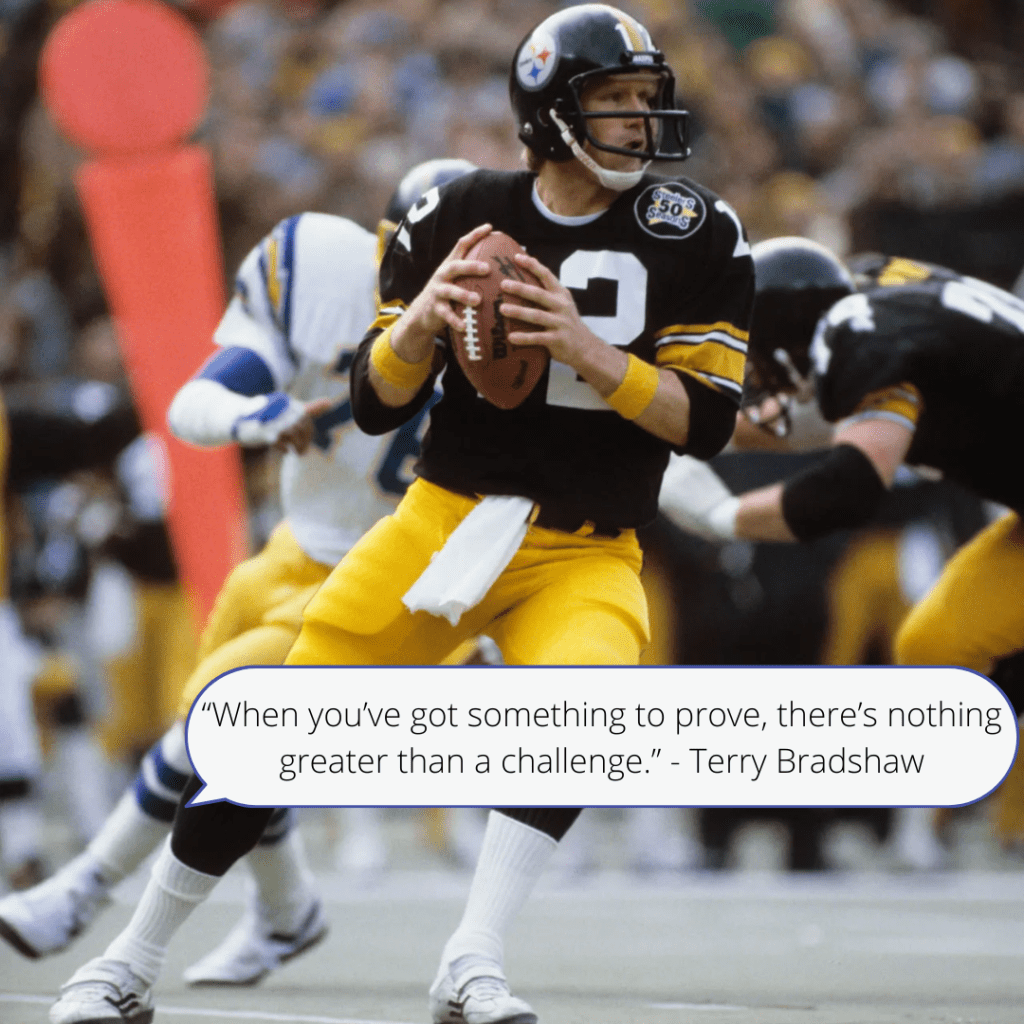 You must have the appropriate mindset in order to accomplish all of this. It takes some effort, but believing in your ability to succeed is priceless. And with every accomplishment you achieve, a new challenge awaits you. Challenges are what motivate us to work harder and do better.
Muhammad Ali
You won't be able to do the difficult tasks in life if you never step outside of your comfort zone. Muhammad Ali said this quote to a gathering of journalists in April 1977 as part of his promotion for a forthcoming boxing contest.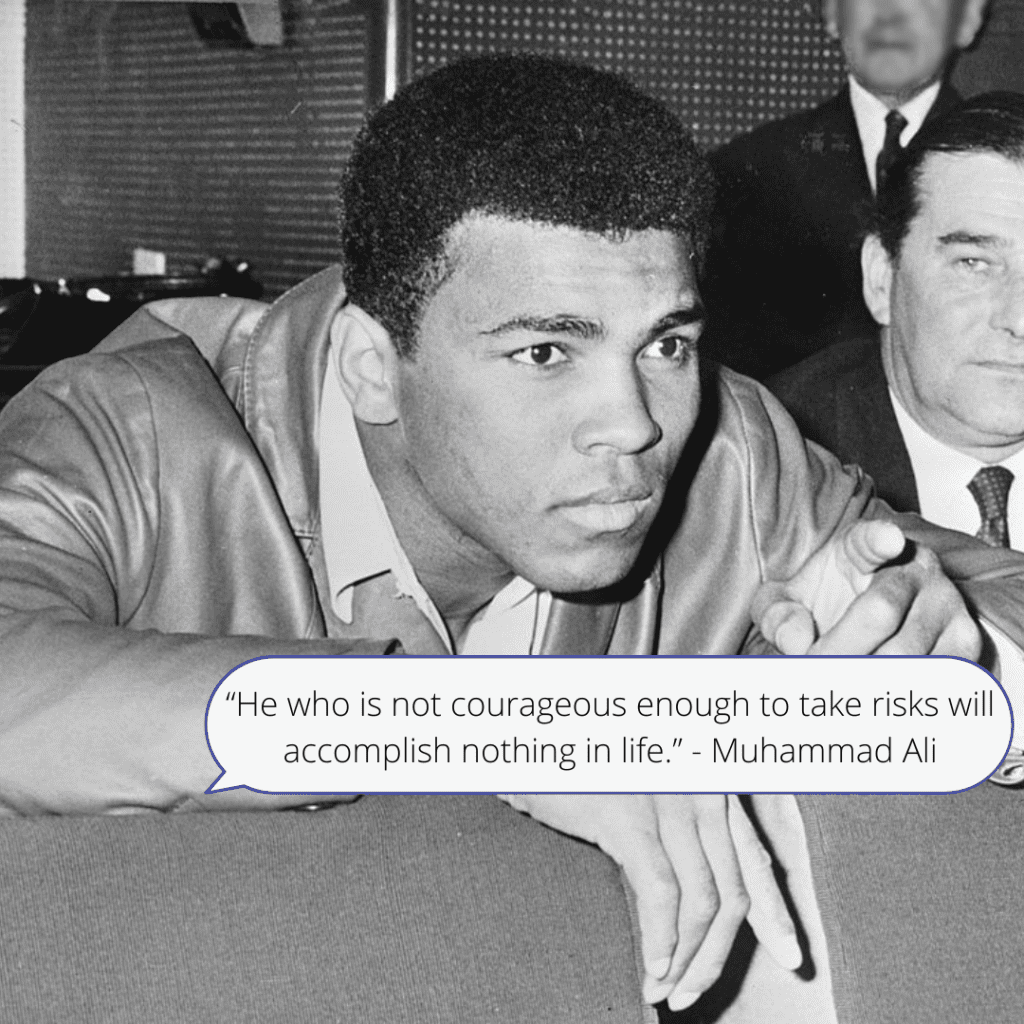 Being competitive requires taking chances. To win the competition, you must be prepared to it risk all. You are not truly taking a risk if you enter the game with a defensive mindset. You must be prepared to play and give it all you've got to achieve your goal.
William James
William James was a historian, psychologist, and American philosopher. He was the first teacher in the US to offer a psychology course. His remark implies that the majority of individuals simply give up on their ambitions because of challenges, not realizing they have it in them to succeed.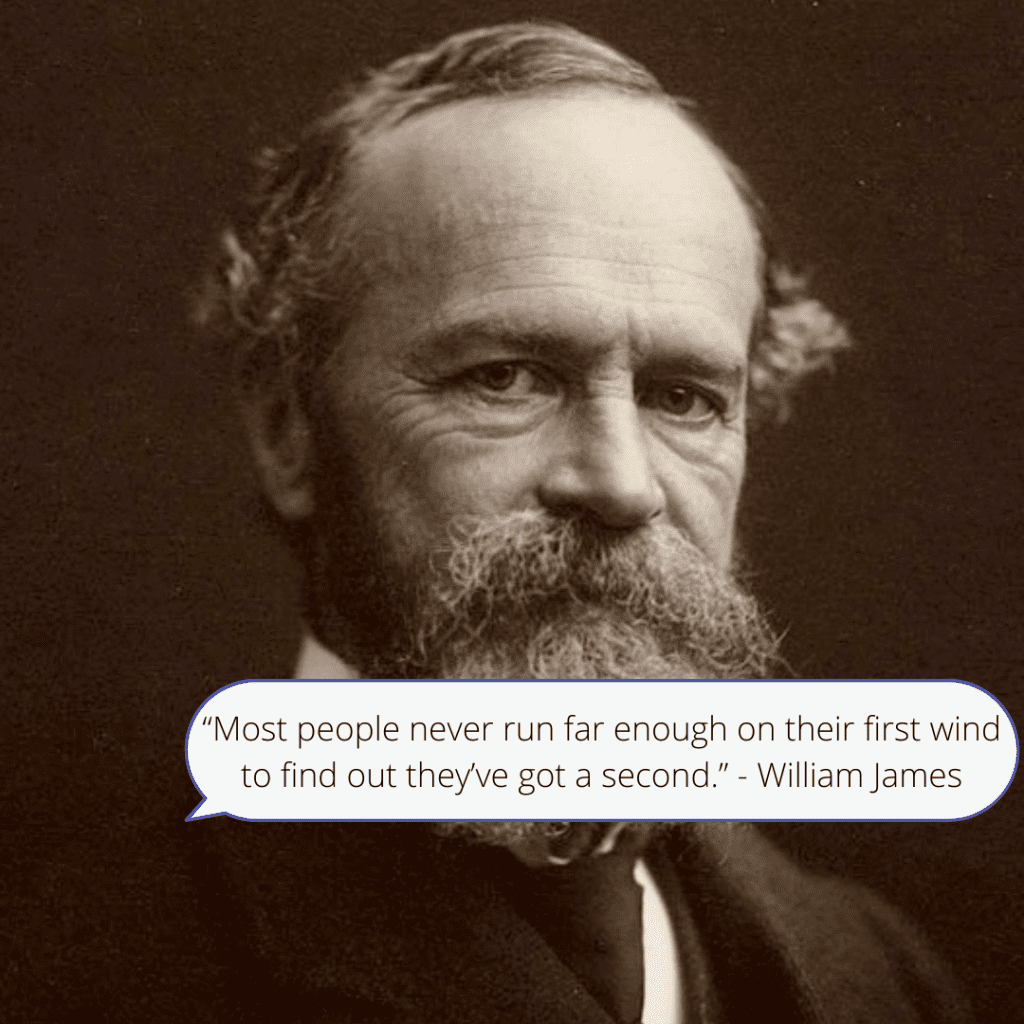 Do not give up trying to reach your goals. Most individuals never run far enough on their first try to realize they have a second wind coming. You'll be astonished at the energy you release when you give your dreams everything you've got.
Ray Lewis
Nothing in life is static; there is always a flow between good and bad moments. However, at these trying times, we require a little extra support and direction. You not only have a happier life when you can navigate the challenging moments better, but you also develop in every aspect.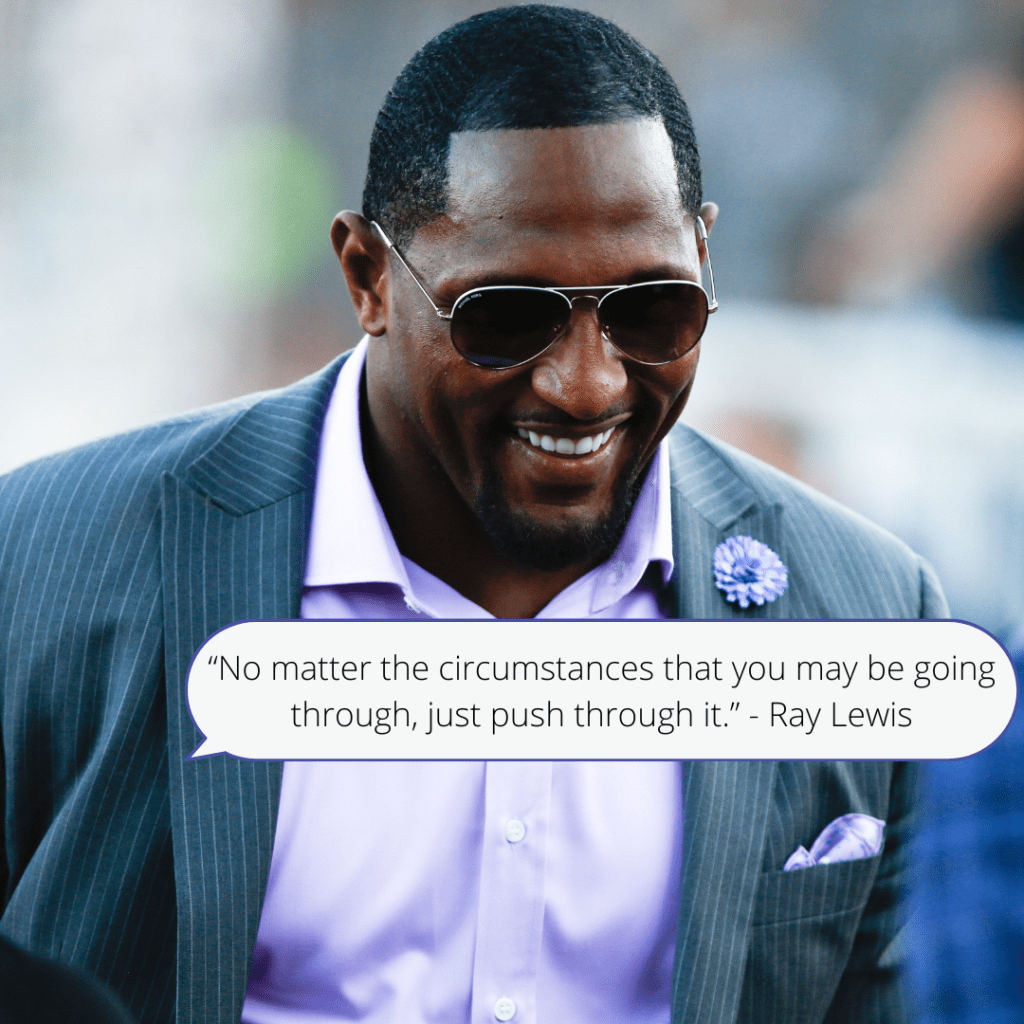 No matter what difficulties you face, keep pushing. It doesn't matter how slowly you go about it as long as you don't give up on yourself. Even if you doubt yourself, pretend that you can succeed, and eventually, you'll start to believe it.
Pele
Pele is a former Brazilian professional footballer whose real name is Edson Arantes do Nascimento. He is thought to be among the best players of all time. Gaining something or succeeding after giving it your all can make you feel extremely accomplished.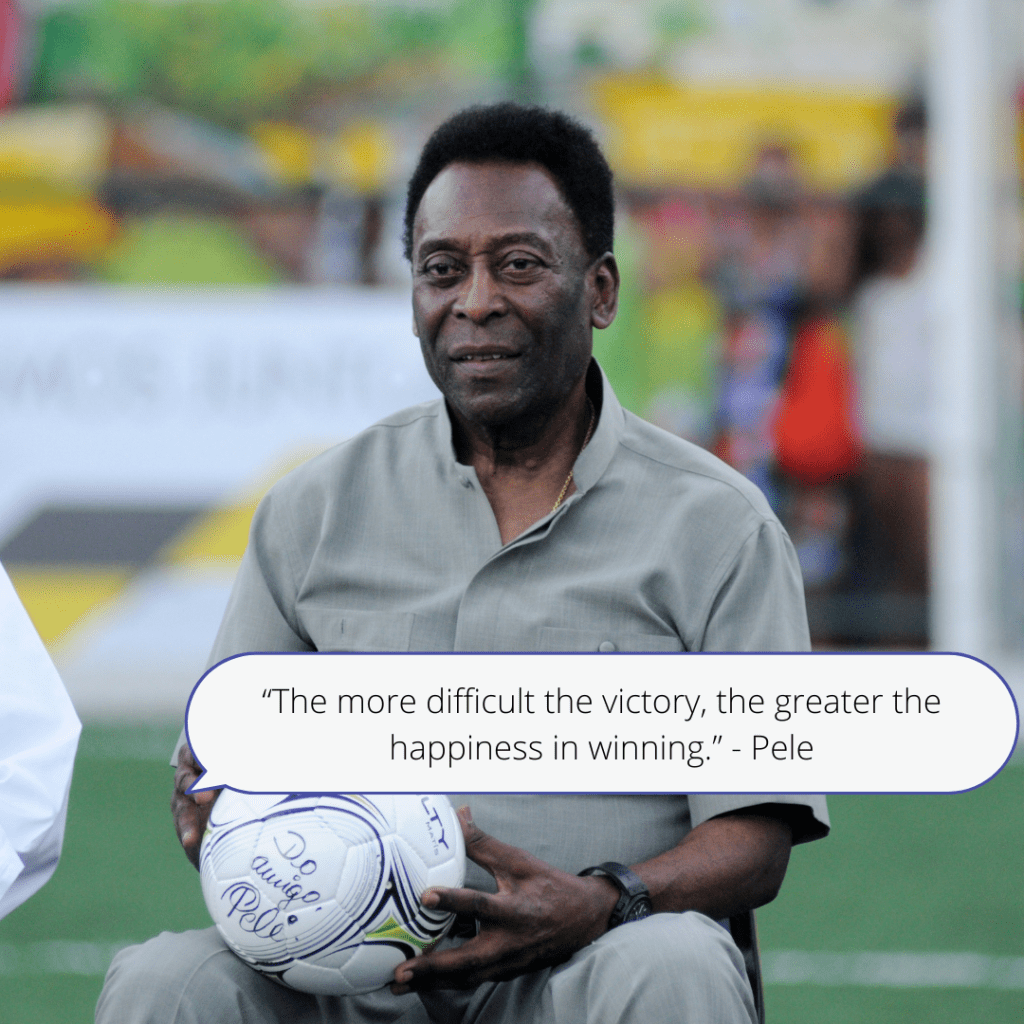 Overcoming difficulties and hurdles with excessive effort makes you happier because you have reached a new personal or professional milestone. We wouldn't be able to appreciate what we've accomplished and gained if we hadn't gone through all of the adversity beforehand.
Abby Wambach
True success comes from overcoming adversity, hurdles, and persevering in the face of several failures. The quote encourages people to not only be competitive but also to persevere through challenging situations. As a coach, Abby Wambach has many opportunities to witness people giving their all for their goals only to give up.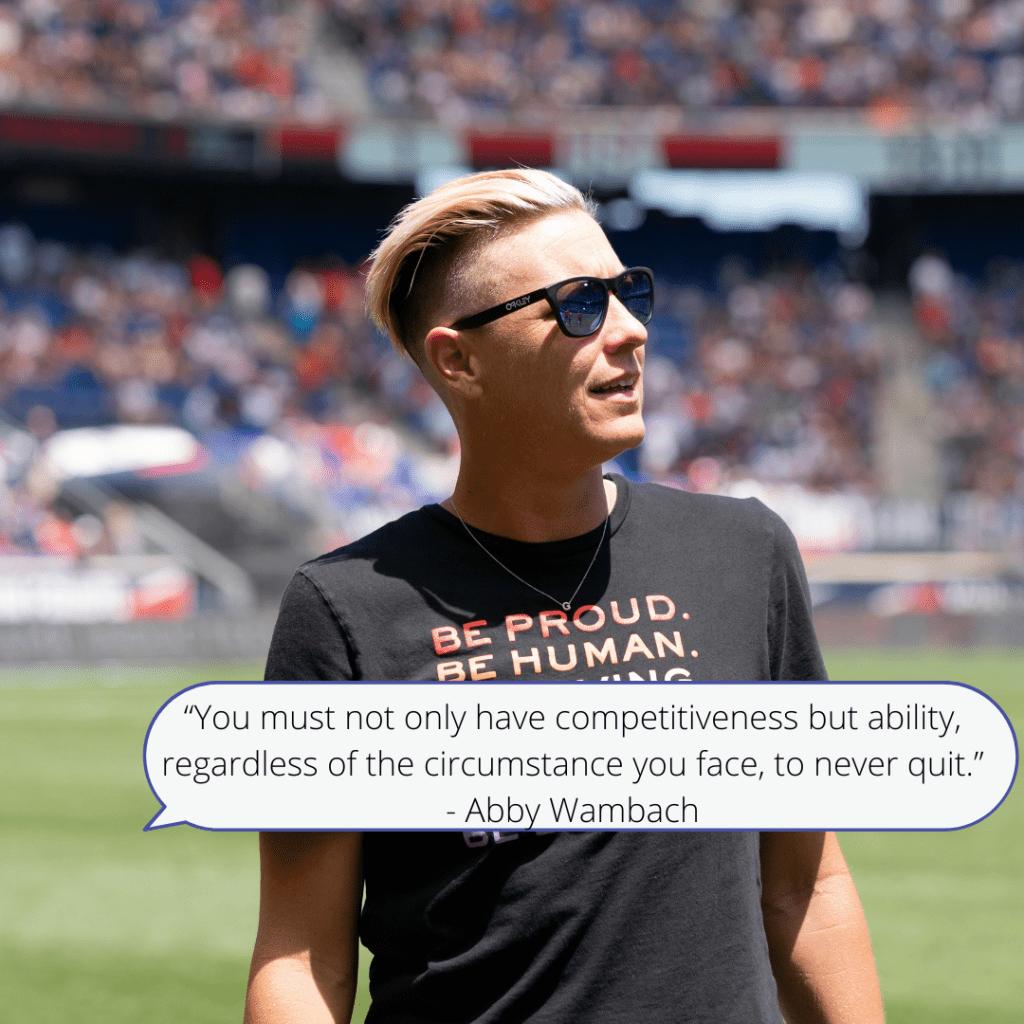 When you adopt a never-give-up mentality, you begin to recognize the true value of your lives and dare yourself to try anything. We discover our skills and demonstrate our capacity to make things that are better for ourselves and the entire society.
Vitas Gerulaiti
American tennis player Vitas Gerulaitis was a real pro. He and Sandy Mayer won the Wimbledon men's doubles championship in 1975. On January 12, 1980, Vitas Gerulaitis made a statement that has since become one of tennis' most well-known quotes.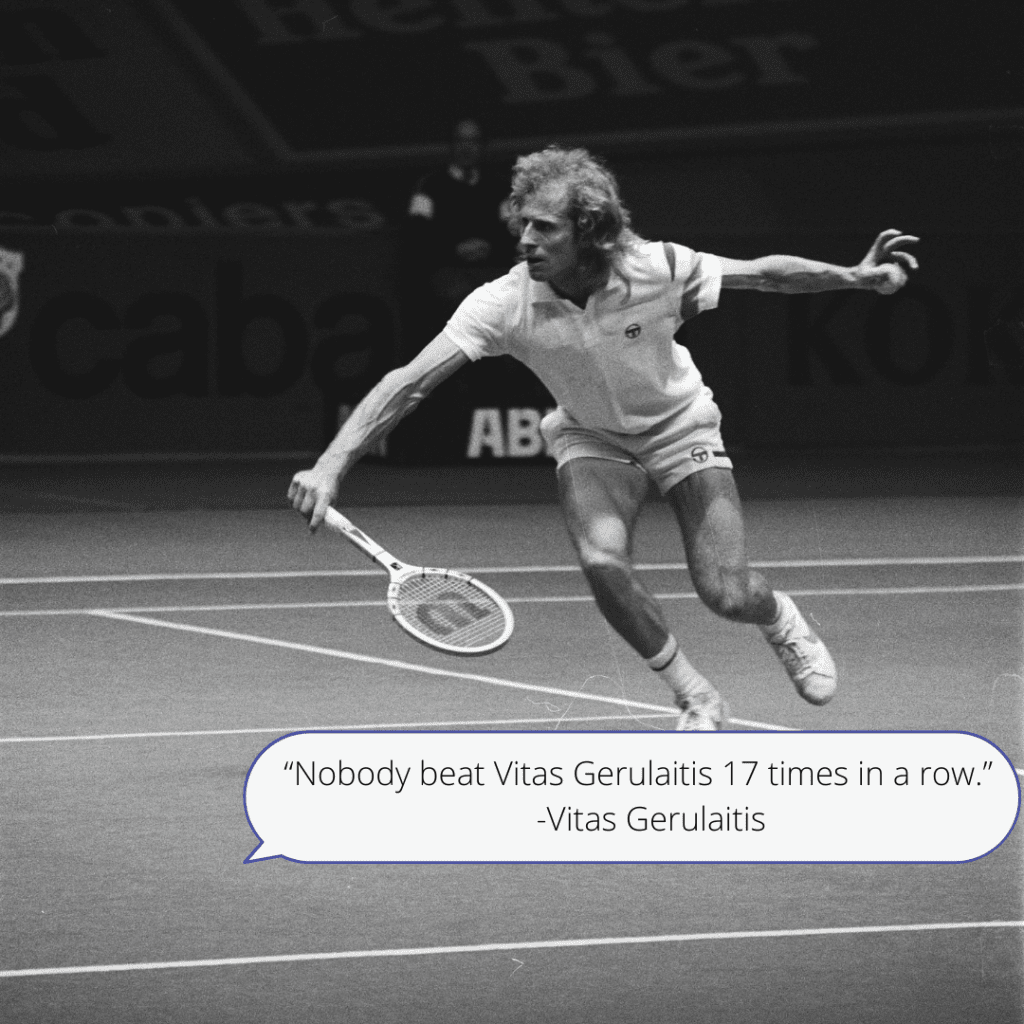 "And let that serve as a lesson for you all. Nobody beats Vitas Gerulaitis 17 times in a row!" He had previously lost to Jimmy Connors 16 times in a row. You can accomplish anything you set your mind to if you keep competing, training, and pushing yourself over your boundaries.
Herb Brooks
Herbert Paul Brooks Jr. was a former coach and American ice hockey player. His most famous accomplishment was serving as the head coach of the gold-medal-winning American Olympic team at Lake Placid in 1980. The game became known as the "Miracle on Ice" because Brooks' American team defeated the then-Soviet team, which was the clear favorite.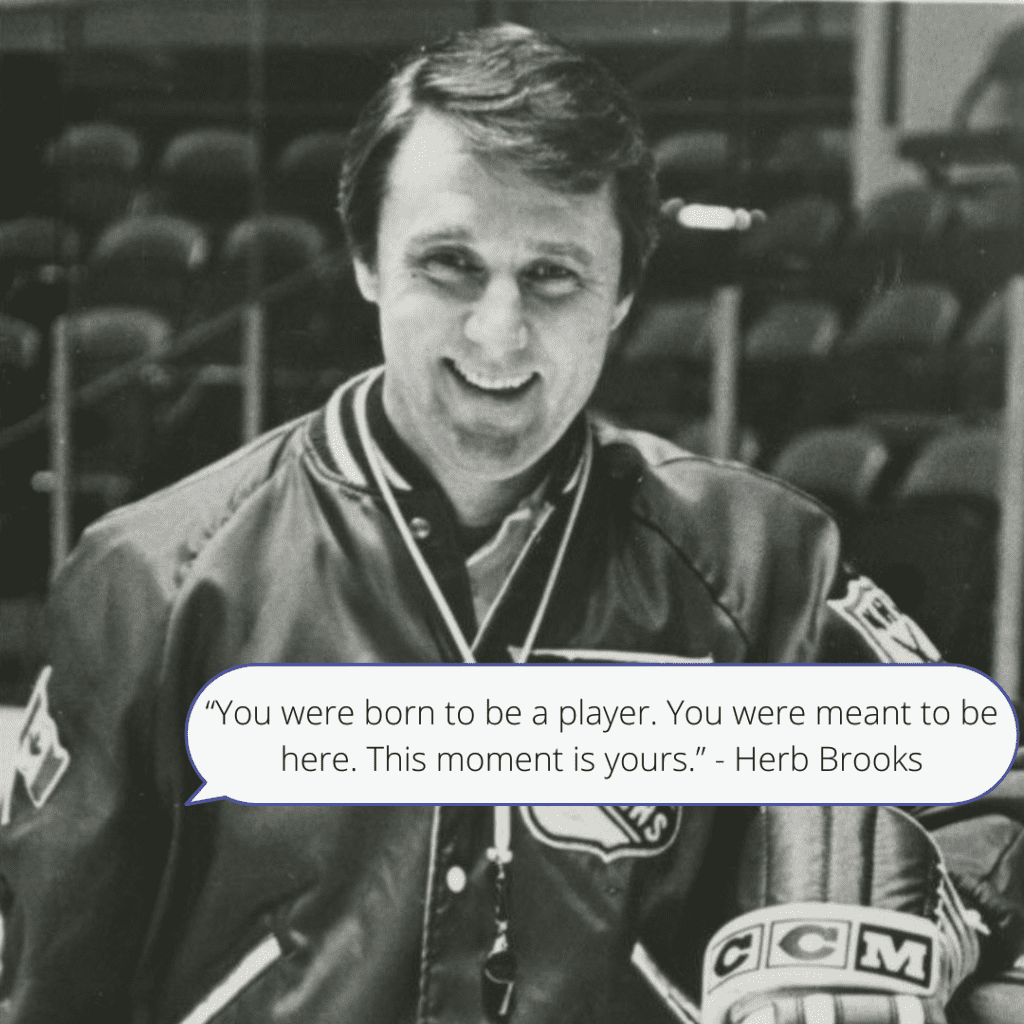 Before the game against the then-Soviet team, during his pregame speech, Brooks rallied his players, saying, "you were born to be a hockey player. You were meant to be here. This moment is yours. Take it." We're sure that this support and motivation were key in their victory that day.
Pat Riley
Success in any aspect of life depends heavily on commitment and effort. Patrick James Riley is a former National Basketball Association player, coach, and professional basketball executive from the United States. You must be dedicated to your plans and resolutions if you want to accomplish a lot.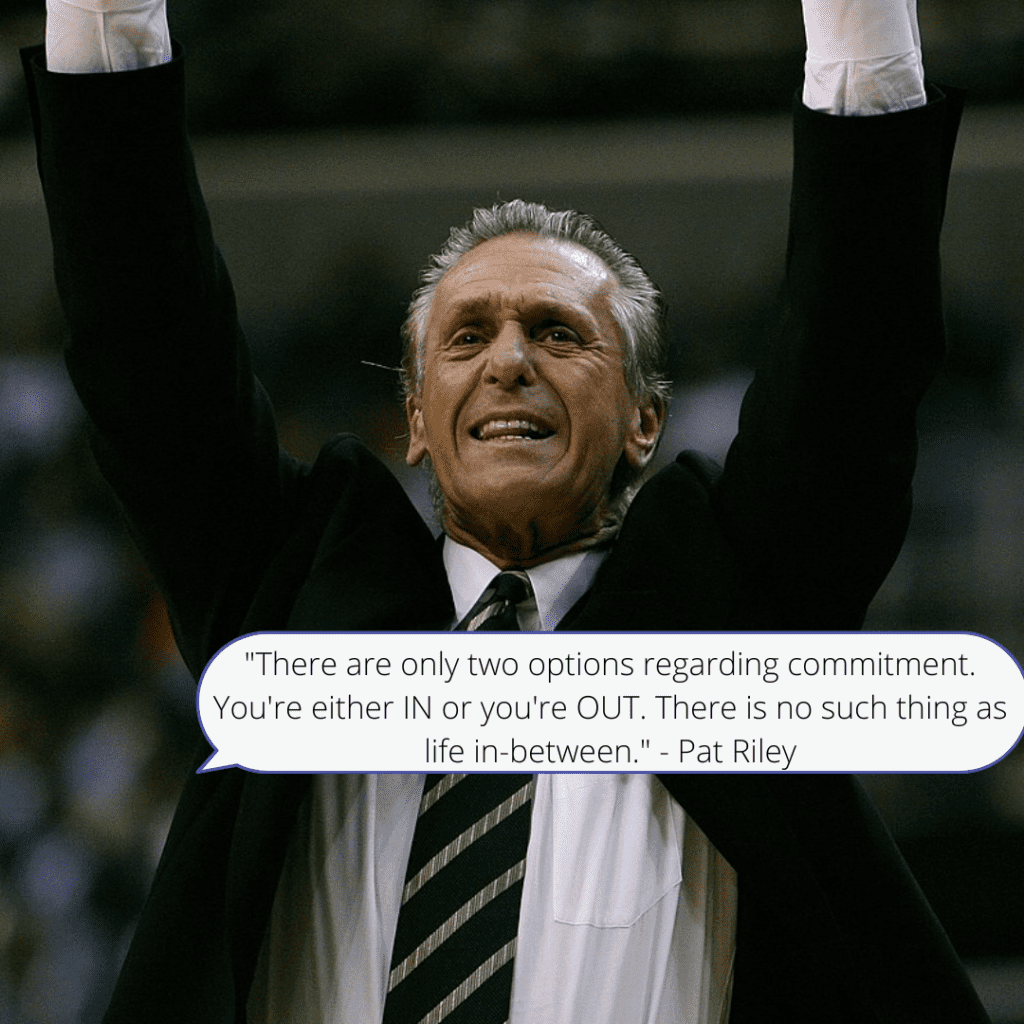 Without dedication, individuals can do nothing. When it comes to commitment, there are no middle grounds. Most days, it's going to be challenging. It can be all too simple to abandon individuals, objectives, and initiatives without making a true attempt. But with dedication, we are confident that we gave it our best effort.
Mario Andretti
Though the need for predictability in life is alluring, greatness is rarely produced when things are kept under control. However, being able to move swiftly is necessary if you want to flourish in a fast-paced environment; otherwise, your rivals will win. Risk and thrill are something we attempt to balance. No reward, no risk.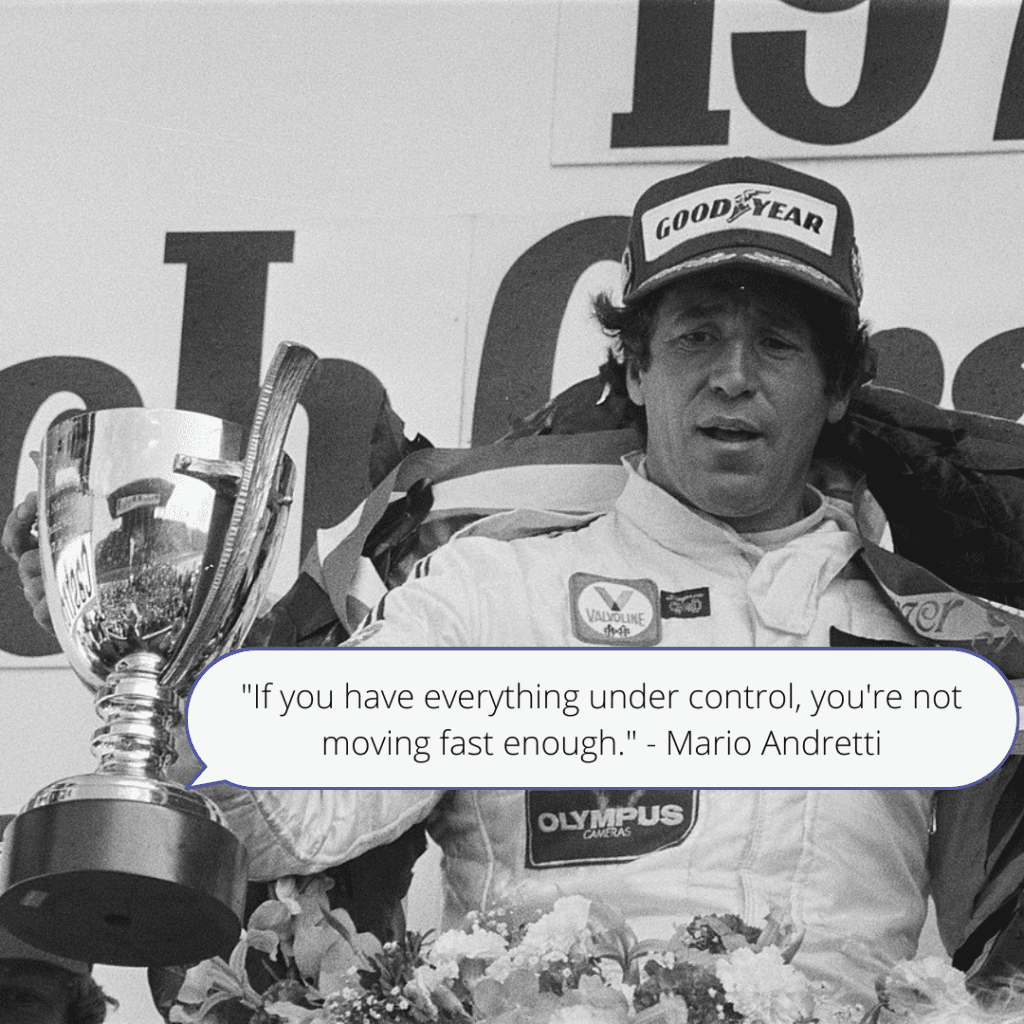 We lose out on chances to improve our life if we don't attempt new things. You can always control something. To stretch your boundaries, you must be willing to relinquish some control. You can do more and have a richer experience if you get to the point where you don't mind things getting a little out of hand.
Mary Lou Retton
Mary Lou Retton is a retired American gymnast. She became one of the most well-known athletes in the US as a result of her success at the 1984 Summer Olympics. It doesn't matter how many honors or recognitions you have amassed throughout your life because trophies collect dust over time while memories last a lifetime.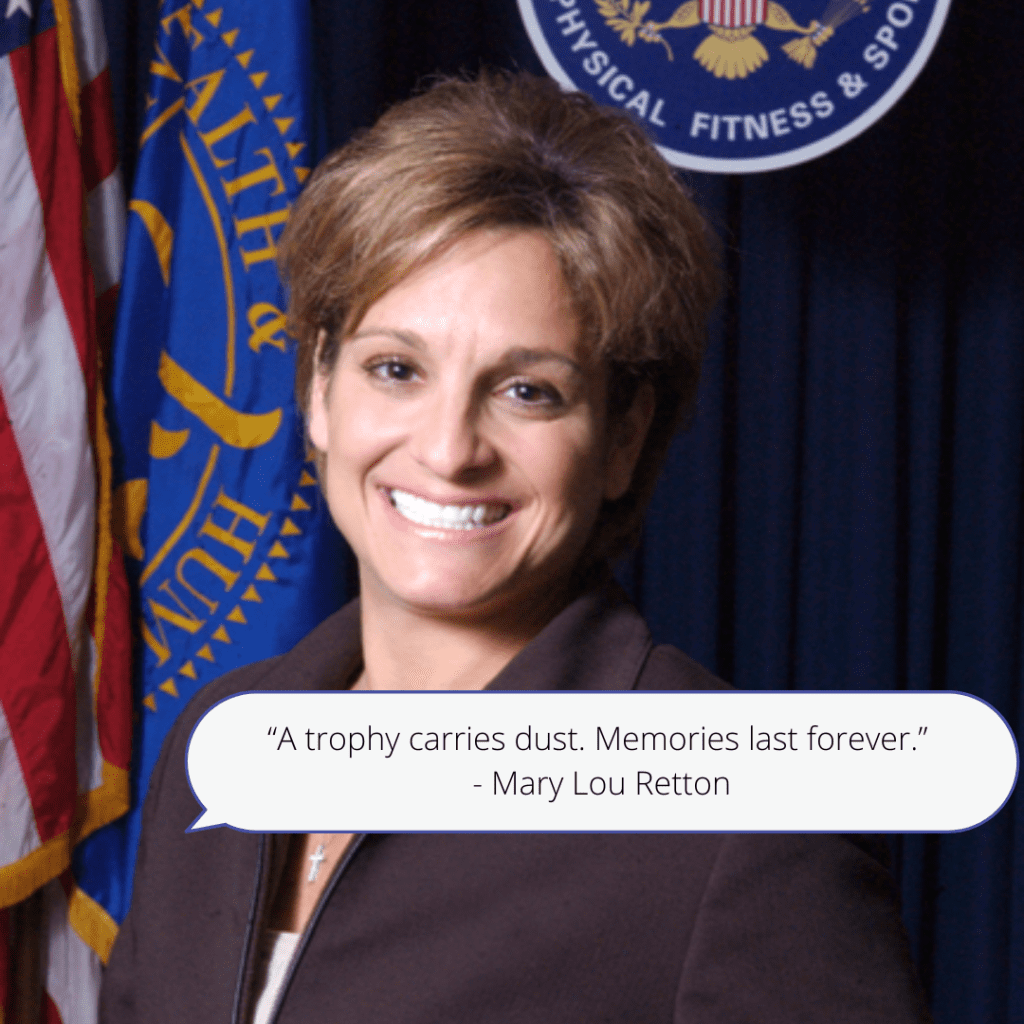 It is the moments you share with the people who have supported you along the way, including family, friends, coworkers, and fans. It's a normal part of life to enjoy winning championships and reveling in the limelight. Even though some people believe that "winning fixes everything," you still need to put in the work to stand out.
Yogi Berra
The phrase was first used in reference to baseball's 1973 National League pennant race by American baseball icon Yogi Berra. Berra's New York Mets were 912 games behind the Chicago Cubs in the National League East in July 1969. On the season's final day, the Mets came back to win the division.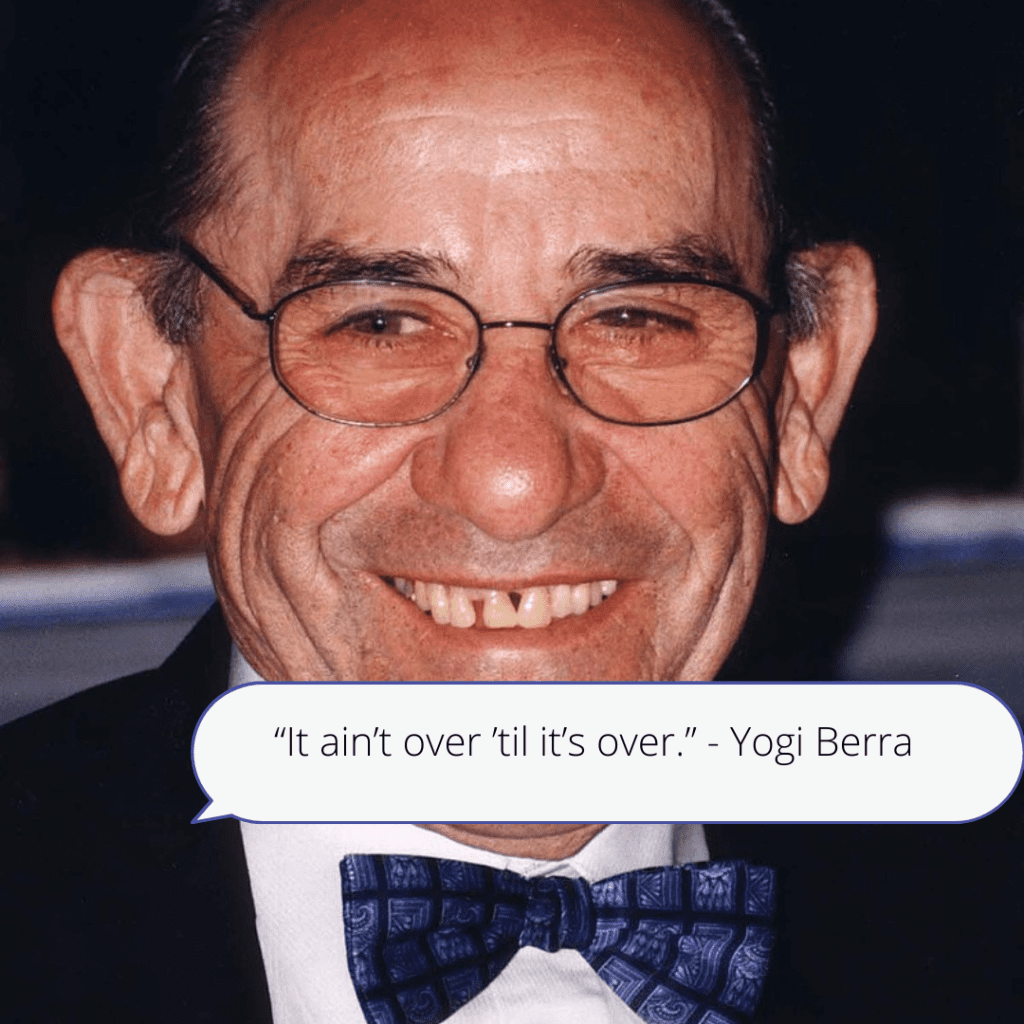 His team was far behind when he stated the bafflingly motivational phrase, but they finally came back to win the division. The quote encourages people to keep trying until the situation is over since there may still be a chance for success.
Michael Jordan
"Never say never. Because boundaries and fears are frequently only illusions." In 2009, he uttered these words during his induction speech at the Basketball Hall of Fame. Limits should never prevent us from trying anything new since we make up our worries.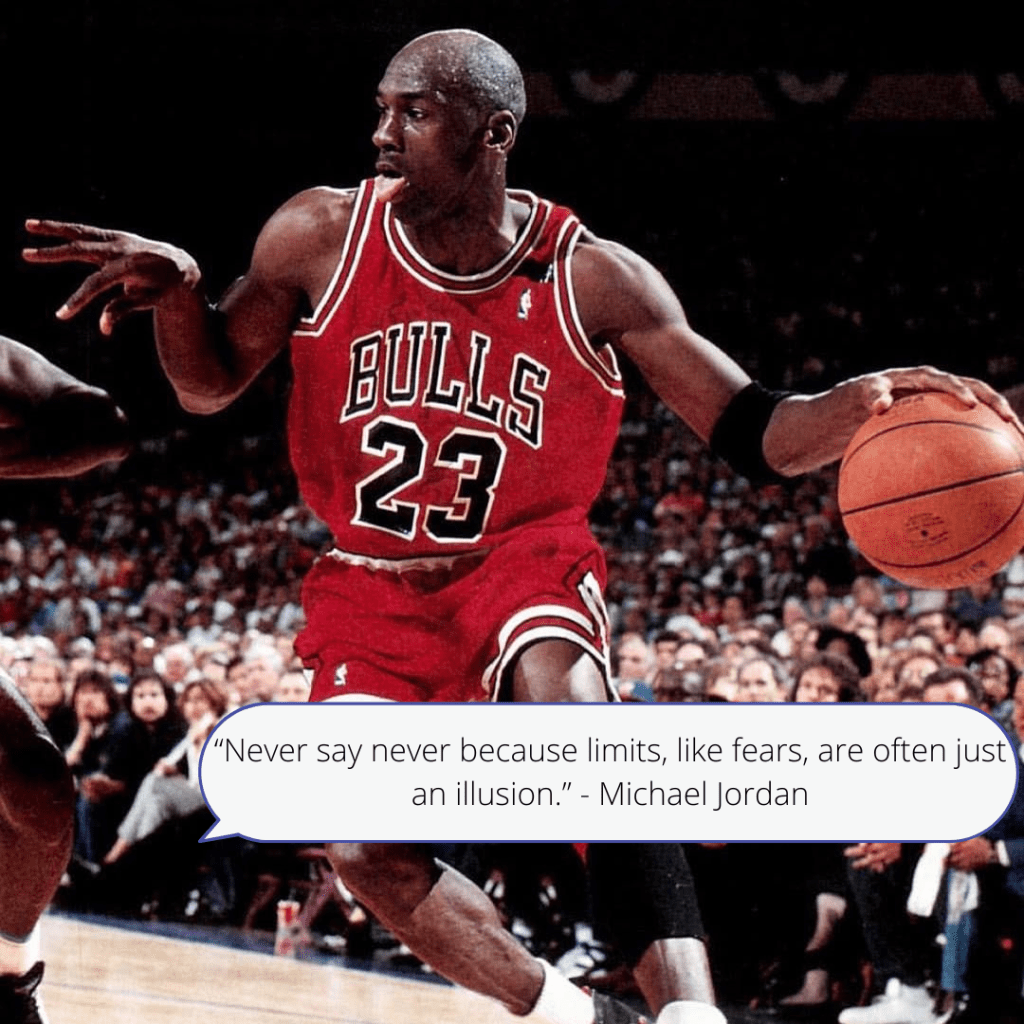 Successful people live by this principle and never give up only because they are fearful or concerned that something bad will happen or be done. Fear is normal, but don't let it get in the way of you and your dreams.
Joe Namath
Don't just start something because you have a spark of motivation; keep working at it until you succeed. Former American football player Joseph William Namath played quarterback. He spent 13 seasons playing in the National Football League and American Football League.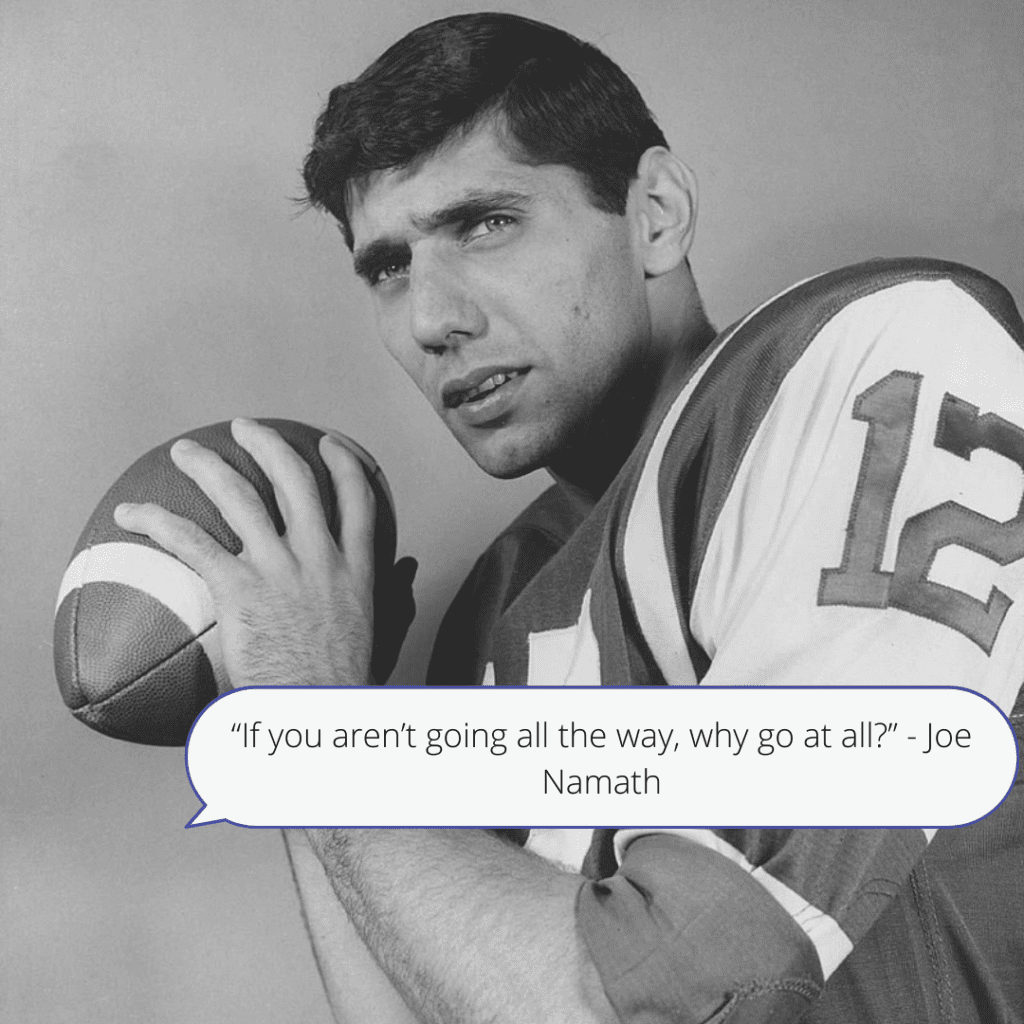 Don't just take things lightly. Every time they have the opportunity, champions give it their all. Training is the first step, followed by competition. Learn to challenge yourself every day. By doing that, you establish a new limit. Every day brings with it a fresh obstacle to overcome.
Shaquille O'Neal
American former professional basketball player Shaquille Rashaun O'Neal, also known as "Shaq," is a sports analyst on the television show Inside the NBA. Shaq is well recognized for his hilarious behavior and remarks. And who better to talk about the sport other than a legendary player like Shaq.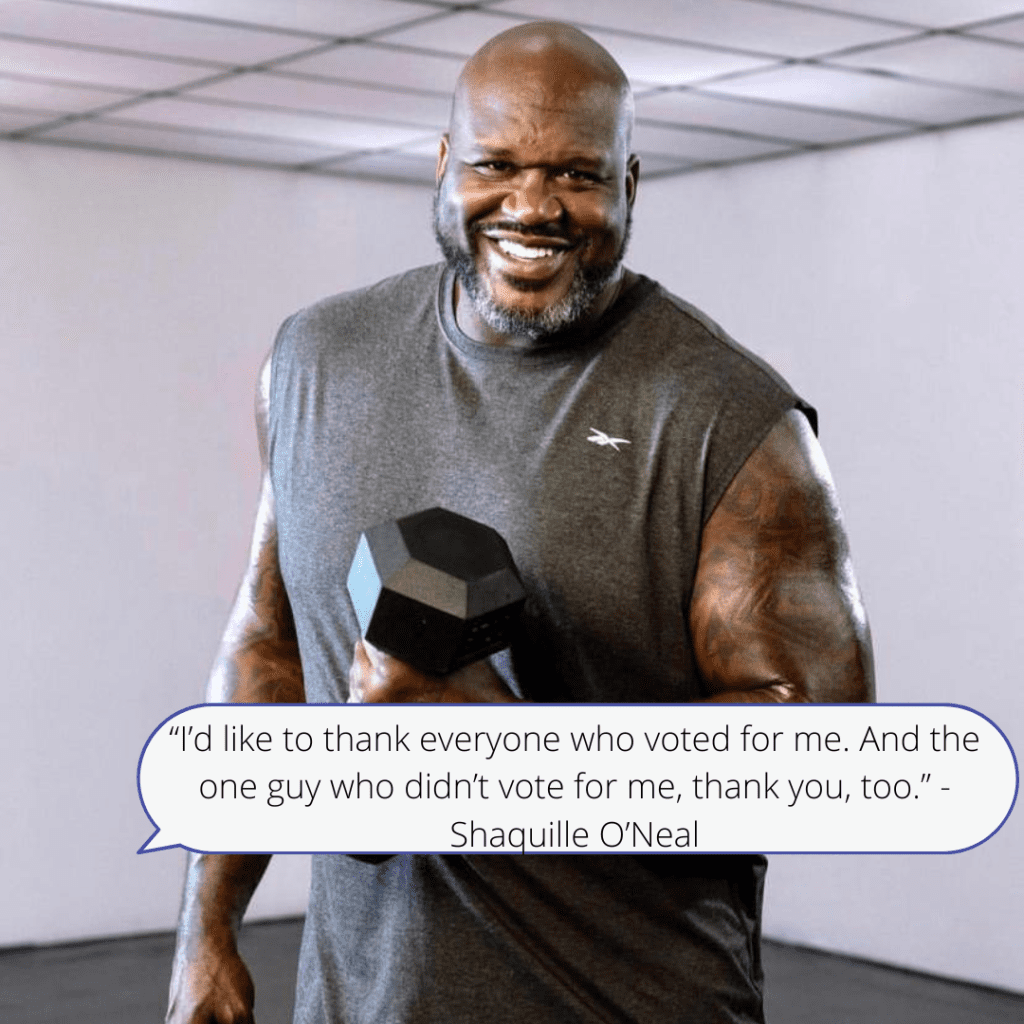 Throughout his 19-year NBA career, he played for six different clubs, winning four NBA championships. This "acceptance speech" is one of O'Neal's funniest quotes — at least, we think so. O'Neal made the statement after receiving almost universal support for his selection as MVP.
Knute Rockne
Sportsmanship is a crucial component of athletics. It is the awareness of and dedication to fair play, morality, integrity, and overall friendliness toward an adversary. Good sportsmanship doesn't mean giving up easily, nor does it mean you need to win.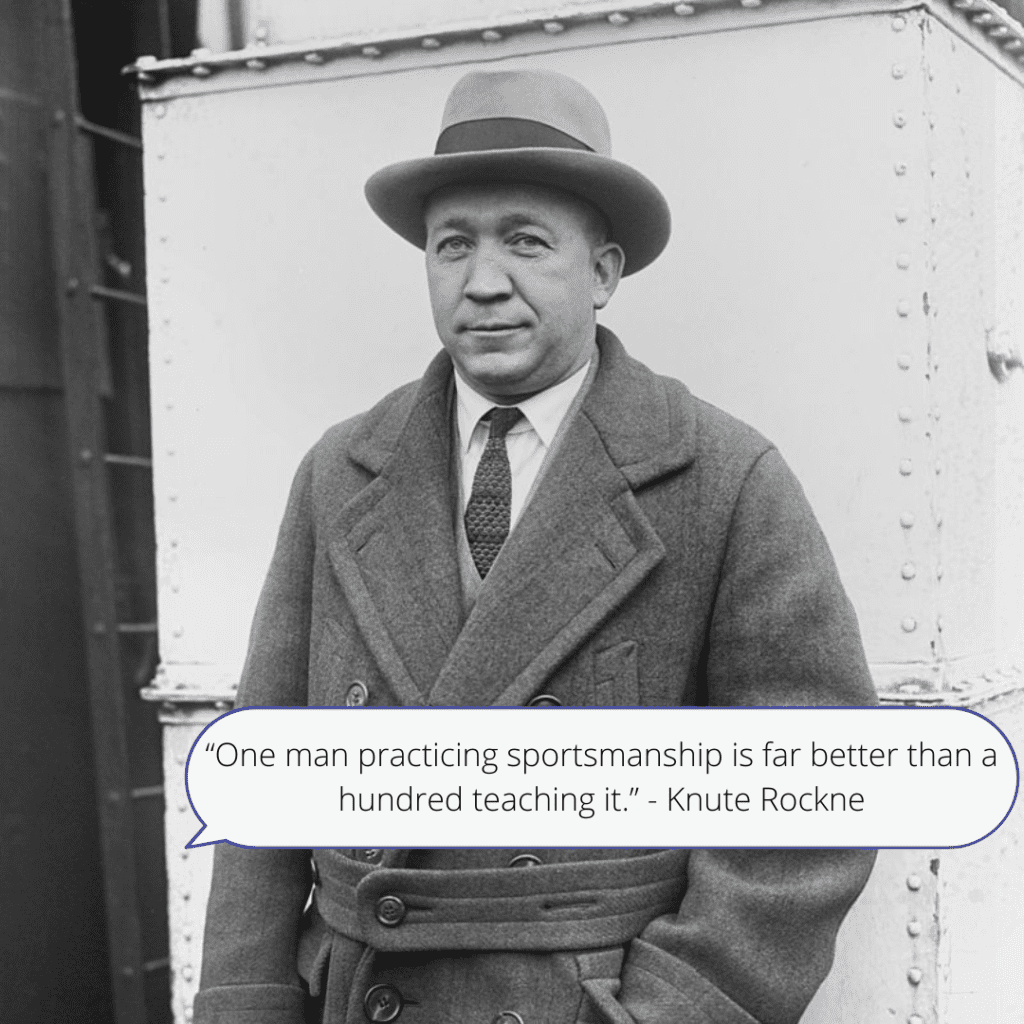 Sportsmanship is confirmation that an athlete has the self-control to keep things in perspective, maintain composure, and look out for the interests of his or her teammates. Only a select few coaches, trainers, and others in sports actually put sportsmanship into practice.