Book-Alikes: A Look At The GoT Stars And Their Literary Counterparts
By Aakash M September 20, 2023
---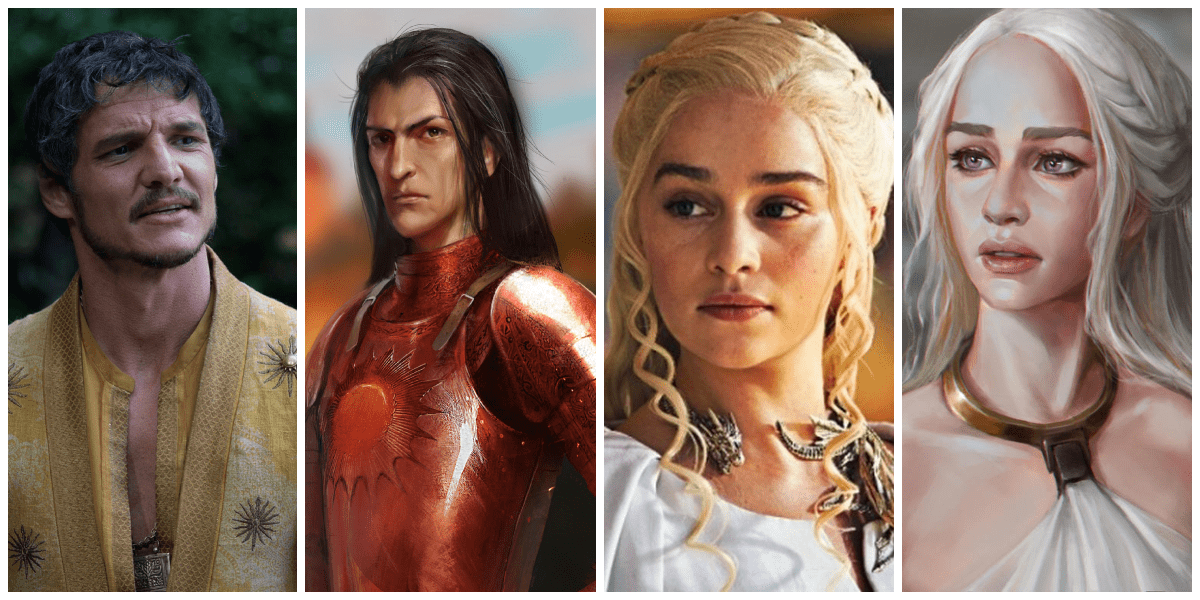 This article was originally published on
whythese
Whenever we read books, our minds can't help but conjure up images of the settings and characters. Some writers make this easier than others, providing detailed descriptions for readers to revel in. So, when a movie or TV show comes out, fans hope that their fav characters will look the same on the screen as they do in their heads.
However, as we all know, that's not always the case. Between the director's creative license to casting limitations and favored actors, the book version of a character might not match up to their screen presence.
Over ten years ago, Game of Thrones graced our TV screens, and fans haven't stopped talking about how the TV show compares to the book. Today, we're going to explore some of the major characters and how similar or different the actors are from their text-based counterparts.
Catelyn Stark
Catelyn Stark was a wonderful character. Despite the dark and deadly goings on in Westeros, she wholeheartedly defined maternal instinct, as she would always go above and beyond for her kids. Michelle Fairley definitely impressed us with her acting skills.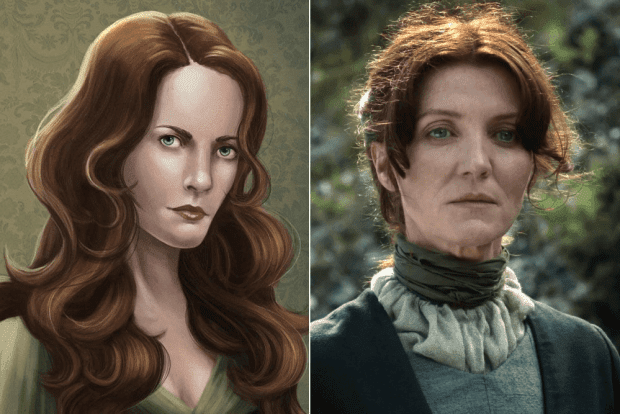 Moreover, the written character and the onscreen character have a great resemblance. Every little aspect is on point, from the long auburn hair to the blue eyes. The only major difference is her TV version is a tad older than in the book.
Euron Greyjoy
If we would sum up this character, we would simply call him the black sheep of the Greyjoy family. Here's a question about him: Who was he actually loyal to? Among his siblings, he was certainly the most bloodthirsty. But Pilou Asbæk made the character a joy to watch.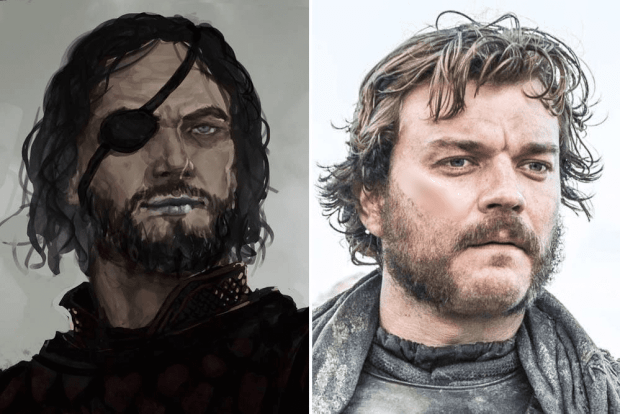 There are some resemblances, but it's not enough to say that they both look similar. As you can see, Euron Greyjoy was supposed to have darker hair, bruised lips, and, the most prominent of all, an eyepatch! All in all, the written version of this character has a scarier appearance.
Bran Stark
The fate of Westeros would have been completely different if the three-eyed raven wasn't there. Isaac Hempstead-Wright was the perfect casting for this role, and he nailed the portrayal of Bran. It's important to note the similarities between this character and its written version.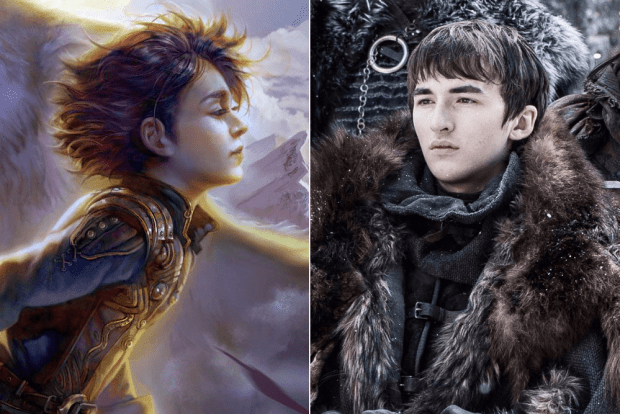 Well, this is quite interesting. The hair and eyes don't match at all. Bran in HBO has brown eyes and a hairdo, while his written version has auburn hair and blue eyes. But we're not complaining. Isaac Hempstead-Wright acted the heck out of that role!
Barristan Selmy
Barristan Selmy needs no introduction, though we'd be remiss if we didn't mention that he's one of the best swordsmen in all of the Seven Kingdoms. To portray such a strong character, one needs to go through intense combat and physical training, which we're sure Ian McElhinney must have undertaken.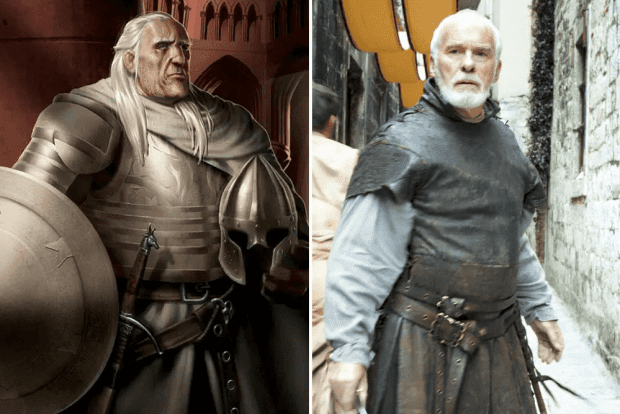 His acting was fantastic, but the resemblance between the written and on-screen versions of the character is only partially correct. He keeps his hair shorter, which is a shame. We'd love to see those white locks flying everywhere during an epic battle.
Robert Baratheon
In the world of Game of Thrones, if there is one person who really knows how to rule a kingdom, it is Robert Baratheon. He is a strong-willed character who is a warrior by heart. Mark Addy was the perfect fit for this role; he was full of energy.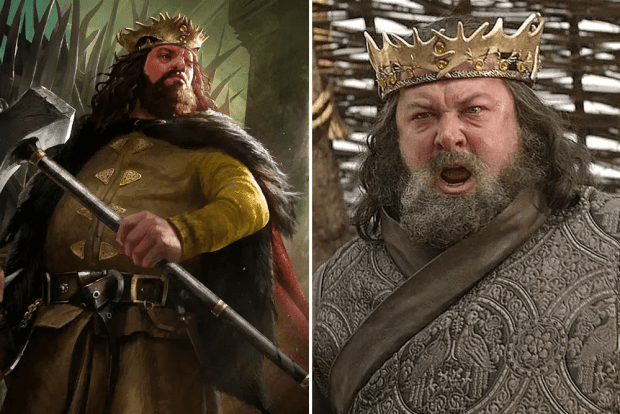 Honestly, the casting director was on point here because nobody would've done justice to this role like Mark Addy, even in terms of looks. The book version has a beard that is "coarse and black as iron," which the TV version lacked. Apart from that, it's a match.
Sansa Stark
This is our personal opinion, but if there ever was an award for the most intelligent woman in the land of Westeros, Sansa Stark would be the winner. We loved her in the book, and Sophie Turner amazed us in bringing the character to life.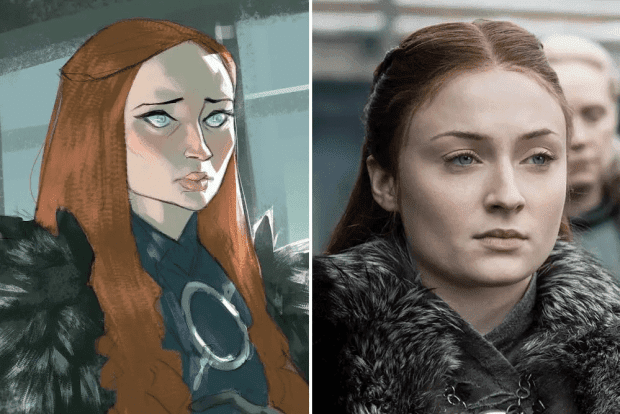 The similarities are astonishing. It is very hard to point out a difference between the two, so we're gonna say that they're both identical. She has piercing blue eyes, a tall frame, and auburn hair—that all matches George R.R. Martin's description in the books.
Stannis Baratheon
It is time to bow down to the king, the one and only Stannis Baratheon. He is a warrior who refuses to back down on his quest to be in charge. Stephan Dillen was successful in nailing the role of the stern man.
But, we can't help but note that the looks don't match. According to the books, Stannis Baratheon is only supposed to be in his mid-thirties, but Dillen's hair color ages him up a bit. Also, in the book, Stannis also had a fringe of thin black hair, which is missing.
Tywin Lannister
The land of Westeros is filled with fascinating characters, but we can't help but envy Tywin Lannister. Among other things, he is extremely wealthy and influential. We're so jealous that Charles Dance got to live out our dream to live even a day as Tywin Lannister.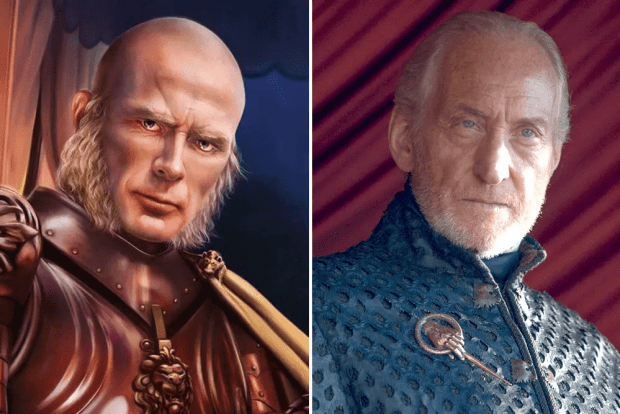 The role had to be played by a man who looks very powerful, and that is exactly what we got. The TV version fits perfectly at the head of the table. While his demeanor matches, there's a notable difference. Mr. Lannister, in the books, has thick sideburns and a bald head.
Daario Naharis
Daario Naharis is a man who knows the value of suffering. He has endured a lot, especially when it comes to bidding adieu to the ones he loved. He had a great time serving Daenerys, but that romance did not live for too long.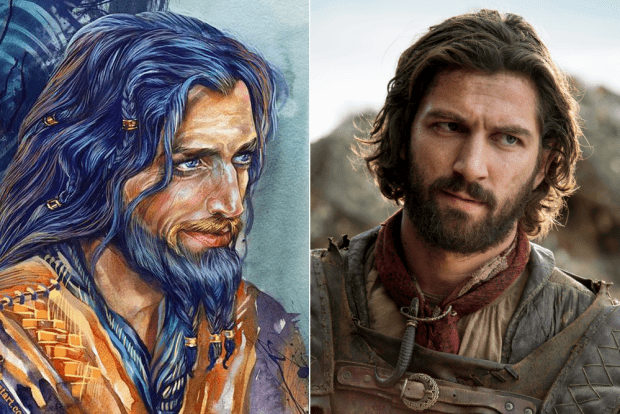 Michael Huisman's Daario Naharis isn't really similar to George R. R. Martin's book version of the character. According to the text, Naharis has a bright blue hairdo with a golden mustache, but we all know that the HBO version doesn't look anything like that.
Tormund Giantsbane
Tormund Giantsbane is among the most commended warriors in the land of Westeros. Giantsbane was always the man on whom Mance Rayder relied on, and Kristofer Hivju certainly impressed everybody with this performance. How was he in the looks department?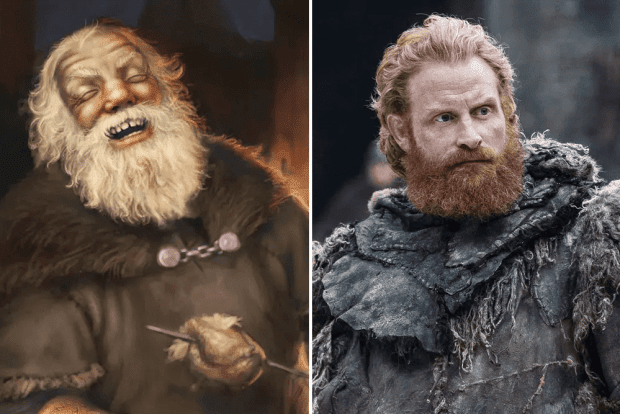 Unfortunately, that didn't translate. As per the written accounts, Tormund has a round belly and a white beard. But, his HBO version's beard is the brightest shade of red, and he might not be the most slender, he's certainly not as hefty as the book implies.
Eddard Stark
To play a character full of honor, loyalty, and extraordinary leadership qualities, it takes a very talented actor. Sean Bean's portrayal of Lord Eddard Stark was extremely impressive. It looks like casting and costume tried their best to nail his book looks.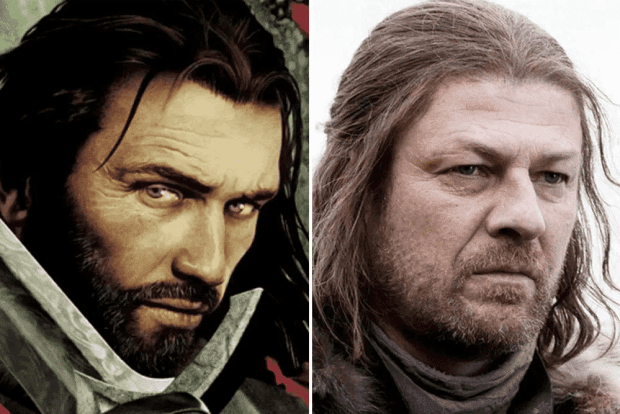 It's not that far off. The only real difference is the hair, which is longer and a lighter color in the TV version. But looking at this fan art next to Sean Bean, it's hard to tell the two apart.
Melisandre
Melisandre, better known as The Red Woman, was a member of the R'hllor religion. Game Of Thrones fans know that she would do anything that would take to keep her faith. Carice van Houten impressed her fans with her amazing acting abilities.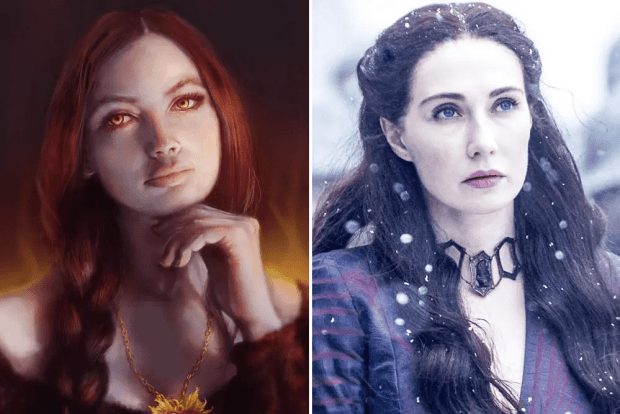 However, were fans impressed with how precisely she resembled the written part of her character? The answer is an astounding yes! If you see the image, the only actual distinction between the onscreen character and her written version is the eye color!
Theon Greyjoy
Theon Greyjoy was under pressure pretty much for the entirety of the show. He was torn between avenging the death of his father and running behind the Iron Throne. However, Alfie Aleen was a delight, so we were glad to see his character, despite his struggles.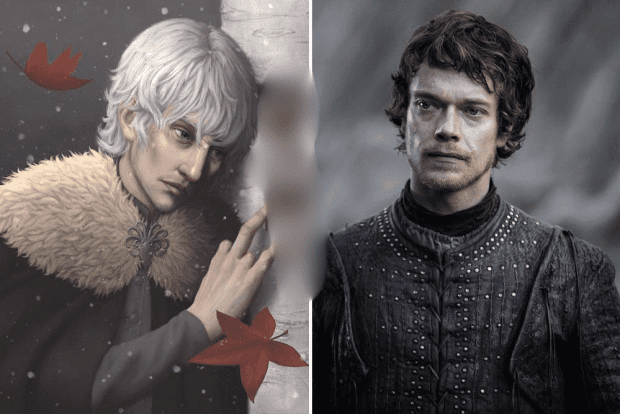 If we take a look into the, well, looks department, you'll find a contrast. Although he did get away from being tortured by Ramsay Snow, there are some stark differences between both versions. According to the books, his character should have gray locks and a skinnier frame.
Daenerys Targaryen
Coming to the role of Daenerys Targaryen, the casting crew did a wonderful job when they offered Emilia Clarke the role. When we take a look at both photos, it feels as if they're almost the same. There are a lot of similarities, but also some key distinctions.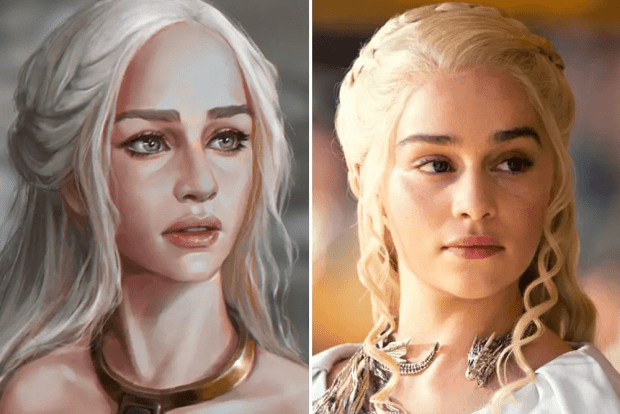 The eyes are very different in this case. According to the books, the eyes were supposed to be violet, but as we all know, her eyes are the brightest shade of blue. While we would have loved to see that, we're glad Clarke didn't struggle with colored contacts every day.
Margaery Tyrell
We can all agree on the fact that things were going extremely well for Margaery Tyrell until she was accused of… certain things. She was the Queen Consort, and she had it all, but things came crashing down when people feared that she sided with the Sparrows.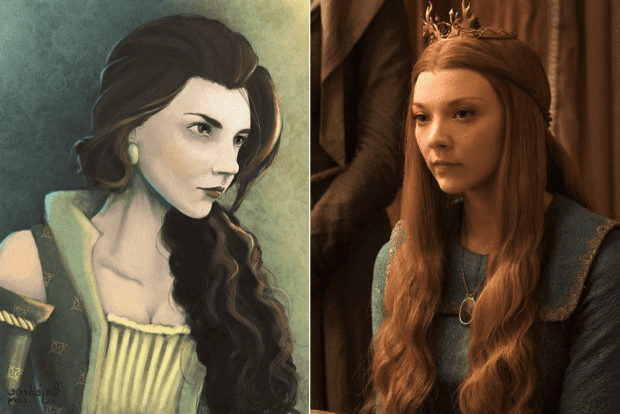 Natalie Dormer's portrayal was commendable and we really felt for her. However, there are a lot of differences in both versions of the character. Tyrell should have curly brown hair and big eyes, but her TV version is strawberry blond.
Khal Drogo
Khal Drogo, or Drogo, The Great Khal, was a harsh man. He was known very well for being the fierce warlord of Westeros who never held back in the battle against non-Dothraki. Honestly, Jason Momoa seems to be the ideal match for playing Khal Drogo.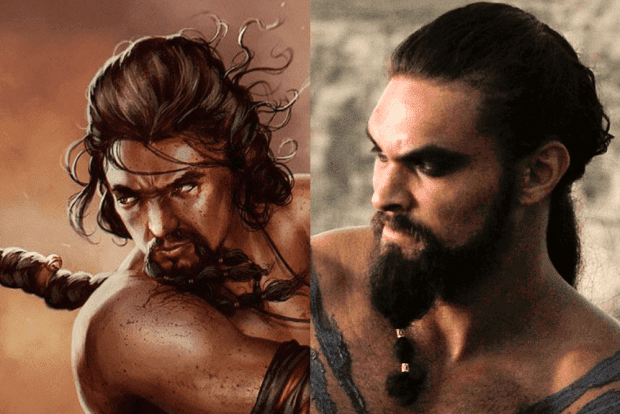 As you can see, both versions look pretty similar with their braids and dark complexion. However, there are some distinctions, like the missing drooping mustache. Also, according to the accounts, Drogo is supposed to have a decorated braid, which they tried to some success.
Yara Greyjoy
Let's take a look at Yara Greyjoy, a member of the Greyjoy Clan. As the older sister, it was always up to Yara to lead her brother through their difficult lives. Gemma Whelan did a splendid job, but let's see if the looks match.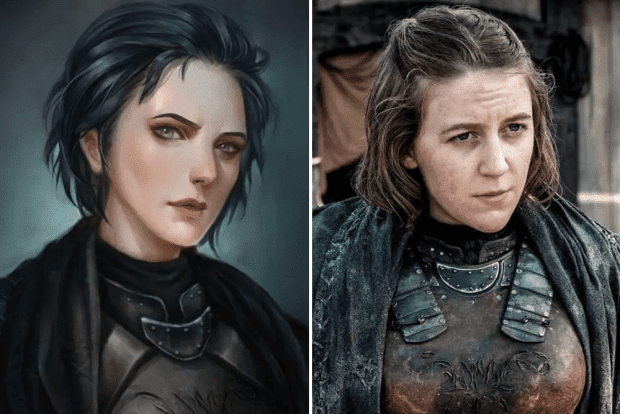 They tried, but we can see that some things are not right here. For instance, Miss Grejoy is supposed to have a thinner frame, a pointier nose, and a shorter and darker hairstyle. Biggest of all, her name wasn't even Yara! It was Asha.
Petyr Baelish
Petyr Baelish was indeed among the most cunning and manipulative characters in all of Westeros. We would agree that it takes a very skillful actor to portray such a sharp character, and honestly, Aidan Gillen does justice to the role.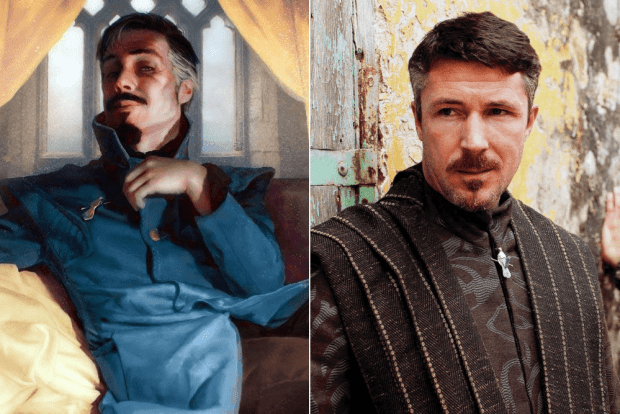 He did his part in bringing Petyr Baelish to HBO, and so did the costume department. There are a few minor differences, though, especially with the beard. But other than that, they're pretty much the same, and that is superb.
Bronn
Lord Bronn seems to be the only man in Westeros who has truly earned his position of high status. While he impressed Tyrion Lannister during his trial by combat, the actor, Jerome Flynn, impressed all viewers with his amazing performance.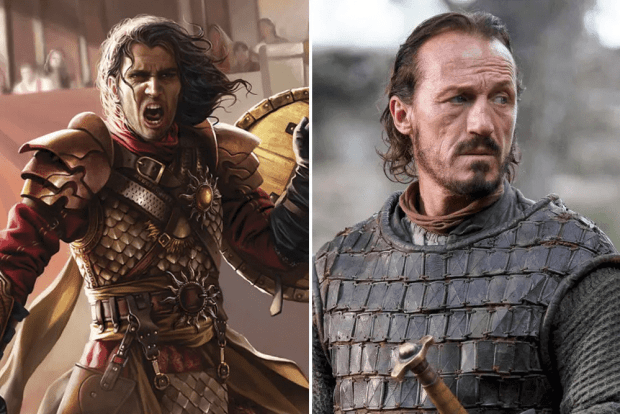 Portraying a warrior isn't an easy task, just like making sure that two versions of a character are similar. Apart from the eye color differences, which is a major one, it's a very good try. The stubble beard is literally the same here!
Hodor
How many of you knew that Walder the stableboy was actually renamed Hodor because it was the only world he spoke? While Walder was a man of few words, we could fill this whole page with compliments for Kristian Nairn. His portrayal of this simple character was stunning by all means.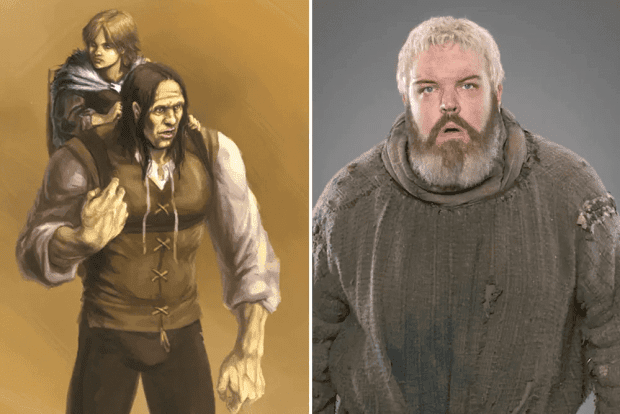 As far as the looks go, there are more differences than similarities. Martin doesn't really focus so much on his size, unlike the HBO version. Apart from that, there is a difference between the hairdo and the beard, but there are upsides and downsides to each character's appearance.
Brynden Tully
It doesn't matter if you call him Blackfish, Brynden Tully, or Brynden the Blackfish. One thing that will remain constnat is that he is among the noblest knights of all in Westeros. Clive Russel was so good that viewers wanted to see more and more of him on the show.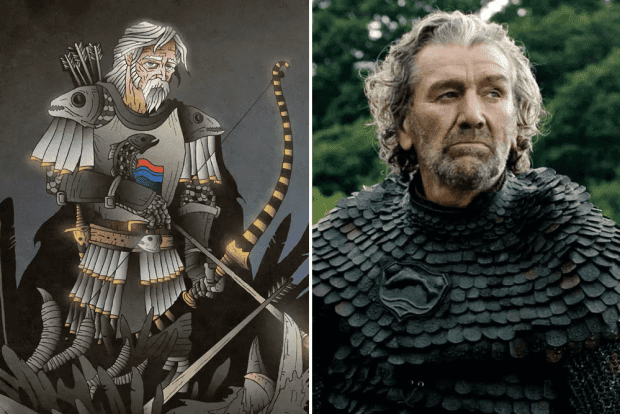 This character resemblance makes us feel delighted. In the books, Brynden is a tall and lean man with gray hair that once used to be auburn. If you see the TV version, the similarities are astonishing, and Clive has nailed every physical aspect here as well. Bravo!
Myrcella Baratheon
Myrcella Baratheon is the Princess! She tried to create an alliance with the Martells, and as expected, things didn't really go as per the plan. This character was portrayed brilliantly by both Aimee Richardson and Nell Tiger Free. What about the looks, though?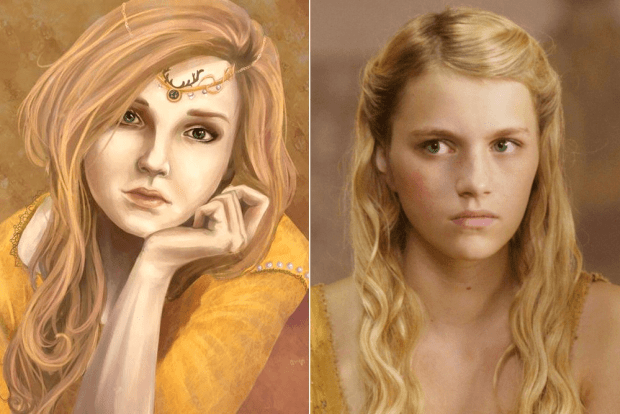 George descibed Myrcella as a woman with golden curls, emerald eyes, and full lips. If we see the new versions on the screens, the casting team did a good job as well. They pretty much nailed all the princess' physical attributes.
Robb Stark
In the world of Game of Thrones, if you'd ever turn to somebody for brotherly advice, Robb Stark was the go-to man, especially for the Stark siblings. It was an honorable moment for Robb when he became the King in the North!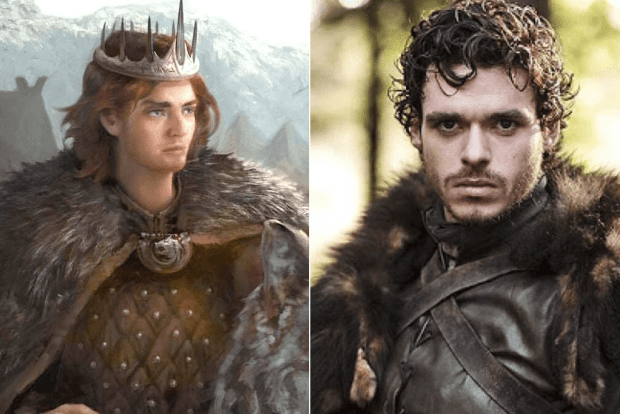 Richard Madden was wonderful. According to the books, Robb was a strong character with a stocky physique, and that has been done right in the series. However, the only difference is the auburn hair and the clean-shaven face. Aside from that, it's perfect!
Edmure Tully
For those who forgot him, Edmure Tully is the youngest of the Tully siblings, and he's also one of the bravest knights. To be honest, Tobias Menzies did a good job portraying his character in the series, but the looks didn't match up as much as his attitude did.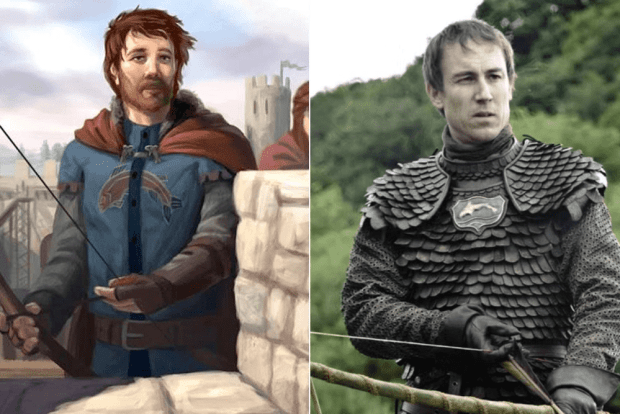 He might have been the youngest sibling, but does that seem like it with his graying hair? The directors overlooked the part where Martin says the character has flowy auburn hair and also a thick red beard that could be spotted from a distance.
Ellaria Sand
Ellaria Sand is the second of the Sands. She was Prince Oberyn Martell's love, and all fans know that the couple had four daughters together. Indira Varma did a wonderful job, and she also loved bringing Ellaria Sand's character to life.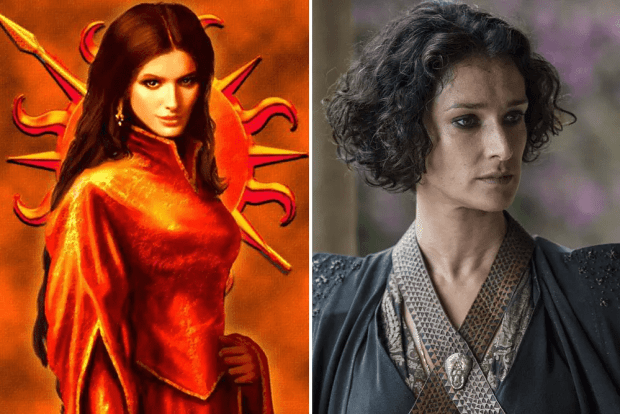 In the books, Ellaria is an attractive woman who catches the eyes of many, which is on point here. Also, she is said to have an exotic side to her. Though the hair length doesn't match, she embodies the character perfectly!
Gendry Baratheon
Gendry Baratheon is undoubtedly among the most skilled blacksmiths in all of Westeros. Now, Joe Dempsie was superb, and he portrayed each detail with a lot of effort and excellence, but did he truly mimic the book version of the character?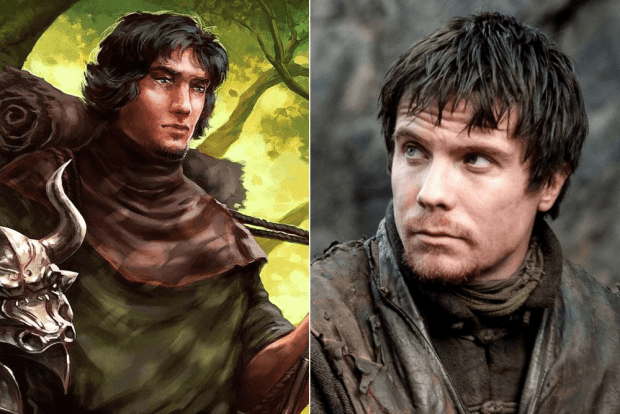 Well, not quite. According to the books, Gendry was supposed to have thick, black hair and a physique just like his brother Robb. But his on-screen version has a thinner frame and short-cropped hair. Looks like hair and makeup didn't even try to make things similar here.
Tyrion Lannister
Lord Tyrion Lannister has a unique ability to turn his adverse life circumstances into extremely witty jokes. Peter Dinklage plays the famous self-deprecating dwarf in the show, but that doesn't at all mean that this character should be taken lightly.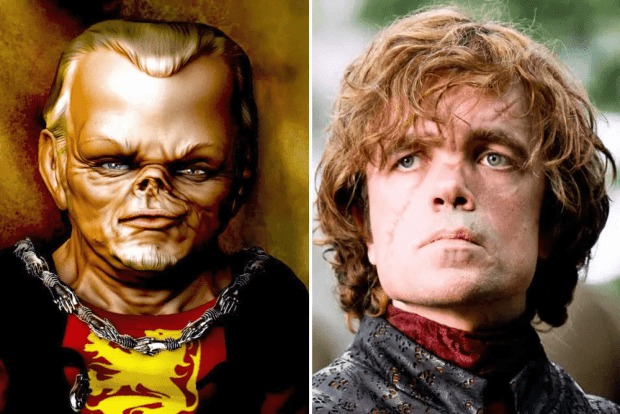 Peter Dinklage is a fine actor, but the written character has a much scarier appearance. Because of the heavy loss in the Battle of Blackwater, Tyrion Lannister shouldn't have a nose. At least, that's what the books say about his appearance.
Cersei Lannister
Cersei Lannister was the last ruler who sat on the Iron Throne. She was the Queen, and this Queen had a rollercoaster of a ride from losing her husband to the poisoning of her elder children. Nobody could've done it better than Lena Headey.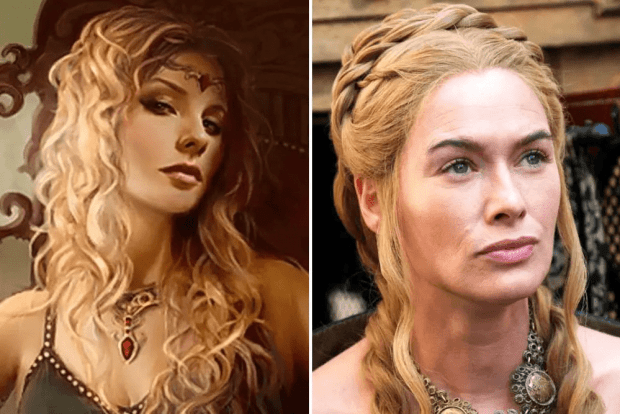 On the looks side, we think that some things are off here. Cersei and Jaime, first of all, don't look very similar on TV, although they're twins. Although Lena does have long blond locks and green eyes, she doesn't look accurately like Cersei.
Sandor Clegane
For some characters in Game of Thrones, the main motive of their lives is to achieve revenge. Sandor Clegane, better known as "The Hound," fits more than perfectly in this description. He's not as big and scary as his brother, but he's a force to be reckoned with.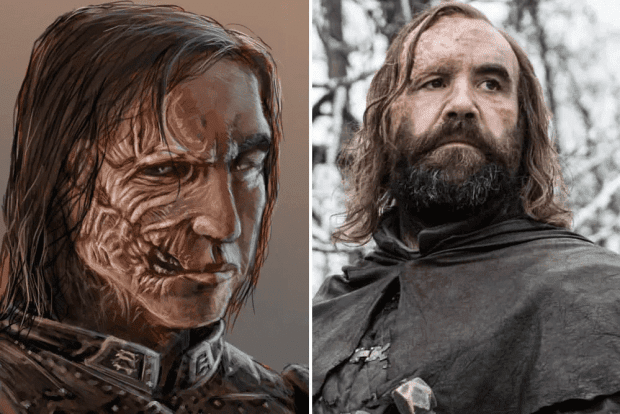 This one might have been tough to replicate, but we must say that the makeup team pulled a good one. They tried their best to portray Clegane's facial wounds. That's a small distinction, and also, the HBO version is much fitter than the book version!
Joffrey Baratheon
Joffrey Baratheon is the eighteenth man to sit on the Iron Throne. He comes from a scandalous relationship, but that never got in his way of leading a successful life. However, things took a turn when he got poisoned. Throughout this rollercoaster, Jack Gleeson was superb.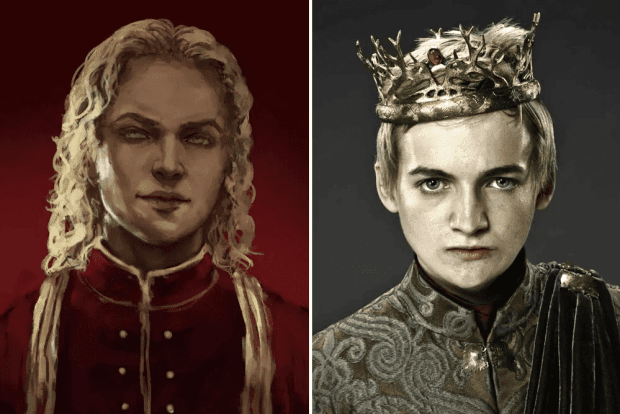 In the looks department, we'd say yes and no. Gleeson indeed captures the feminine side of Joffrey's appearance, but in the books, Baratheon rocks a curly mane, and has green eyes. But you can see that the HBO version is a bit different there.
Oberyn Martell
To be honest, there never was, and there never will be, another prince in all of Westeros like Oberyn Martrell. His level of passion is something that simply cannot be imitated. However, Pedro Pascal worked very hard to portray such a character, and he nailed it.
But, if we compare the looks between the two, it seems like there are a lot of differences in both versions of the prince. According to the books, Martrell should have had much longer hair, but as you can see, Pascal rocks a shorter cut here.
Samwell Tarly
Samwell Tarly is the Grand Maester of the Six Kingdoms. He might not be the bravest of them all, but he is certainly incredibly intelligent. Sam has gained a lot of knowledge over the years, something John Bradley kills with his portrayal of the character.
In the looks department, it is spot on! Bradley matches all aspects of the book version of Tarly. However, John's eyes are a bit darker in the book version, and he also is a tad bit heavier on screen. But that doesn't change the fact that his performance was superb.
Jorah Mormont
Jorah Mormont is undoubtedly one of the most faithful men in the entire series. He might have been loyal to Varys, but he did everything in his power to serve Daenerys when he realized that she was a respectable woman. Iain Glen did amazingly well.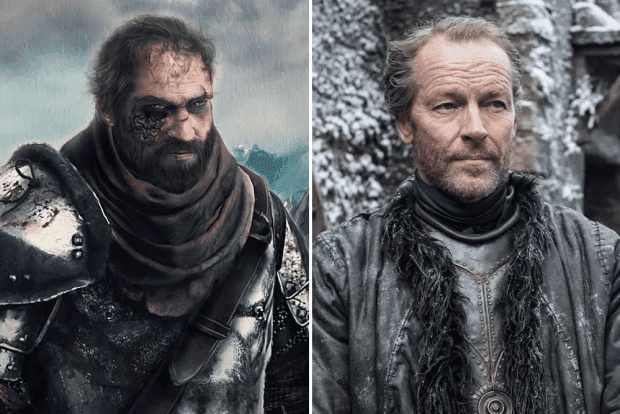 In the looks department, there are some distinctions, and it's pretty visible. The HBO version that Mormont portrays rocks blond locks. In the book version, the character is balding and still has darker hair. Also, the face tattoo seems to be missing!
Ramsay Bolton
Ramsay Bolton was going through a lot of family issues during the series, and honestly, we don't really envy him. However, it is our part to say that Iwan Rheon did a fantastic job of portraying this character. Kudos to the casting director.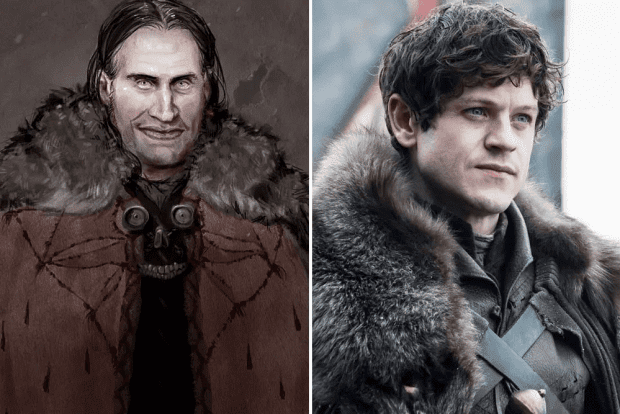 It seems like we have a pattern going on here because all of the characters seem to have a different haircut before they have been reincarnated on the show! That's also the case with Ramsay Bolton because his written character has huge locks, unlike the TV version.
Arya Stark
Arya Stark is somebody who had to face responsibility in Game of Thrones, and the reason for that is her being the heir to the Kingdom of the North. She had some really big shoes to fill, and Maisie Williams knew exactly how to deliver a power-packed performance.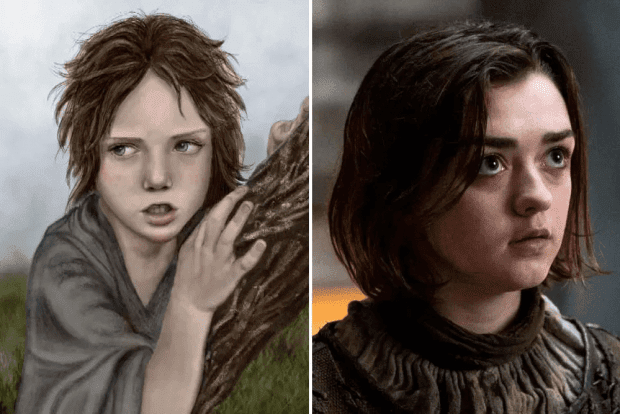 Now that we can compare the looks, we are certain that there could have never been a better pick than Maisie for this role. The casting directors did a wonderful job casting her because she looks 100% like the book version of her character.
Jaime Lannister
There was nobody who was brave enough to overthrow the Mad King until Jamie Lannister came along and changed things for good. Nikolaj Coster-Waldau has earned our respect with the brilliant portrayal of this iron-willed character, and he must have had to dig deep to do it.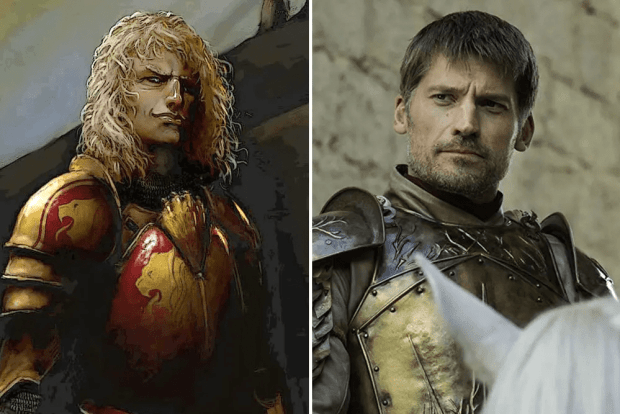 If you see, the HBO version of Jamie Lannister isn't that different from George's novel version, except for the hair length, which seems to be a big contrast. The book version is hairier with a curly mane, while the TV version is clean-shaven with a shorter cut.
Beric Dondarrion
Berin Dondarrion is the head of House Dondarrion, and if you ever Googled the word "relentless," there are chances that the first result will be his picture. Richard Dormer delivers an outstanding performance portraying this character, bringing him to life even though he was killed over five times.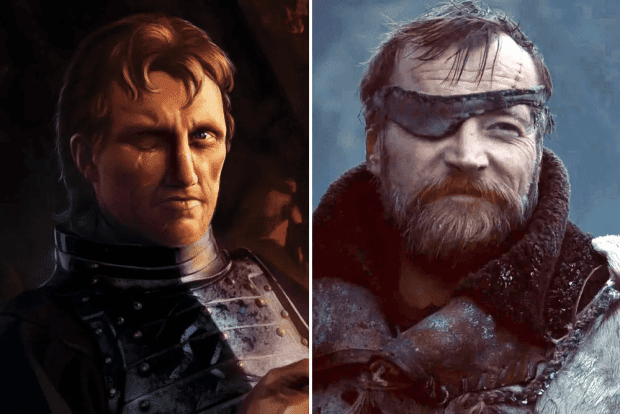 Well, the looks are pretty similar. According to the books, Dondarrion seems to be a very handsome person who rocks red-gold locks. If we compare that to the TV version of the character, then the casting director has done a great job here.
Davos Seaworth
Davos Seaworth is the Onion Knight. Everyone is well aware that he did everything in his power to serve Jon Snow until his exile. Liam Cunnigham was praised by fans throughout the world for his brilliant portrayal of Davos Seaworth.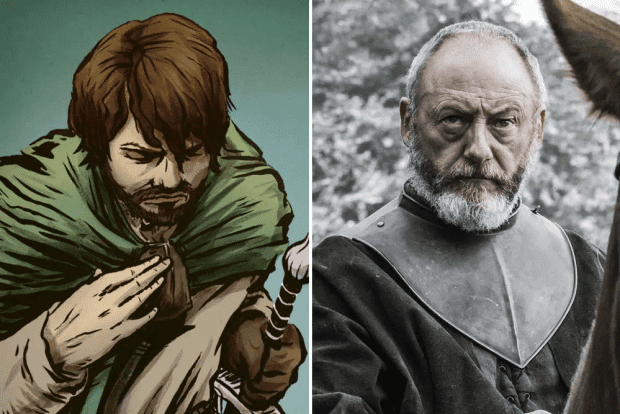 This one isn't that contrasting. If you'd compare, the only proper difference between both versions is that the book version of the character has brown hair with some gray strands. The TV version has fully gray hair. Apart from that, there's no big distinction.
Lord Varys
Varys was a master manipulator who knew how to get around people. He was also known as the Spider, and we only got to know later in the show that all his loyalties lay with Daenerys. Conleth Hill was the perfect cast for this role.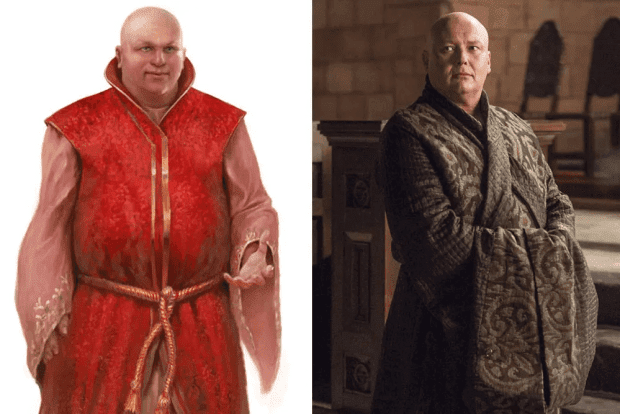 There you go. The casting directors did justice to the book version of Varys. His character donned silk garments, and he was bald and had a round face. If you see the HBO version, all the aspects have been nailed with perfection.
Jon Snow
There's no way we'd complete this list without mentioning Jon Snow. He was fit enough to join Daenerys and defeat the White Walkers. Book fans were very much impressed with the casting of Kit Harrington, and his performance was critical in increasing the viewership of the show.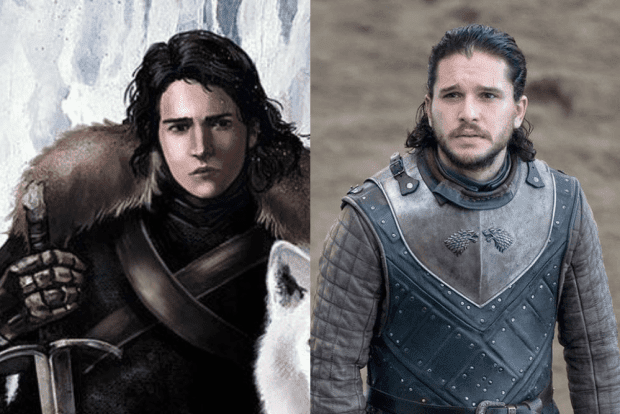 In our opinion, Kit Harrington's appearance was very similar to the book version of the character. His frame might be slightly larger than the book version of his character, and that seems to have worked out well. But other than that, it's pretty much a twin of his book version.
Brienne of Tarth
Brienne of Tarth is a unique character. She was the first woman in the series who was knighted in the Seven Kingdoms, and honestly, that's a thing to be proud of. It might have been challenging for anybody to play the role of such a complex character.
But Gwendoline Christie was wonderful at it. If the casting crew had completely followed the books, things would've been very different. According to the books, the knight had a blotch-filled face and a wider mouth. Needless to say, the TV version isn't like that.
Eddison Tollett
Eddison Tollett was a close friend of Jon Snow who knew how to protect his dear friend day and night, as he was also the Lord Commander of the Night's Watch. Ben Crompton made everybody proud with his portrayal of the character.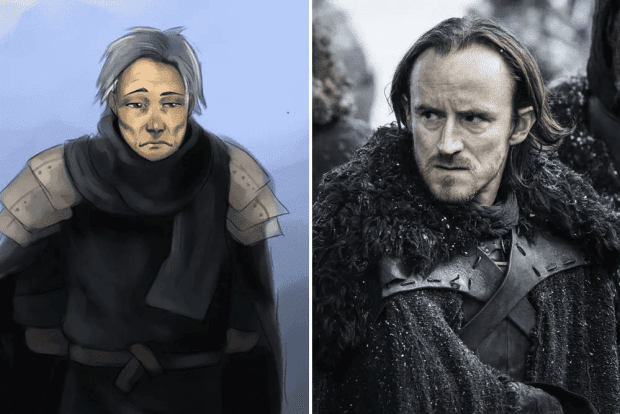 If we compare the looks here, Dolorous Edd in the books is dour and gray-haired, but you all know that the HBO version of this character is that of a brunette man. Although the hair color is very different, the expressions are on point.
Ygritte
Ygritte is the spearwife of the Free Folk. Not only was she known for her duties as part of Mance Rayder's squad, but even for the love story that developed between herself and Jon Snow. Rose Leslie was the perfect choice for this role.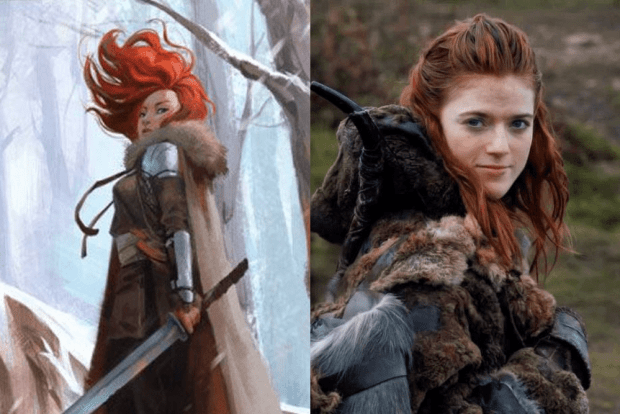 There are some similarities and some distinctions in this case. Ygritte in the books has red locks that scream "kissed by fire." But the HBO Version of the character has slightly duller hair. The book version even has a stubby nose and a round face.
Tommen Baratheon
Tommen Baratheon is the nineteenth ruler of the Seven Kingdoms. He was an extremely kindhearted ruler who was very fair to all. Dean Charles-Chapman and Callum Wharry were both the ideal actors to portray this character, but let's check the looks department.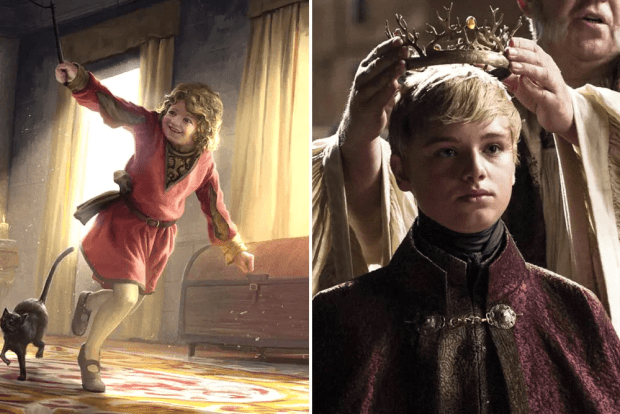 The character was supposed to have plump and long white-blond hair. But, as you can see now, Tommen is not plump. Instead, he is of average weight with a short haircut. If you consider these contrasts, it feels like the casting guys just let this one go.
Syrio Forel
Syrio Forel is among the most proficient swordsmen and also among the most favorite secondary characters of the show. He did a great job of keeping the spirits high of the people of Westeros. Miltos Yerolemou was great at portraying this character.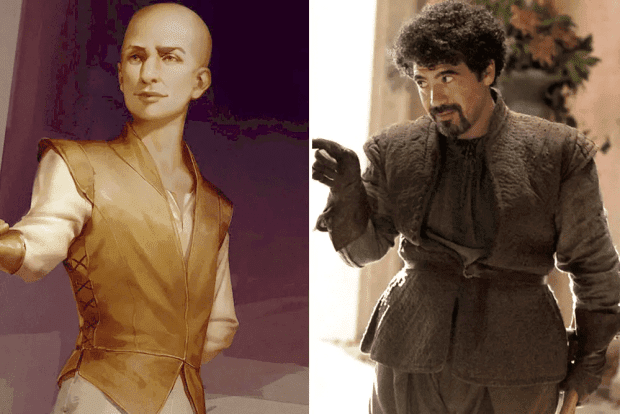 Sadly, the looks weren't really that similar. All avid book readers know very well that Mr. Forel is a bald man with a beak-shaped nose. If you see the TV version, he has a full head of dark hair. So, there are some major differences here.
Gilly
When your name is Gilly, life will not be easy for you. She is a member of the Free Folk, and she really drew the short straw when it comes to her family. When it comes to acting, Hannah Murray does a wonderful job of portraying this complex character.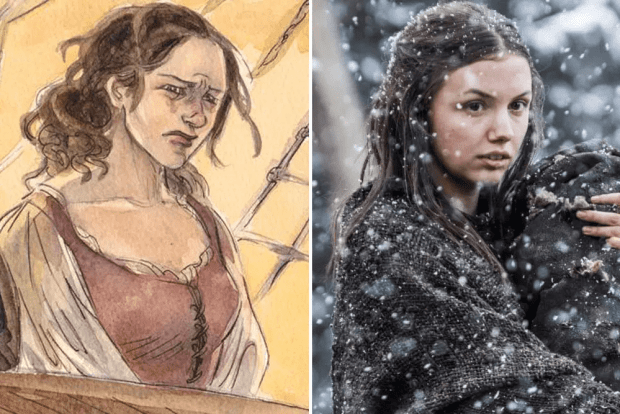 To be honest, the looks were not contrasting at all. While Gilly had a pale face with dark hair and brown eyes, it was a big match. Although Hannah Murray looks a little older than Gilly is supposed to be, she's still an amazing pick.
Roose Bolton
Do you know why Roose Bolton was nicknamed Leech Lord? Well, it's because his rituals were pretty eccentric (leeching himself) and improved his health. Michael McElhatton's depiction of the head of House Bolton was pretty much on point. How were the looks?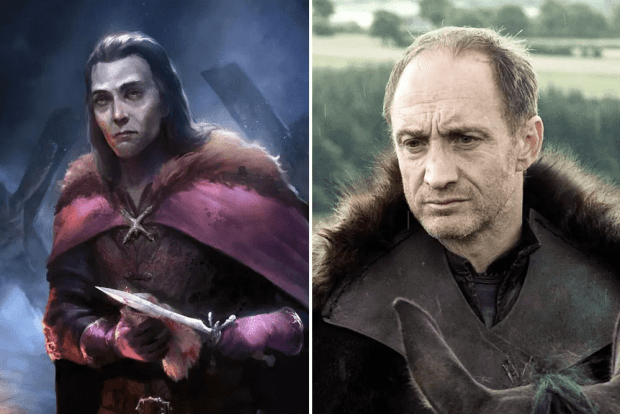 Well, they were not the same. McElhatton is an impressive actor, but he certainly doesn't look the part here. In the books, Roose Bolton has a head of long and black hair, and he doesn't sport a beard, unlike the TV version of the character.
Mance Rayder
If you are in need of inspiration to quit your job and pursue your dreams, you should look up to Mance Rayder. He was once a man of the Night's Watch. Then, he gave everything up to become a crucial member of the Free Folk.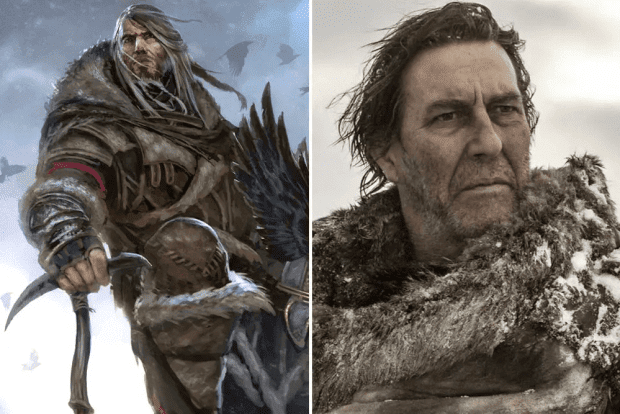 Ciaran Hinds was superb, but the book version of the character focuses a lot on his aging with his gray hair. But you can see that he is a brunette in the TV version. Maybe hair and makeup should've read the books since the hair always seems to be off with these characters.
Tyene Sand
Tyene Sand is somebody who would do anything to win a war. Her goal is to achieve victory in every battle, even if it does not end in her favor. Rosabell Laurenti Sellers' looks were as precise as her portrayal of the character.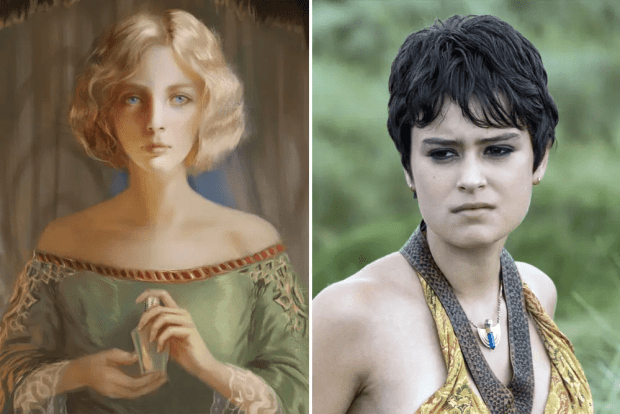 Sadly, the looks of the two versions are not even close. While Sand is a blond and fair woman with deep blue eyes in the books, she has a dark complexion with dark hair and dark eyes on the show.