NFL Memes That Score A Winning Touchdown In Our Playbooks
By Sachin P September 13, 2022
---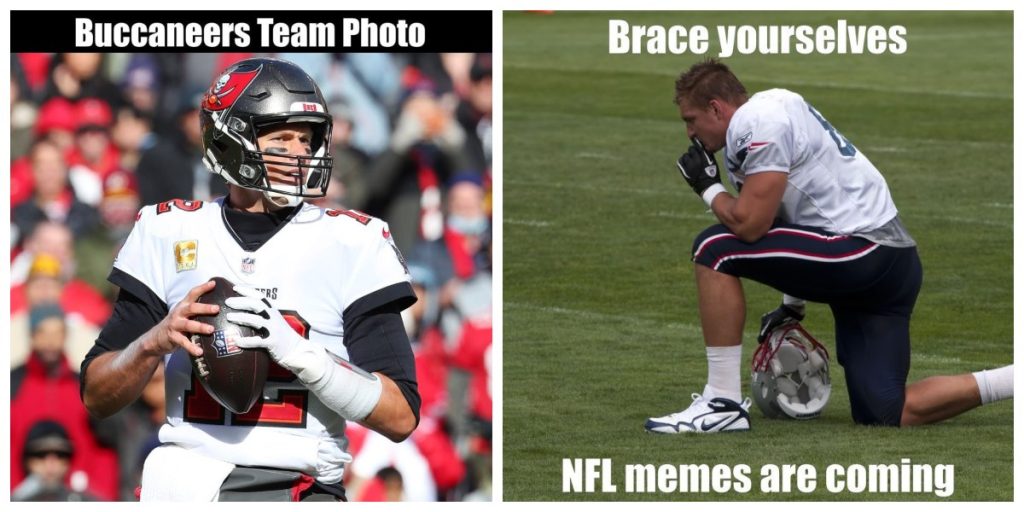 The justification behind the phenomenal popularity of the NFL is its perfect parity. Unlike all the other pro sports nowadays, your NFL team does have an equal opportunity to succeed. That is, getting in the Super Bowl is no issue wherever you live as long as the team is good. This helped the sport gain appeal around the country, not only in New York, Boston, Chicago, and Los Angeles. This tremendous popularity has resulted in unprecedented income in the world of sports. This is why the NFL has garnered its near-global appeal. This popularity is why it has inspired so many quality memes. Football fans are pretty intense and dedicated. We created these with you die-hards in mind. So sit back, relax and enjoy these NFL memes!
Sportsball!
Sportsball is an internet slang term for any professional sport which centers around a ball. Especially those with the ending "-ball" in its titles, including baseball, basketball, and football. This is not to be mistaken with the console video game of the same name.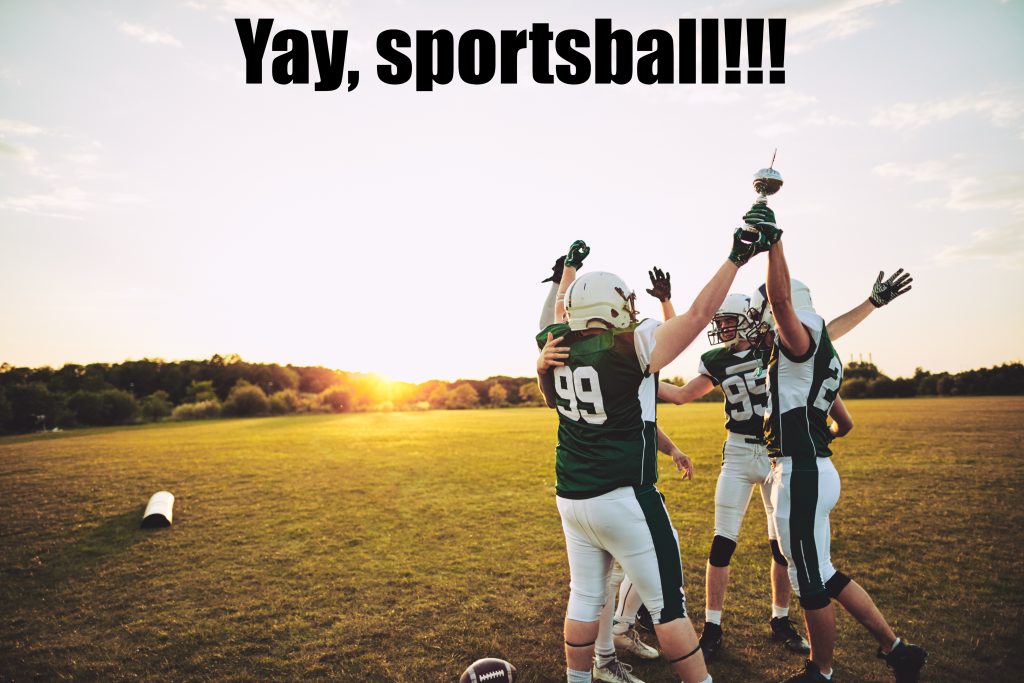 The term is typically used demeaningly among those who dislike or have little enthusiasm in spectator sports. In the past few years, there's been a pushback against the word. It has now been described as antiquated and unfunny, by true fans, of course.
Master strategists
The Kansas City Chiefs' heartbreaking defeat to the Cincinnati Bengals happened recently, and some of us are still reeling from all this. Penalties and drops, strange coaching decisions, plus, as usual, the wacky refereeing were all present.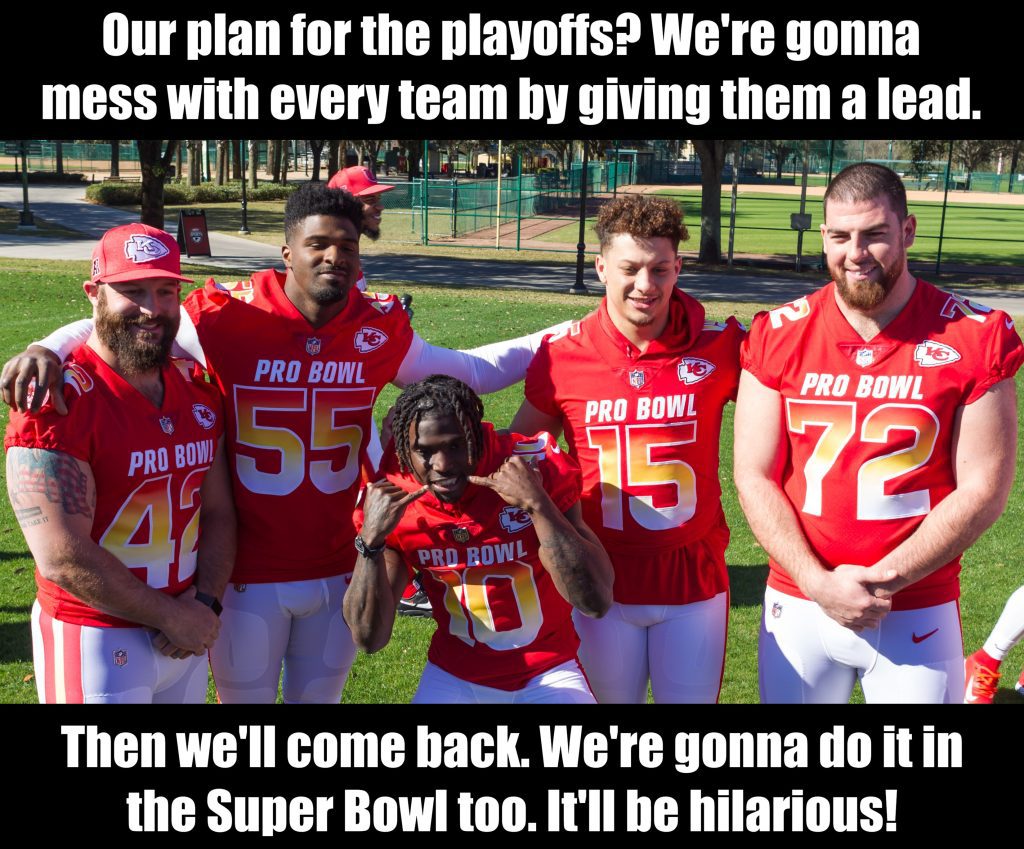 The Chiefs eventually lost by a solitary field goal. The defeat is not what makes this one stick out far more than others. What was shocking was that the team came back with a vengeance and won several games straight and the 2021 Super Bowl.
Inspirational
Referees are meant to keep and maintain order on the field. They also act as timekeepers and make the final decisions regarding points and fouls. But as we all know, they also receive the brunt of all the fans' and players' frustrations.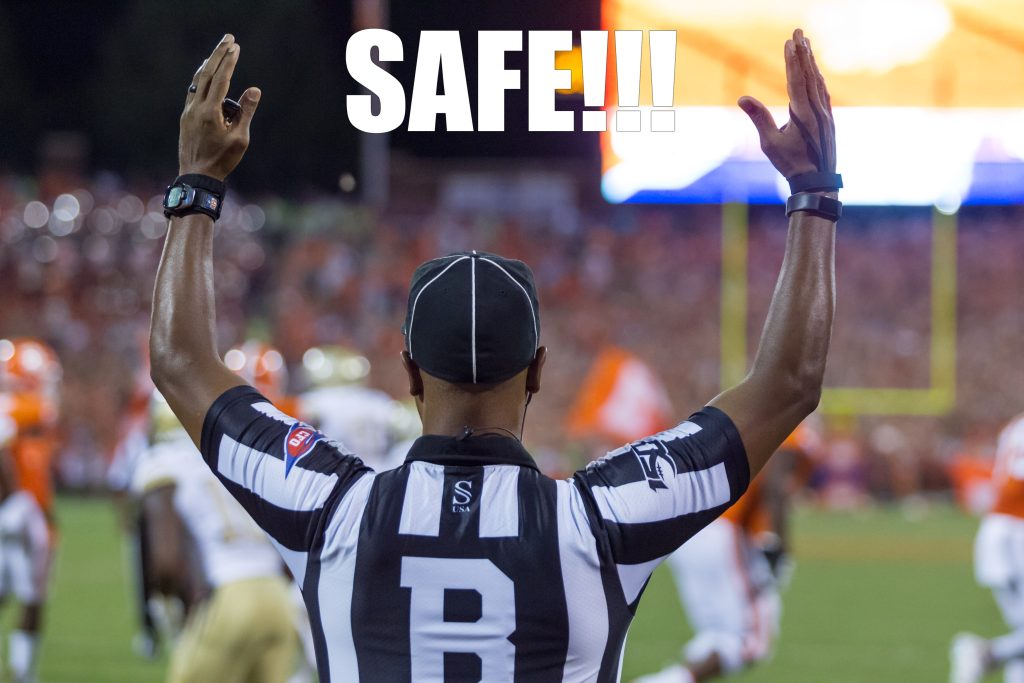 Yeah, this is a Clemson Tigers referee giving the signal for a touchdown. But "safe" is what a referee says in baseball. Sometimes referees seem so confused or blind to obvious plays; we wonder if they wandered into the wrong sport.
NFL Valentines!
Whoever composed this list and the verses have some really good comedic chops! See what they wrote for Kirk Cousins. Bit harsh, but we know it's true, right? He even admits that he doesn't show up when it's really important.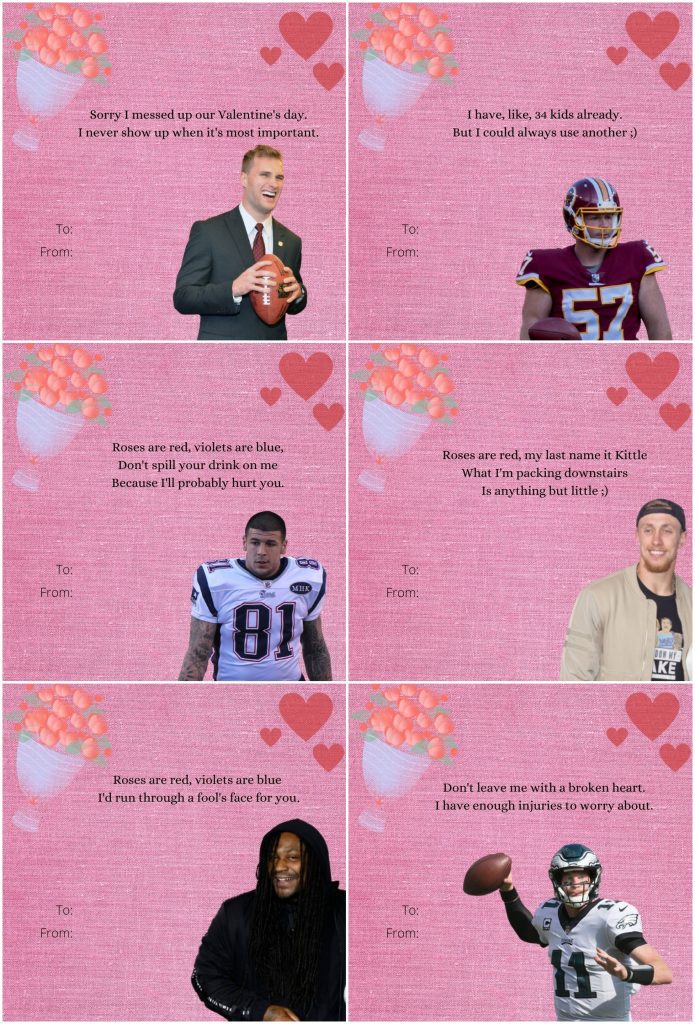 We will tread lightly around Aaron Hernandez, though. Let's look at George Kittle. What a snappy verse for Kittle we have here. Whoa there, Nelly, better go easy on our Nick Sundberg here. He has enough on his plate, y'all!
Come on Ref!
Fans will tell you the NFL has a crisis when it comes to not having competent officiates. For instance, the newest spurious roughing-the-passer penalty against the Saints, which nullified an intercept inside the end zone, was issued over New Orleans during a past game.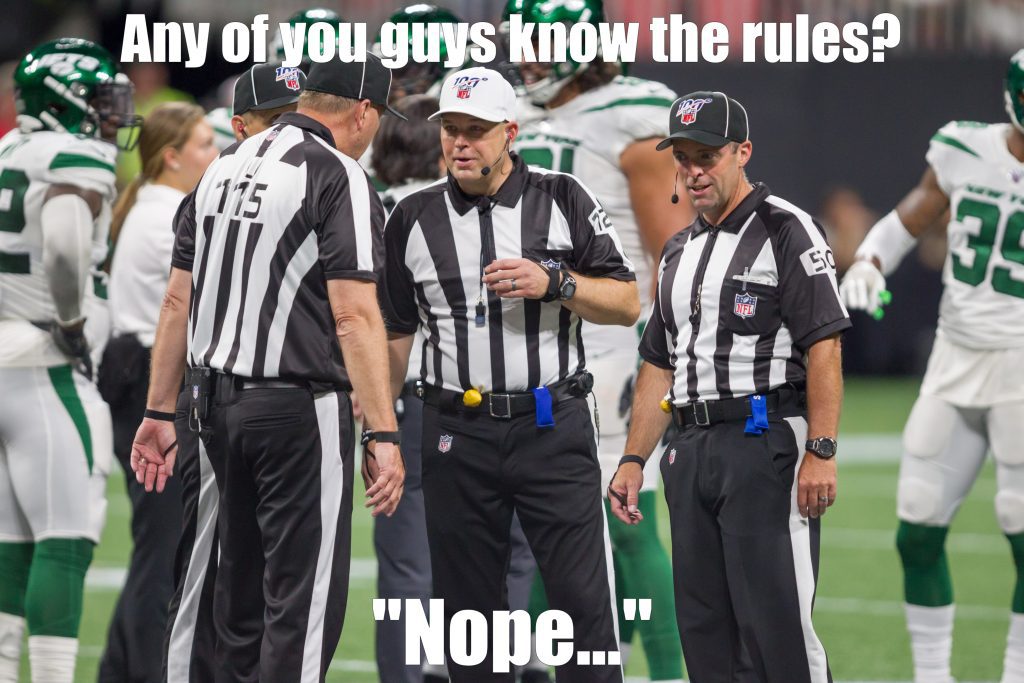 Between both the Saints and the Titans. After a delayed quarter tie, Tennessee kept the ball and scored a touchdown to make it a 13-6 halftime advantage. Tennessee won but amidst huge controversy. NFL should really sort this bungle out before it turns sour.
Dez Bryant through and through
Dez Bryant is a free agent wide receiver in the National Football League. In 2008, he won All-American accolades while playing collegiate football at Oklahoma State. He was selected in the first round of the 2010 NFL Draft by the Dallas Cowboys.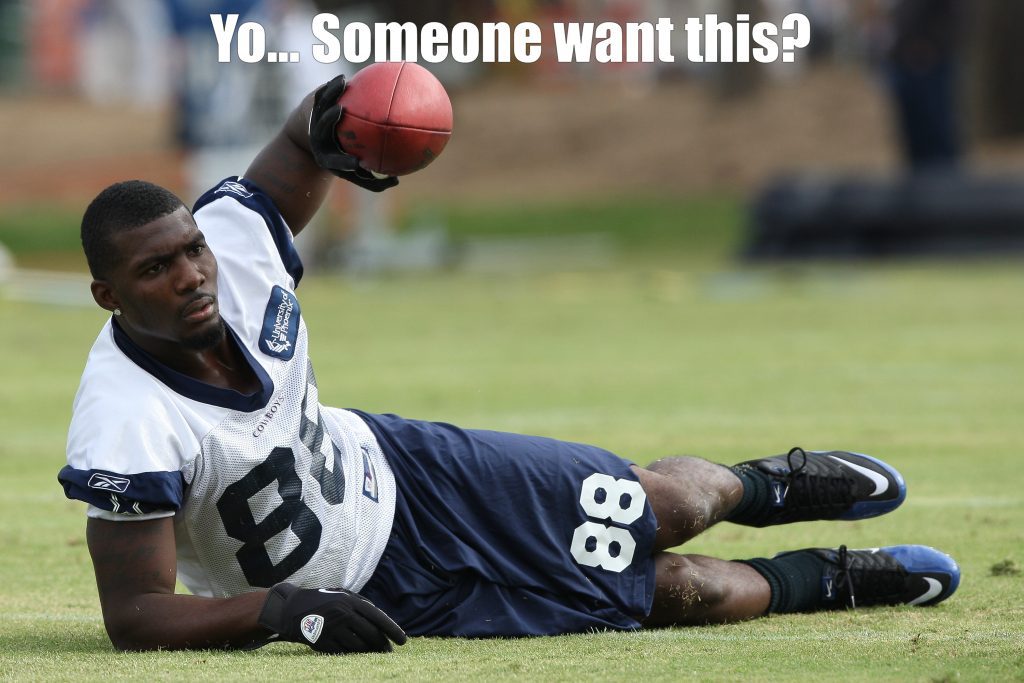 As a Cowboy, he won three Pro Bowl berths and then was voted an All-Pro in 2014. Dez had his fair share of controversies, but that did not deter him from bringing his A-game. This is why his fellow players ranked him 15th on the top 100 players in 2015.
Don't go, Goff!
Jared Goff is a quarterback for the National Football League's Detroit Lions. Goff is the first All-Pac-12 selection while at California, as well as the Los Angeles Rams chose him first pick there in the 2016 NFL Draft. Following a disappointing rookie season, Goff bounced back.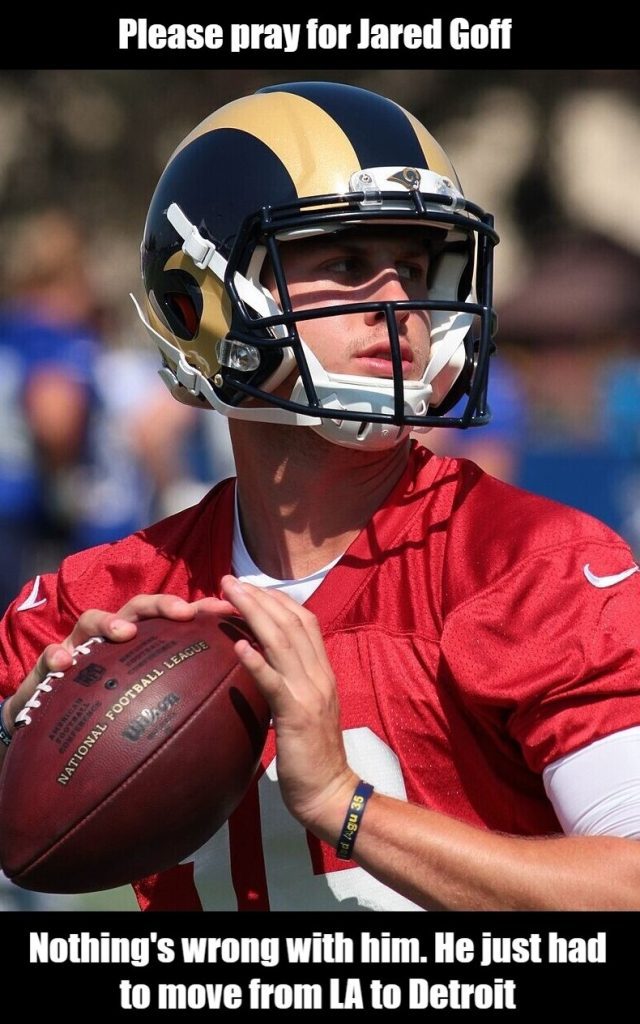 He helped the Rams through their first successful record season in 14 years and first playoff participation in 13 years in his sophomore season. In 2018, Goff supervised the Rams' continued upward trajectory, with the team reaching Super Bowl LIII, their first Super Bowl trip since 2001.
He's not completely wrong you know
Like everything that has become part of American pop culture, everyone is talking about fantasy football. Fantasy football is a sport where you can be the buyer, general manager, and trainer of your own football league. You pick an NFL squad and earn points based on real-life games.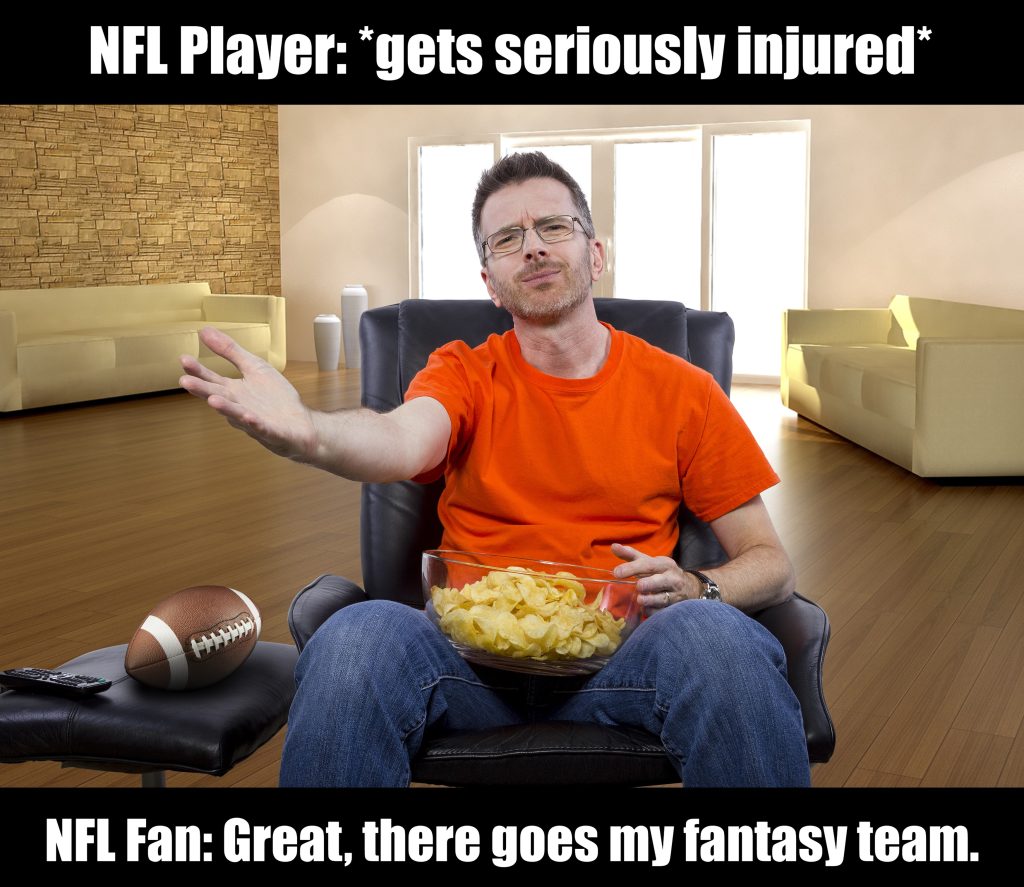 If your team has Lamar Jackson on the field and he scores a touchdown, your side will score points. The team with the most points over the course of the NFL week is declared the winner. If you haven't gotten in on this, it makes the season a whole lot more fun.
Football Fever!
September to February is the season to be hyped up! Get the war paint ready, bros! Also, it is quite chilly. So why would they host American Football in these chilly, sometimes quite cold months when you have beautiful summer months?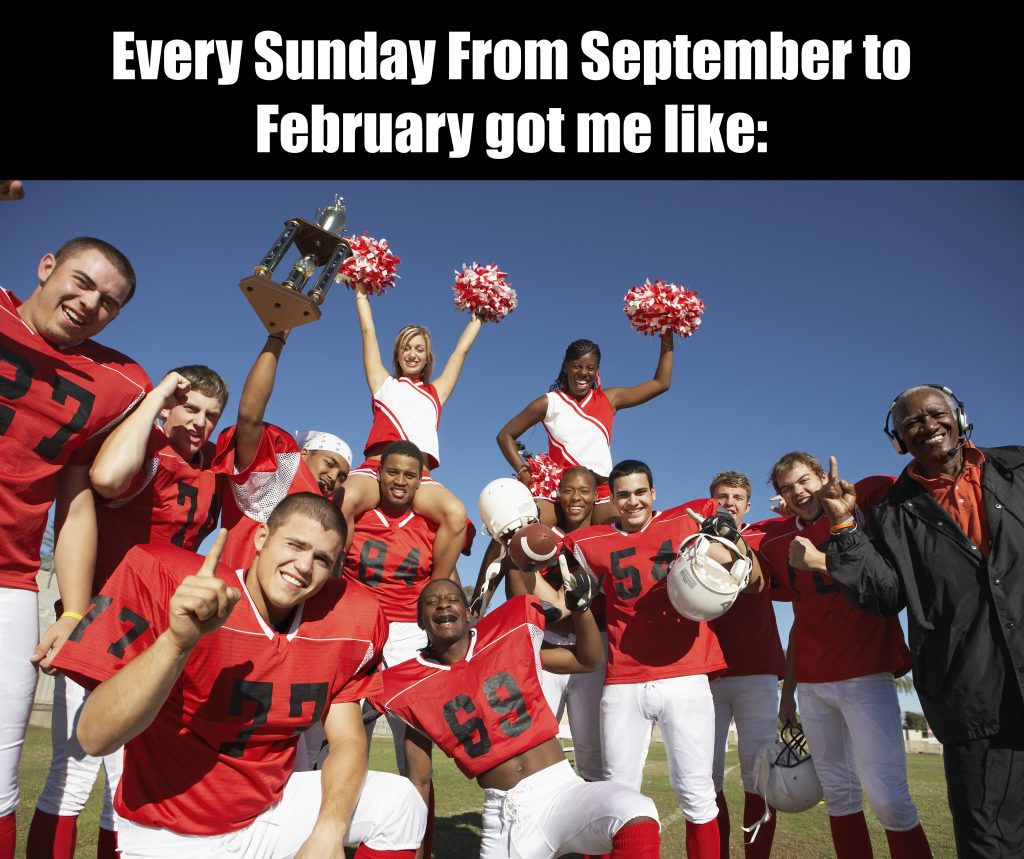 The reason is that the gear a normal football player wears traps a lot of heat. The shoulder pads are quite heavy and trap heat. So do the helmet traps and the hip, elbow, and knee pads. Believe us; the players love that the season is in the winter.
Ow! My back!
Group hugs between friends are something so special. There is something special when you are in the midst of people you love. Embroiled in a bear hug showcases love and friendship. So, who doesn't like a big ol' hug fest?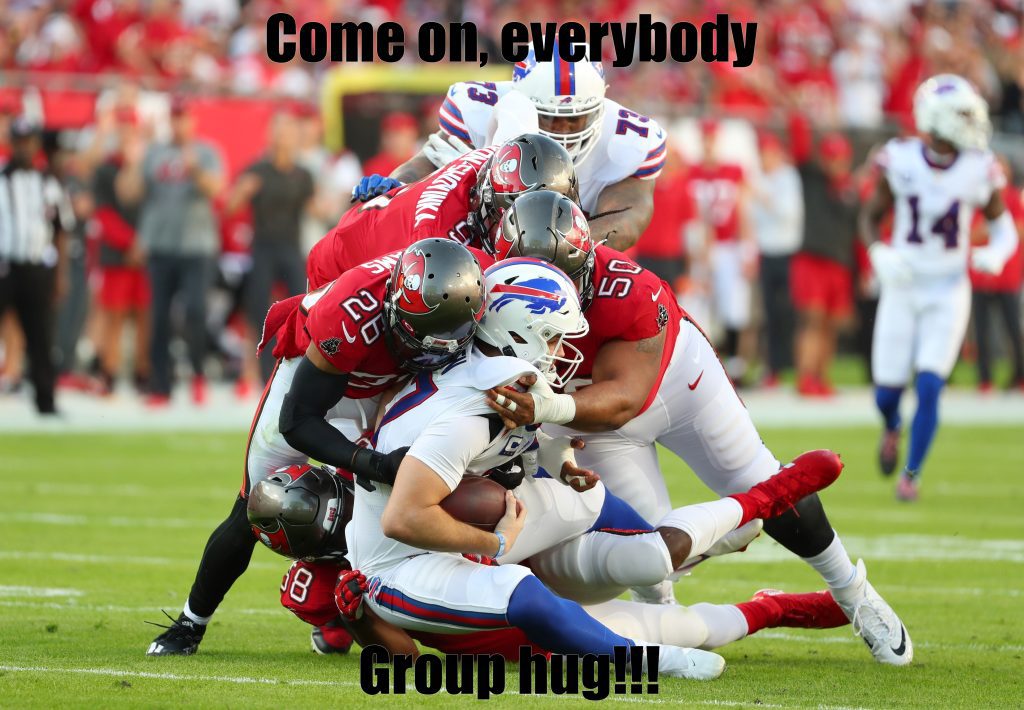 Well, if it's something like this, we'll pass. Unless you're 250+ pounds and have the physical and mental tolerance to accept huge muscular beings hitting you like pickups, go for it. To each to their own, and we'll keep on with the half-arm hugs. Adios!
What's the difference between me and you?
International football and American football are quite distinct sports. International football, or soccer, is hugely popular. Tons of us never considered calling soccer "football" until we made friends from other parts of the world. It can certainly lead to some confusion.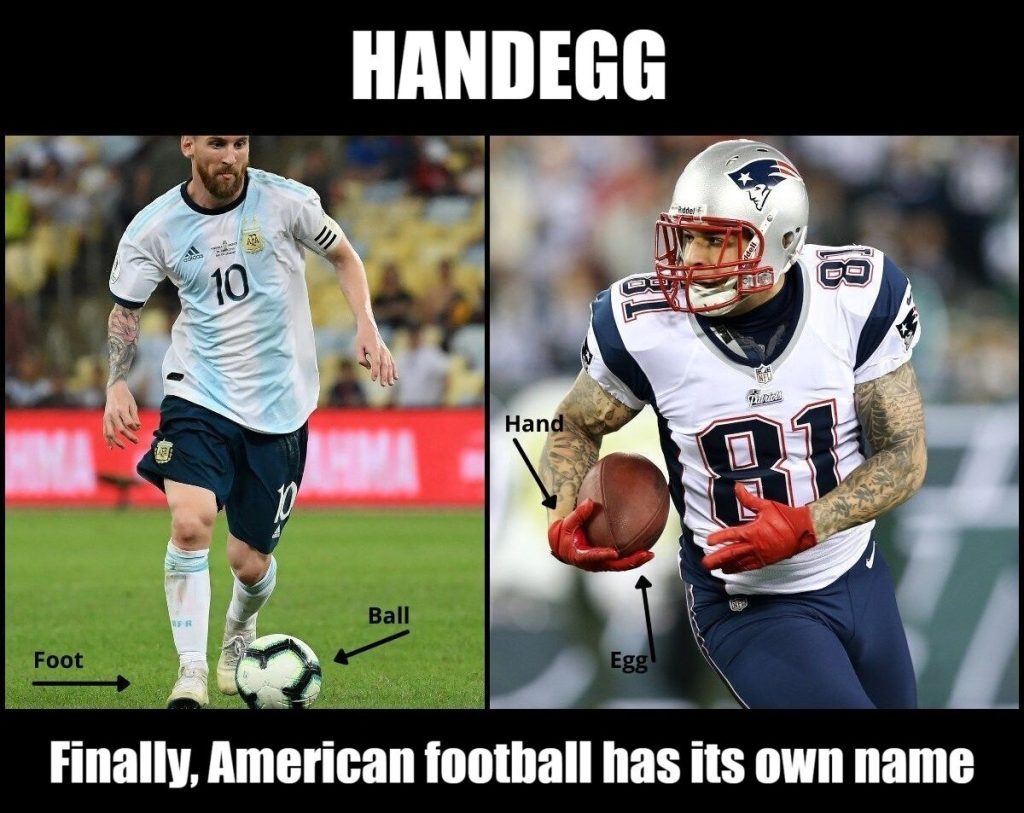 The rest of the world knows football to be the sport where you kick a perfect sphere around, and people yell, "goooooooooal!" But we have a way to get rid of the confusion. Just rename American football Handegg, and all the chaos is gone. What? Don't you like it?
Ha!
The global popularity of European soccer is mostly based on the two most important facts: wealth and attention from the media. They invest millions in the matches because they get a lot of media coverage. According to football fan logic, that's the only reason it's popular.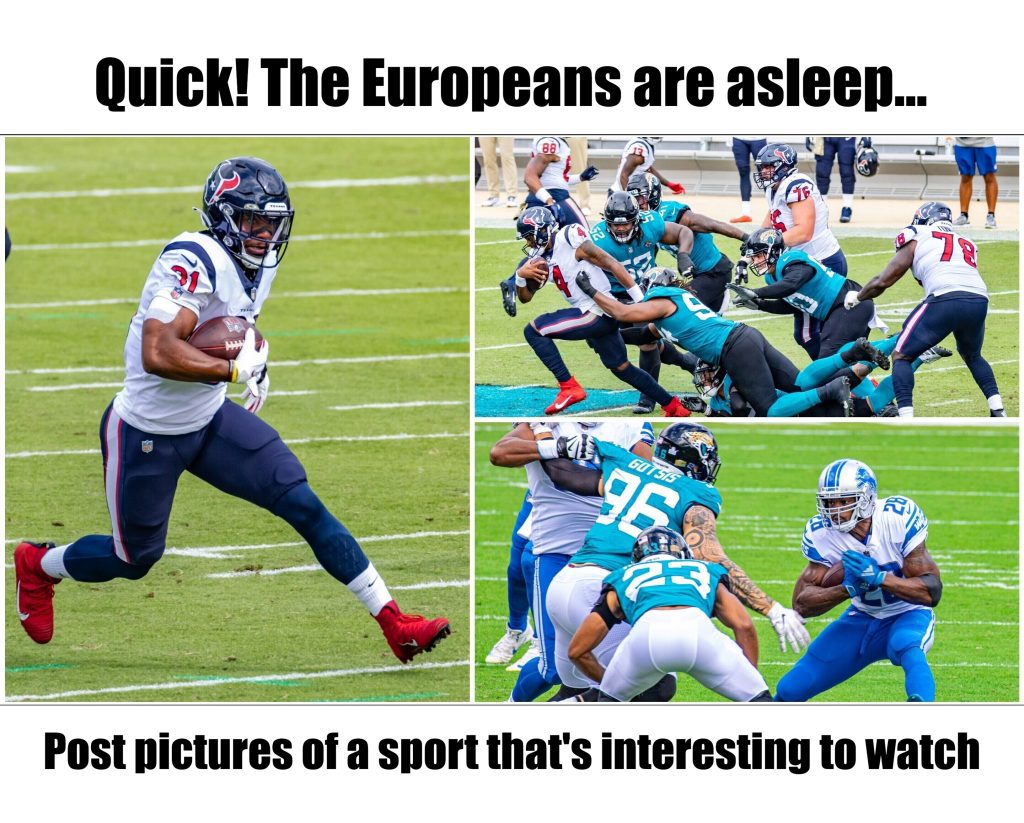 And we are back to the "competition" between soccer and football. Americans are just as proud of their sport as anyone else is, and we say it's about time that the soccer fans quit teasing us about our favorite pastime. (And maybe we will stop teasing them. Maybe.)
Hut hut
At its essence, American football, like its European cousin Rugby, is an aggressive contact sport. Concussions are a common result of all the tackling and huddling. If the game needs to be heading toward a win, things tend to be tense.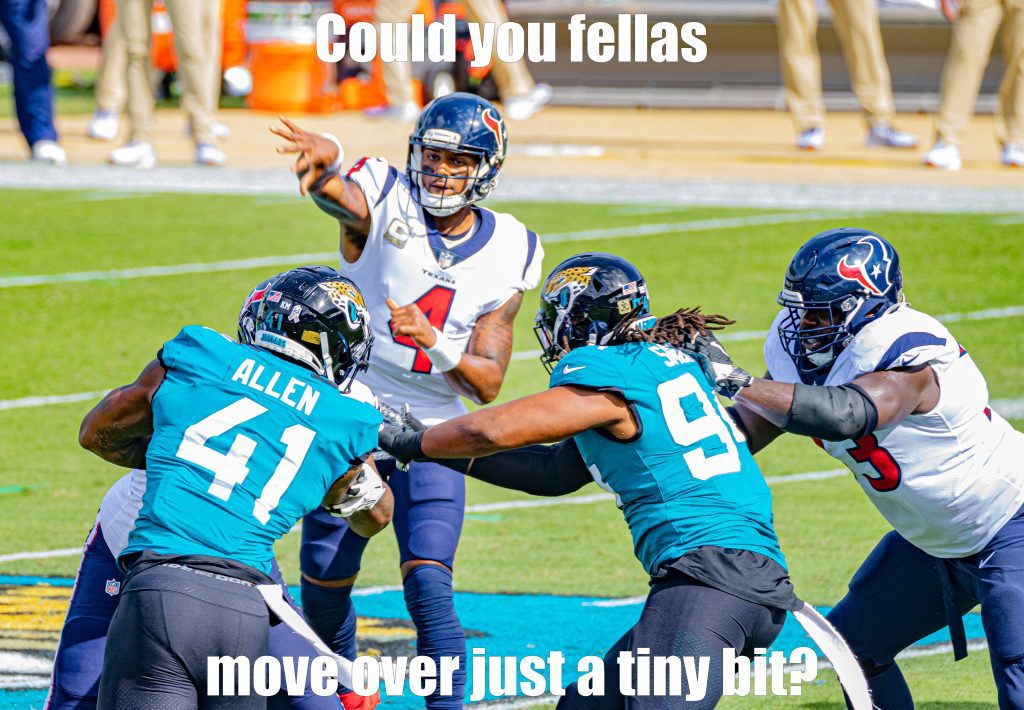 A split-second decision can decide the outcome of a game. A nanosecond of hesitation can cost you the game. This is all about sweat, blood, tears, and a bit of luck as well. The strategy also plays a major part.
Same same, but different
Football is a sport in which two teams will play against each other, with 11 players on a team and unrestricted changes. It is a high-octane sport in which teams will play to advance the ball to the opposing team's goal line to earn points.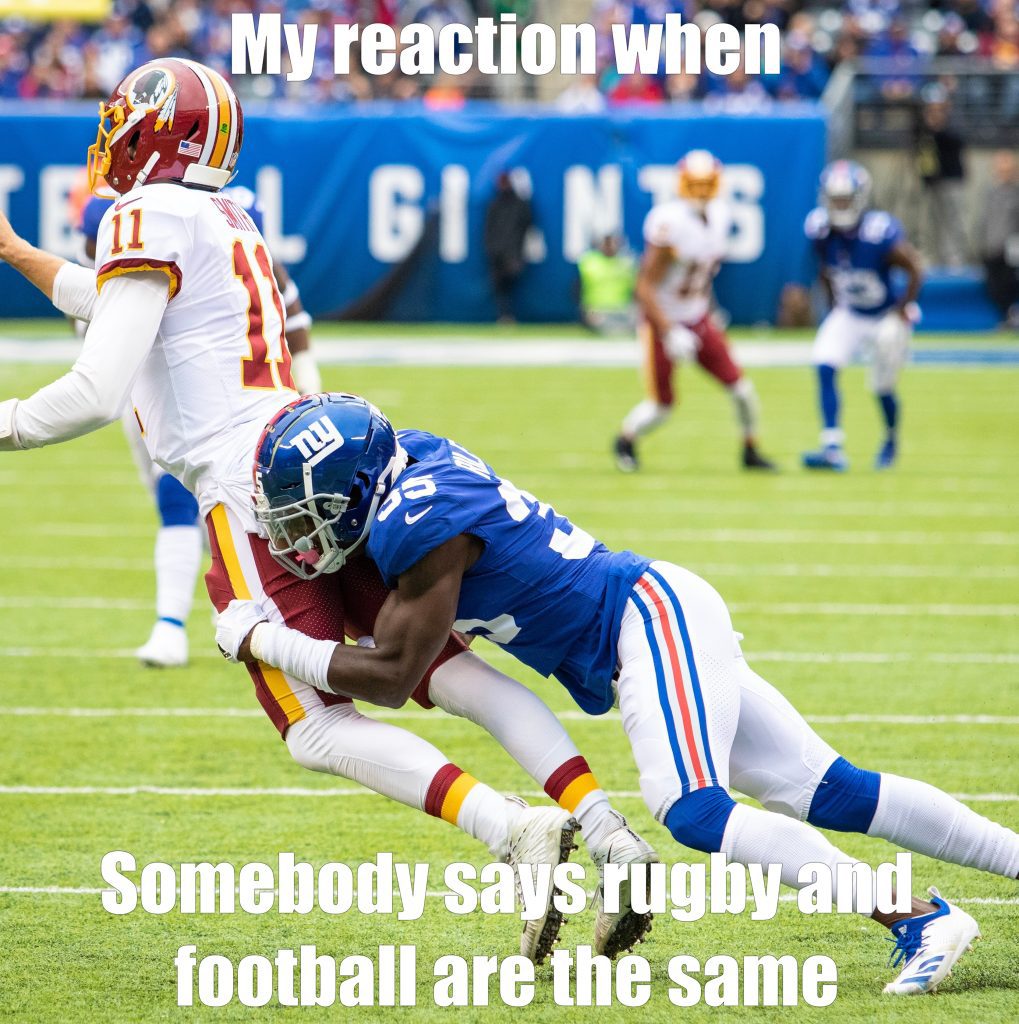 Rugby is best defined as a combination of football's physicality, club football's sprinting, and basketball's passing. The idea of the sport is to sprint with an oval ball across the opponent's goal area or kick that through the top part of the goal lines. It is not at all the same!
We have a Gronk!
He is an NFL receiver and blocker who holds multiple milestones, notably being the first athlete in his position to control the league in touchdown passes (17 in 2011). Gronkowski currently holds the record for the most overall postseason receiving yards by a tight end (1,163).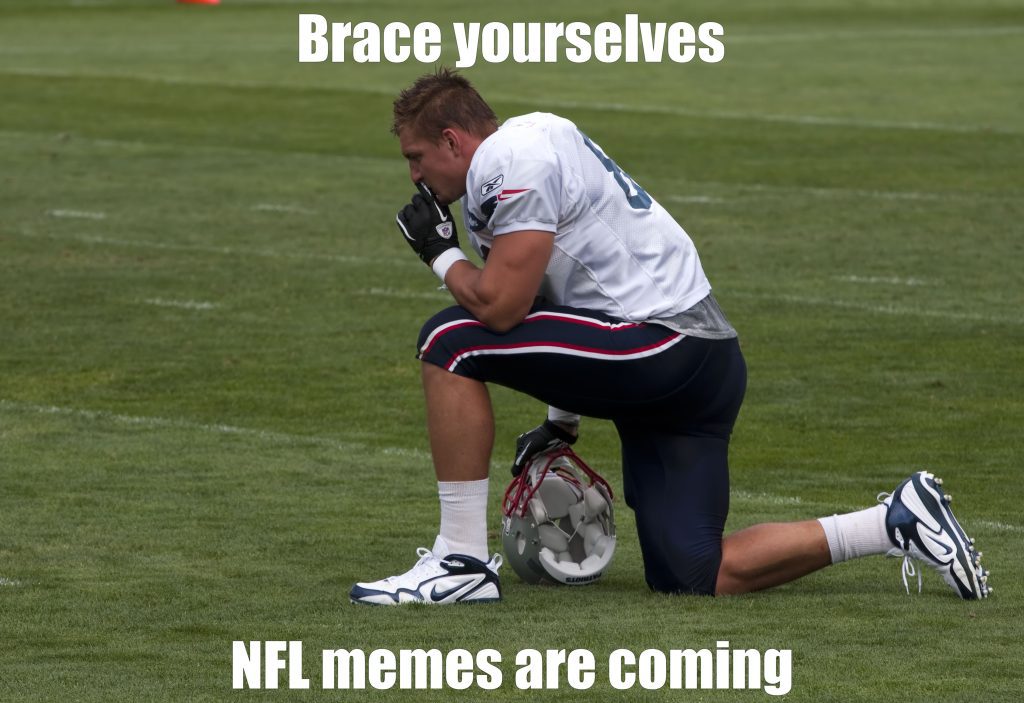 Gronk is the only tight end in League history to do so. He owns 14 career playoff catching touchdowns, the most of any tight end in Super Bowl history, and by far the most aggregate receptions (23) and yards receiving (297) by a tight end.
No way, José!
In Fantasy Football, you choose who plays and also who stays on the sideline each week. Make an informed decision: Your fantasy squad will not profit from benching a high-performing player. Whichever side triumphs or fails is determined by the statistics.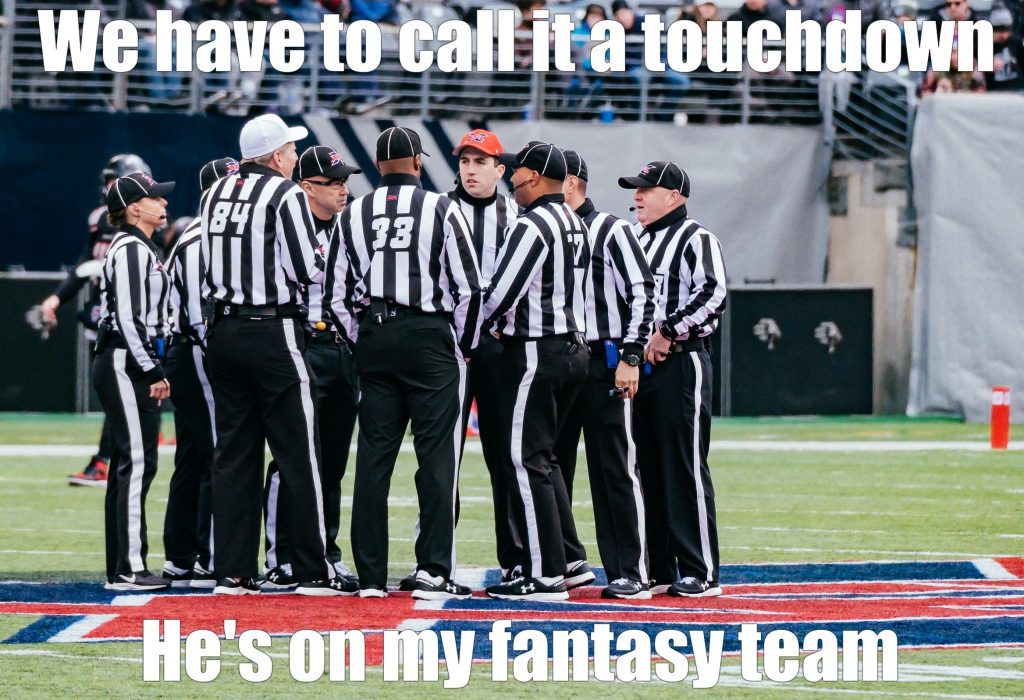 Although this is just a joke at the referees' expense, it does make a lot of sense if you think about some of the calls they make. Surely something is going on behind the scenes between referees. Maybe we are just still stinging from our last defeat.
JJ Watt: Activated
To be lauded as the NFL's most valuable player, he has to have the perspective of a scout. That indicates that the relevance of a teammate's role has no bearing on who the best player there in the NFL is. Crazy, right?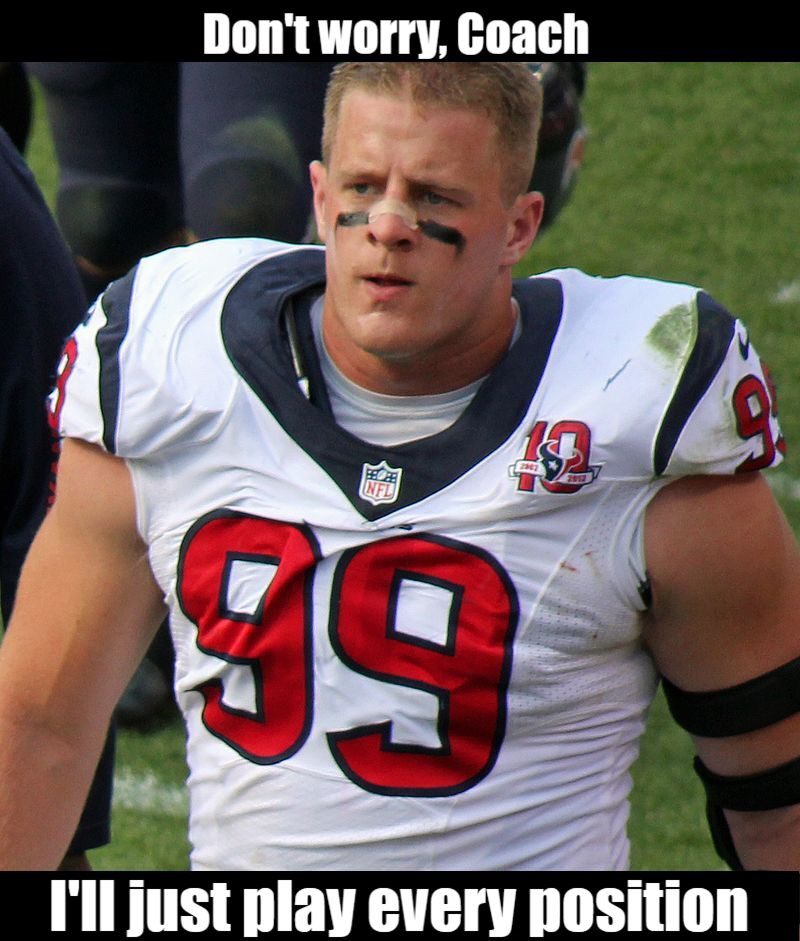 Conversely, a scout seeks a talent that embodies all that a player in that role should be. Watt's athleticism is his most important commodity. Watt, a 6'5″, 295-pound defensive lineman, is adept at chasing down running backs without difficulty, which is something you only occasionally encounter.
We're going to need aloe vera stat
Funny as heck joke, but in reality, the Broncos have quite a superior quarterback than those in recent times, in addition to an outstanding roster. In every major statistical metric, Teddy Bridgewater was an improvement above Drew Lock plus Joe Flacco.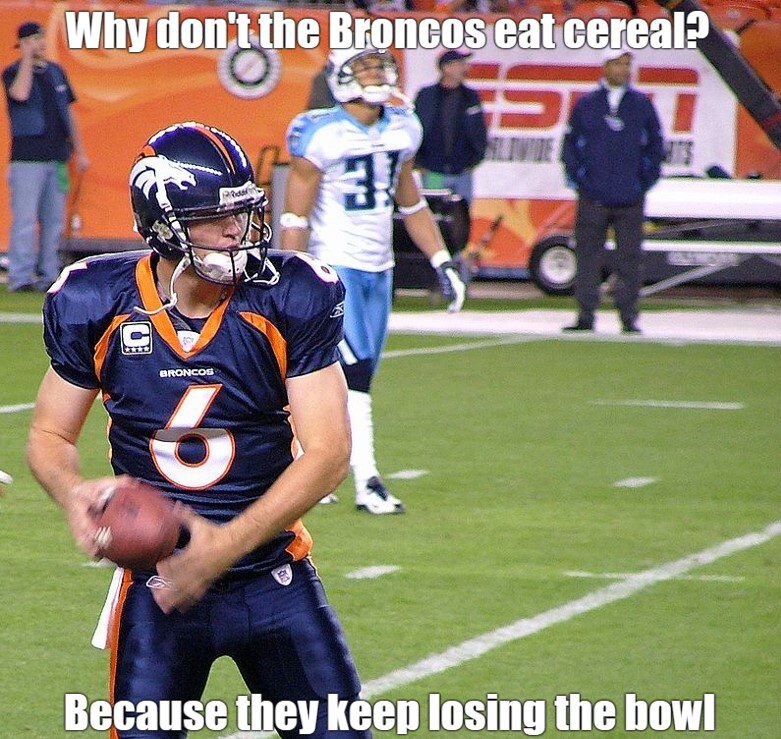 When watching the games, the team appears to be much more skilled. You'd assume that it would result in much more victories. The Broncos' 6-6 performance seems to suggest that they will be enjoying better success in the coming years.
He seems to have a point
Footballers, in general, have to be well built and considerably more athletic than the average person. Otherwise, the team cannot propagate towards a win as one unit to the common goal. But in this case, we understand. No matter how built you are, the moment that oblong ball is in your hand, the opposition will come at you.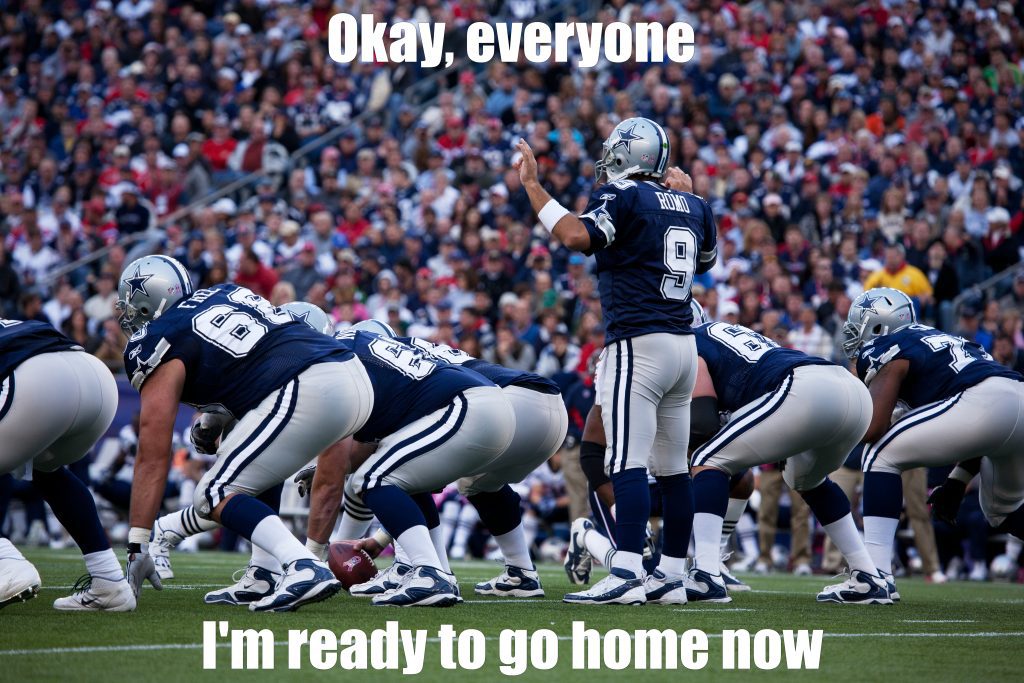 They will come at you like a herd of cape buffalo in the savannahs of Africa. So no wonder this joke hits close to home on some points. Not to mention Romo's retirement was a sad moment for many and provided a sense of relief to others.
Trent Sherfield represent
Quite the lineup we have here, ladies and gentlemen. It is a real pleasure to be in such great company and talent. If we are to look at who we have here today, we can start with Tom Brady, our man!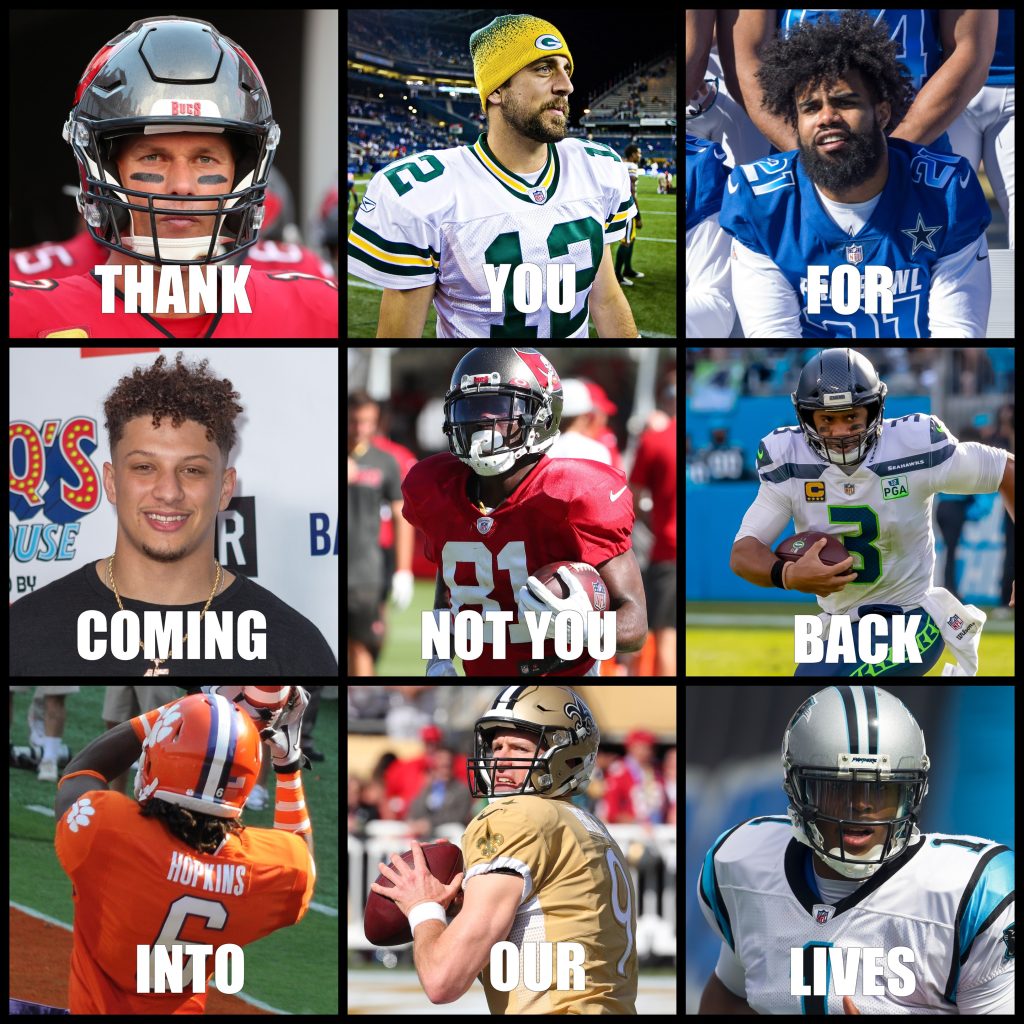 Then we have Aaron Rodgers, Ezekiel Elliott, Patrick Mahomes, Russell Wilson, and of course, Trent Sherfield from the San Francisco 49ers. Larry Fitzgerald eagerly anticipates our boy Trent's arrival. All in all, funny as heck meme format. They didn't have to out him like this, though.
Oof!
Ciara, you just did not! Our boy Russell might need to take some time off to heal from that burn. Ain't no ICU in the fifty states that can treat an emotional banger like that. Just look at Russell's face.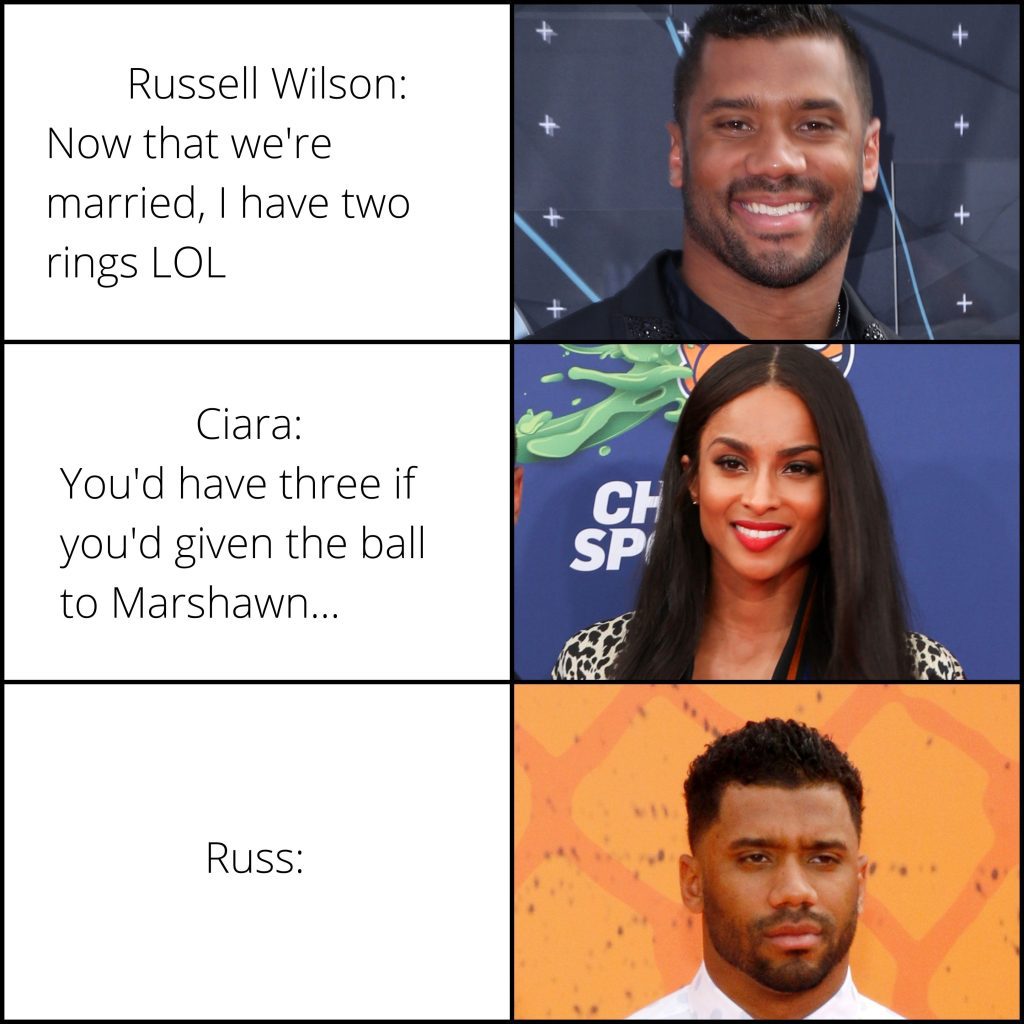 The three rings Ciara is alluding to would be their wedding ring plus two super bowl rings. But due to a botch between fan-favorite Marshawn Lynch and Russell Wilson, the Seattle Seahawks could not fulfill that aim. Hence the third ring.
Good ol' Rodgers
You must always consult the stats when it comes to pro football. Aaron Rodgers is undoubtedly one of the greatest quarterbacks in NFL history. Therefore, comparing Dak Prescott with Rodgers seems a bit inappropriate, at least in our opinion, and deserving of this response.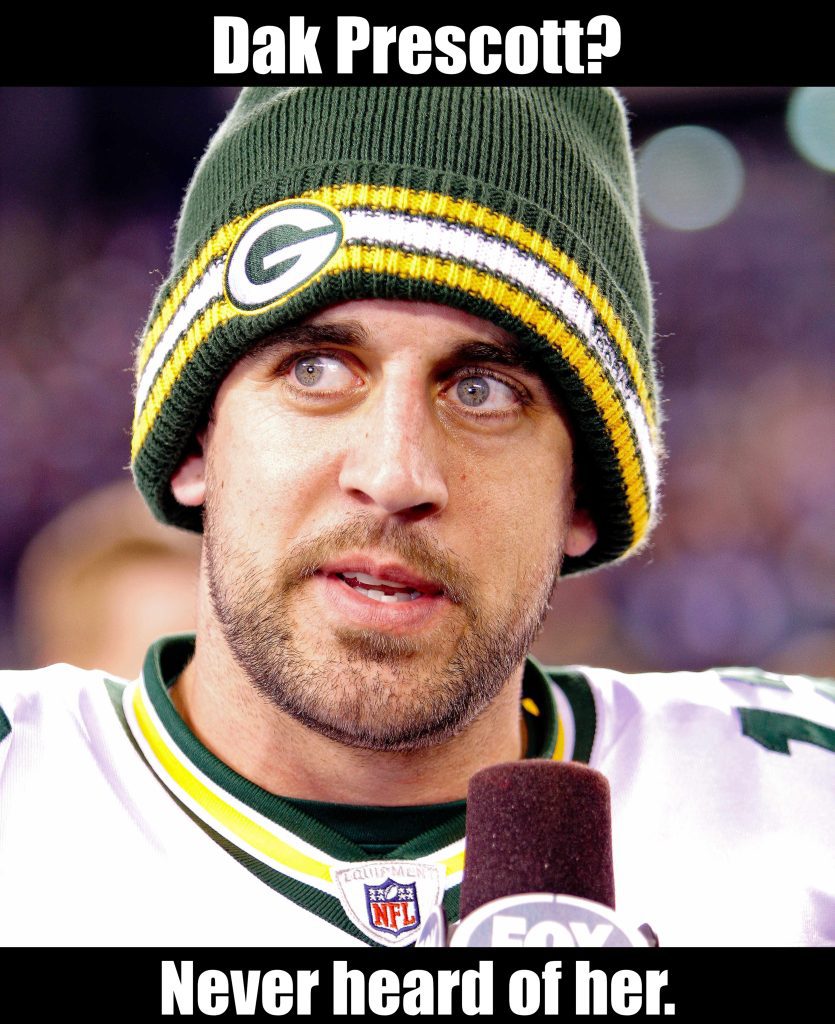 Despite his reputation on the field, Aaron Rodgers isn't as tough inside. Dak Prescott's openness to talk about some challenges he went through touched Rodgers. The GOAT took some time to show support for Prescott and wished him all the best.
Stretch stretch
Well, technically, kind of correct. If you don't stretch properly and warm up properly before a game, you'll end up with injuries. That's not limited to pro football; it applies to every single competitive sport where you exert a lot of energy.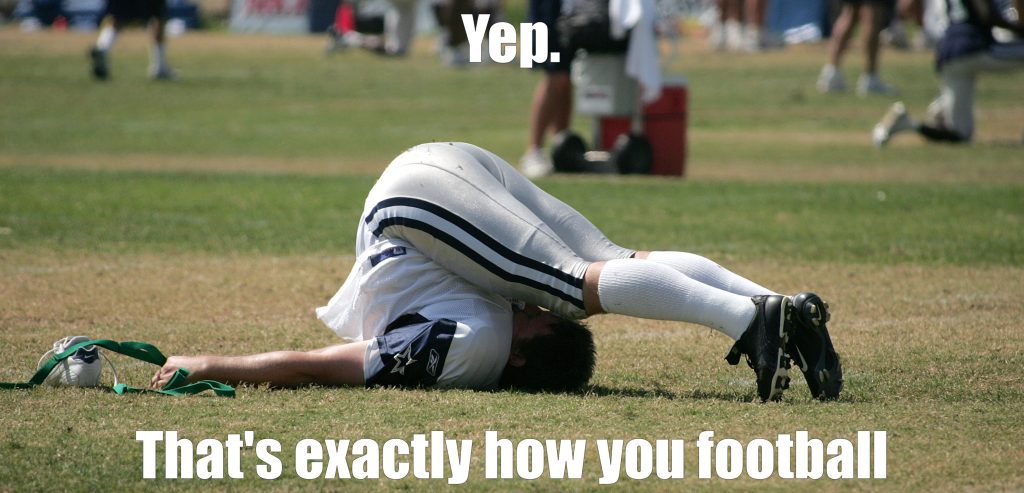 Plus, good stretching allows you to be quite mobile while in the field. And it doesn't take rocket science to point out that a player has to be in their prime athletic condition for the game to be carried on.
How very droll!
Fun history facts! Many who traveled to northern California in 1849 intending to profit from the discovery of gold were known as "49ers." The flood of exploiters boosted California's commerce and accelerated the state's admission towards the union in 1850.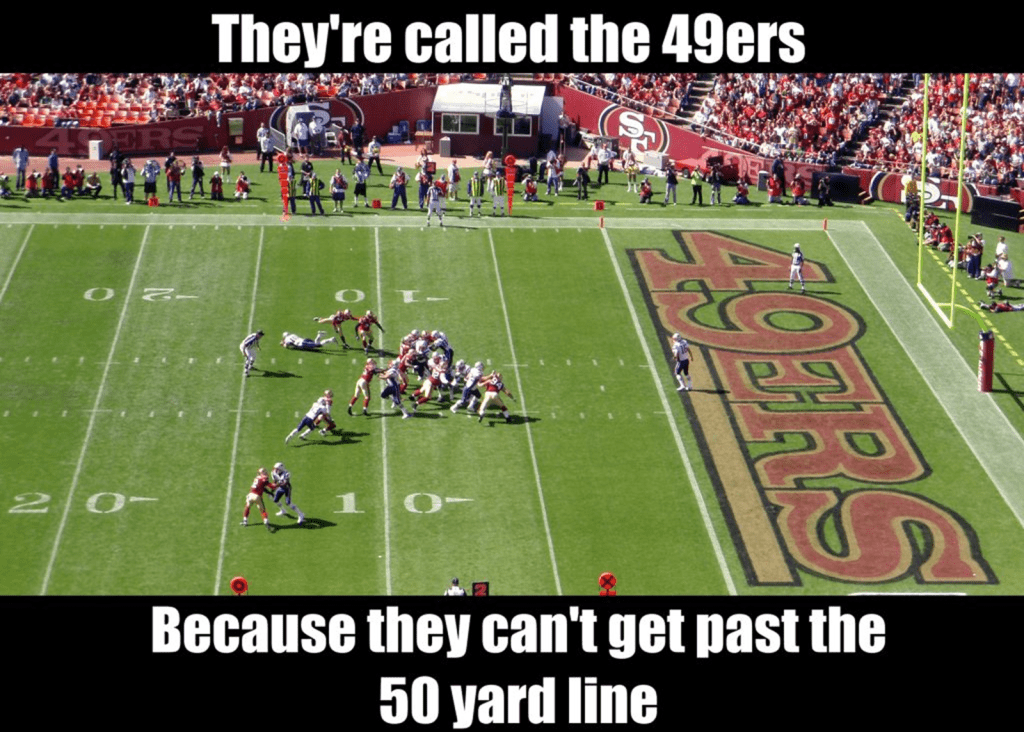 A 49er was also an Olympic-style race boat; therefore, the nickname might be anything. Bummer. The 49ers were the first NFL franchise and the first major league sports team to begin on the West Coast. All in all, killer joke, though. Just don't tell it to a 49er fan.
Equality is a thing these days, bros!
We do love a good joke, and we appreciate subtle humor. What good is a world where you can't laugh away your problems? That's is what we strive to bring to y'all: some distraction. But this, we have to be honest…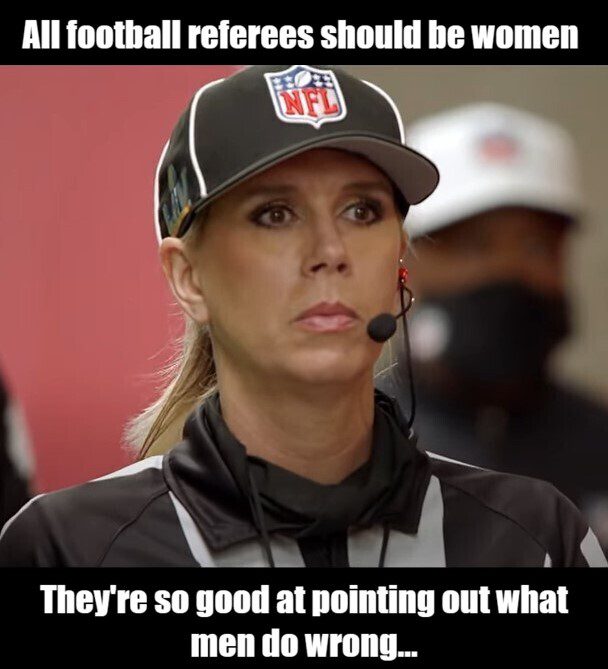 Honest in telling you that while this is a relatable joke, it doesn't reflect reality. Sure, we get the joke, but female referees are just as capable as any other. The level of equality should be a standard in NFL sooner rather than later.
Are ya ready kids?
The Las Vegas Raiders have quite a history of having difficulty pushing the ball down the field. The Raiders have had the potential on their squad to help turn that around. The running backs, wide receivers, and tight ends can turn things around.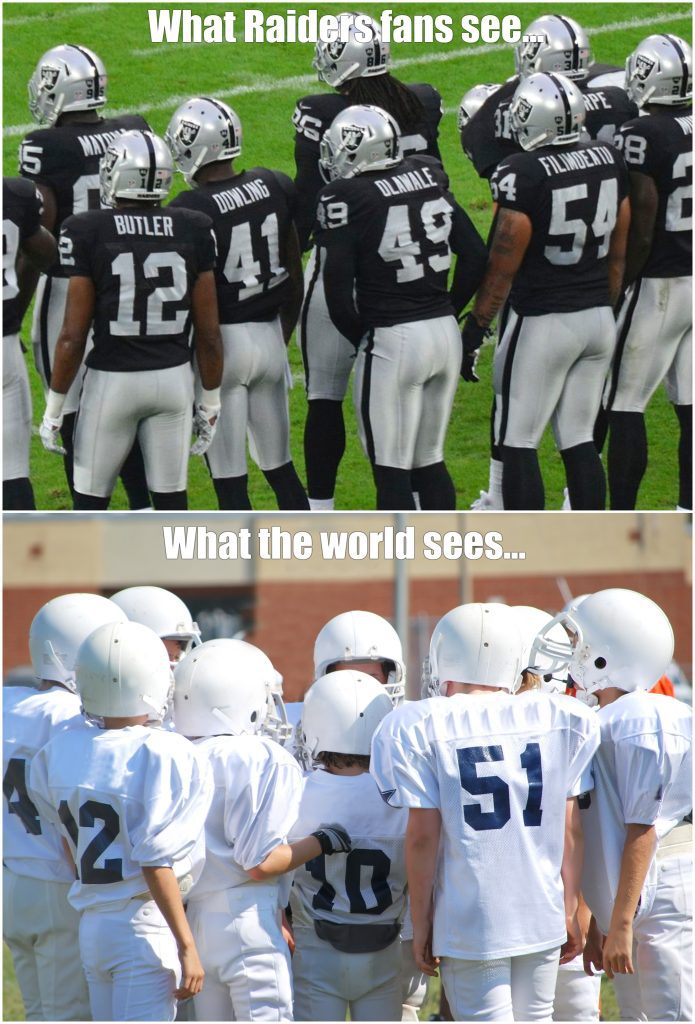 Sometimes even fullbacks can generate huge plays that really can swing the tide. However, completing plays has been an issue in their past. Which can make them be viewed as, as this meme quite poignantly puts it, like children on the field.
Go get it, Dez
Dez is here showing some moves on the field. For a moment here, we weren't sure if we were watching Titanic or pro football. Dez dazzles us like that. All jokes aside, what he is doing here is quite important.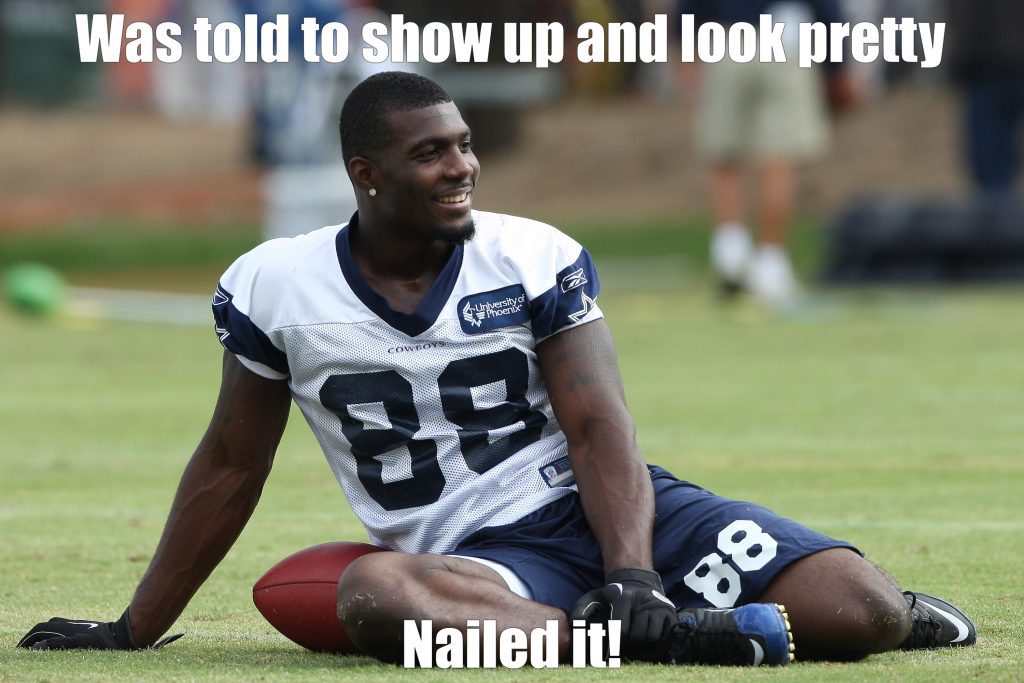 As we mentioned earlier, he's stretching and warming up. He's practicing. A good strategy is paramount to winning a game in pro football, but for the strategy to be effective, the player has to be in top peak condition as well.
It's a bird, it's a plane, it's Jameis Winston!
Winston led the League in yards passing and provided franchise freshman milestones for the Buccaneers in 2019, garnering them Pro Bowl honors. Nevertheless, with the Buccaneers, he was also unable to reach the playoffs, and the 2019 season was highlighted by him dominating the NFL.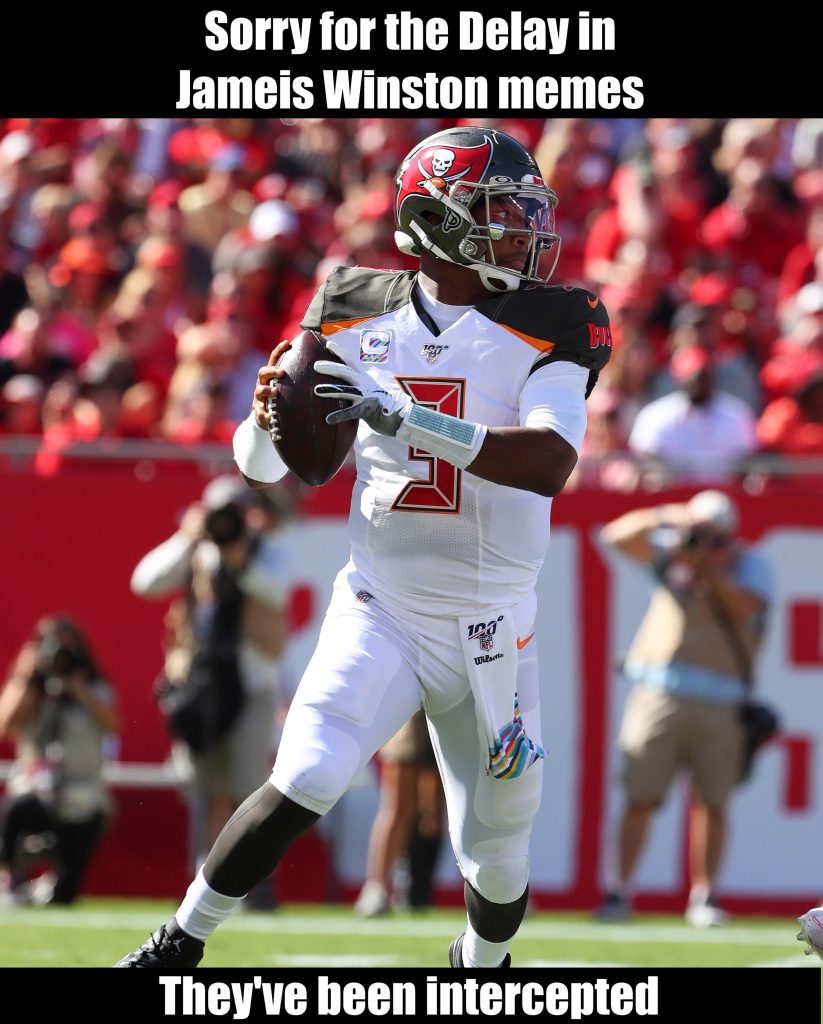 With interceptions, notably breaking the NFL season record, "most interceptions recovered for touchdowns." When his rookie deal with Tampa Bay ended, Winston rejoined the Saints as just a reserve to Drew Brees. Following Brees' departure in 2021, he has become the team's main opener.
Take a seat, son
Joe Montana, often known as Joe Cool and Comeback Kid, is regarded as one of the finest quarterbacks throughout League history. Montana was awarded the Super Bowl's Most Valuable Player (MVP) thrice while leading the San Francisco 49ers to four Super Bowl triumphs (1982, 1985, 1989, and 1990).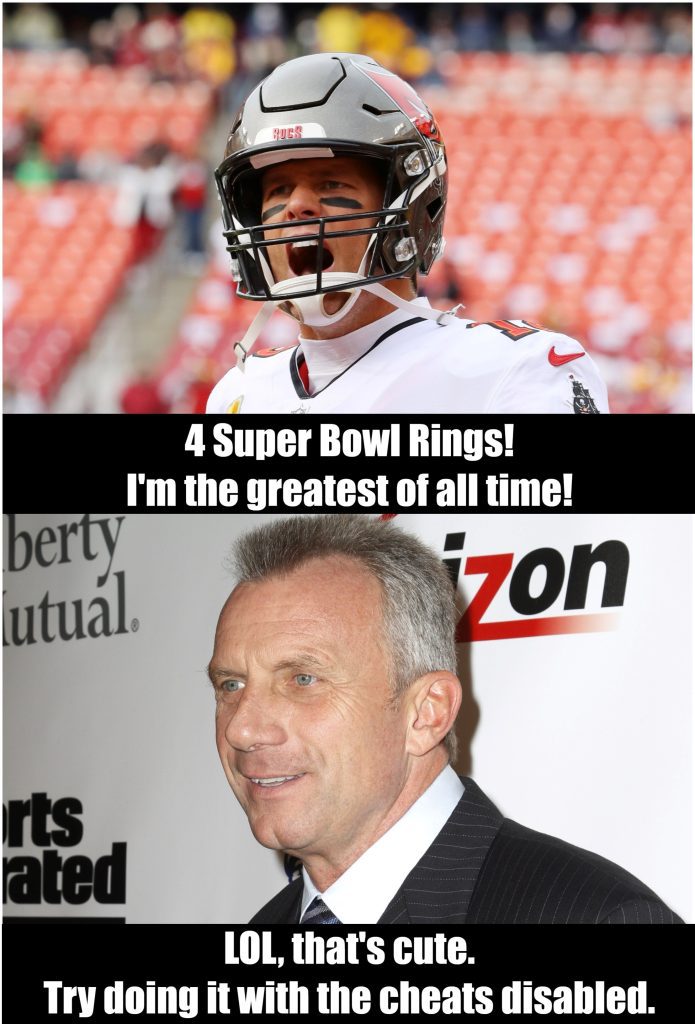 He's indeed one of the all-time greats in terms of passing yards (40,551) and touchdown passes (273). Montana earned a reputation as "Joe Cool" for his capacity to gently lead his team to a win first from the verge of failure during the dying minutes of a game.
Lamar "the Flash" Jackson
There was always an understanding that Jackson is a prodigious talent. However, there have been, and remain to be, questions about his abilities to convert to a straight-pocket passer inside the NFL. He possesses unquestionable raw talent, including stature, strength, quickness, and strength.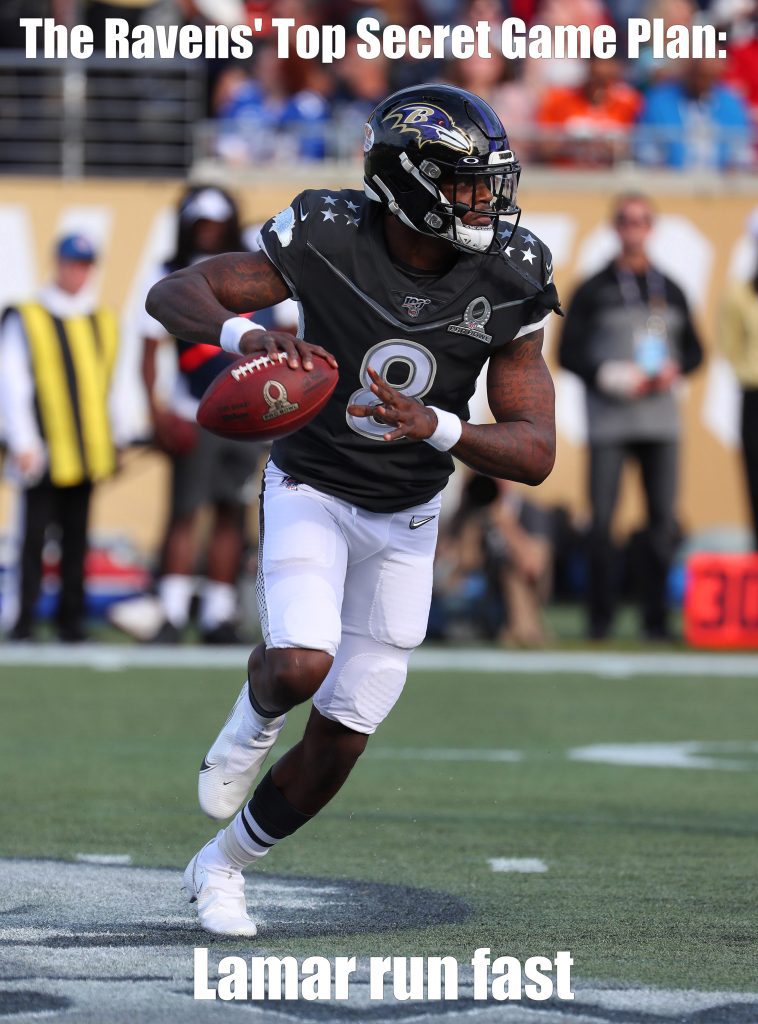 Can he make contact throws? Is he capable of leading his squad from behind? Yes, he's still a deadly weapon on his feet. There are many reasons this meme rings true, and we look forward to seeing where his career takes him.
Tread carefully
Ouch! Guess no one would want Russell Wilson to forget the 0-2 fiasco the Seattle Seahawks had. Aaron Rodgers here is taking advantage of delivering what seems to be a well-crafted knock-knock joke. The thing just shuts in Wilson's face.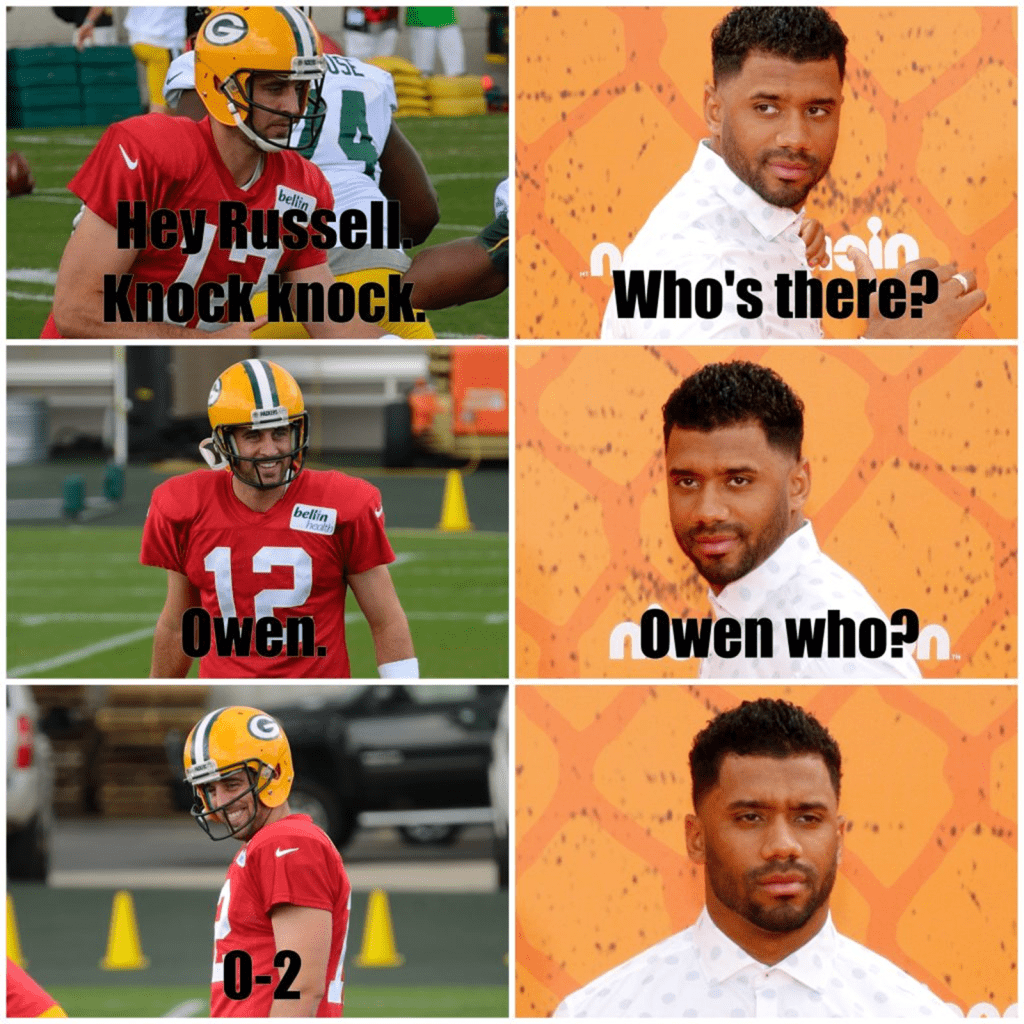 We should ease up a bit when it comes to making fun of Russell Wilson. He worked his rear end off to be at the level he is today, and apart from certain instances, the guy just gives it his all. Way to go!
Release the Rodgers
It's termed a "down year" if you score a 25:2 TD to INT proportion. Aaron Rodgers certainly set the bar pretty high, given his excellent performance throughout the last decade. He, as well as the Packers, had a difficult year in 2018.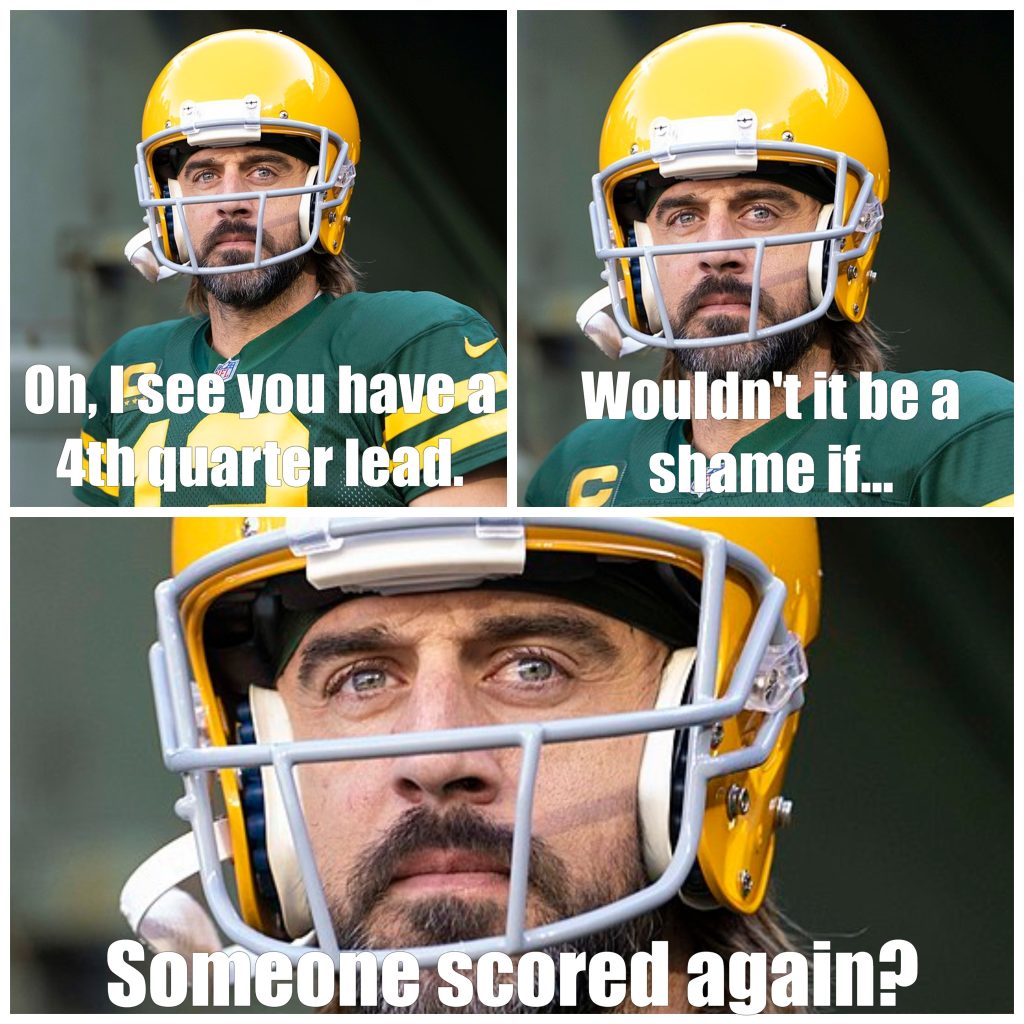 Aaron Rodgers was among the least sought-after quarterbacks in the country regardless of a successful high school career. The one and only opportunity he received was a walk-on opportunity. Oh, how the times have changed now! Maybe he deserves to borrow the "Comeback Kid" nickname from Joe!
Not today Jake, not today
Is Jake Luton of the Jacksonville Jaguars really asking one of his mates for a high five? Haha! Apparently not. Seems like he was expecting a pass or making some sort of a sign to his teammate. No biggie, though.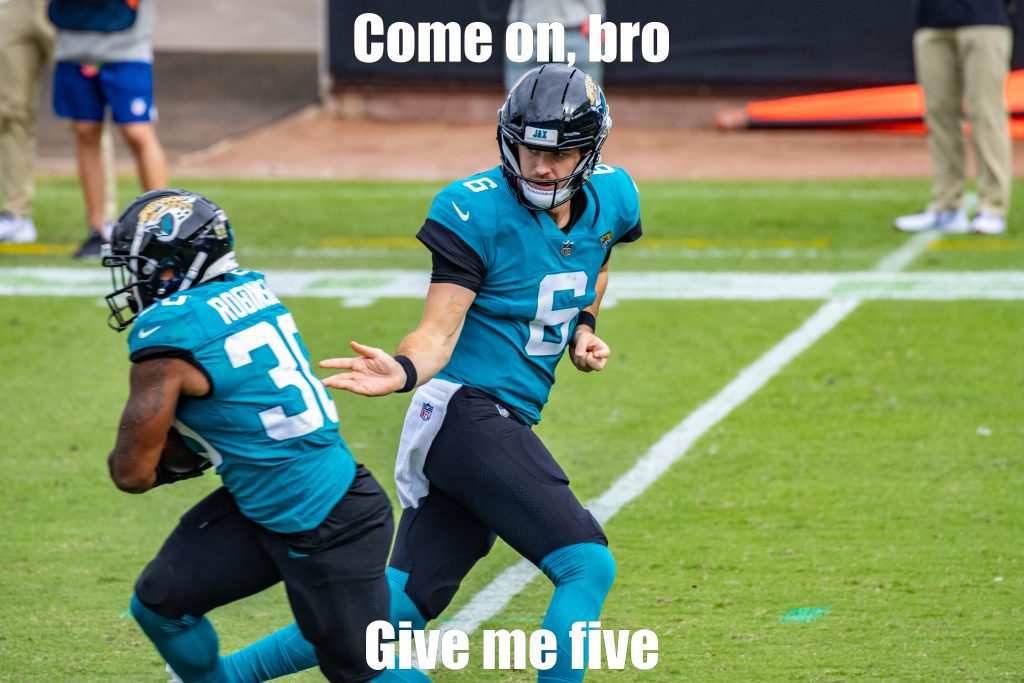 Teamwork is of the biggest essence when it comes to any sport. When you factor in a good strategy as well, you can expect wonders at a game. This is why Football has garnered such intense passion among its fans.
Lamar Jackson has now entered the chat
There has always been a consensus that Jackson is a brilliant artist with a football. However, worries regarding his capacity to transform into a straight-pocket passer in the NFL have been raised and continue to exist. He boasts undeniable talent and potential, as seen by his size and power.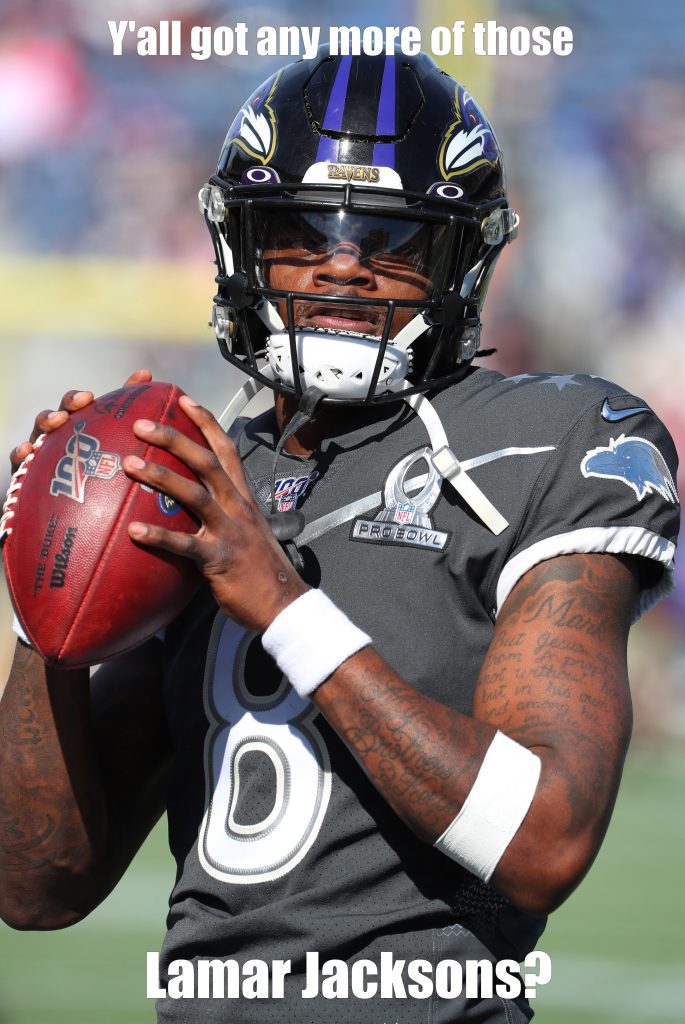 His agility, and athletic ability, are unmatched. Can he, on either end, make contact throws and expectant throws? Is he fit to lead from behind his squad? On his legs, he's still a loaded gun. He already has surpassed Michael Vick's NFL record of ten 100-yard rushing efforts at the tender age of 25.
Tom Brady is here to win more Bowls
To be considered the NFL's greatest player of all time, he must think like a scout. That means that the importance of a teammate's role in the League has no influence on who the best player is. A scout, on the other hand…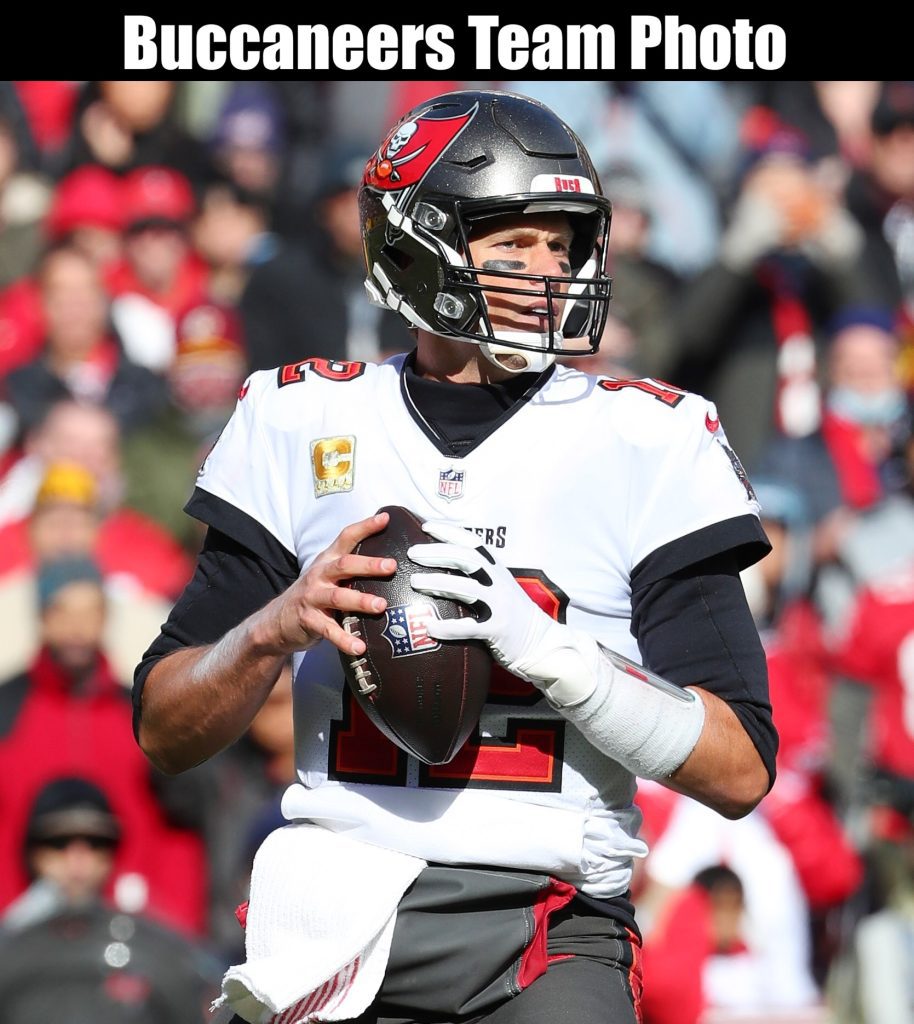 … is looking for a player that epitomizes all that a player in that capacity should be. Brady's most valuable asset is his athleticism. His amazing skills are the reason even those who know nothing about the sport can at least say they've heard his name.
What a day, what a lovely day
The Comeback or The Choke was indeed an NFL championship game contested on January 3, 1993, at Rich Stadium in Orchard Park, New York, between both the Buffalo Bills as well as the Houston Oilers. It saw the Bills come back from such a 32-point deficit.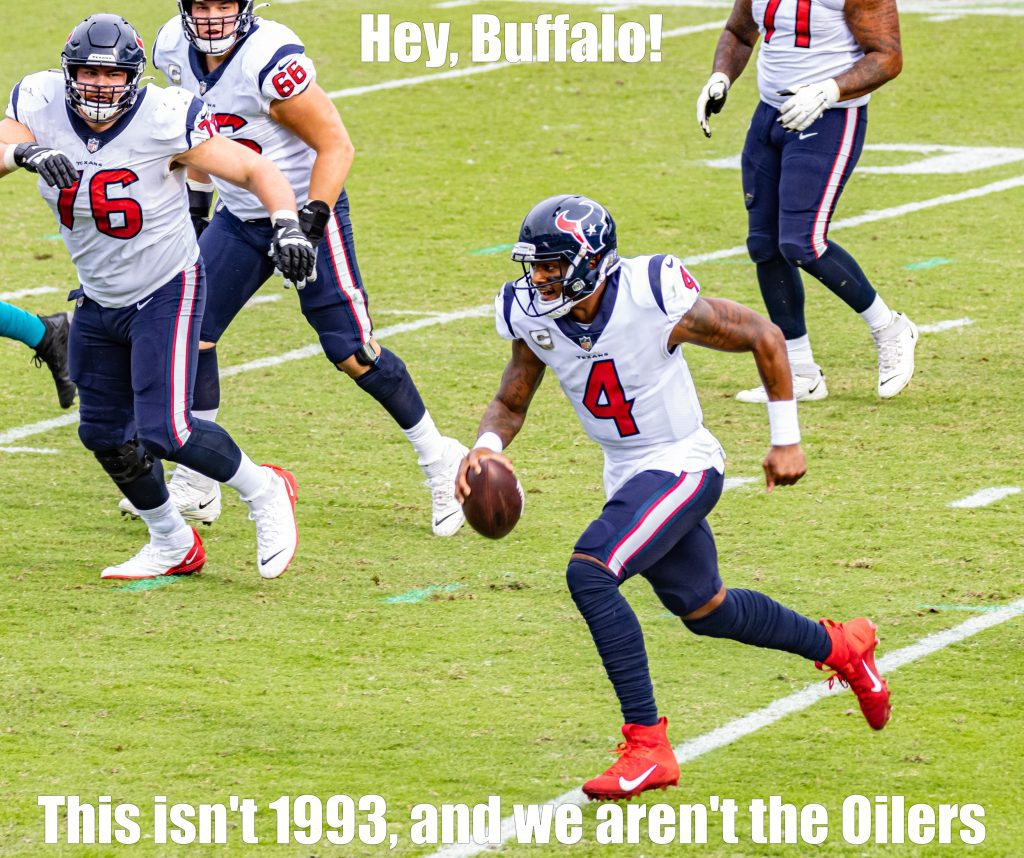 And go on to win 41–38 in overtime. It remains the largest recovery in League history to this very day. Hence the taunt from this other player. History can repeat itself, but for history to repeat itself like this? Very hard.
Y'all got the pun?
Heinz Field is titled after the H. J. Heinz Corporation, a local company that bought the brand name in 2001. But they really just opened themselves up for jokes like this, if you ask us. Heinz tomato ketchup is famous the world over, and someone saw the opportunity and took it.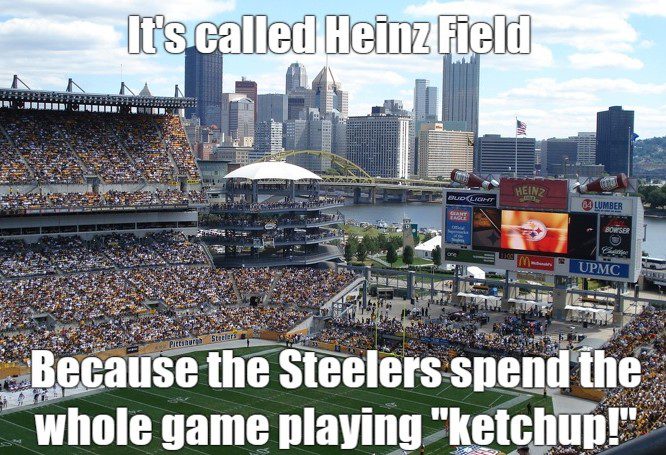 We are not even mad! Heck, we are as impressed as we can be. And if it ain't the truth… This fits right in there with their interesting mascot, Steely McBeam, and the history behind each part of his name.
No hostages were taken today
In 1933, Bert Bell and Lud Wray purchased the Frankford Yellowjackets, moved the new company to Philadelphia, and renamed it the Eagles. As a homage towards the eagle emblem upon that National Recovery Act insignia, Bell chose the fierce bird for his team.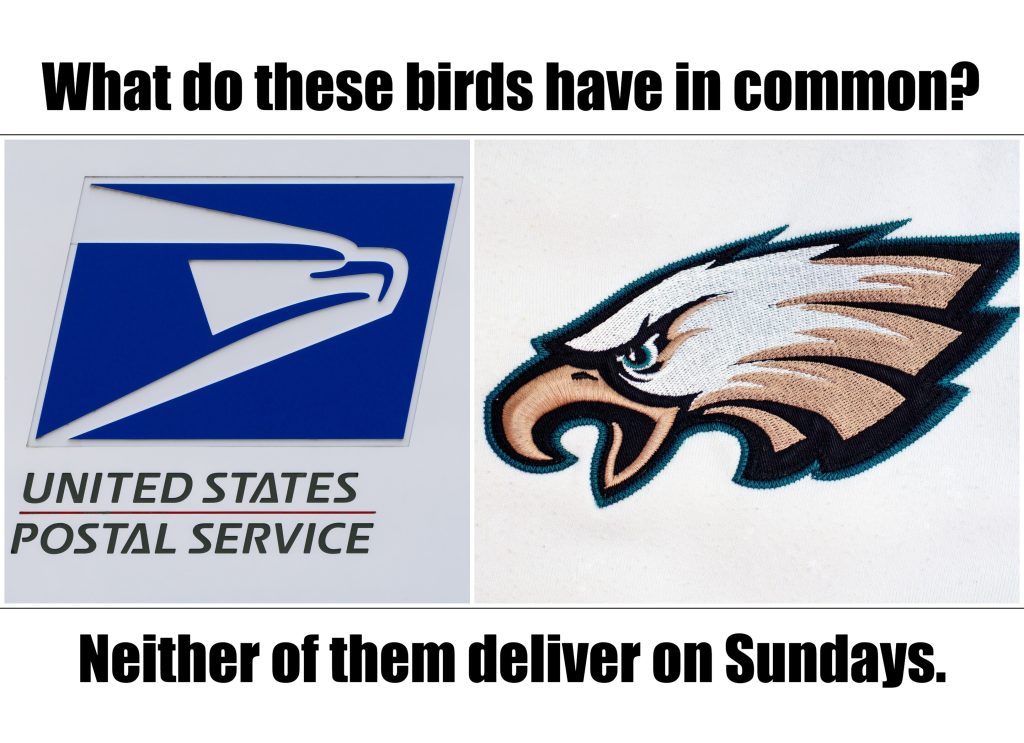 Fair bit of history behind what seems like a very simple insignia. But the level of negativity carried towards the team seems to be quite… interesting. They probably receive some of the least deserved hate of any team in the League.
Johnny Manziel
Johnny Manziel was a phenomenal athlete who made a name for himself at Texas A&M University. Manziel got away with some shady conduct and questionable decisions. He did get in trouble eventually, but his ability upon the field remained unaffected.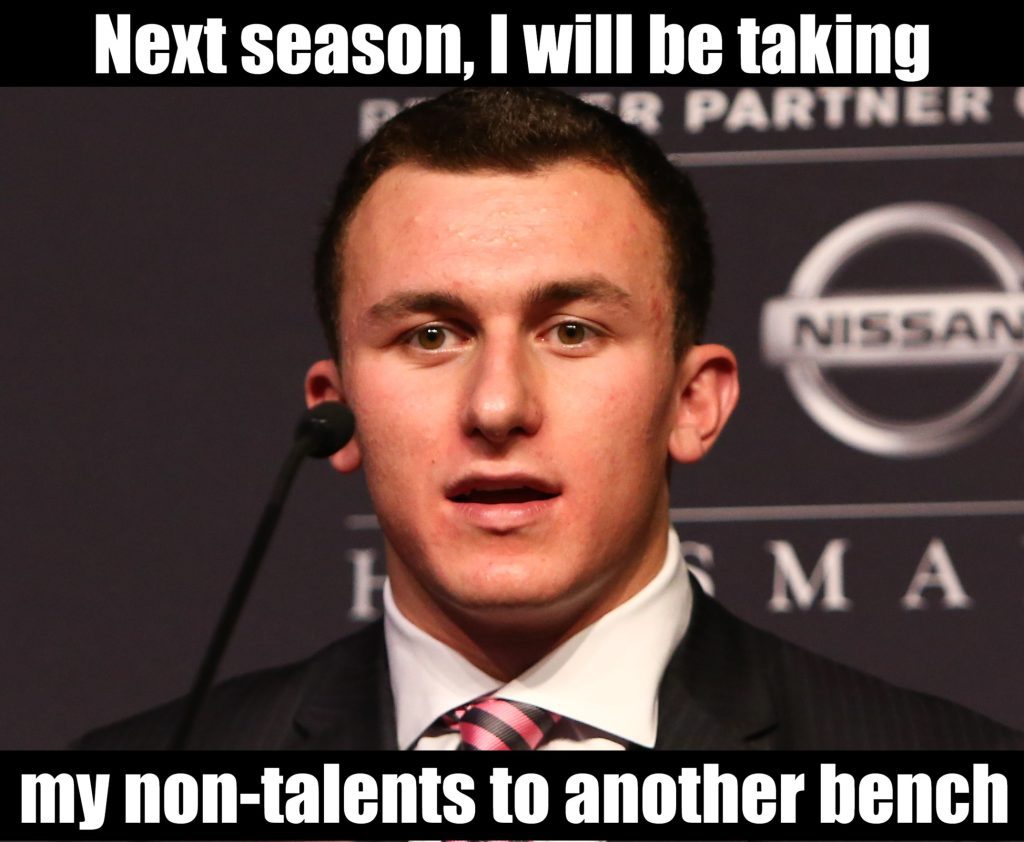 But those behaviors didn't disappear inside the NFL. Manziel maintained his negative habits after being drafted 22nd overall in the first round and struggled to bring in the effort and study skills necessary of a pro football player. That explains why he declined.
Brady be trippin
Manning ranks in the top ten in passing yards, completions, and touchdowns all-time, which should be enough. Eli has 117 victories, which is the same as Joe Montana. He was selected MVP of both Super Bowls, in which he guided the team to a win.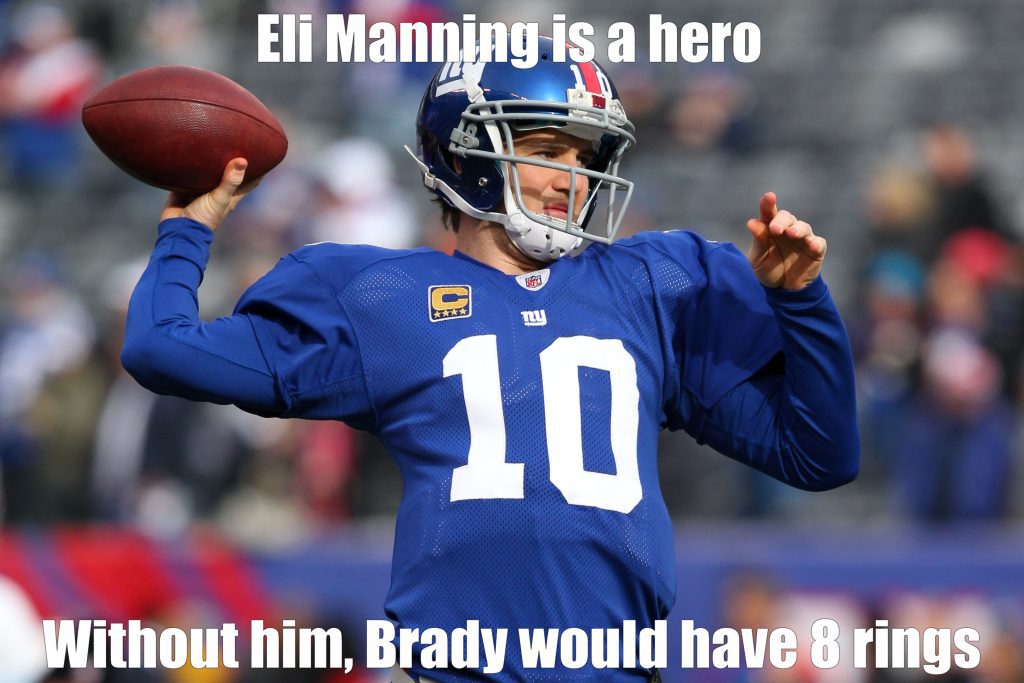 Only five players have won consecutive Super Bowl MVP awards (Bart Starr, Tom Brady, Terry Bradshaw, and Montana are the others). Manning is also the all-time leader in throwing yards in a single postseason (1,209). He is also another name known to those outside the sport's fanbase.