Sporting Legacies: 40+ Current And Upcoming Athletes Who Take After Their Parents' Talents
By Ekhama O February 20, 2023
---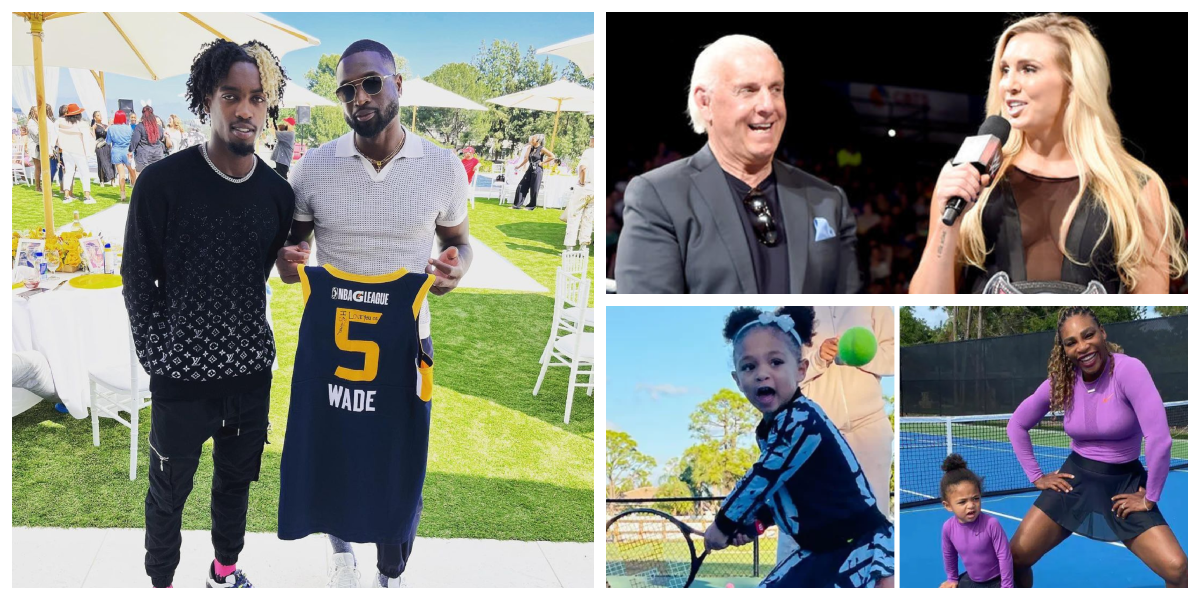 The world of sports is as dynamic as ever. We see older players put down their bats, rackets, gloves, or goggles and get into retirement, and new players get signed into one team or the other for a chance to do what they do best and make a mark on the sport they love.
While it might be sad to see a few familiar faces go, the next generation usually has just as much skill to offer, some of them being the children of the stars of the past. These particular athletes walk in the footsteps of their parents and contribute just as much as their parents did for their individual teams.
So, without further ado, here are some of the most renowned and successful second-generation athletes.
Shareef O'Neal
In every sport that involves a team, there's always a set of players known for being pros in a specific position. When it comes to basketball, Shaquille O'Neal is regarded as one of the greatest centers in the history of the sport.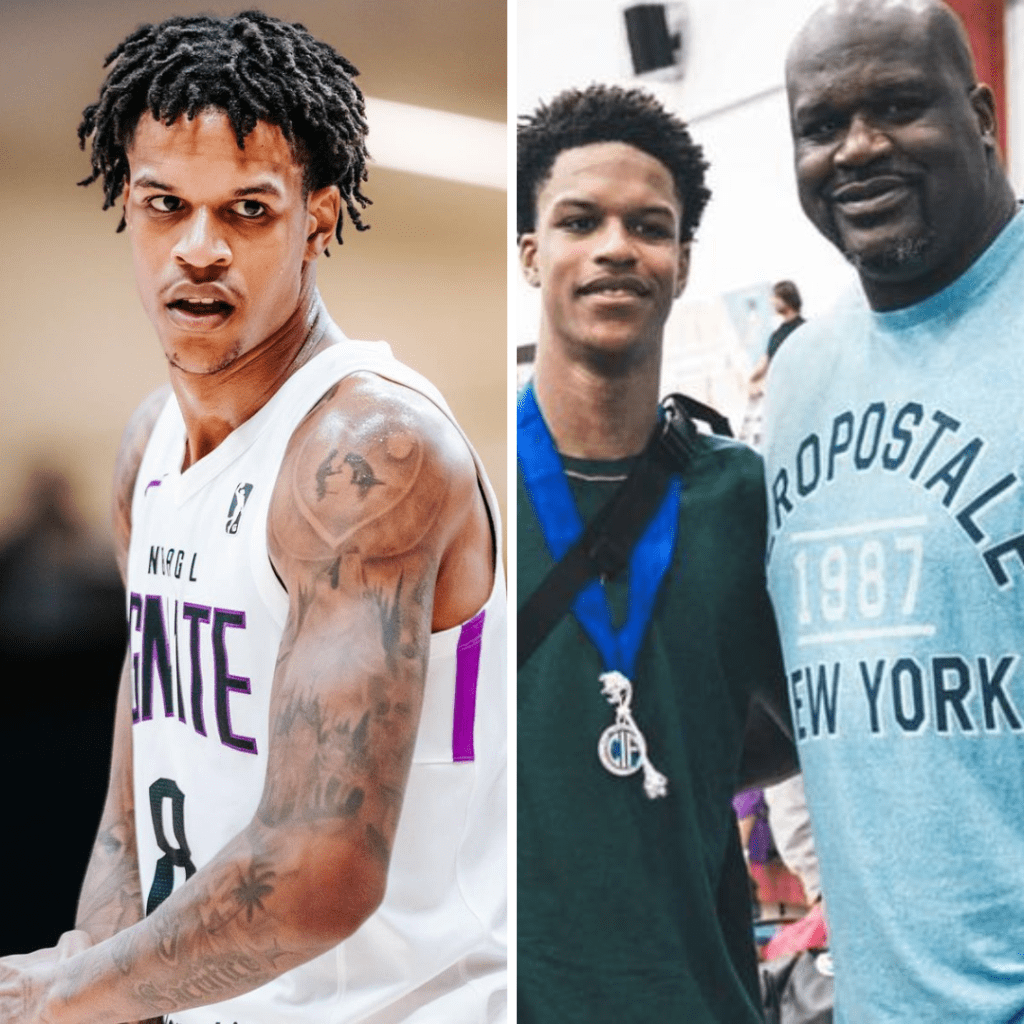 Shareef O'Neal is the son of the legend, and though he initially grew up with a passion for skateboarding, he is now a player for the NBA G League Ignite. He is a great player and is on his way to becoming a legend in the sport.
Dwayne Johnson
The Soul Patrol was a tag team that made waves in the WWF (World Wrestling Federation) for breaking down barriers by capturing the Tag Team Championships in the early '80s. One of its members was Rocky Johnson, the father of Dwayne Johnson.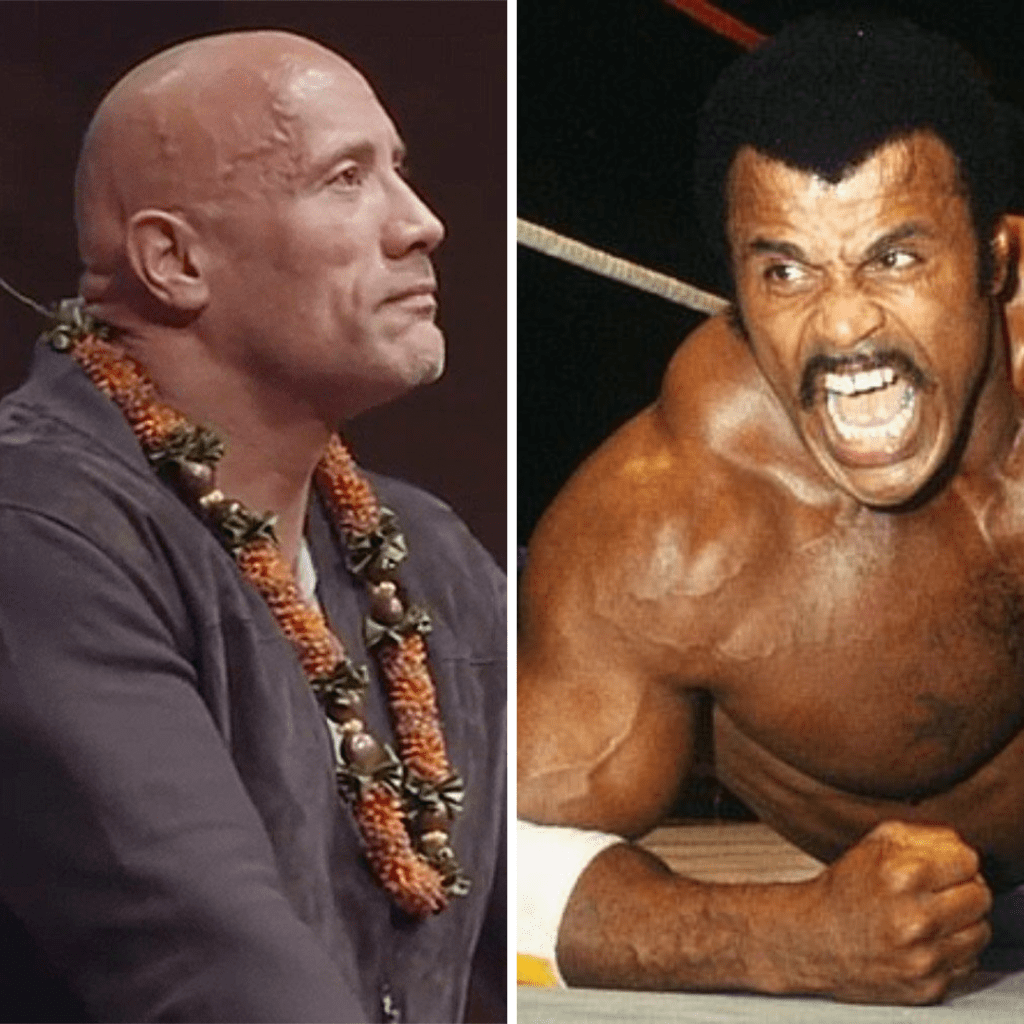 Rocky's son, Dwayne, would join the industry about a decade later to become a legend and one of the most renowned names in wrestling entertainment in the '90s and early 2000s. The Rock later ventured into acting and is currently one of the highest-paid actors in the world.
Steph and Seth Curry
It's very intriguing when we get to see a child following in their parents' athletic footsteps, but when it happens to be two, we can't help but be amazed. Parents often have a significant influence on their kids' careers, and Dell Curry just happened to influence both his sons to join the NBA.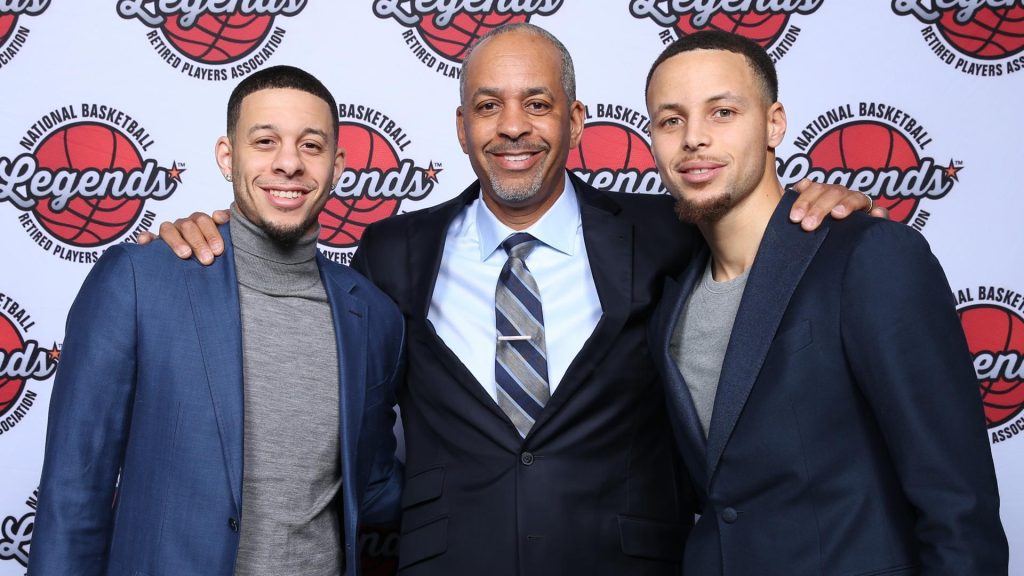 He is a former professional basketball player who raised Stephen Curry and his younger brother, Seth Curry, who both happen to be stars in the sport. Stephen is considered one of the greatest basketballers of all time, and Seth also holds a record of his own.
Harper Beckham
Former English football player, David Beckham, is considered one of the sport's most elite players. We'll never forget his iconic goal from the halfway line mark that gave him more recognition than he already had. And that's just one of his many feats.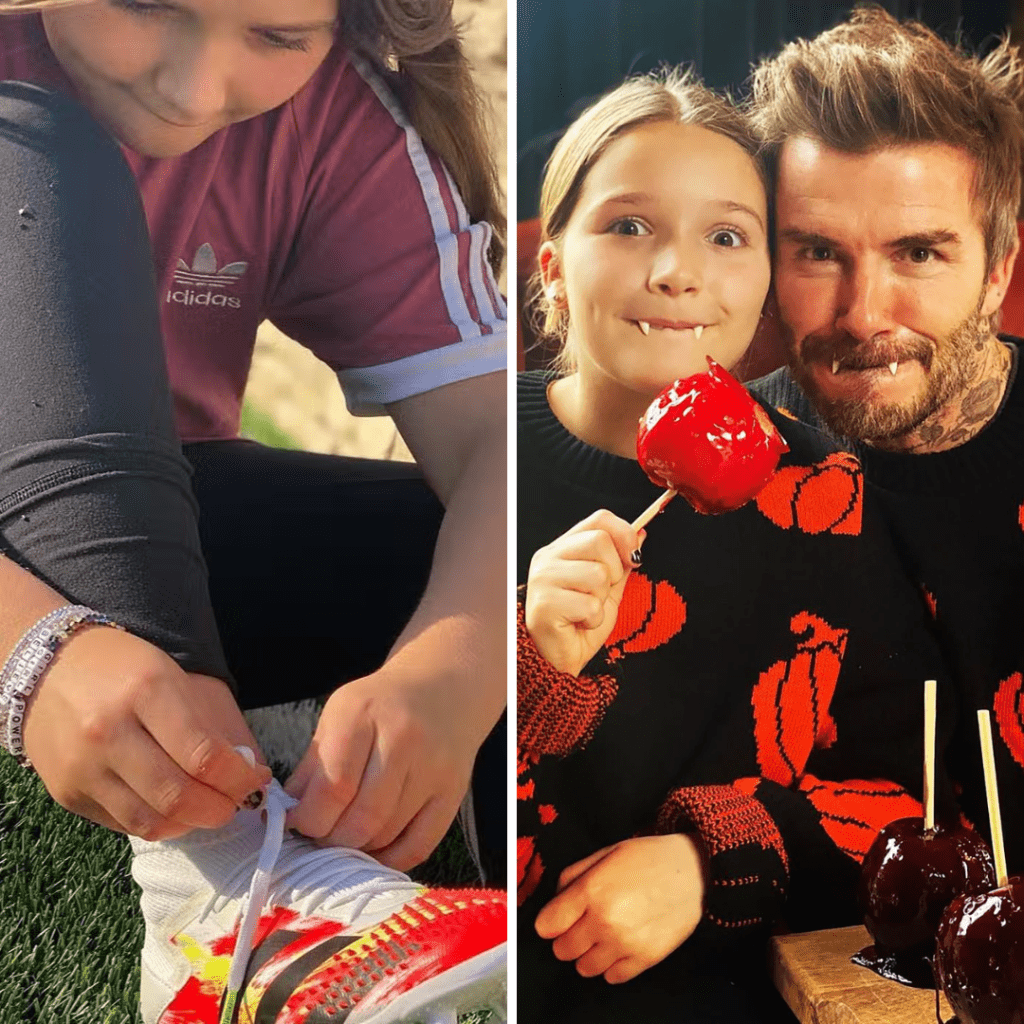 Another we're more fond of is how great he is at balancing his professional and private life, being a husband and father of four. Pictured here is his little girl, Harper, who, alongside her brother Romeo, has taken a liking to the very same sport their father is renowned for!
Floyd Mayweather Jr.
Floyd Mayweather didn't just shoot into prominence by chance. He had his career path set out for him when his father, Floyd Mayweather Sr., who was a boxer and boxing trainer, taught him how to throw a punch when he was just a toddler.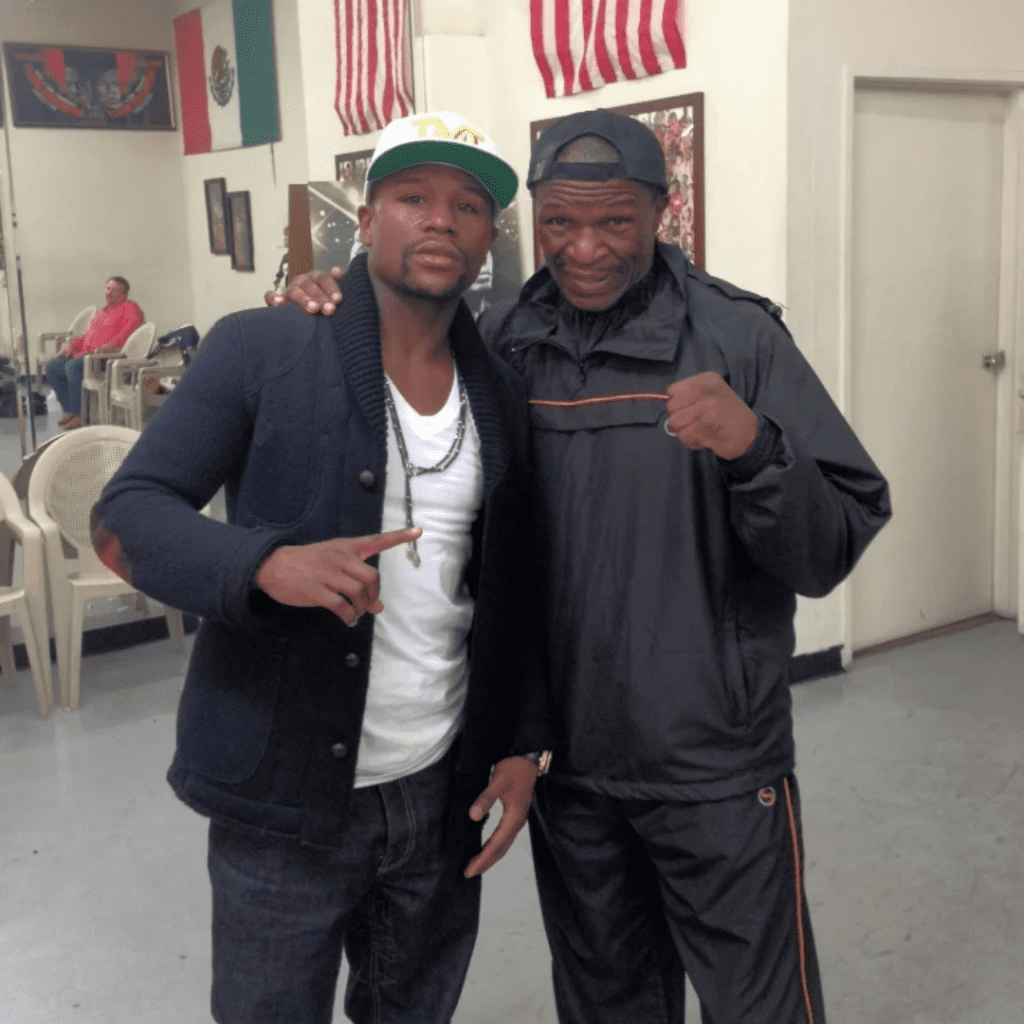 Today, he's one of the most renowned names in the world of boxing and has accomplished so much in his twenty-year career that it's impossible to list all of it. He retired with an undefeated record and was the highest-paid athlete in the world at one point.
Charlie Woods
Even if you have never watched a golf game in your life, the name 'Tiger Woods' must ring a bell in your head. Tiger Woods is regarded as one of the greatest golfers of all time and the best of the current era, and for good reason. His records are astounding!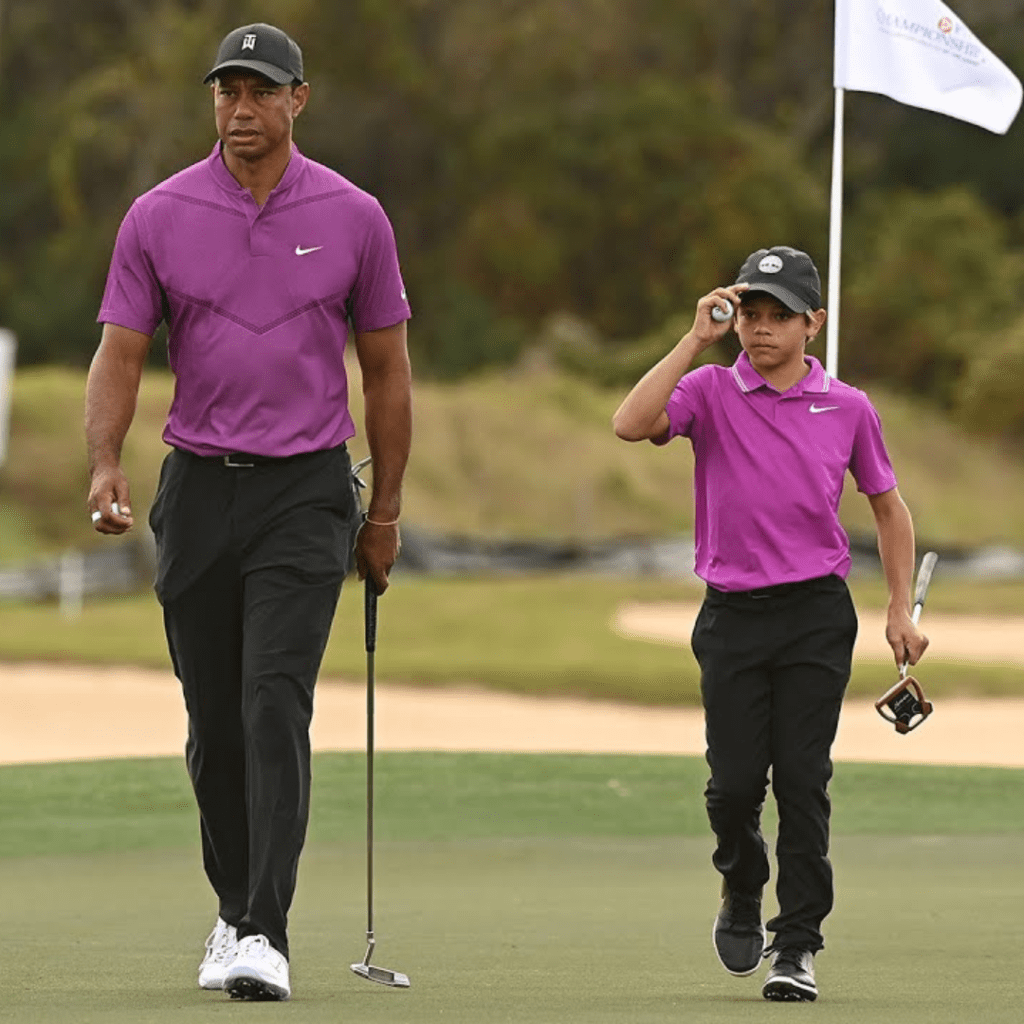 One of his children, Charlie Woods, is just a teenager and is already a prodigy in the sport. The two have competed professionally together, and he's already making a name for himself as part of the next generation of top-notch golfers.
Caiden Lochte
Professional swimmer and twelve-time Olympic medallist Ryan Lochte is by far one of the most decorated swimmers in all Olympic history. He holds many records in the sport, and it looks like his son, Caiden, might just be following in his footsteps.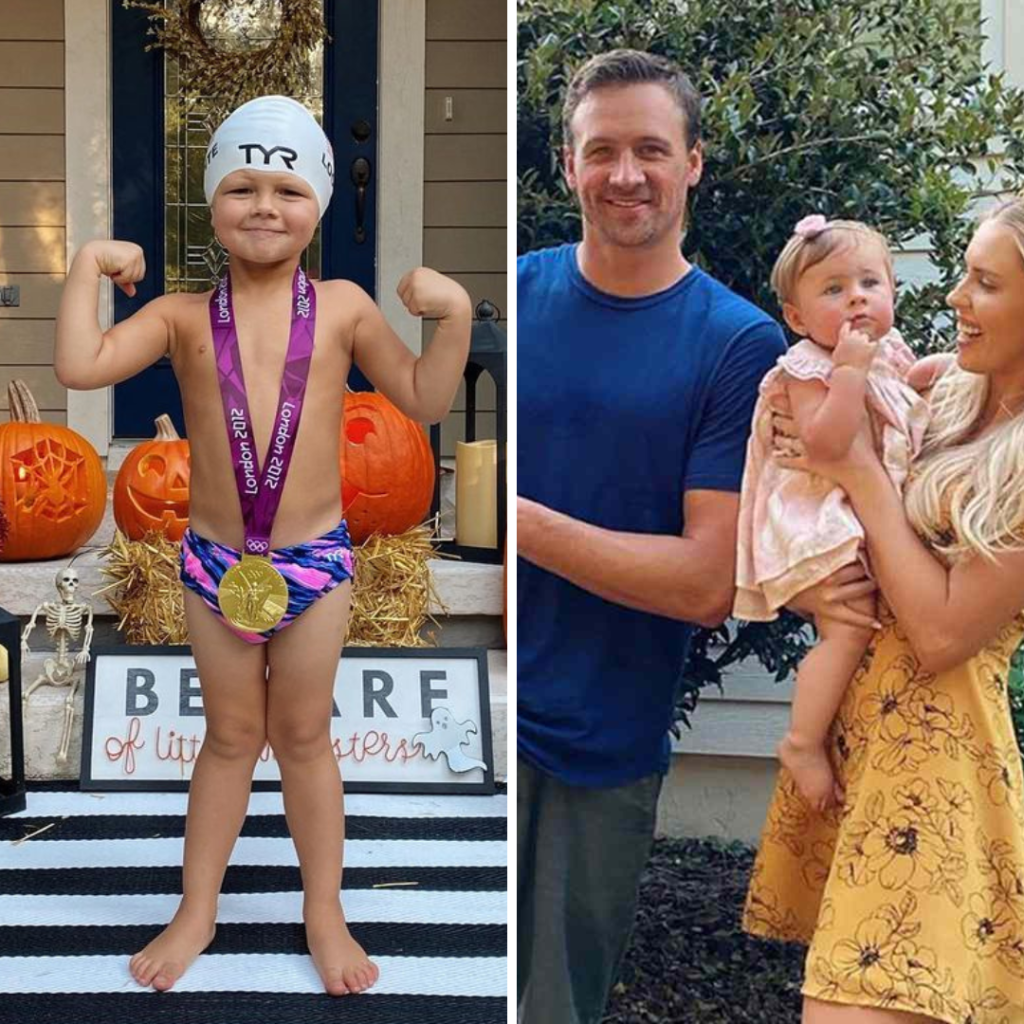 Although Caiden is still way too young to compete professionally, the content we see on Ryan's Instagram page of the two training and Ryan teaching him various strokes is reason enough to believe he's training him to be his torchbearer.
Bronny James
It's impossible to accurately list the greatest basketball players of all time without having LeBron James in one of the top spots. LeBron has won four NBA championships on three different teams, but besides his professional career, he is also a family man.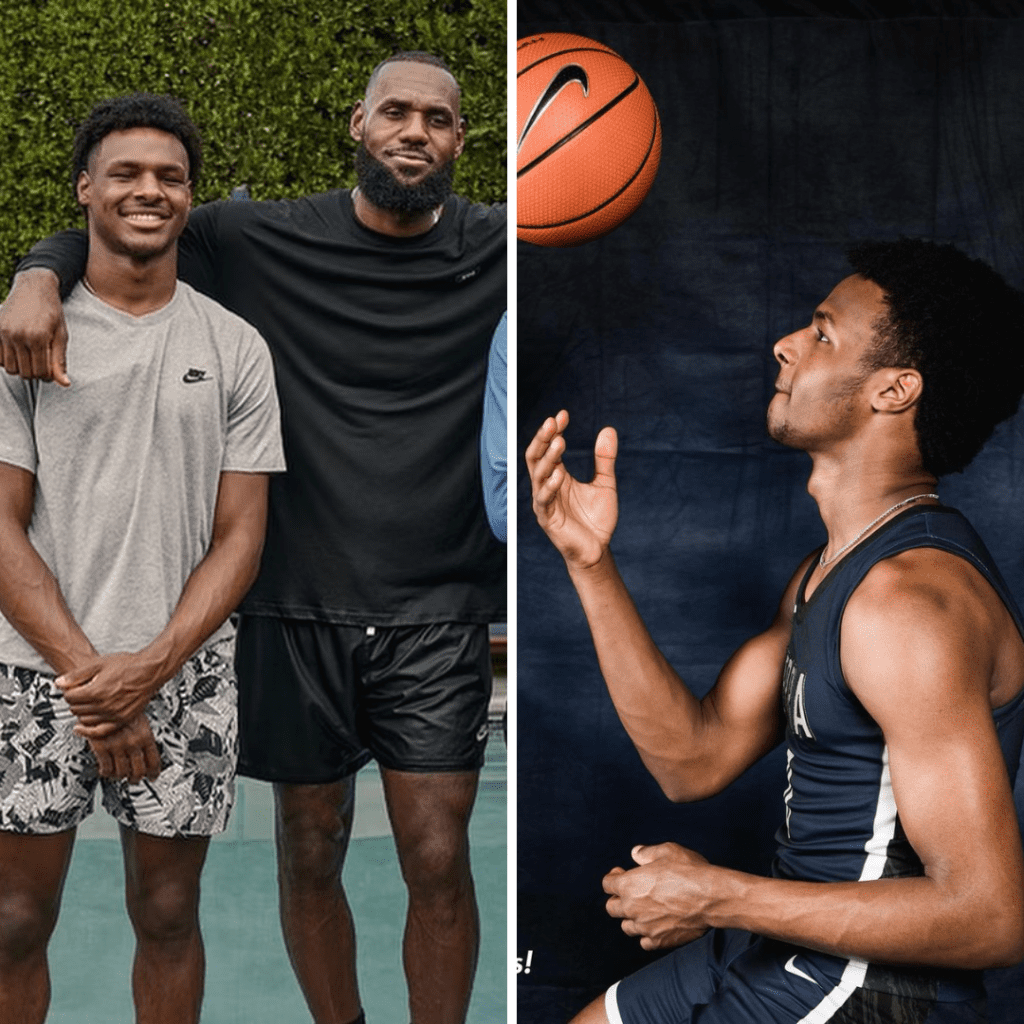 He married his wife back in 2013 and has three children with her, one of whom is Bronny Jame. Like his father, Bronny is also passionate about basketball and has been playing the sport since he was a kid. He is now a certified professional basketball player.
Scotty Pippen Junior
It isn't hard to find a kid following in their parent's footsteps in career choices, and Scotty Pipen Junior is one of those kids. His father, Scottie Pippen Sr., was a former basketball player for the Chicago Bulls, a team he won six NBA championships with.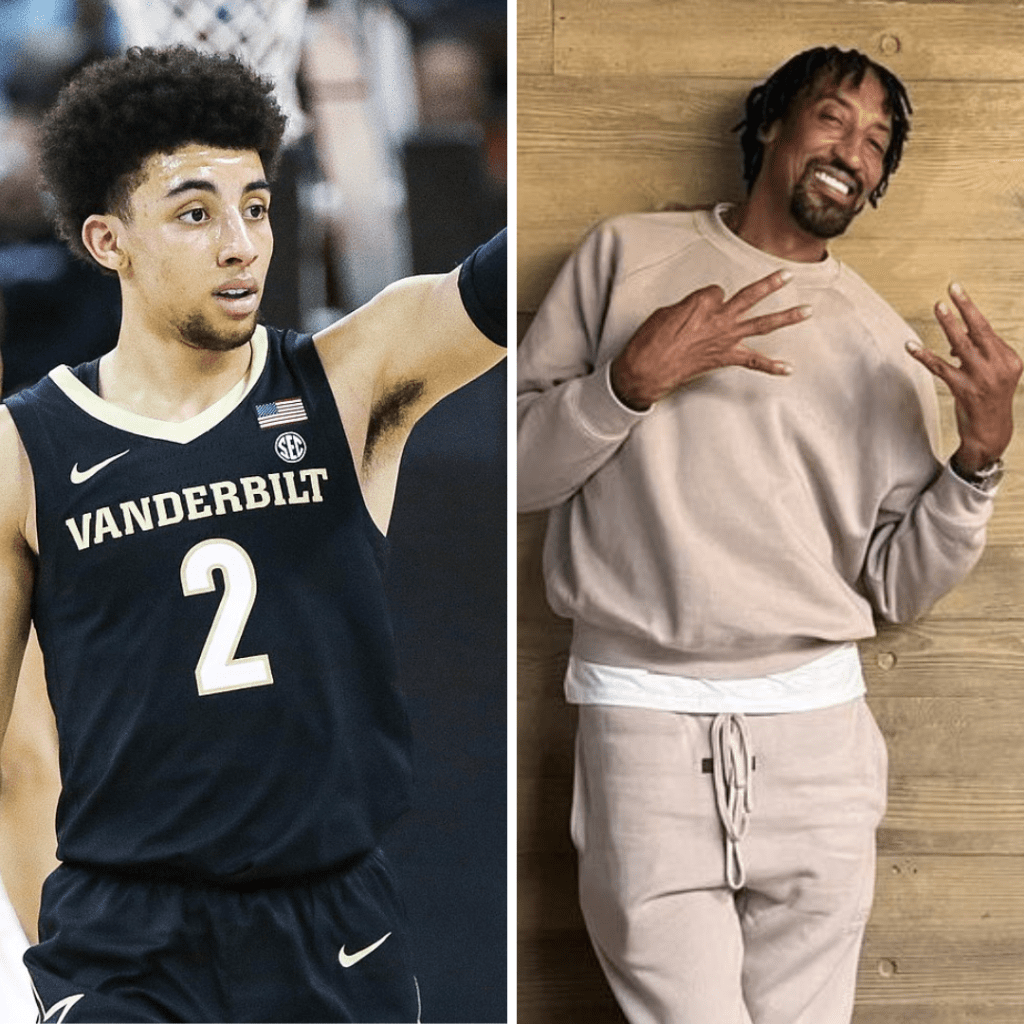 Scotty Pipen Jr., on the other hand, plays for the LA Lakers. As part of kickstarting his professional career, he made his summer league debut a memorable one by playing an instrumental role in his team's win over Miami Heat in 2022.
Austin Dillon
NASCAR cup series competitor and reality TV star Austin Dillon has taken home several awards with respect to professional stock car racing. Although we can't say for sure, we assume his father played a pretty instrumental role in his choice of career.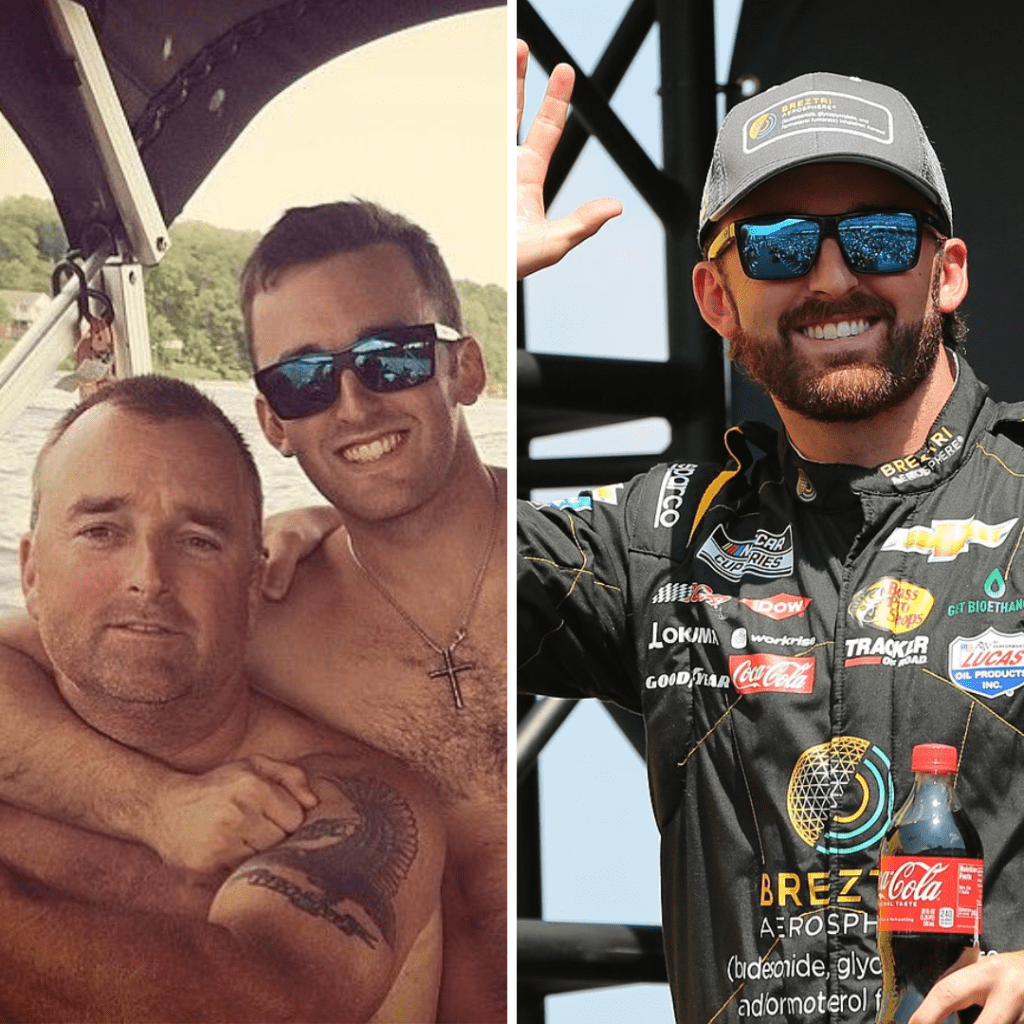 Mike Dillon, Austin's father, was also a pro stock car racing driver who later became the general manager for a team. As of this day, Austin still competes as a racer, so we can only expect more wins from this second-generation athlete.
Charlotte Flair
We like to believe there are pioneers in every sport, and when it comes to entertainment wrestling, Ric Flair was one of those people. His career spanned over half a century, and now in his seventies, he seems to have handed over that mantle of great wrestling to his daughter.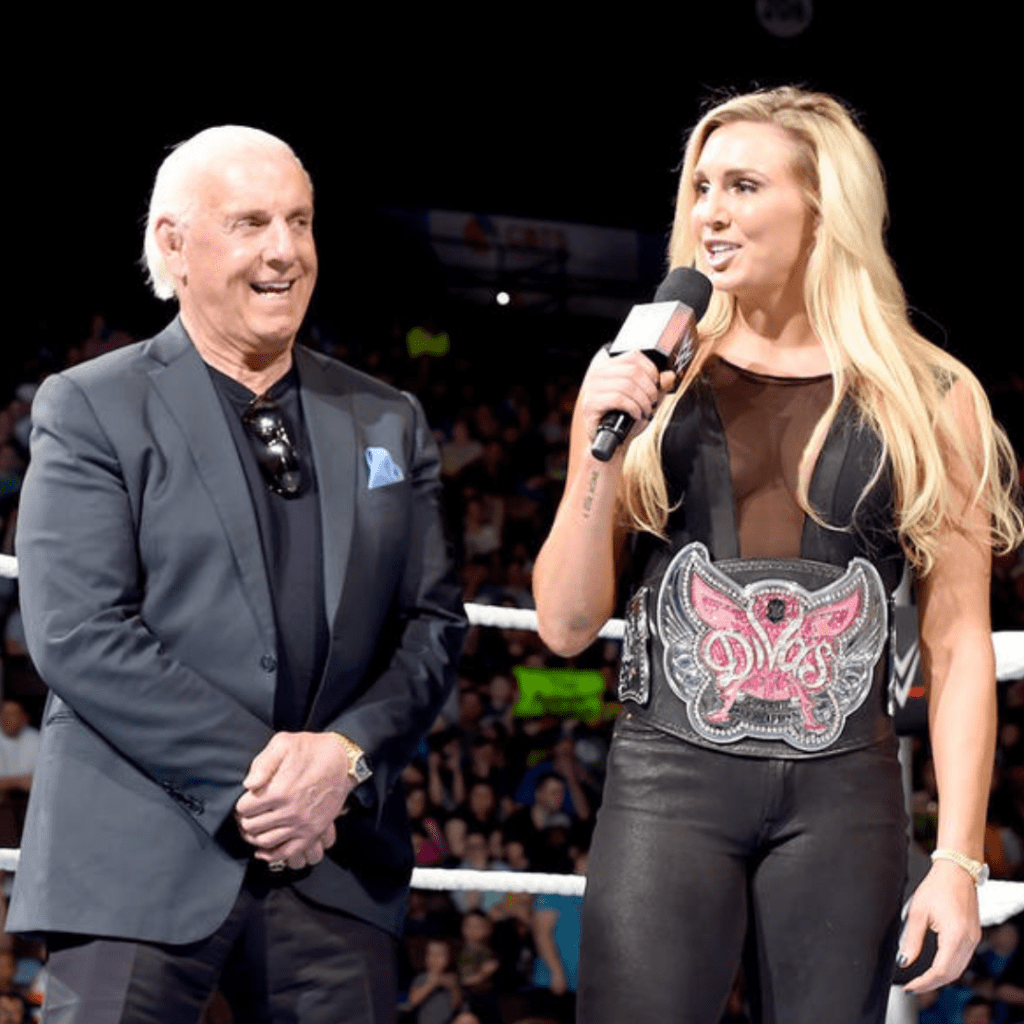 Charlotte Flair, just like her father, has been defining wrestling for as long as she's been a competitor. Her skill, style, and prowess are unmatched, and today, she's regarded as one of the best female wrestlers of the current era.
Olympia Ohanian
When we think about tennis, one of the names that first comes to mind is the legend Serena Williams. She didn't just revolutionalize women's tennis, giving it the recognition it deserves, but she's also likely raising a potential star in her daughter.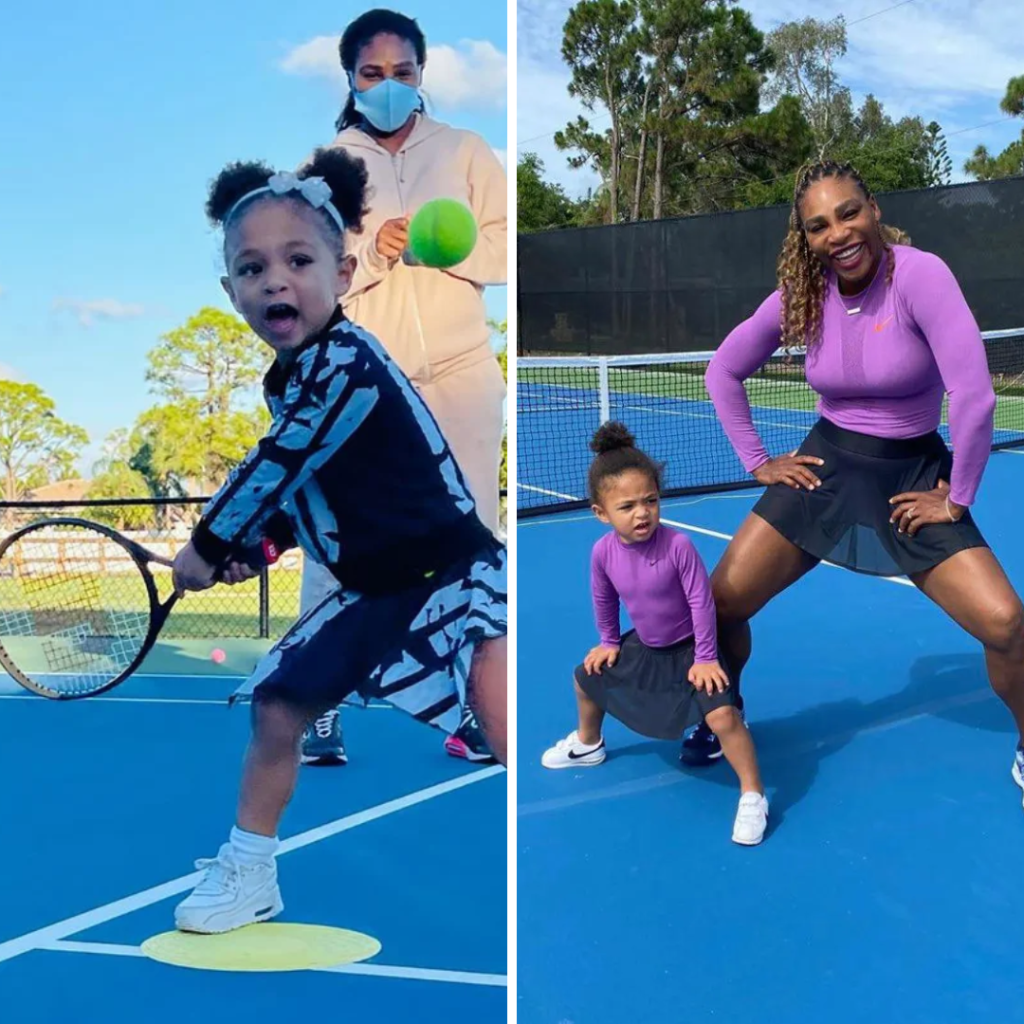 Olympia Ohanian is Serena's daughter, and judging by these pics and content on Serene's socials, this girl will be a force to be reckoned with, just like her mum. We've seen multiple photos and footage of the cutie on the court, and she seems to be genuinely having fun.
Simone Johnson
If you never knew charisma could be a defining factor in getting you far, The Rock is proof of that. Combined with his athleticism, Dwayne Johnson was able to rise to the top of the wrestling entertainment ladder in such a short time, making a mark on the industry and becoming a certified legend.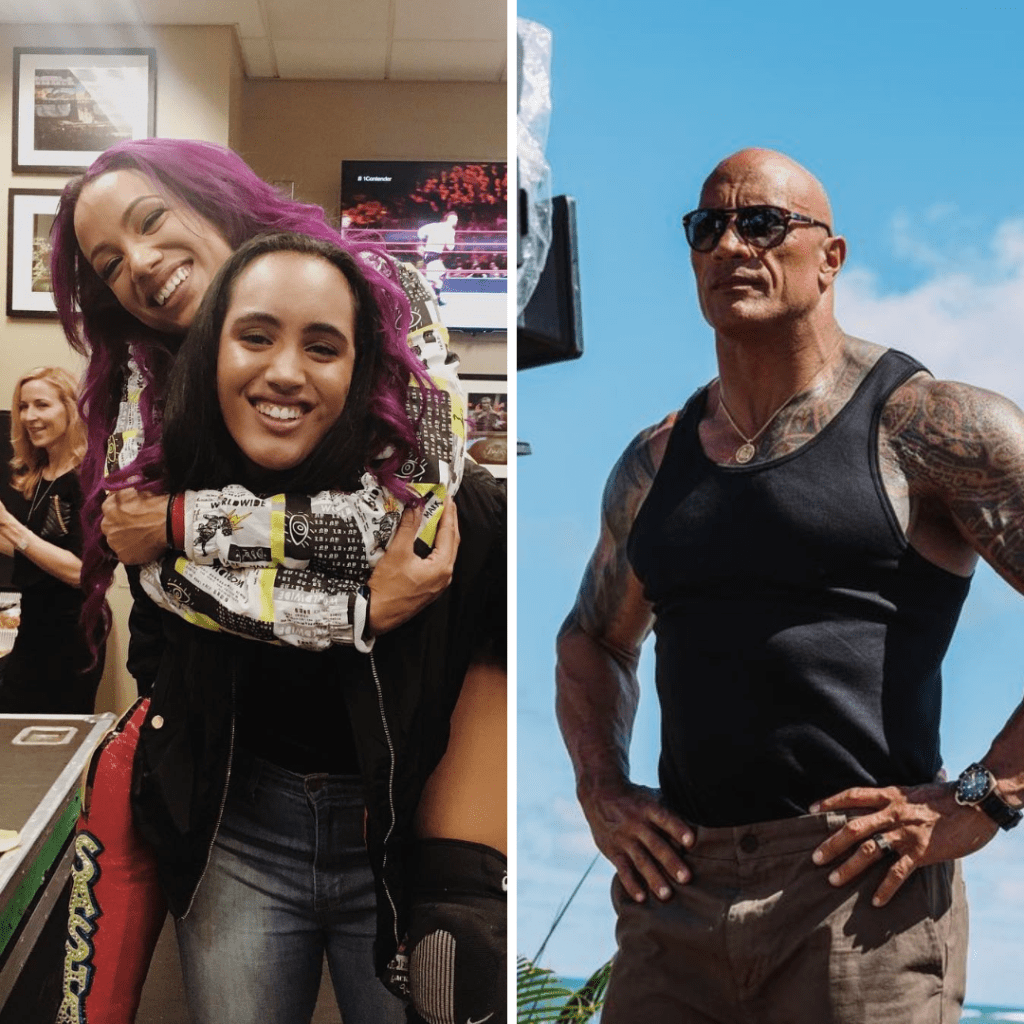 His daughter, Simone Johnson, seems to be on that very same path, as she's showing immense interest in the sport. She's already been signed to one of the biggest companies in the industry (WWE), so we can only wait and see what comes next for her.
Ken Griffey Jr.
Kenneth Griffey Sr. was a prominent major league baseball player whose career spanned nearly two decades. He was a member of the Cincinnati Reds dynasty who was inducted into their hall of fame in 2004 and became a coach six years later.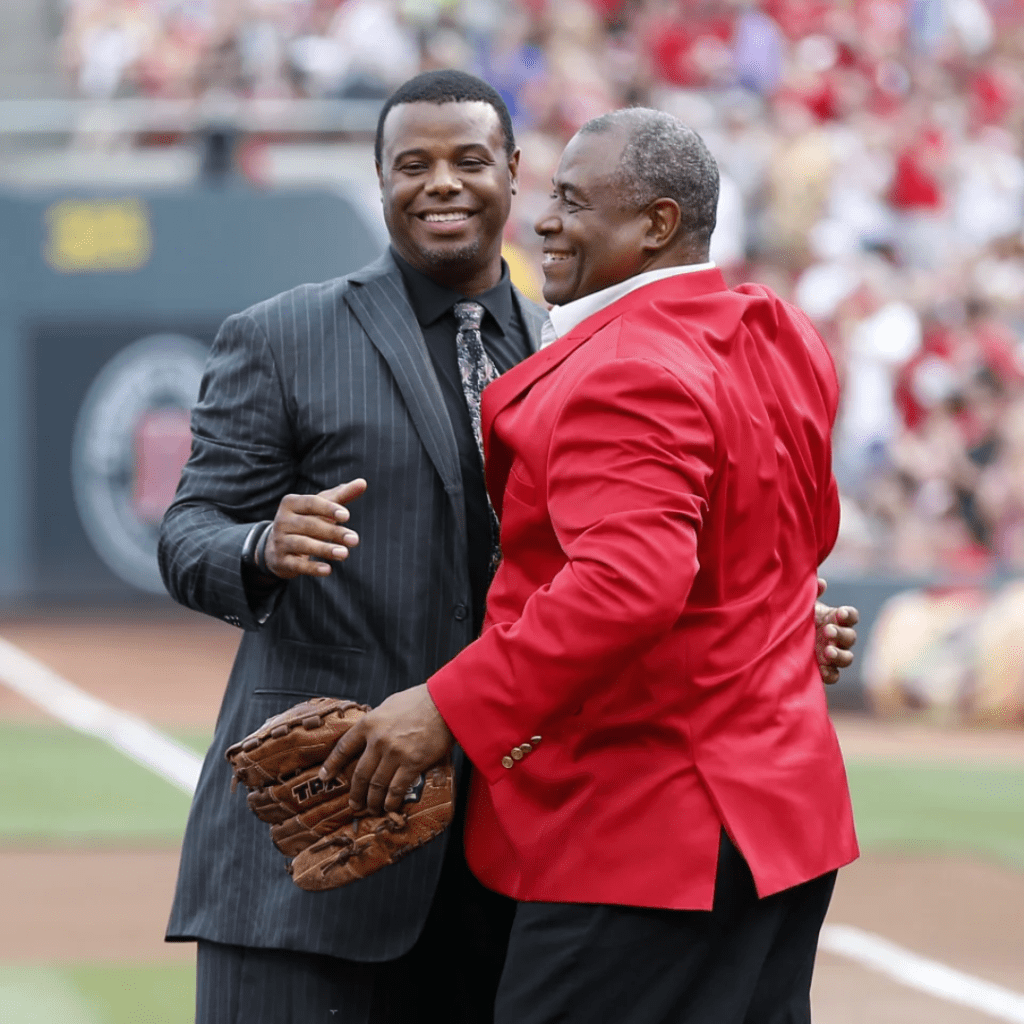 His son, Ken Griffey Jr., is also a baseball legend in his own right. Nicknamed "The Kid," his illustrious career spanned more than two decades, and he's been inducted into not one but two professional baseball teams' hall of fame. At this point, we are convinced the athletic gene runs in the family.
Rob Ryan
We've dwelled on players and members of various teams in this post so far, but legendary coaches deserve some recognition too. 35-season coach, Buddy Ryan, is one of the most renowned football coaches, and two of his children seem to be following suit.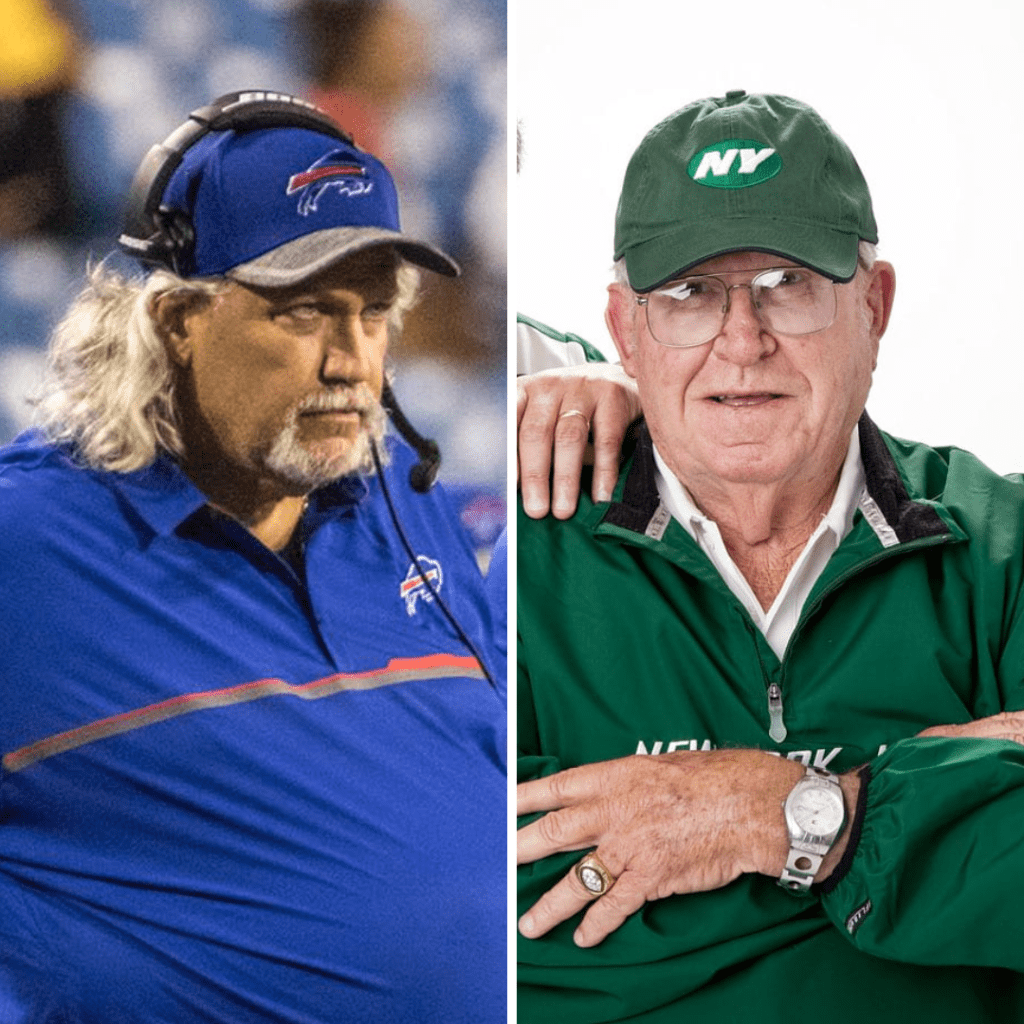 Robert Allen Ryan is an exceptional American football coach who has served as either a defensive coordinator or assistant coach for seven different NFL teams. His fraternal twin brother, Rex, also served as assistant coach to several college and professional American football teams.
Eli and Peyton Manning
Most of the sports stars we see today kickstarted their successful careers at a young age, and Archie Manning is no different. Starting his career in high school, he would go on to become a 13-season NFL player and likely the inspiration behind his sons' careers.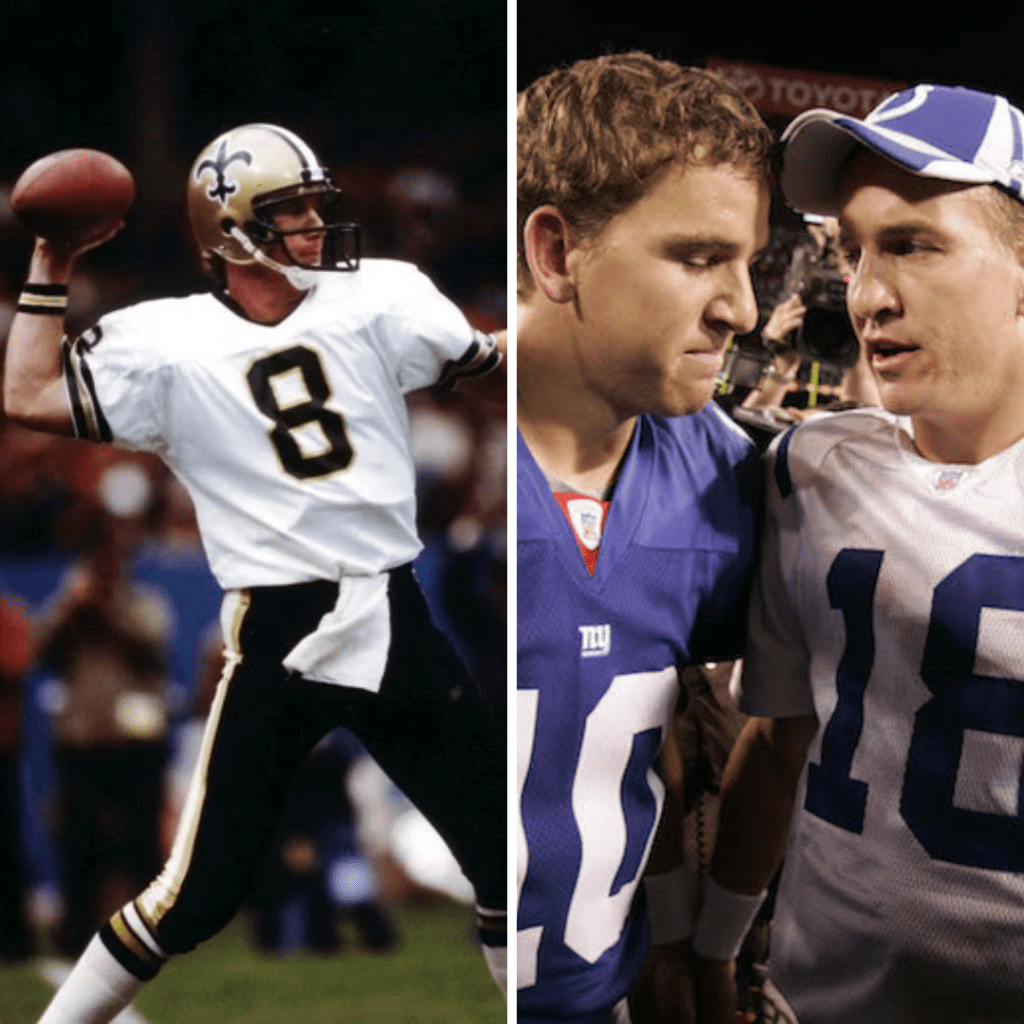 Eli and Peyton Manning are two of Archie's three sons who have both won two Super Bowls, with Peyton being an inductee into the pro football hall of fame. Archie's eldest son, Cooper, also has a child who, at 17, is already making waves for himself on the college football level!
Clay Matthews
When it comes to father and son pairs, never have we ever seen one where they mirror each other in not only features but also in career choices. These two are fantastic American football players who have made waves and set records in the sport.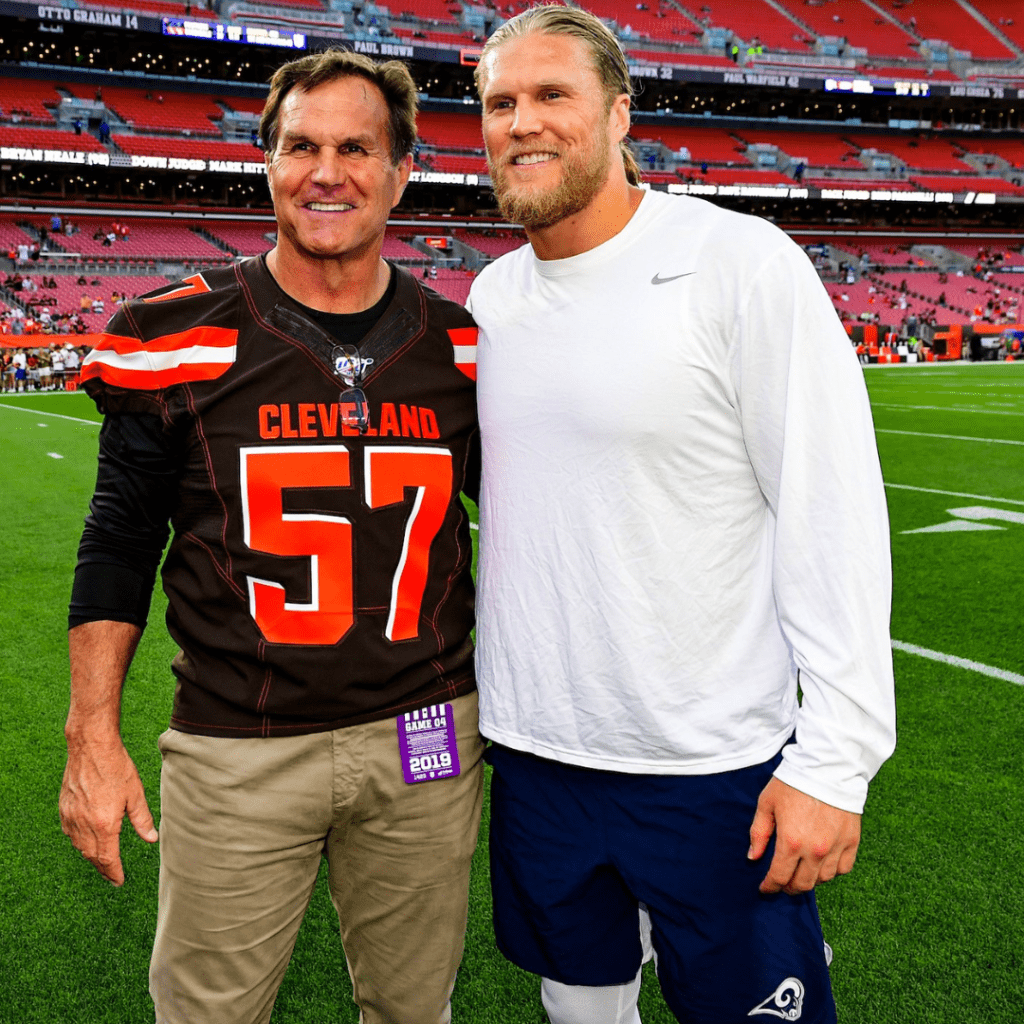 Both Clay Matthews Jr. and Clay Matthews III were linebackers in the NFL, and while Clay Matthews III went on to play for the Green Bay Packers, his father was more of a Cleveland Browns and Atlanta Falcons kind of guy.
Zaire Wade
The Miami Heat is a professional basketball team based in Miami, Florida. To date, one of its legendary players is Dwayne Wade. His career spanned nearly more than a decade and a half and cemented him as one of the greatest shooting guards in the history of the NBA.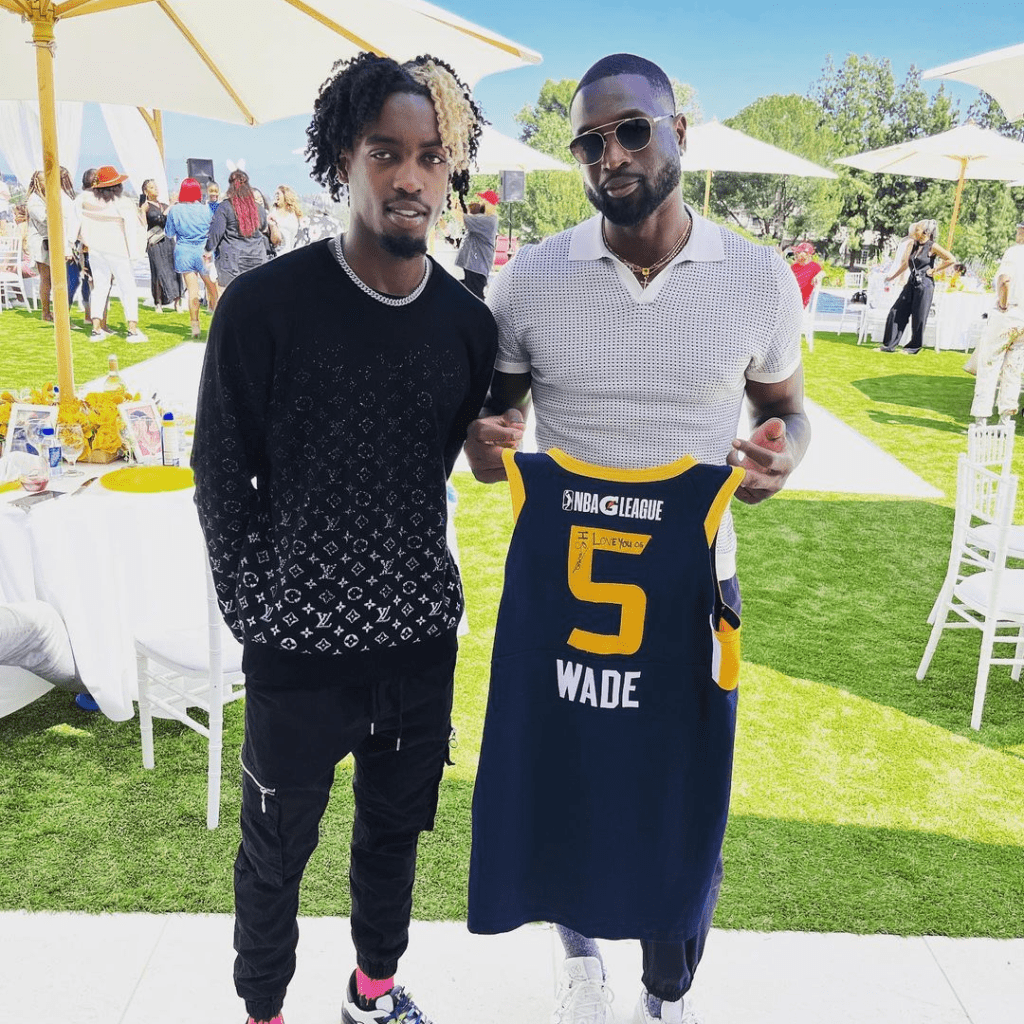 But Dwayne is much more than a legendary basketballer. He's also a proud father to Zaire Wade. Beginning in high school, Zaire followed his passion which happens to be playing basketball like his dad. He currently plays for the Capetown Tigers.
Dale Earnhardt Jr.
From Ralph Earnhardt to Dale Earnhardt to Dale Earnhardt Jr., these men have cemented their legacy as three generations of racers that have made a name for the family in race car driving. Dale Earnhardt Sr. is regarded as one of the best NASCAR racers in all history.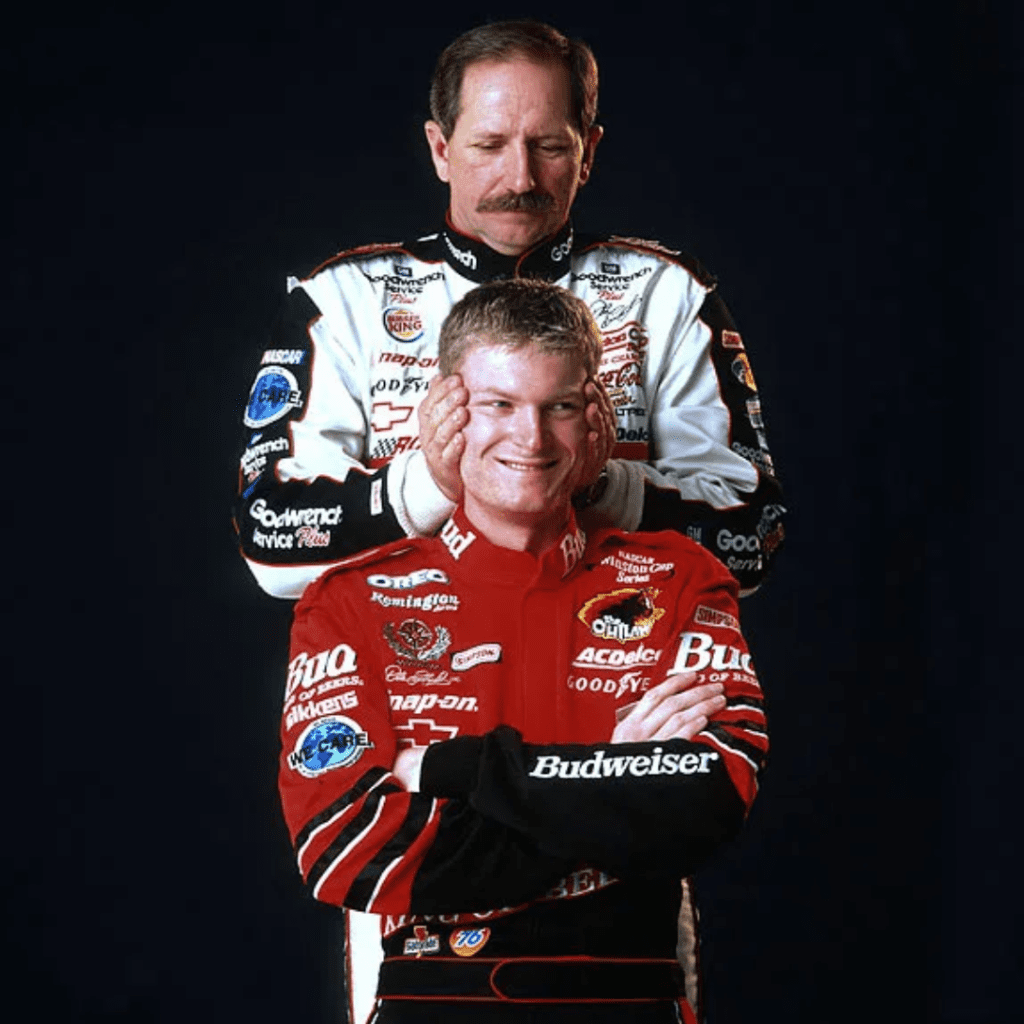 Today, Dale Earnhardt Jr. still carries the torch and keeps the fire burning in his family for (hopefully) the next generation of Earnhardt to continue the legacy. Only time will tell who's next to get behind the wheel like these three men have.
Austin Rivers
NBA All-Star Doc Rivers played for a number of teams throughout his illustrious decade-plus-long career, where he earned himself a number of accolades and wins for his teams. In the late '90s and a few years after Austin's birth, he began his coaching career.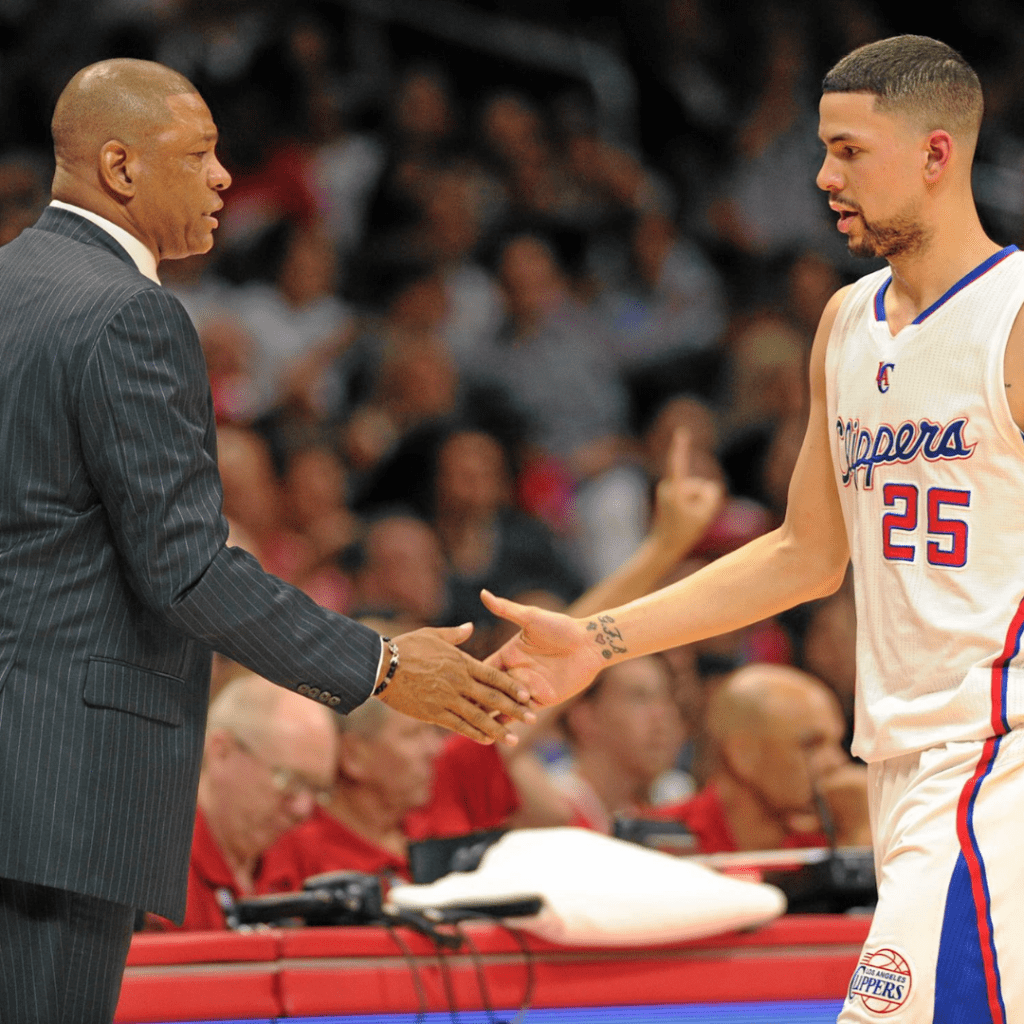 Austin kickstarted his career during his high school years, garnering attention and earning himself a spot as one of the top-rated basketball players in the class of 2011. Four years later, he would become the first athlete in NBA history to play for his father!
Bret Boone
Four-time all-star Bob Boone continued to grow the baseball dynasty that his father, Ray Boone, began when he made a name for himself as an excellent defensive catcher after getting drafted in 1969 for the Philadelphia Phillies. He later became a manager in the MLB.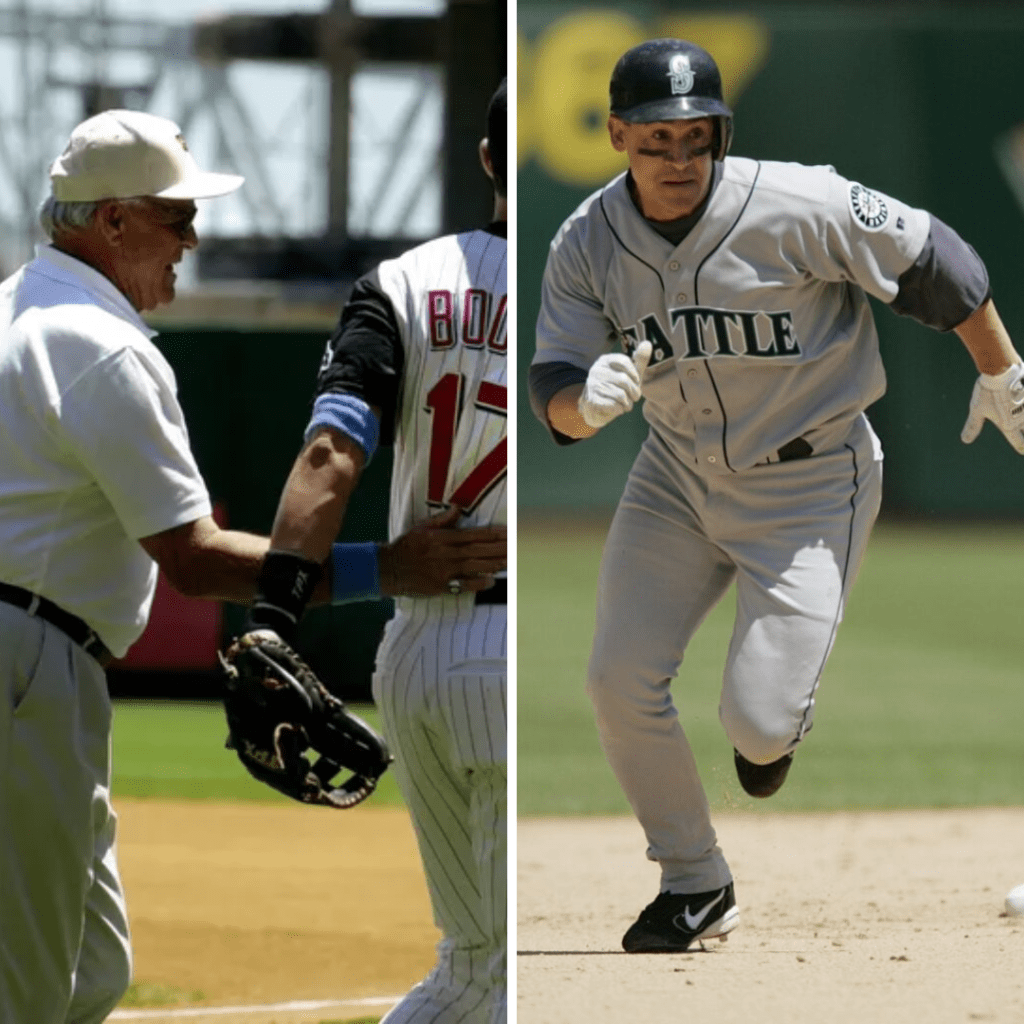 Bret Boone, Bob Boone's son and Ray Boone's grandson, is actually a third-generation athlete (the first ever in baseball history) and a fellow all-star like his father, grandfather, and brother. He's also got several awards under his belt, adding more to his family's reputation.
Chase Elliot
Chase Elliot began his winning streak early, taking home dozens of championships, including the Winchester 400, before he turned 16. In fact, he's become the youngest champion for a number of racing awards and the first to win all four of America's largest short-track races!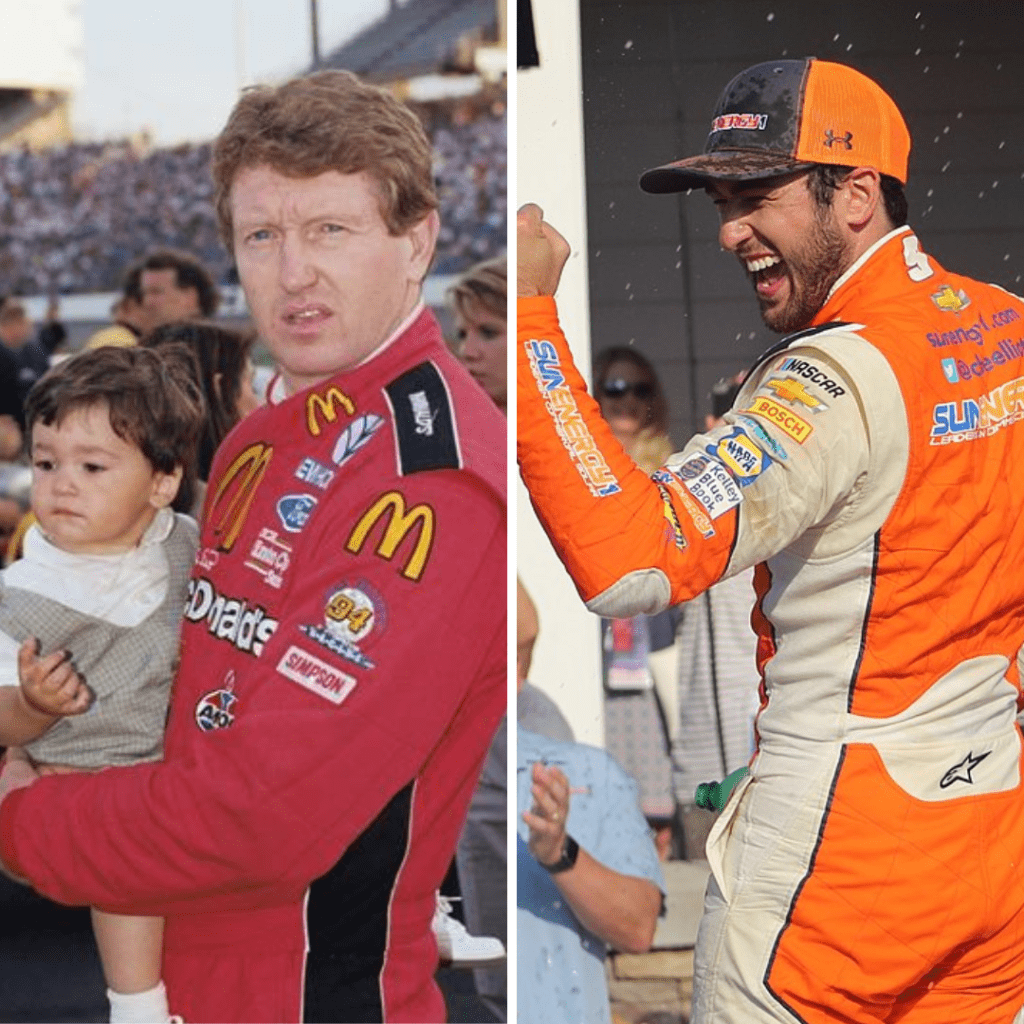 Although he has his incredible skill and expertise to thank for his success, we can't help but take into consideration his father, Bill Elliot – who is a legend in racing. Bill, who set a couple of records of his own – played a considerable role in making him the star he is today.
Barry Bonds
Despite the whole performance-enhancing medication scandal that caused Barry Lamar Bonds to fail to be inducted into the National Baseball Hall of Fame, he is still considered one of the best baseball players of all time by most baseball fans.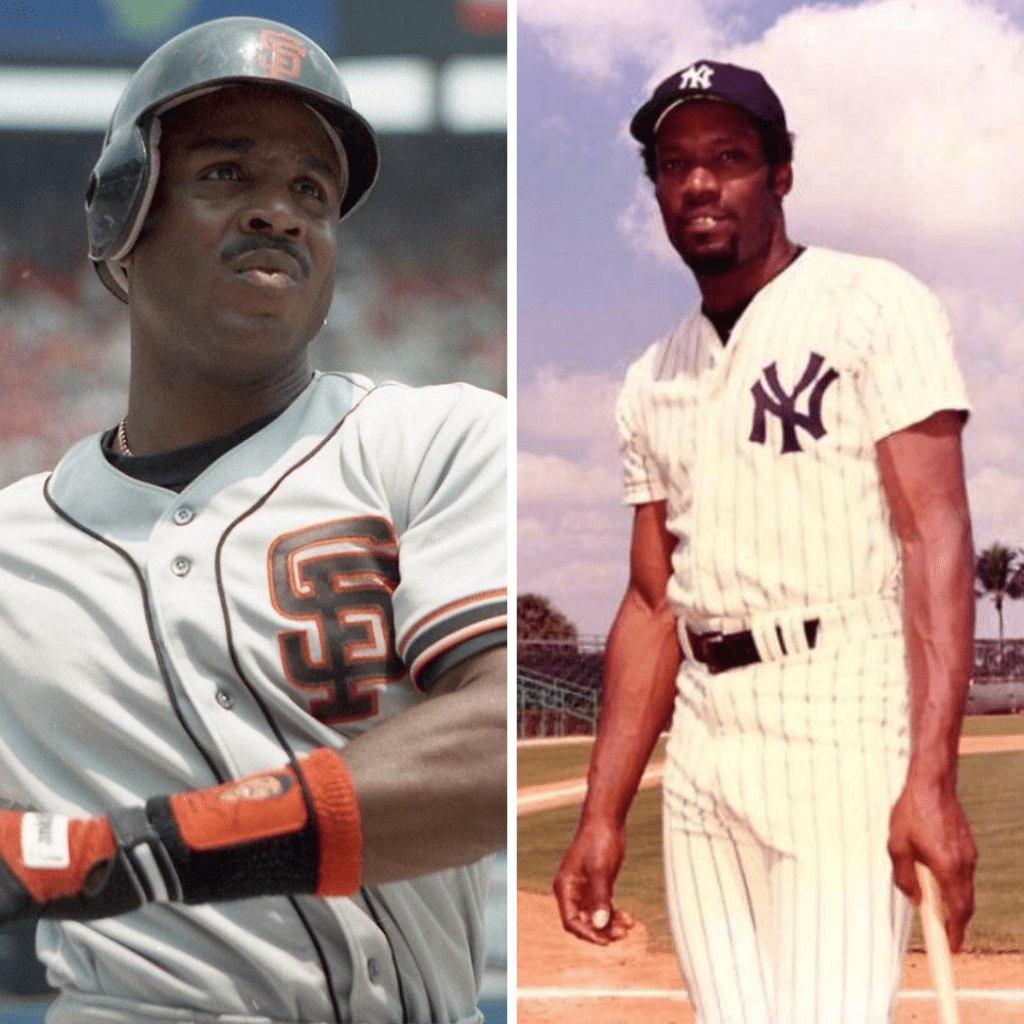 His father, Bobby Bonds, was also a record-setter during his days as a professional athlete. In fact, Bobby and Barry are both considered one of the most prolific father-son duos in baseball history, holding several combined records in the sport.
Moises Alou
Felipe Alou wasn't just an outfielder in Major League Baseball. He was also a manager for two teams after his retirement, setting a record for himself in the sport and paving the way for his son, Moises Alou, to follow in that same line of being a prolific baseballer.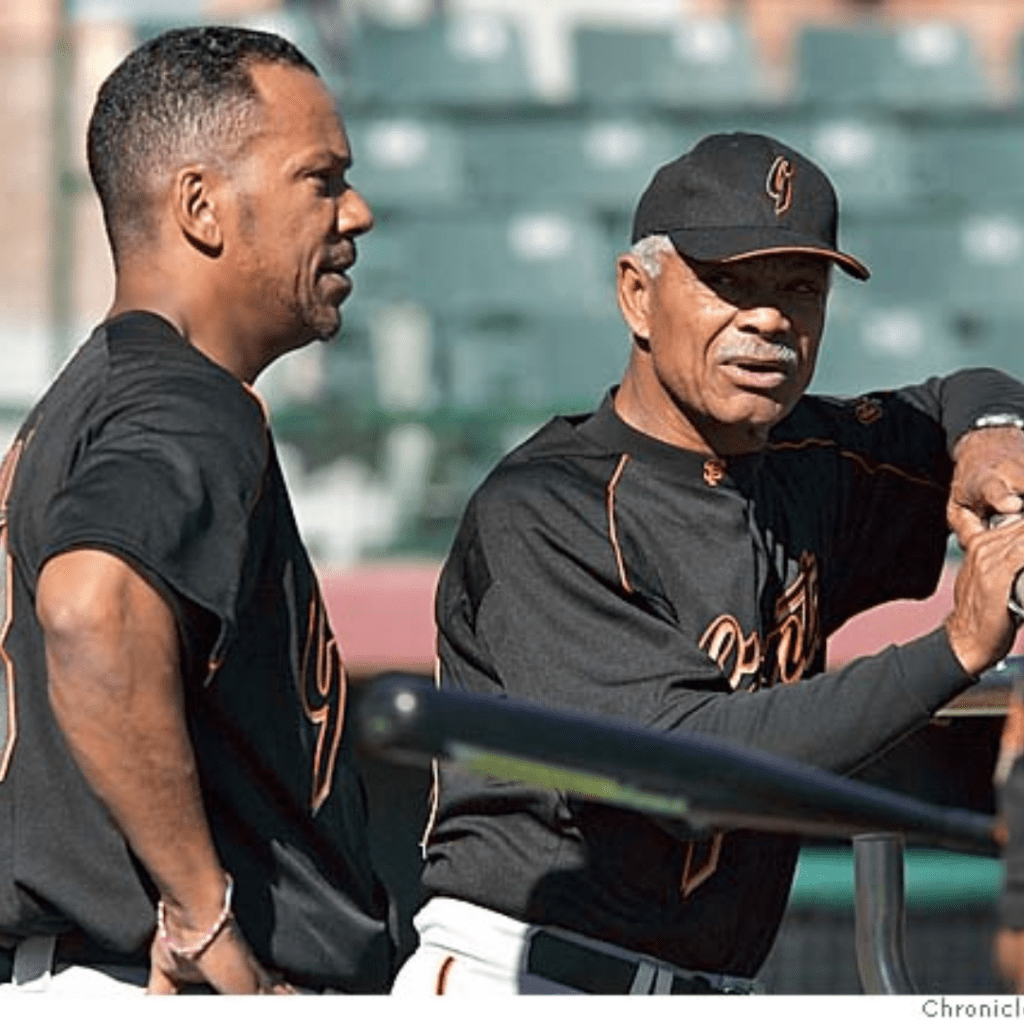 Moises, as expected, did not disappoint. Just like his father, he was also an outfielder in Major League Baseball and was famous for batting without gloves (one of the few players that did so), using an interesting technique to toughen his arms up.
Diego Singara
Despite not being raised by him, Diego Singara had an inclination to the very same sport his father, Diego Maradona, was renowned for. While Diego was known for being one of the greatest footballers of all time, his son is a coach and former player.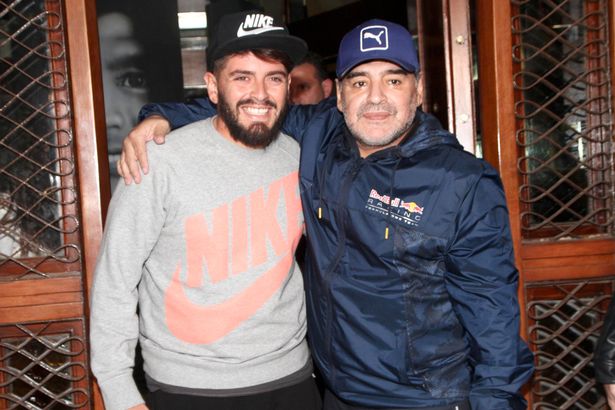 Diego and his father might have had a shaky relationship for the early part of Diego's life, but after Maradona publicly acknowledged him in front of the media, things started to look up for both of them in terms of their relationship as father and son.
Chris Long
Starting his career by being an all-round athlete, competing in basketball, football, and track in his high school years, Howie Long would go on to focus on football, getting drafted in the 1981 NFL draft and retiring in the '90s. He later became a sports analyst.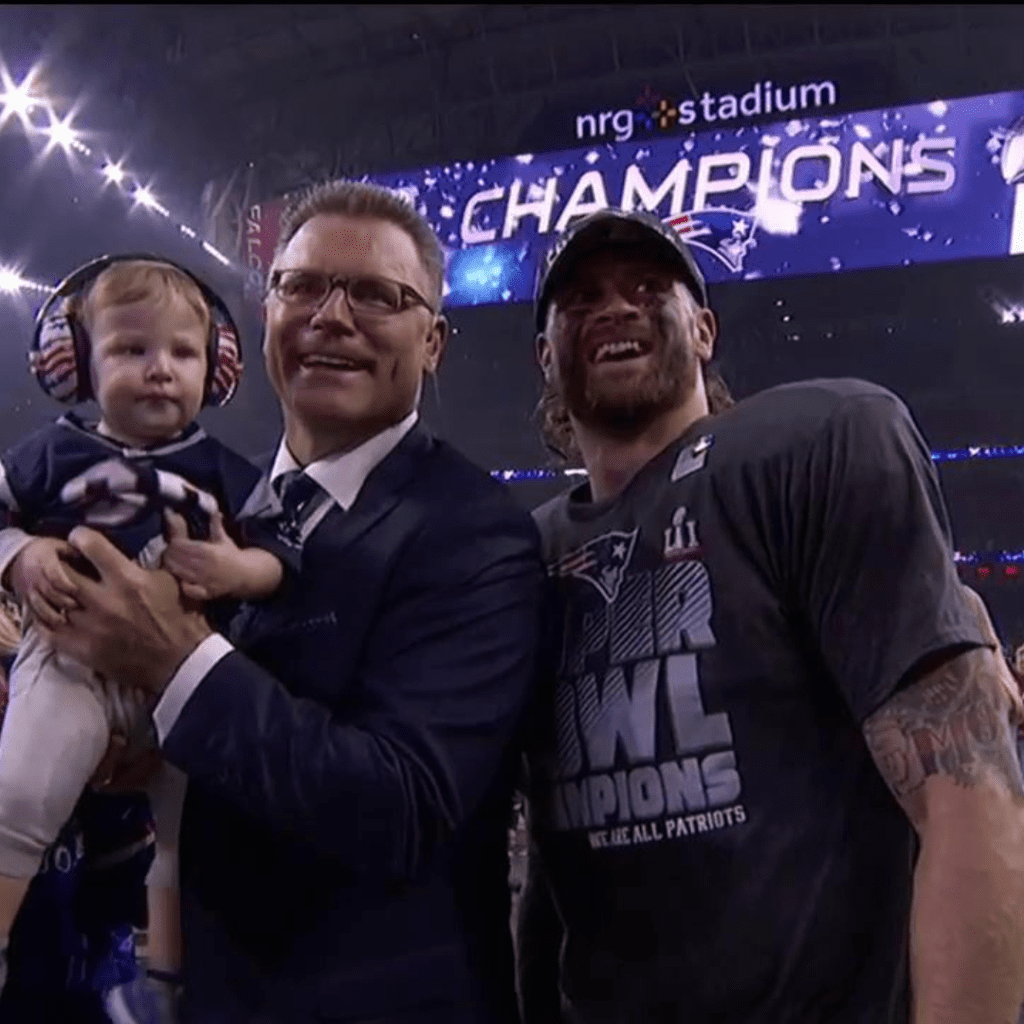 His son, Chris Long, was also an all-round athlete in high school, playing lacrosse, baseball, and basketball alongside football. His illustrious career spanned eleven seasons and included two consecutive Superbowl wins for different teams as well as many other accolades.
Prince Fielder
Cecil Fielder established himself as a power hitter during his years as a professional baseball player, and in 1990, he became the first player to reach the 50-home run mark since 1977. He would later be inducted into the baseball hall of fame in 1994.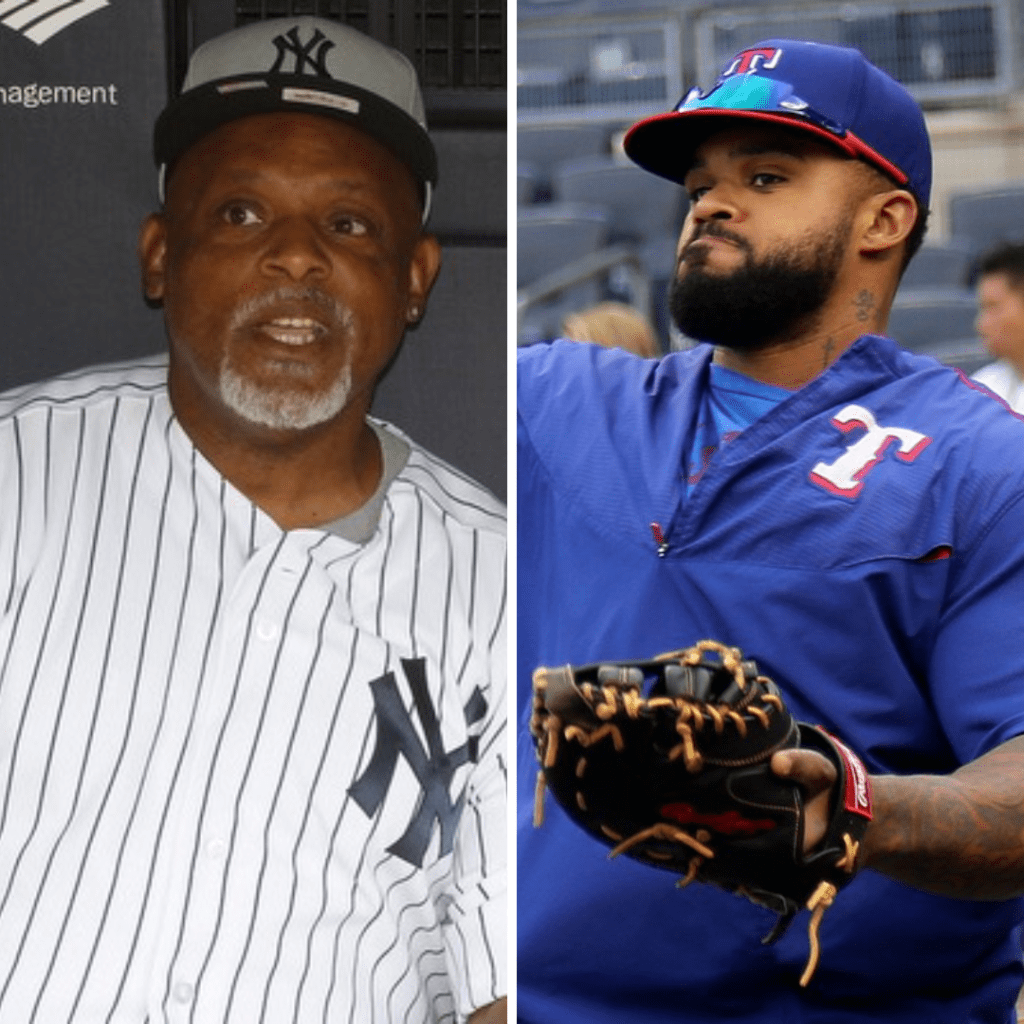 Prince Fielder later followed in his father's line of greatness by being a hitter who was selected in Major League Baseball's first draft in 2002. He, alongside his father, held the record for being the first and only father-son duo to reach the 50-home run mark in the MLB until 2021.
Klay Thompson
The NBA drafts its players based on potential. That's why it's always a big deal when a player gets drafted as the top overall pick. Back in 1978, Mychal Thompson was that player. He later won two NBA championships with the LA Lakers in the '80s.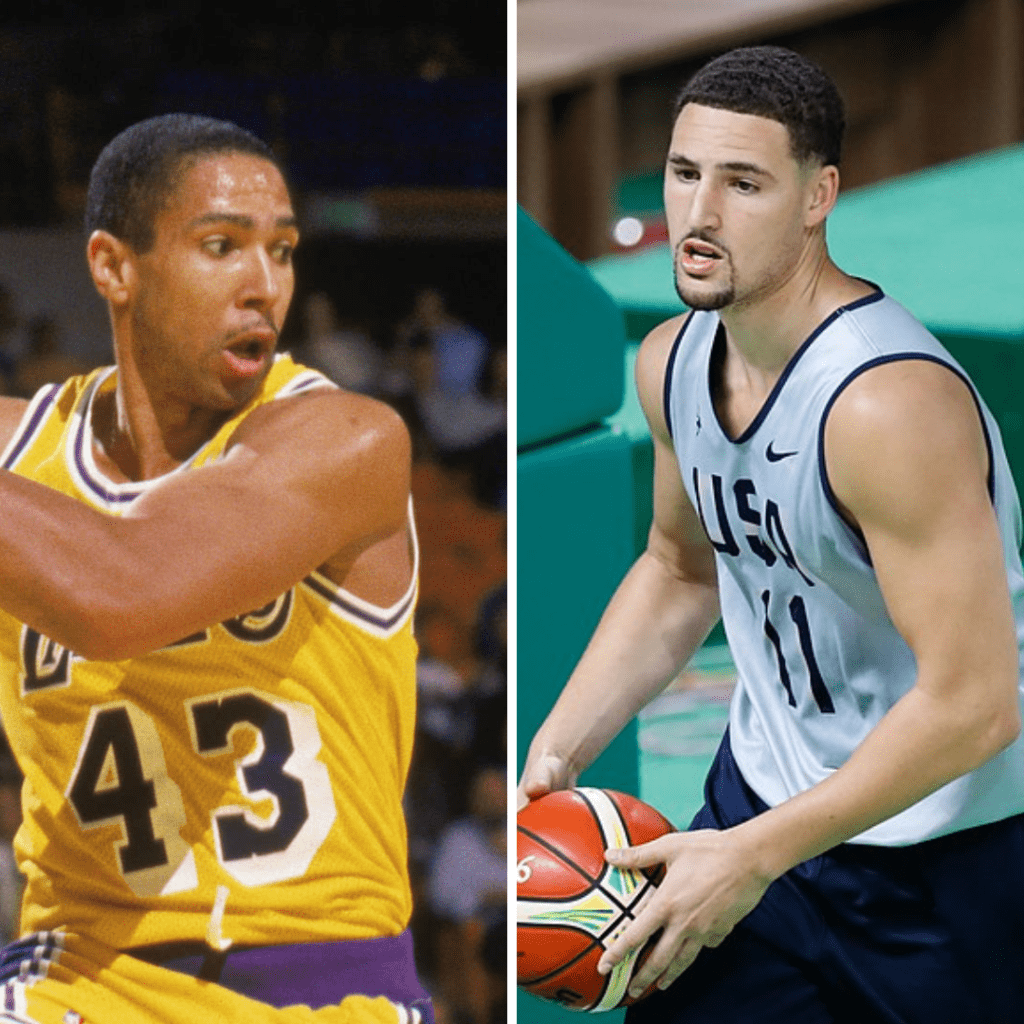 His son, Klay Thompson, has an even more impressive resume, with him being a four-time NBA champion, an Olympic gold medallist – winning the prestigious prize for his country – as well as other accolades. His brother, Mychel Thompson, is also a basketball player.
Natalya Neidhart
The Hart Foundation was a force to be reckoned with back in the '80s and '90s when it came to the World Wrestling Federation. Two of the group's most renowned members were Bret Hart and Jim Neidhart, the latter of whom was the father to WWE Superstar Natalya Neidhart.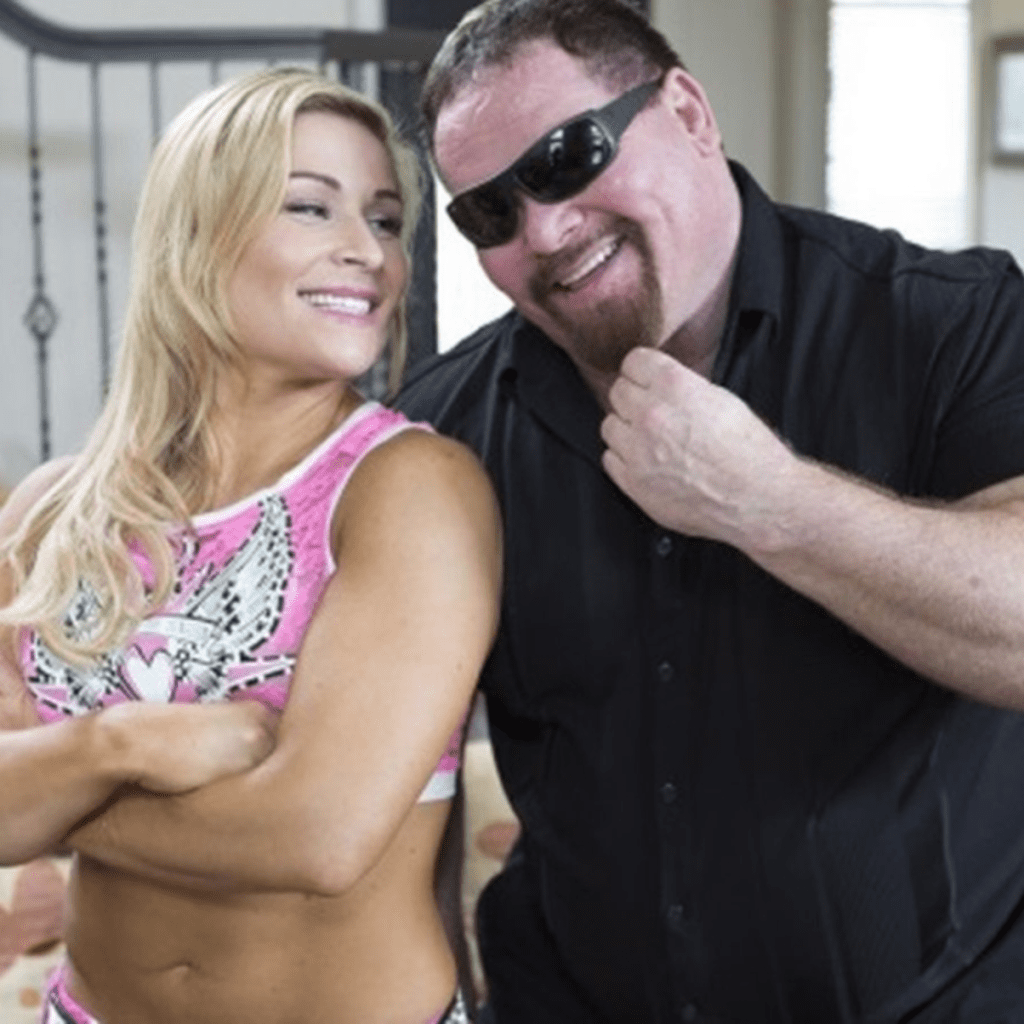 Natalya performs under the Smackdown brand in the company using her real name as her stage name. As a two-time women's champion and former tag team champion, just like her father, it's clear she is following well in his footsteps.
Matthew Tkachuk
When it comes to ice hockey, Keith Tkachuk is a certified legend among American fans of the sport. The feats and achievements he accomplished throughout his 18-year career speak for themselves and make him worthy of being called one of the best.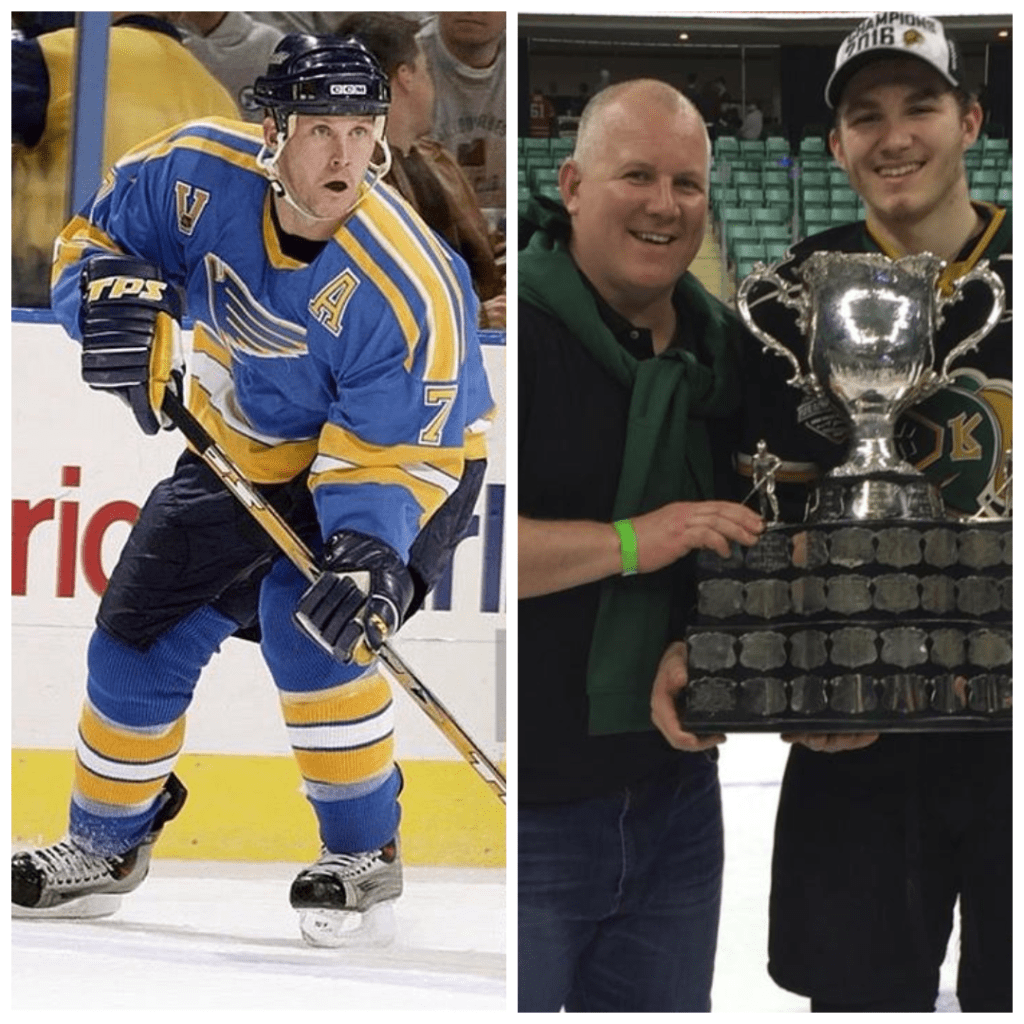 His son, Matthew Tkachuk, is also a talented pro ice hockey player. He helped his team secure gold during the under-17 ice hockey world cup in 2014 as well as the IIHF world under-18 championship held about a year later.
Randy Orton
Loads of wrestling stars and sports stars as a whole had their career paths paved for them by their parents who came before them. One example of such a star is "The Viper" Randy Orton, whose father was Cowboy Bob Orton.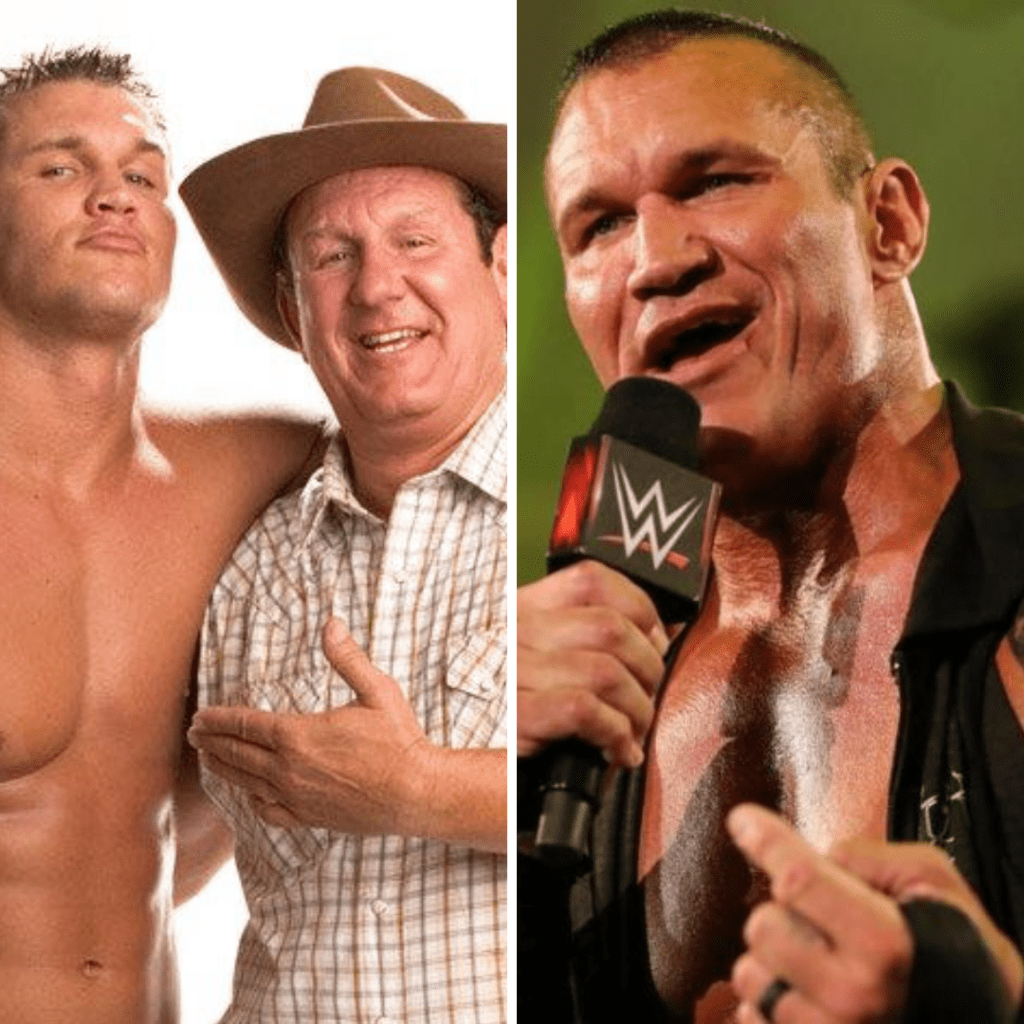 Bob's father was the patriarch of the Orton wrestling family and the grandfather to Randy Orton, who continues to bring more fame and honor to the family by competing and winning under the WWEs Raw brand. Though he's currently on a break because of an injury, we hope he gets back to the ring soon.
Christian McCaffrey
Christian McCaffrey isn't the son of just one athlete but two. His father, Ed McCaffrey, was a football player for the NFL (just like he is), while his mother was a soccer player. Christian broke numerous records as he held many positions on his high school football team during his time there.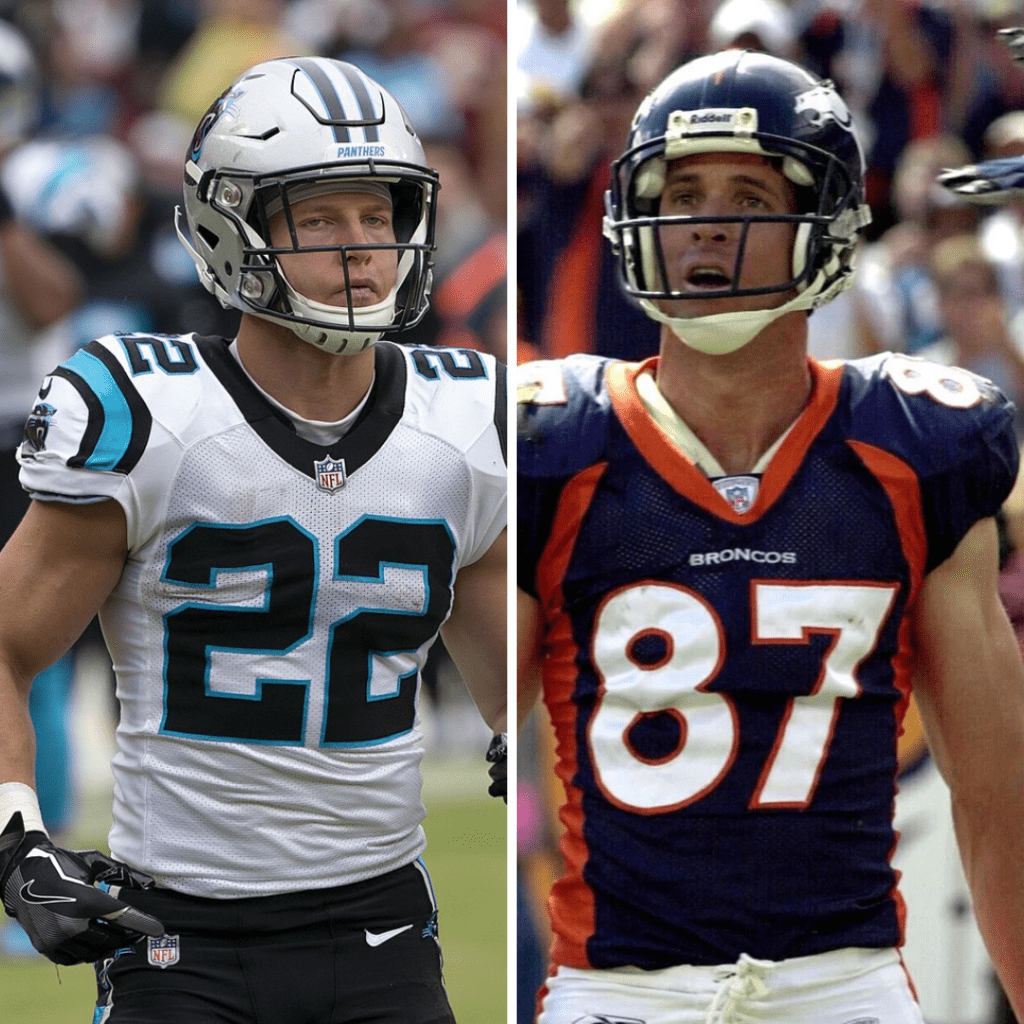 Christian also played basketball and was a track and field athlete, doing well in all three sports he participated in. He got into Stanford College (also like his father), where he was drafted after his third year by the Carolina Panthers.
Tom Ince
Let's face it, many sports careers tend not to go on for that long. Athletes retire after a couple of years, and that's why it's so unique when we get to see the likes of Serena Williams and Paul Ince, who went at it for far longer than many would expect.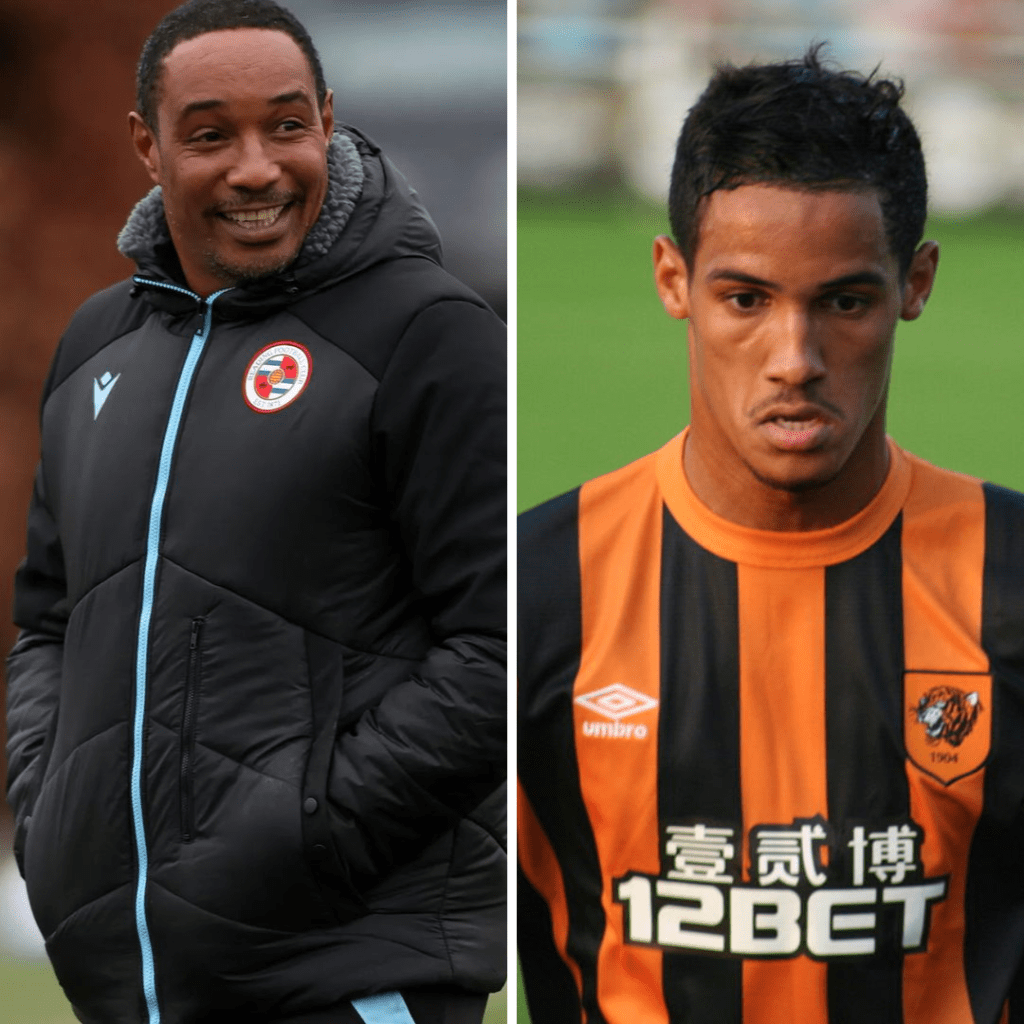 The former football player's career spanned two and a half decades, during which he was a member of several football teams. His son, Tom Ince, plays for a number of positions for the team Reading, which he joined in 2022.
Luke Walton
Bill Walton started his basketball winning streak early. As a basketball player in college basketball, he won consecutive national player of the year awards and later got drafted as the first overall pick in the 1974 NBA draft; a stepping stone for further career wins.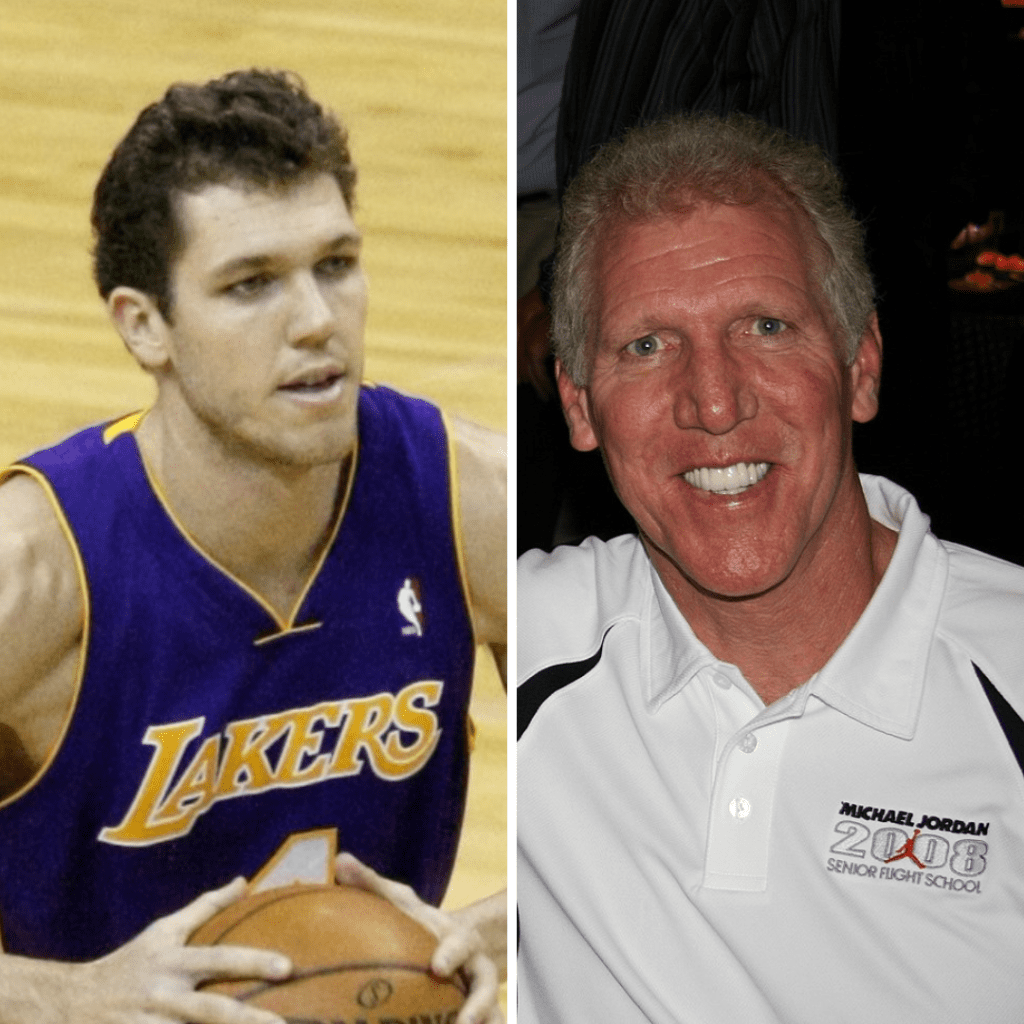 Luke Walton followed in his father's footsteps to achieve success in the sport, starting off by playing college football. He would also later win multiple NBA championships throughout his ten seasons as a player, like Bill, making them the first father and son duo to have done so.
Drew East
We've seen quite a number of footballers and baseball players, as well as basketballers in this post so far. Now, we've decided to mix it up a bit by including the artistic gymnast and 2008 Olympic gold medallist Shawn Johnson East.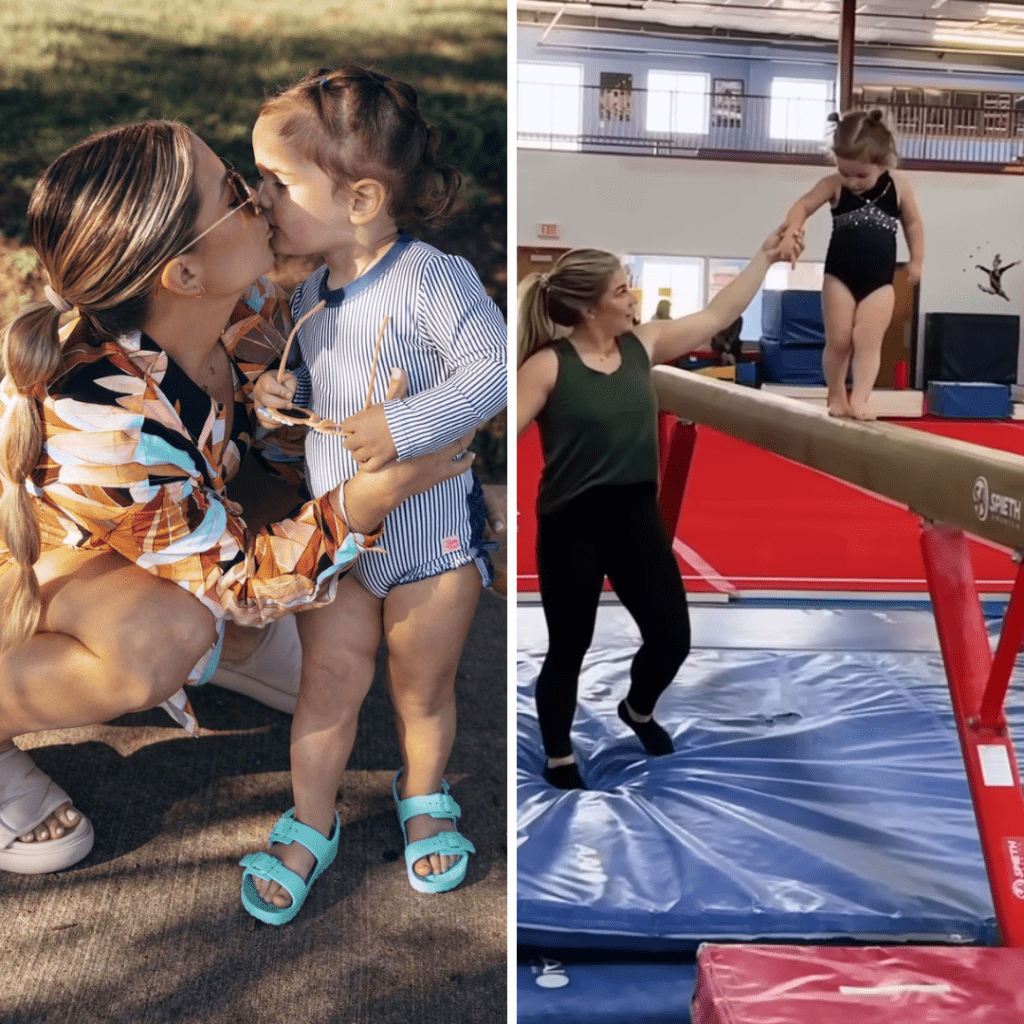 Shawn retired from gymnastics in 2012 after she had won numerous championships and made a name for herself in the field. Having seen loads of content of the star with her daughter, Drew East, in the gym, we can only wait and see if she'll follow in her mother's graceful footsteps.
Thaddeus Moss
Randy Gene Moss made a name for himself during his fourteen seasons playing for the NFL under a number of teams as a wide receiver. After the conclusion of his successful football career, he started working under ESPN as a studio analyst.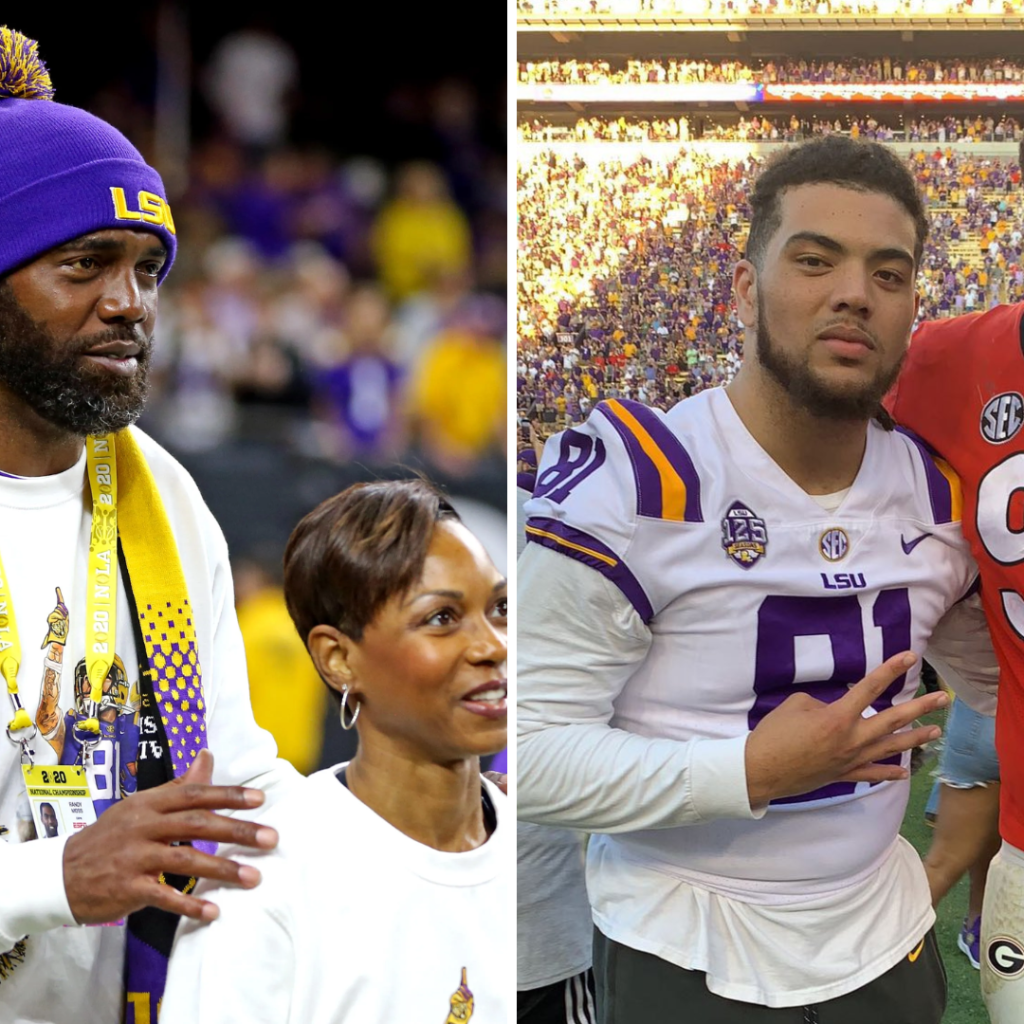 His son, Thaddeus Moss, seems to already be following in his father's footsteps by pursuing the same career his father is known for. Although he wasn't selected in the 2020 NFL Draft, we're certain the future still holds a lot for the legend's son.
Laila Ali
When it comes to sports revolutionaries, Laila Ali is one of the best. She made women's boxing shows garner attention at a time when the female division of the sport wasn't even popular. Earning herself titles and the tag of being one of the greatest female boxers of all time.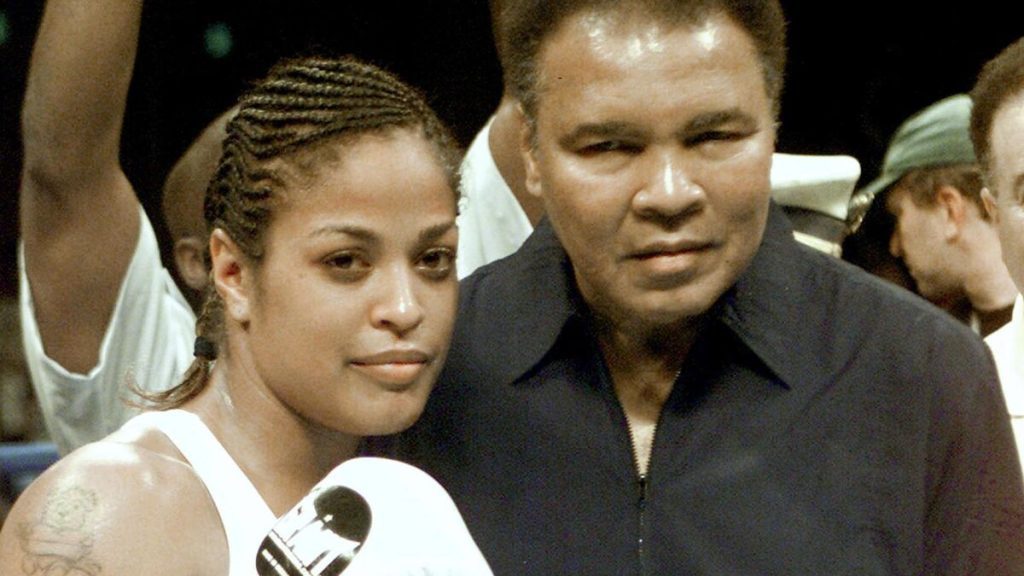 Her father, Mohammad Ali, is still regarded as one of the greatest boxers and one of the most influential athletes of the past era. Although he opposed his daughter partaking in the sport due to its violence, Laila followed her dream and made a name for herself.
Jalen Brunson
After successful professional careers, many athletes consider coaching the next generation of players out of their passion for the sport. Rick Brunson, a former professional basketball player, is one such athlete, as he's now a coach for the New York Knicks.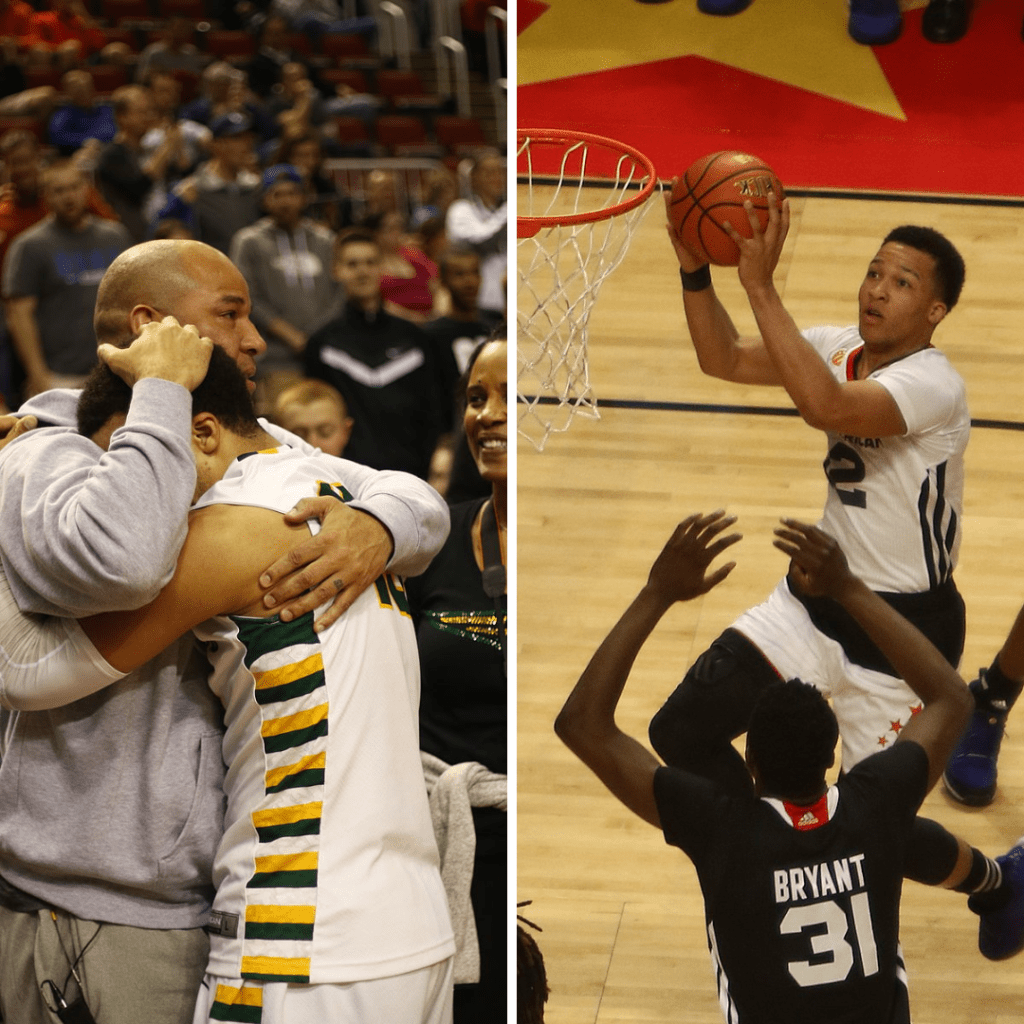 But he's not just training the next generation. He also seems to be raising them too! Jalen Bruson, his son, is a basketball player just like his father was. Jalen has held the title of the national player of the year and won national championships.
Kenyon Martin Jr.
NBA all-star Kenyon Martin Sr. played as a power forward for a number of different teams during his fifteen seasons under the National Basketball Association. He retired in 2015, leaving behind a legacy and paving the way for his son, Kenyon Martin Jr.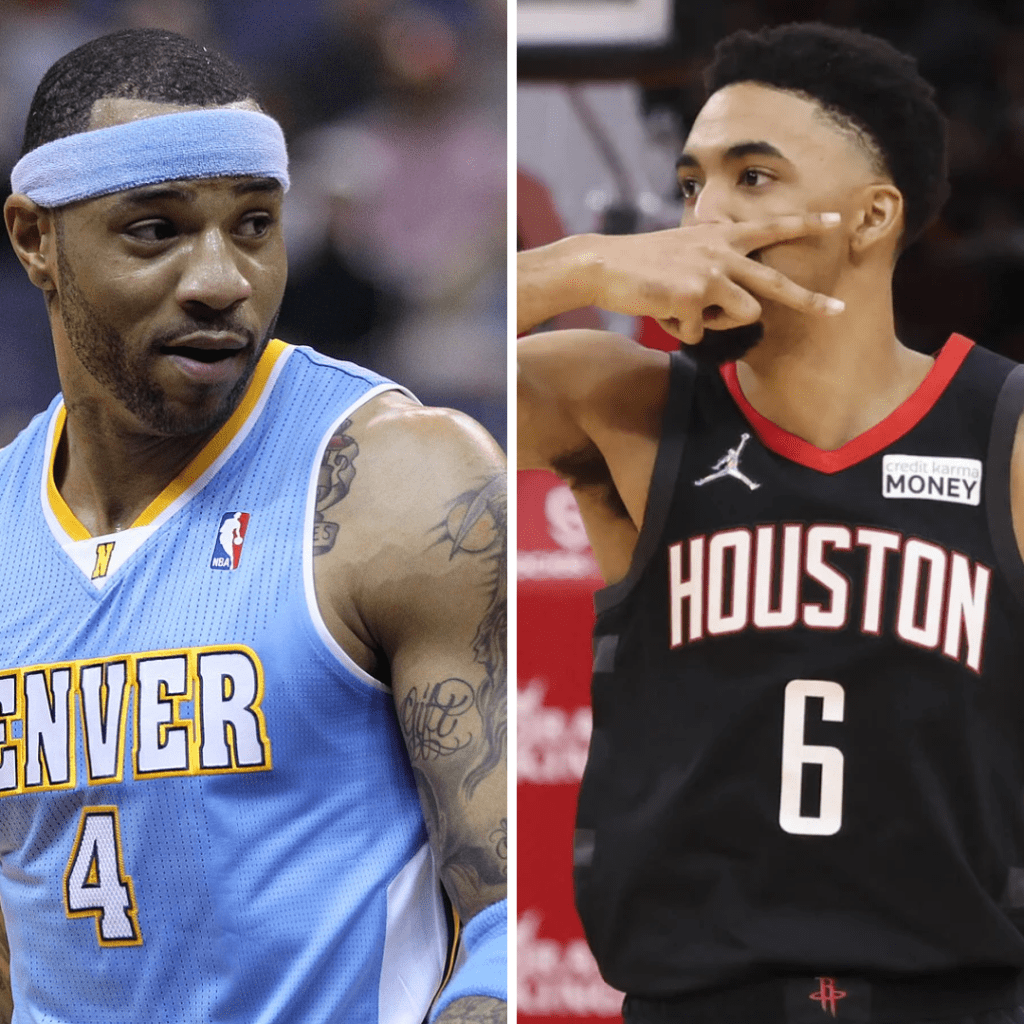 Kenyon Martin Jr. began his career in his sophomore year of college and was drafted in 2020 to play for the Sacramento Kings. He's still relatively new to the professional basketball landscape, so only time will tell how far he'll go in the sport.
Cam Jordan
Steve Jordan's professional career was kickstarted when he was drafted in 1982 by the Vikings in their 7th round pick, setting a record in the team. Although he played as the tight end for his team, his son, Cam Jordan, plays for the defensive end.
Cam got drafted during the first round of the 2011 NFL draft and was also successful in the discus throw, making him even more of an impressive athlete. He currently plays for the New Orleans Saints, the team that picked him during the 2011 NFL Draft.
Joe Burrow
Retired coach and former defensive in the CFL (Canadian Football League) Jimmy Burrow played for four teams during his time as an active athlete. He also later coached the sport at the college level after he retired as a player.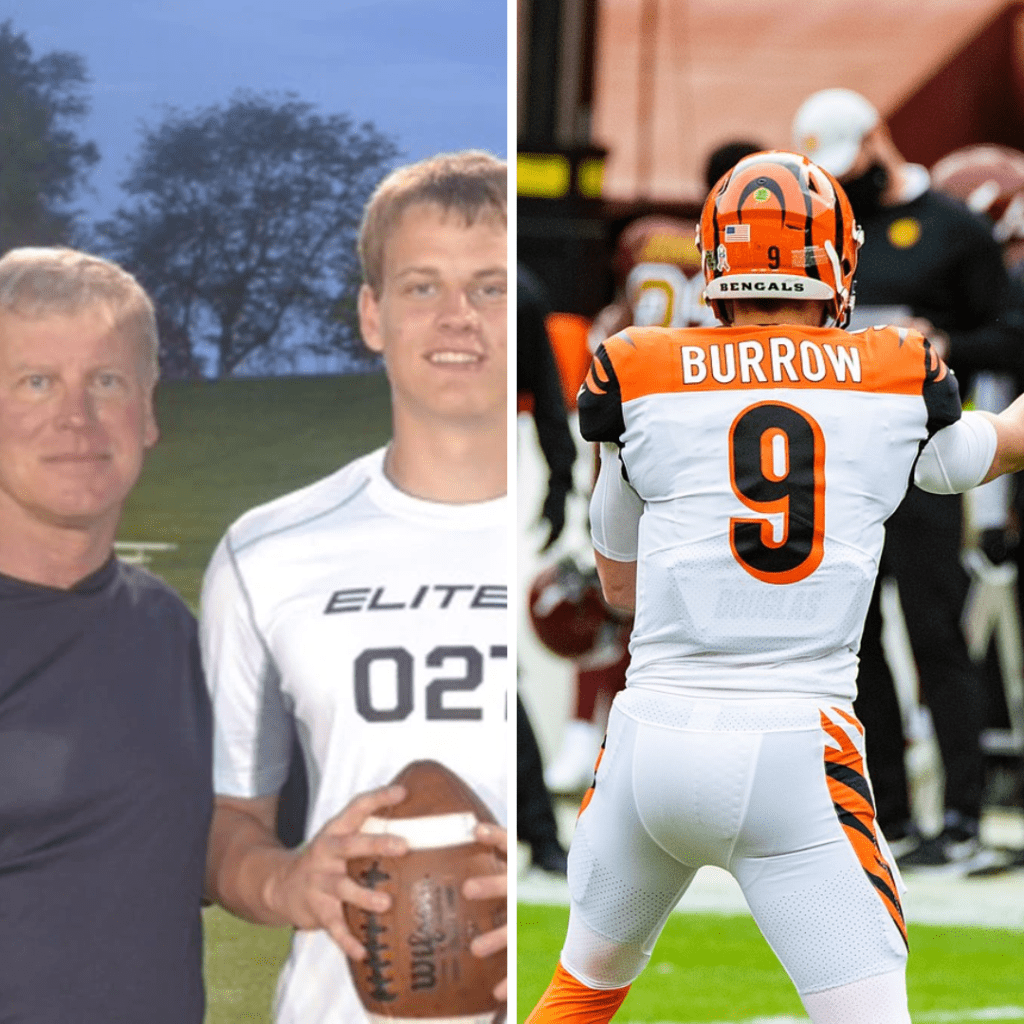 His son, Joe Burrow, is the Iowa-born quarterback in the National Football League for the Cincinnati Bells, a team for which he was the first overall pick during the 2020 draft. Joe comes from a line of athletes, so we expected nothing less from him.
DK Metcalf
Former NFL guard Terrence Metcalf got his big break when he was drafted in 2002 and was selected by the Chicago Bears. He would go on to play with the team for seven seasons and later become a coach for a team in his hometown.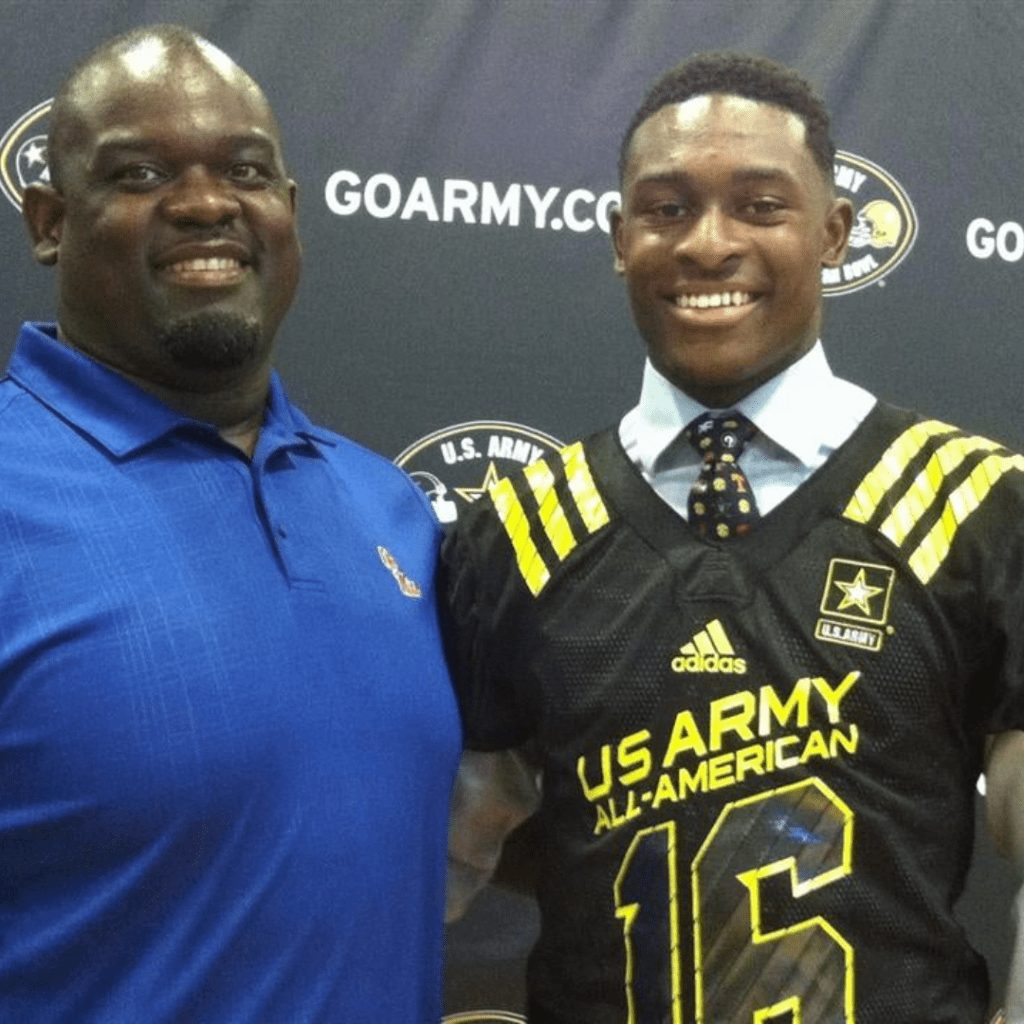 His son, DK Metcalf, is a wide receiver in the NFL. He forewent the last two years of his college education to declare for the 2019 draft, for which he was selected by the Seattle Seahawks, a team he's still playing for now.
Joey and Nick Bosa
Many athletes are spotted from a young age, and that was the exact case with John Bosa. To further his athletic career, he was offered a scholarship to play football for the Boston College Eagles, which was a stepping stone for his professional career.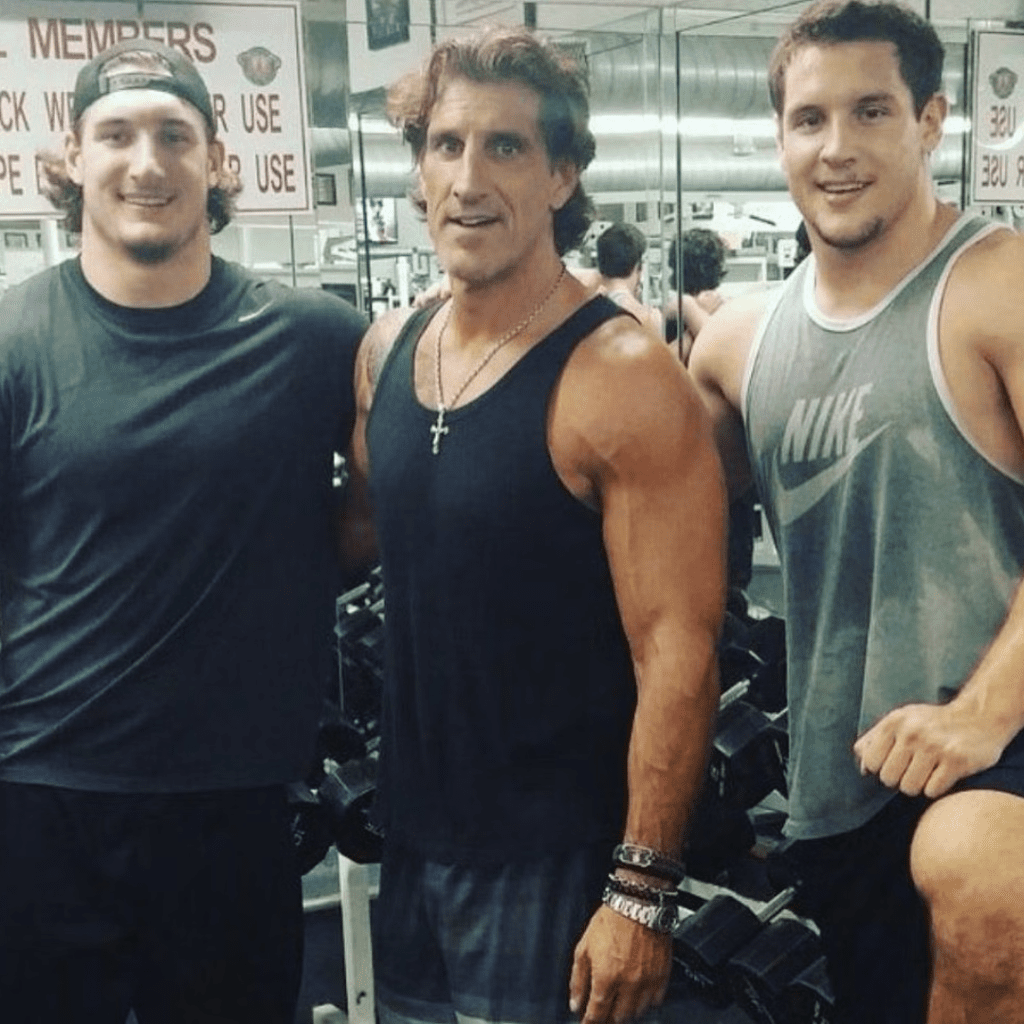 Joey and Nick Bosa are the two sons of John, and they're both players for the NFL. Joey was drafted by the San Diego Chargers in the 2016 NFL draft, and his younger brother, Nick, by the San Francisco 49ers during the 2019 NFL draft.
William Nylander
Michael Nylander is a two-time Olympic ice hockey competitor, a game which he played for his native country, Sweden. He played for 8 teams throughout the duration of his career and scored his first of many career goals during his 16th game.
His son, William Nylander, is also a pro ice hockey player who's even played beside his father in the past. He was previously ranked as a top prospect during an NHL draft and was finally drafted by the Toronto Maple Leafs, the team he still plays for today.
Mary Iglesias
Despite never winning a singles title throughout the duration of her career, Anna Kournikova was once one of the world's most renowned female tennis players. She took an interest in the sport at an early age and broke out into stardom upon her arrival in the United States.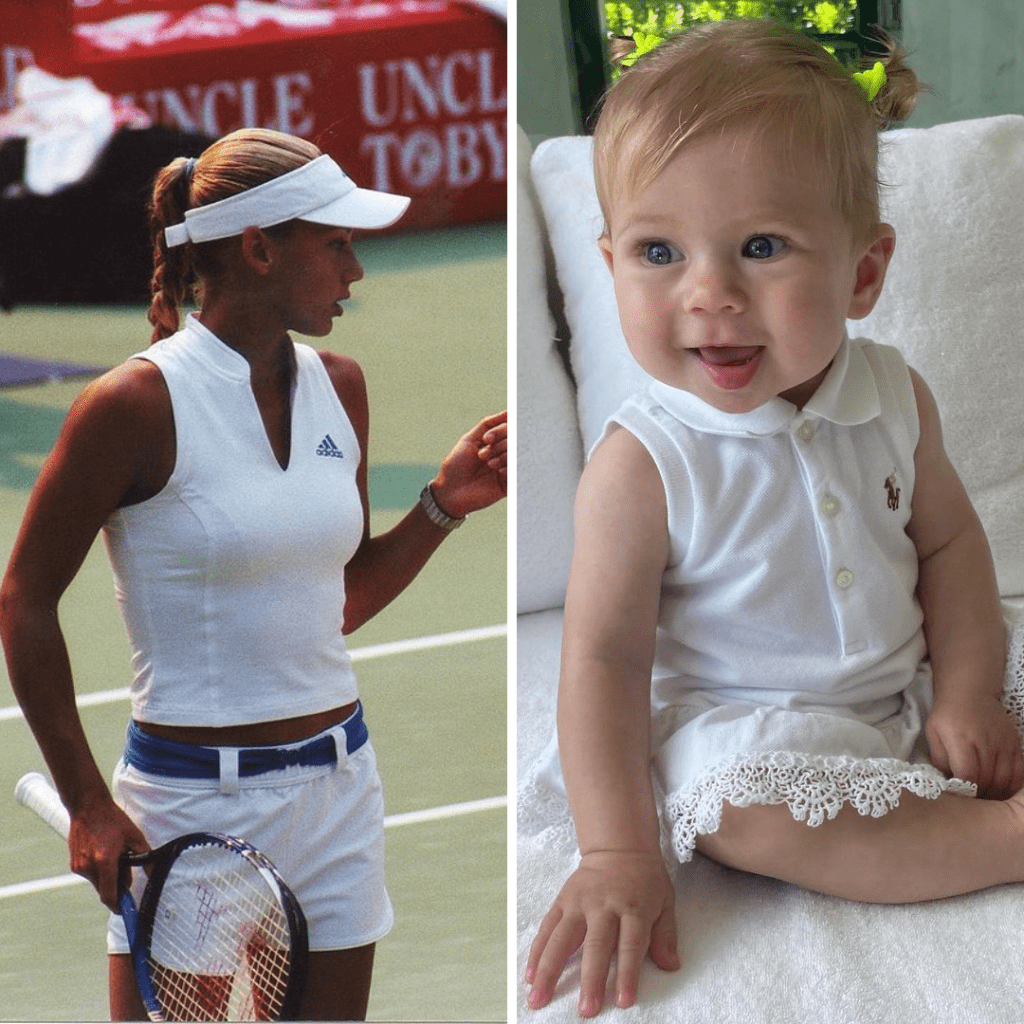 Anna made her grand slam debut at 15, and at some point, she was the youngest winner in a division of a youth tennis tournament. She has three children with the singer Enrique Iglesias, the youngest of whom is Mary Iglesias, a promising future tennis star.