Preschool Prodigies: 20+ AI-Generated Babies Nailing Adulthood
By Stuart W August 3, 2023
---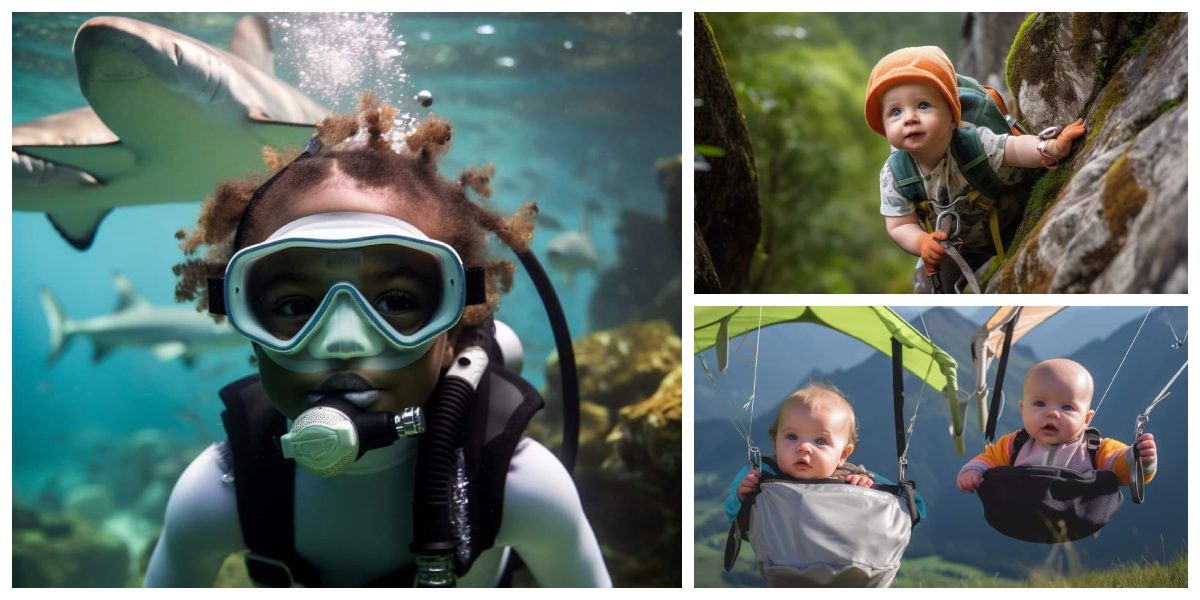 Meet Timothy J. Nemeth, the digital wizard, and artist extraordinaire, who has stolen hearts with his series of AI-generated babies embarking on wild and whimsical adventures. It all started with his skydiving babies, but now, his imaginative artworks showcase these crazy kids venturing into lots of adrenaline-pumping escapades!
Brace yourself for laughter and plenty of 'awwws' as we delve into a list of bonkers activities that would be terrifying in real life, but in the hands of Timothy, they're uproariously funny and incredibly cute. Prepare to be delighted and tickled as we explore the joy and exhilaration captured in these humorous AI-generated images by the talented Timothy J. Nemeth. Rest assured, no babies were harmed—each picture is a product of AI magic, bringing smiles and amusement to all!
Rock n Roll Baby!
Oh, you've got to see this little dude—pure rockstar material! With the hair, the stance, and the microphone in hand, he's a pint-sized rock sensation in the making! We're convinced he's destined to become the global icon of baby rock. Absolute cuteness overload!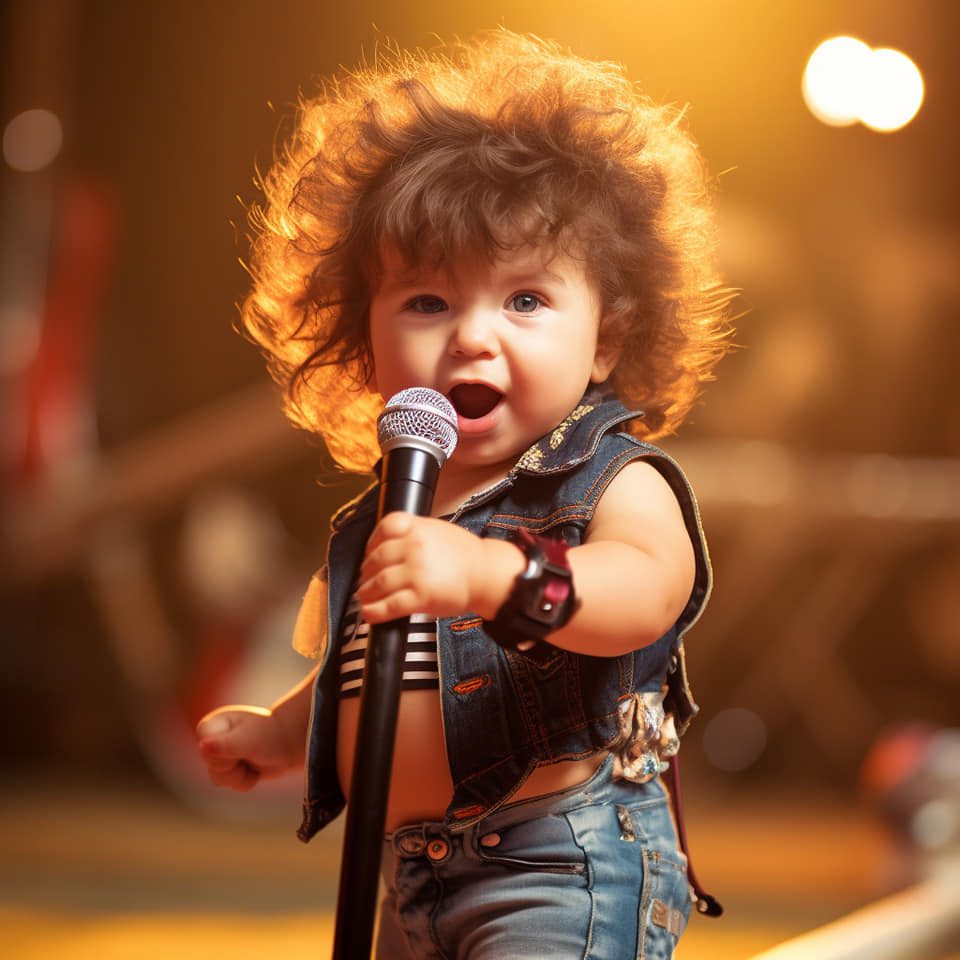 The artist nailed it with the sleeveless denim vest jacket, and those little details like the wristband are spot-on, adding to the overall authenticity of the piece. Rock on, little dude! He's got the style and attitude of a true rockstar!
Drummer!
A baby is a very noisy creature by nature, but just imagine one sitting behind a drum kit! This small dude looks like he's having a blast bashing those drums. It is always funny to see babies doing grown-up stuff.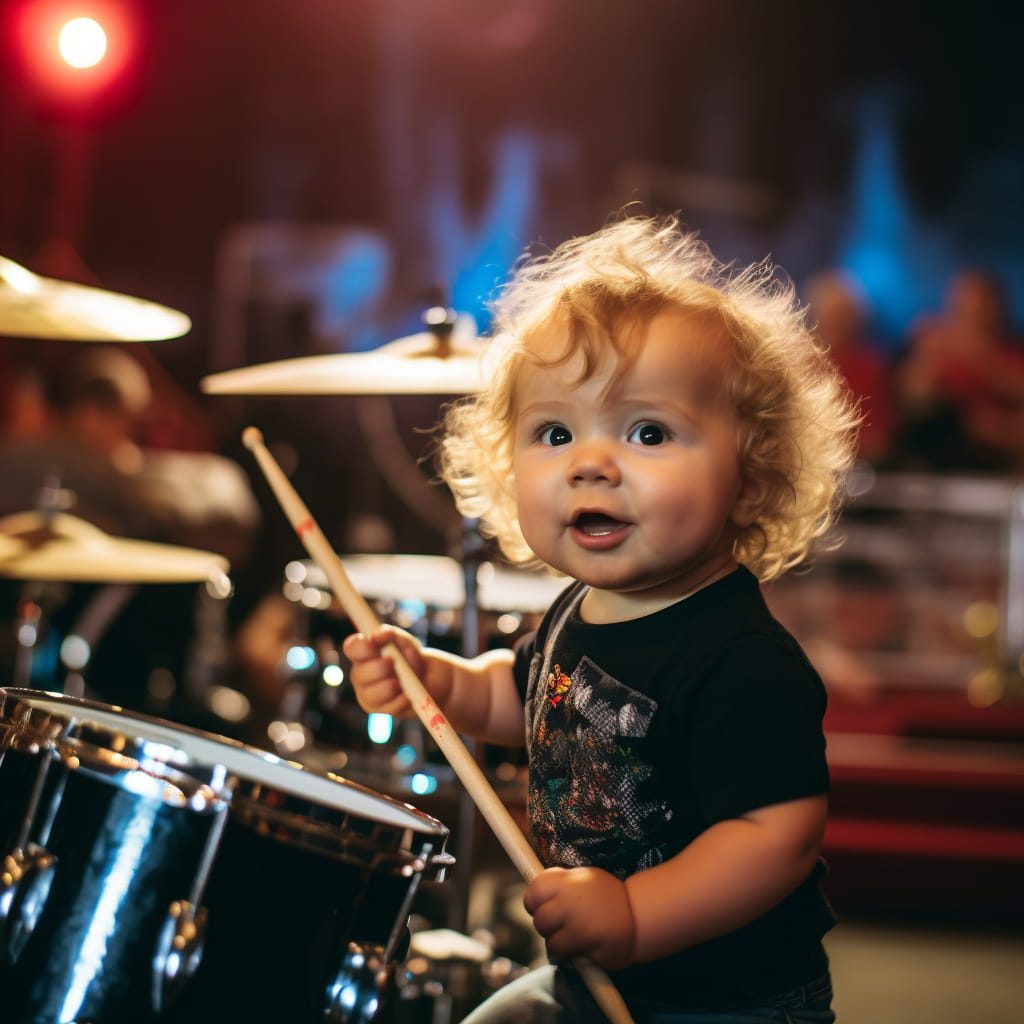 Drums are undeniably one of the most fun instruments to play, and this image perfectly captures that sentiment. The joy on the kids' faces is simply priceless and adds to the delightful charm of these pictures. It's clear that they're having an absolute blast!
Guitar hero
This little baby is strumming the guitar like a true rockstar! Just look at the intense concentration on his face—it's adorable! We're absolutely smitten with the quality of these images. They resemble real photographs and are impressively crafted with skill and artistry.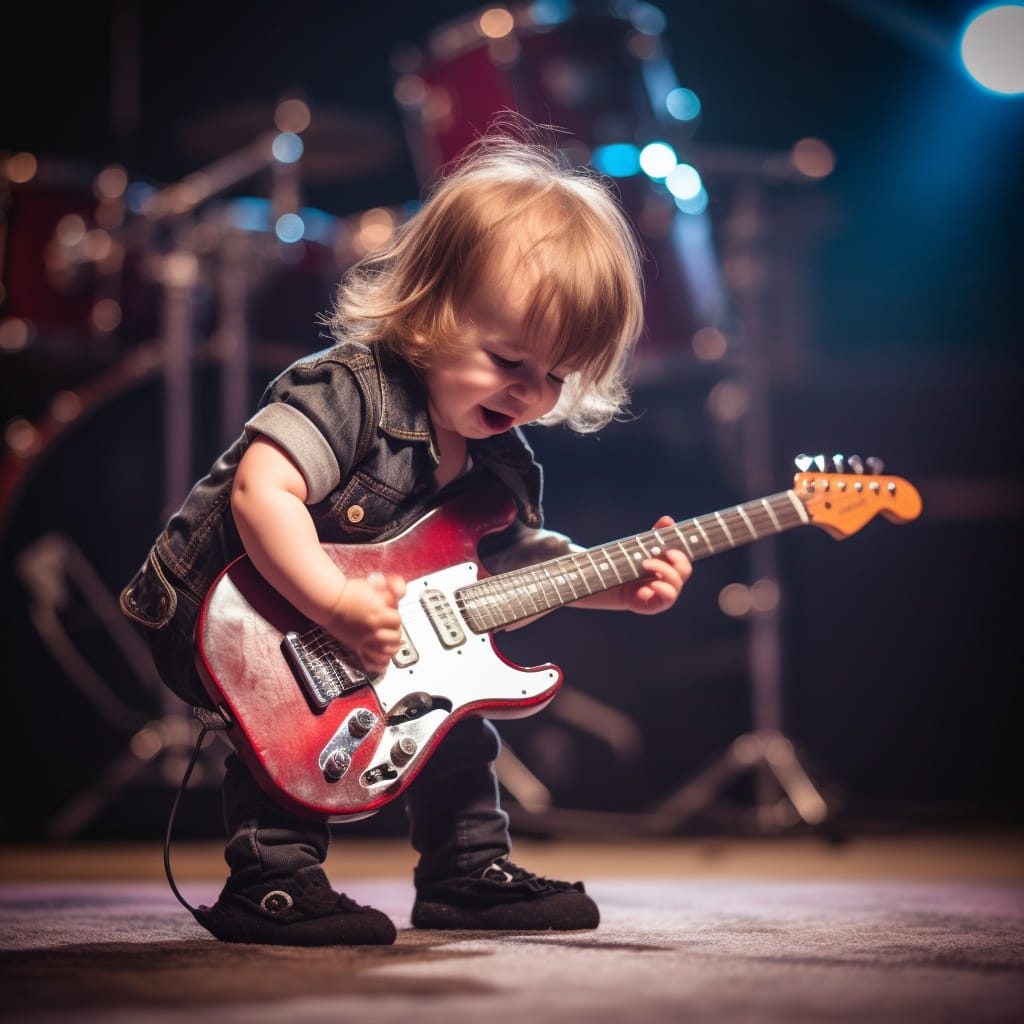 Babies have a natural talent for making us smile, and when you see them in these amusing situations, it's guaranteed to brighten your day! The artist's imagination knows no bounds in crafting these delightful works. It's truly amazing to witness the joy and laughter they bring.
Get to the chopper!
This little baby seems to be the star of his own action-packed movie! We just hope he has a license for all those adventurous activities. From rocking out in a band to piloting a massive helicopter, this baby sure knows how to seize the moment and have a blast!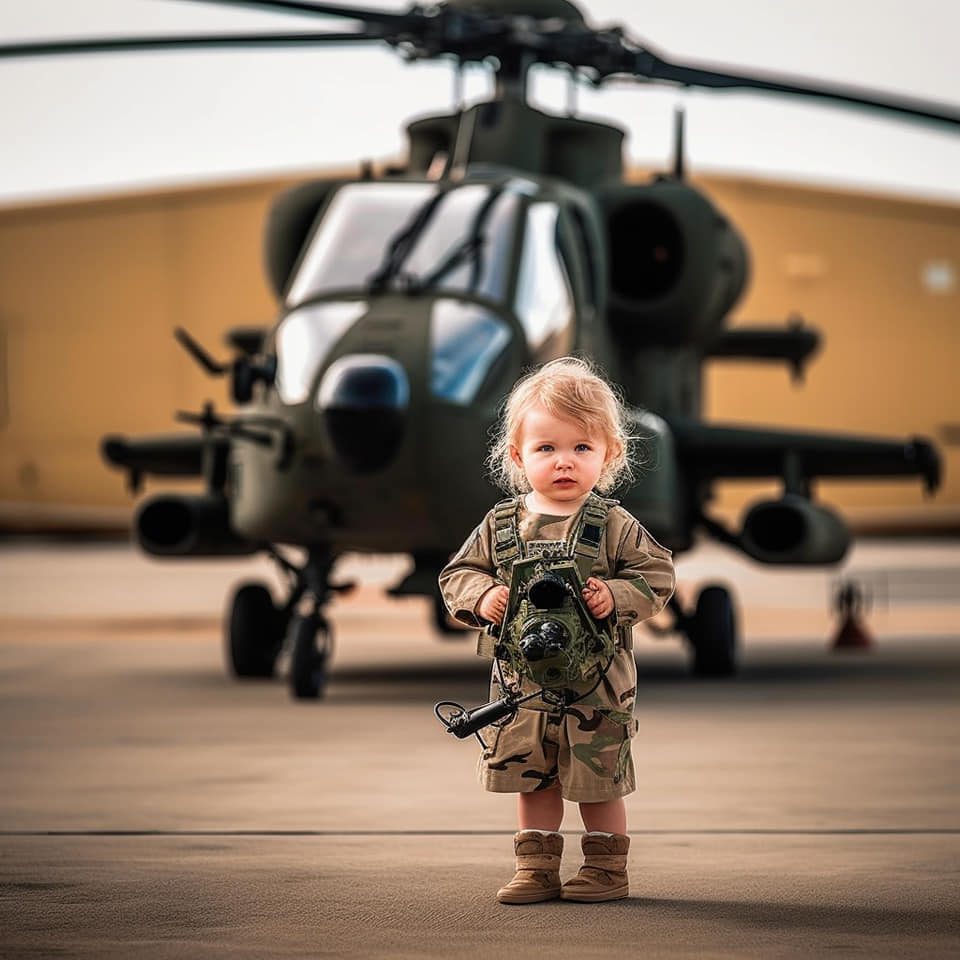 We absolutely adore how adorable this baby looks in his outfit, holding his helmet under his arm—amusing! The best part about all these images is their remarkable realism; they genuinely appear like plausible photographs. The attention to detail in this AI image is simply fantastic!
Baseball baby
Baseball, being one of the most popular pastimes worldwide, naturally features this sporty baby on our list. He's all geared up and looks like he's about to deliver a pitch—though we don't expect him to be too speedy! Nevertheless, his enthusiasm and cuteness are in a league of their own!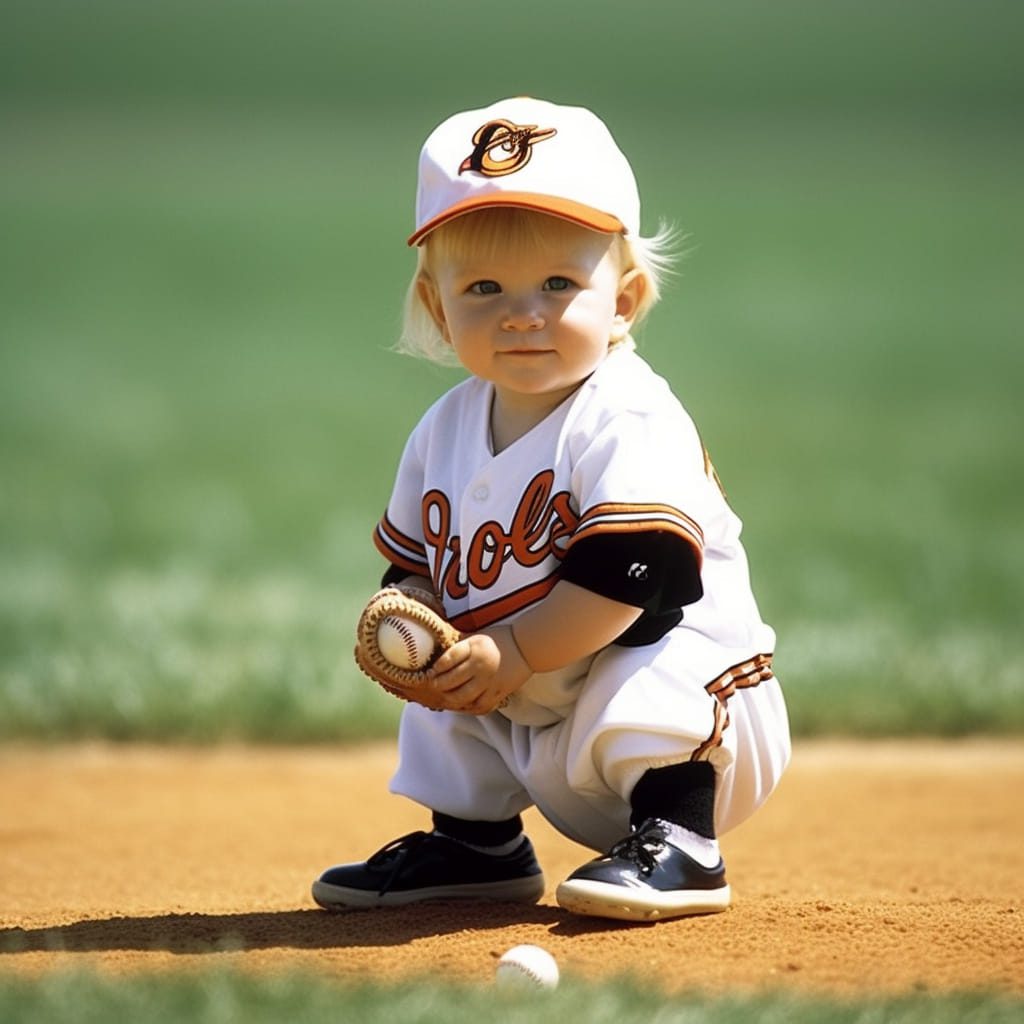 He is rocking that uniform like a pro, and the pictures are simply adorable! The look of intense concentration on his face is priceless. It's yet another top-notch piece of work by this incredibly talented artist. We absolutely love it!
Three airlifted babies
Judging by these three babies' expressions, we have a hunch they might not be entirely thrilled with their current situation. We can't quite figure out where they're headed, but it sure looks like one wild ride they've got themselves into!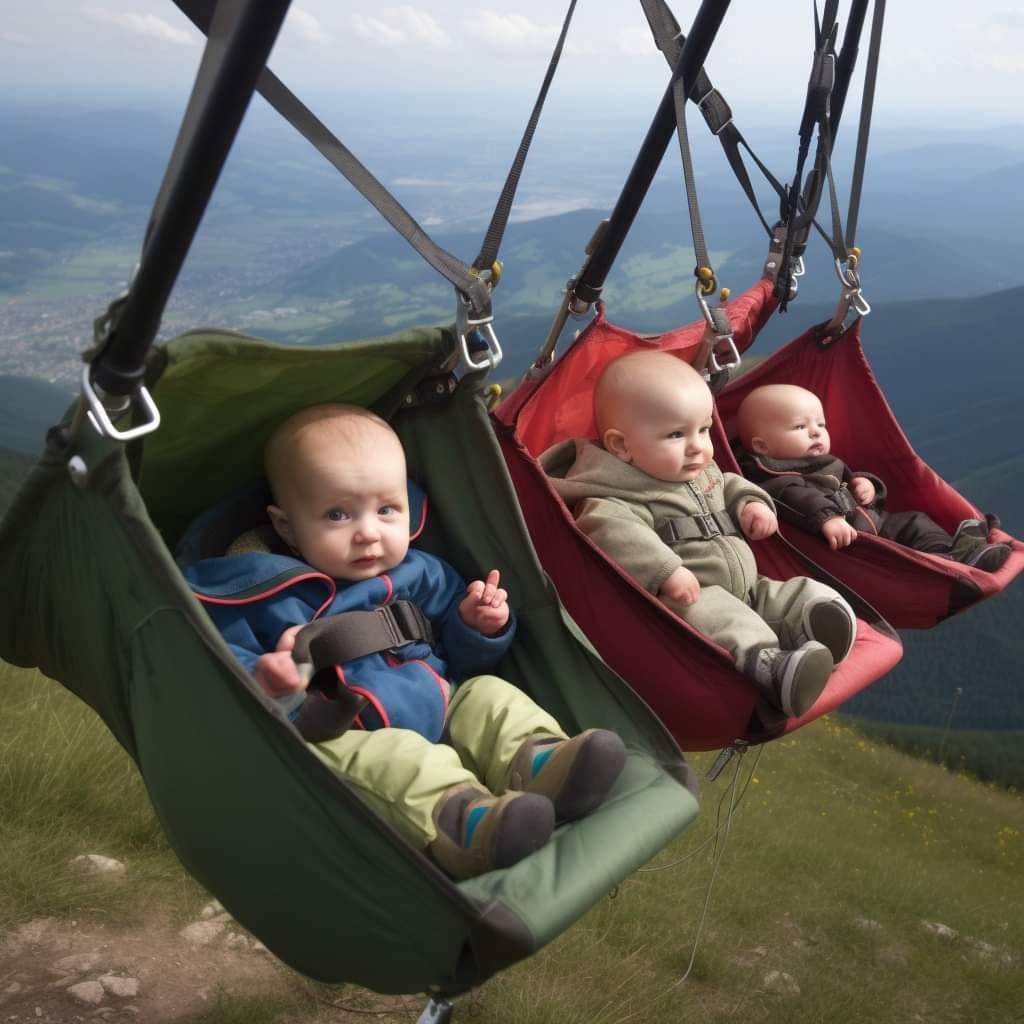 This thrilling action shot perfectly captures the adrenaline rush of being up at such great heights. However, these adorable babies seem to be yearning for nap time instead! It's another fantastic piece of work that brilliantly juxtaposes excitement and cuteness.
Scuba babe #1
Check out this little adventurer living every small kid's wildest dream—exploring the enchanting and breathtaking under-the-sea world! It's a fantastical journey that most of us can only dream of, but this little guy is making it a reality with pure excitement and wonder.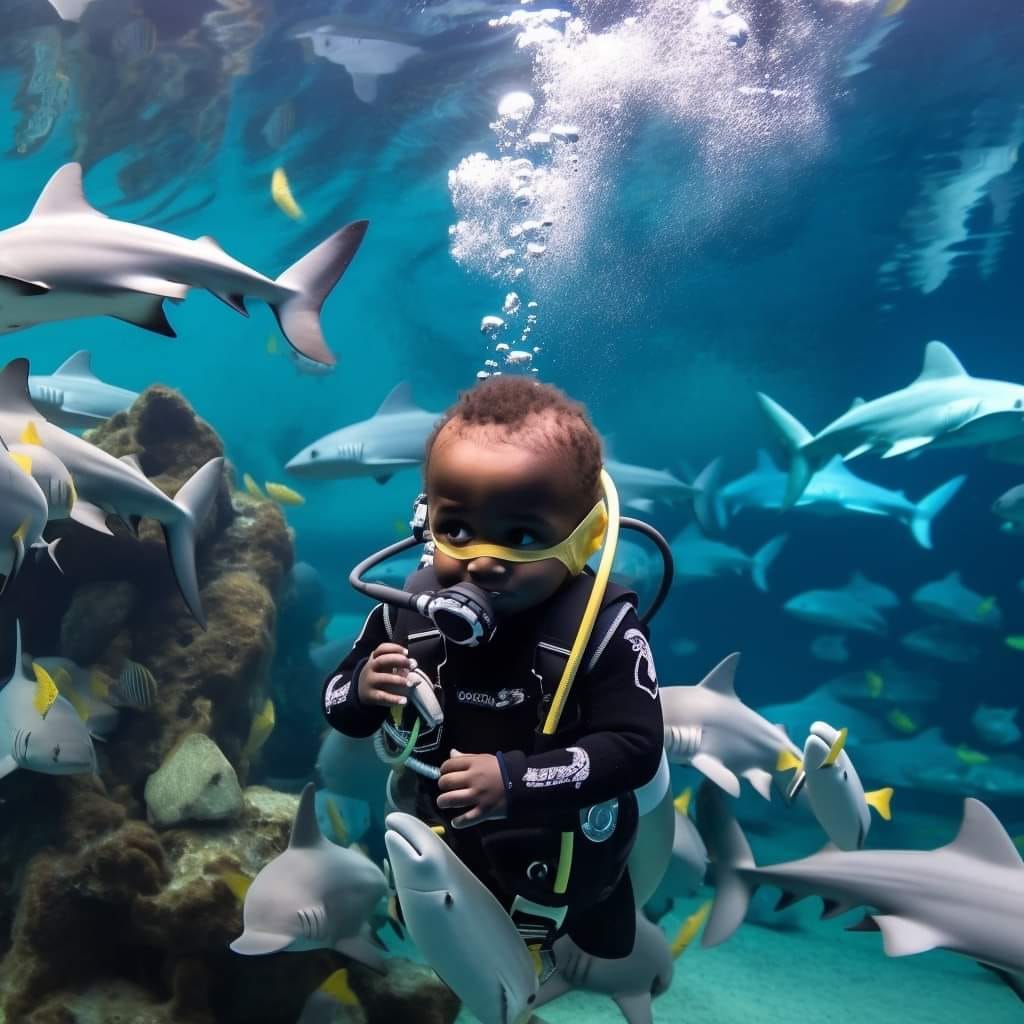 The look on his face says it all—he's truly having the time of his little life! Those wide-open eyes are filled with wonder and amazement. While we know that in real life, such adventures wouldn't be safe for a child, in these AI images, they're absolutely fantastic and bring joy to our hearts!
Flying baby
This baby is having an absolute blast, soaring high up in the sky with a big, beautiful grin on his face! Fear is nowhere to be found—just pure, unbridled joy. Babies have such an innocence about their expressions; it's great to see.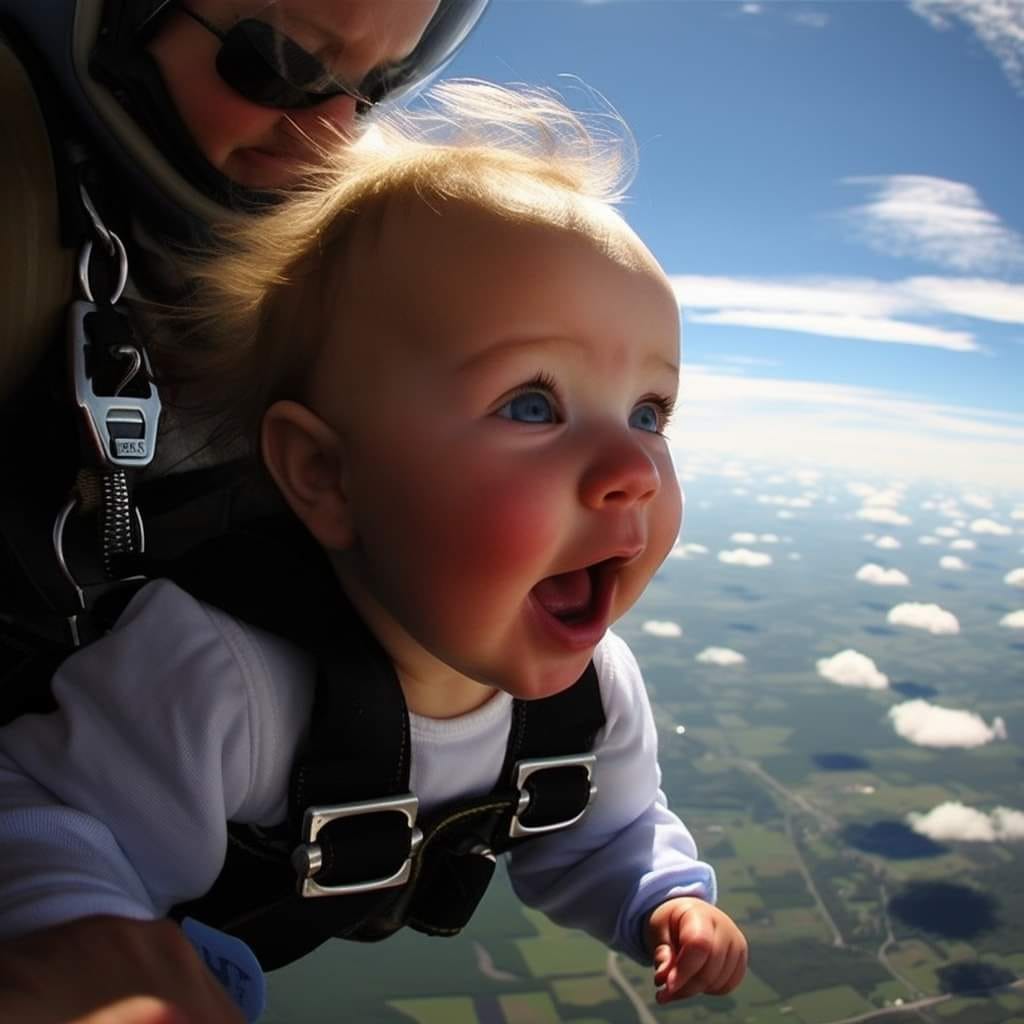 Oh, check out that cloud formation in the background—it's like the cherry on top, adding depth and making the picture feel totally real! The artist's talent shines through, giving us a clear sense of perspective and making it all come to life. Bravo!
Rock climbing baby
This little guy seems to have it all figured out! Just check out the intense concentration on his face as he fearlessly navigates the treacherous terrain of the mountainside. These action shots are a total hit—we love the AI's creativity in capturing the excitement and bravery.
The skill and imagination poured into crafting these fun and exhilarating images is absolutely fantastic! They never fail to bring a smile to our faces—how about you? It's yet another example of an adventure baby conquering their goals with gusto. We're loving it!
Space baby
This little kid seems slightly overwhelmed by the multitude of dials and buttons on the display in front of him. We can't help but wonder how much training he's had to get into this position. It's safe to say, probably not enough!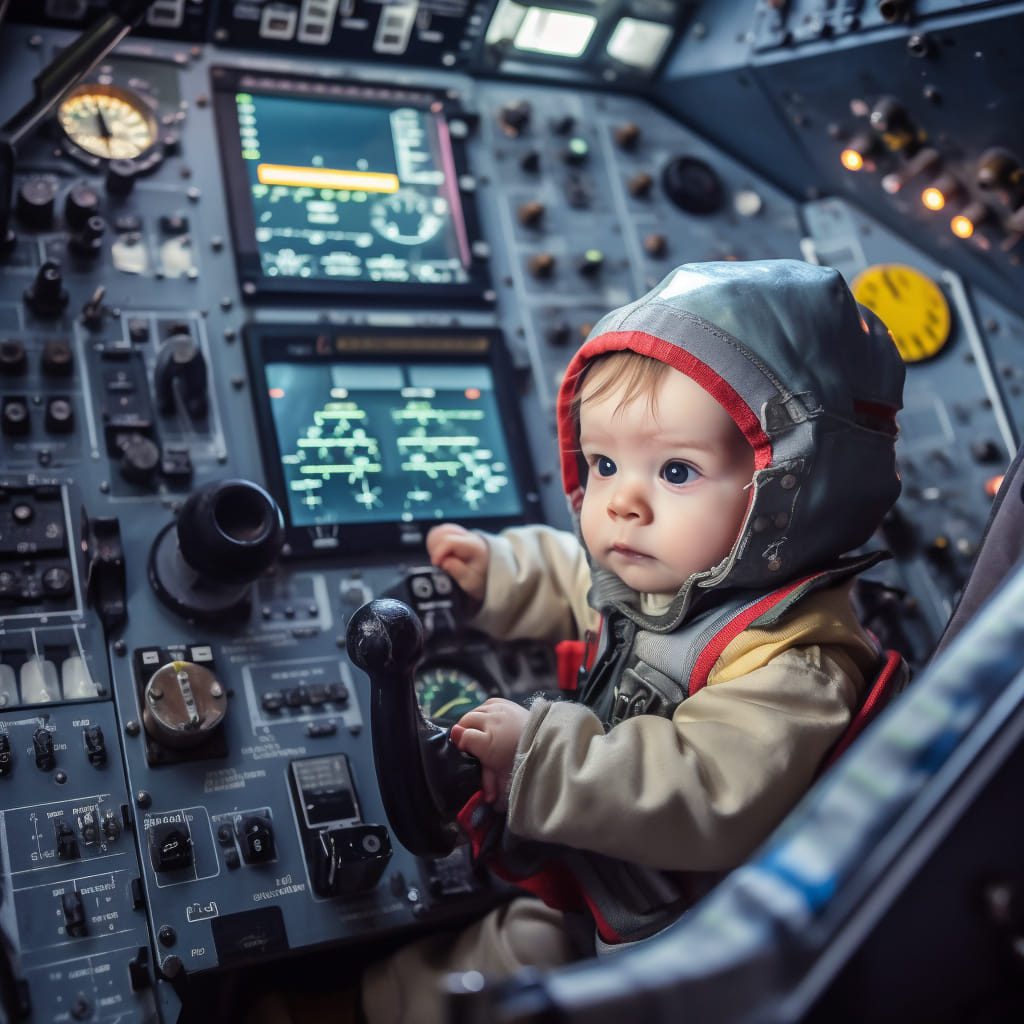 But this little guy is giving it his all, even in what seems to be some highly challenging circumstances. The artist's boundless imagination in creating these images is awe-inspiring, and this is a fantastic showcase of their talent.
Rock climbing baby #3
As he tackles the steep section of his climb, this rock-climbing baby faces the challenge head-on, showing no signs of slowing down. We're absolutely smitten by the determination of this little adventurer and the way his tiny arms and legs work tirelessly.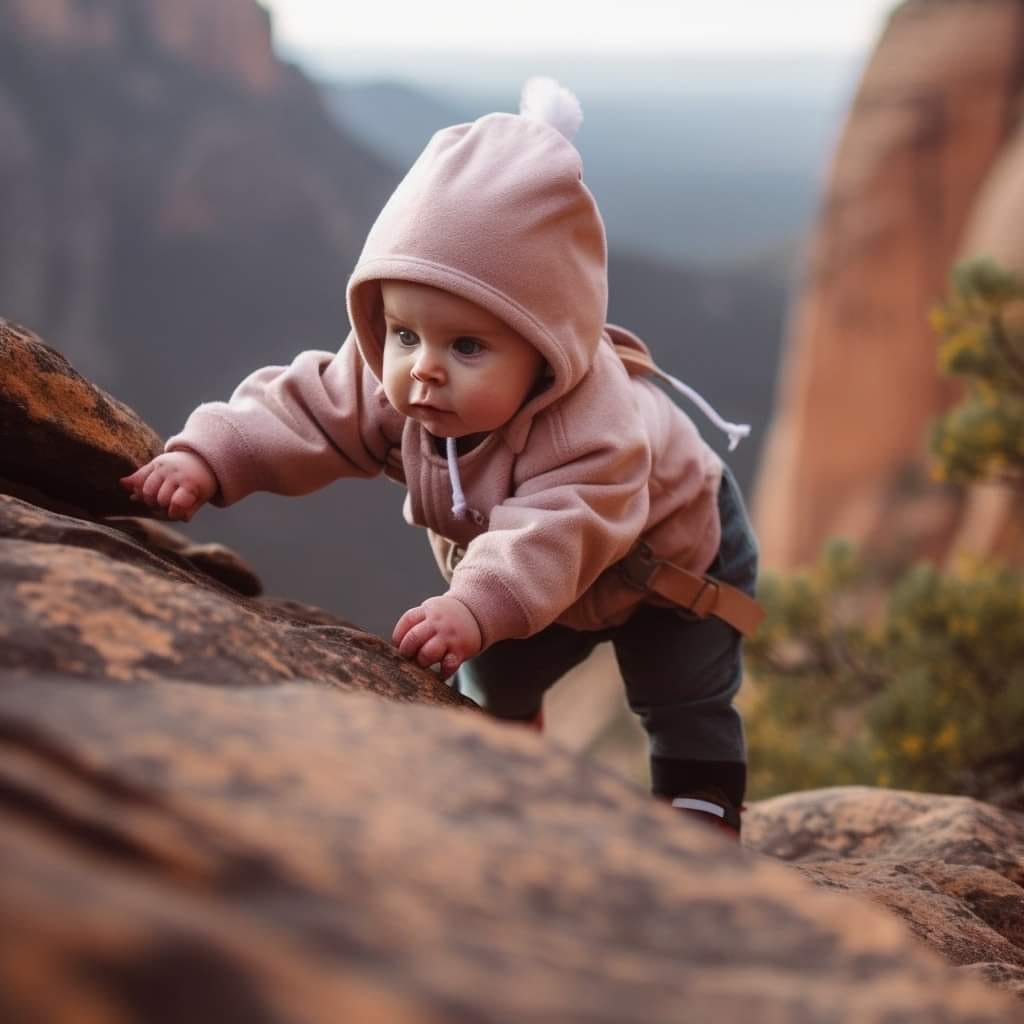 This artist's work is a delightful blend of humor and slight concern for the baby's welfare, creating a unique mix of funny and worry. It's thought-provoking and incredibly hilarious at the same time. These images really tug at our heartstrings while making us burst into laughter.
Scuba babe #2
Ahoy, there's another water baby in the frame! This time, he's boldly facing us, though his adorable face is mostly hidden behind his trusty scuba mask. But hold your breath, because there's more to this captivating scene!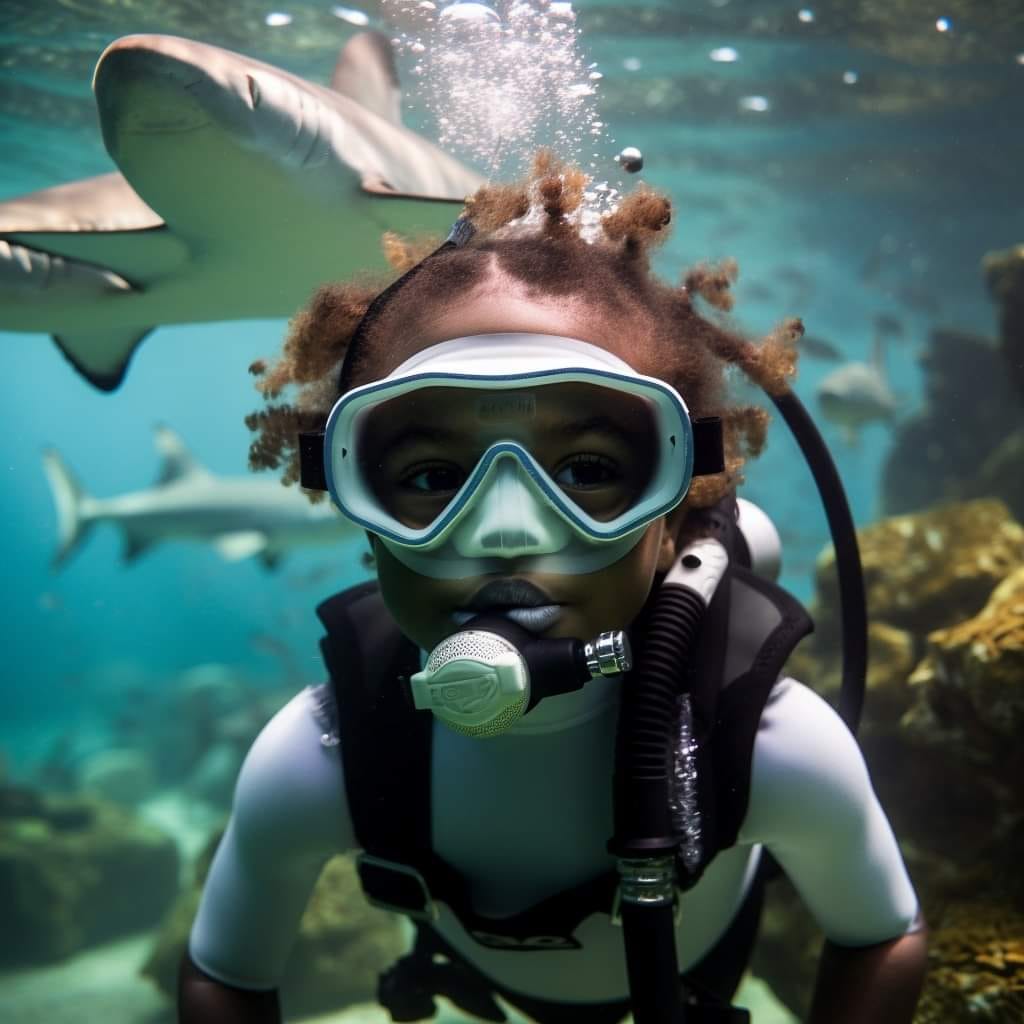 Oh, the hint of danger adds an exciting twist to this image! But don't worry, it's all in good fun, and we're not really fearing for the baby's safety—instead, we're curious about what's in store for the shark! This little adventurer looks remarkably capable and ready for any underwater challenge that comes his way.
Baseball baby #2
This baseball-themed image is just as fantastic as the last one. We can't help but admire this kid's stance for the ball game—it's like he's one hundred percent ready to play and give it his all! And that cap adds the perfect finishing touch to his sporty look.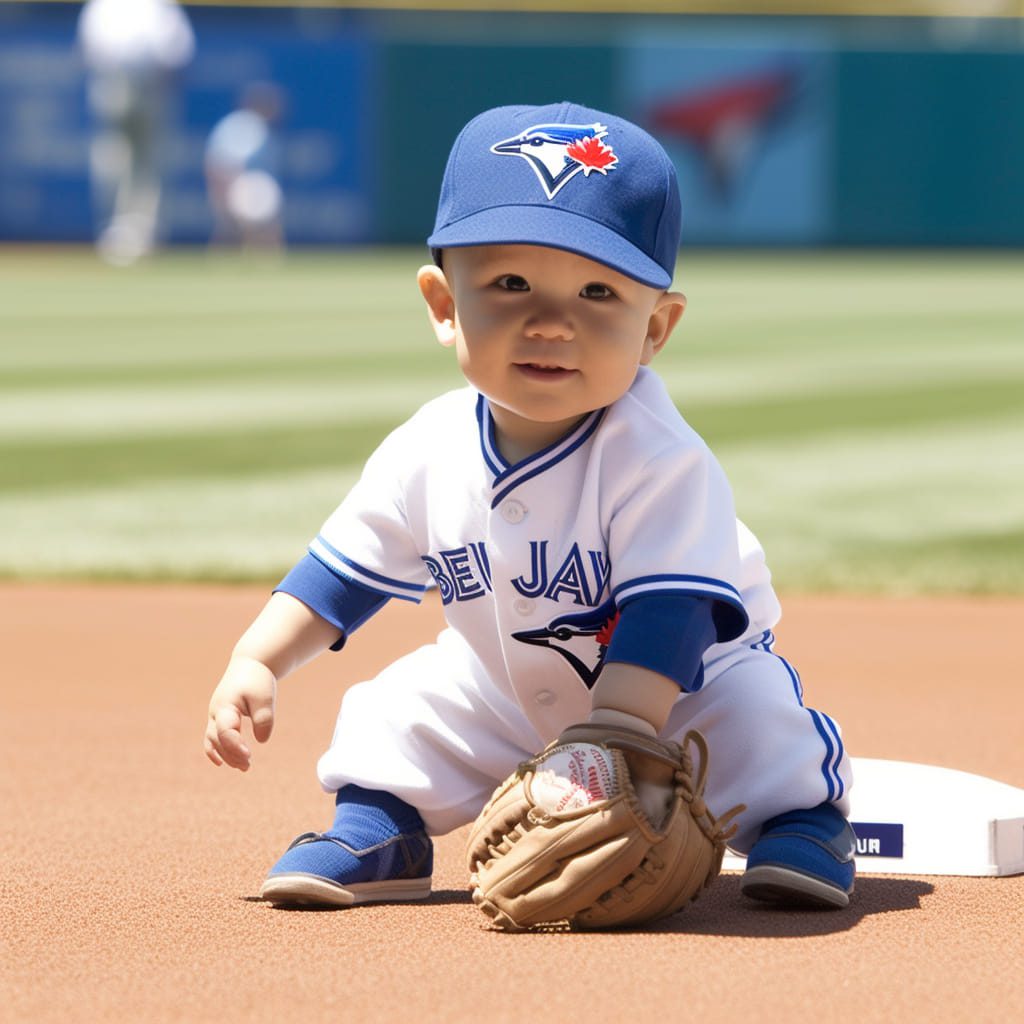 The slightly squinting eyes in this illustration give the baby an air of professional-level concentration, and it's impressive! This artist certainly has a talent for placing these babies in hilarious and unexpected situations. It's a delightful combination of skill and humor that keeps us coming back for more!
Swimming baby #1
Now, take a look at this swimming AI baby's smile and try to resist saying it's the most adorable thing ever! This little one is clearly having the time of their life, just splashing about and having a blast. It's hard to find anything more heartwarming and delightful than this little water enthusiast!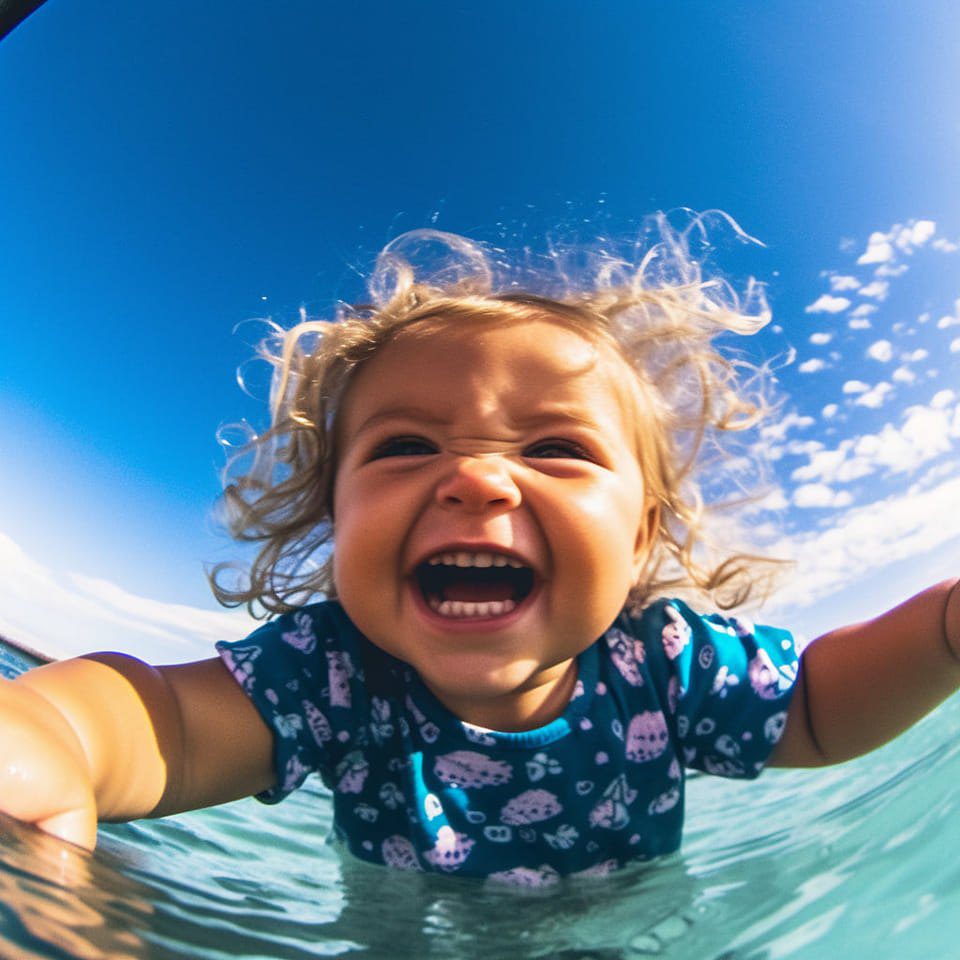 Usually, kids might not feel entirely at ease in an aquatic environment, but in this case, it's safe to say that this little water baby is at home and content. They seem to be in their element, relaxed, and genuinely happy with the situation. Who knows, we might have an Olympic swimmer in the making right here!
Ice hockey baby
Ice hockey is undoubtedly one of the roughest and toughest sports out there, but this little player seems up for the game and ready to take on the opposition fearlessly! Comfortable on the ice and with an impressive stance, he's sure to make a powerful impression. Watch out, world—here comes a little ice hockey superstar!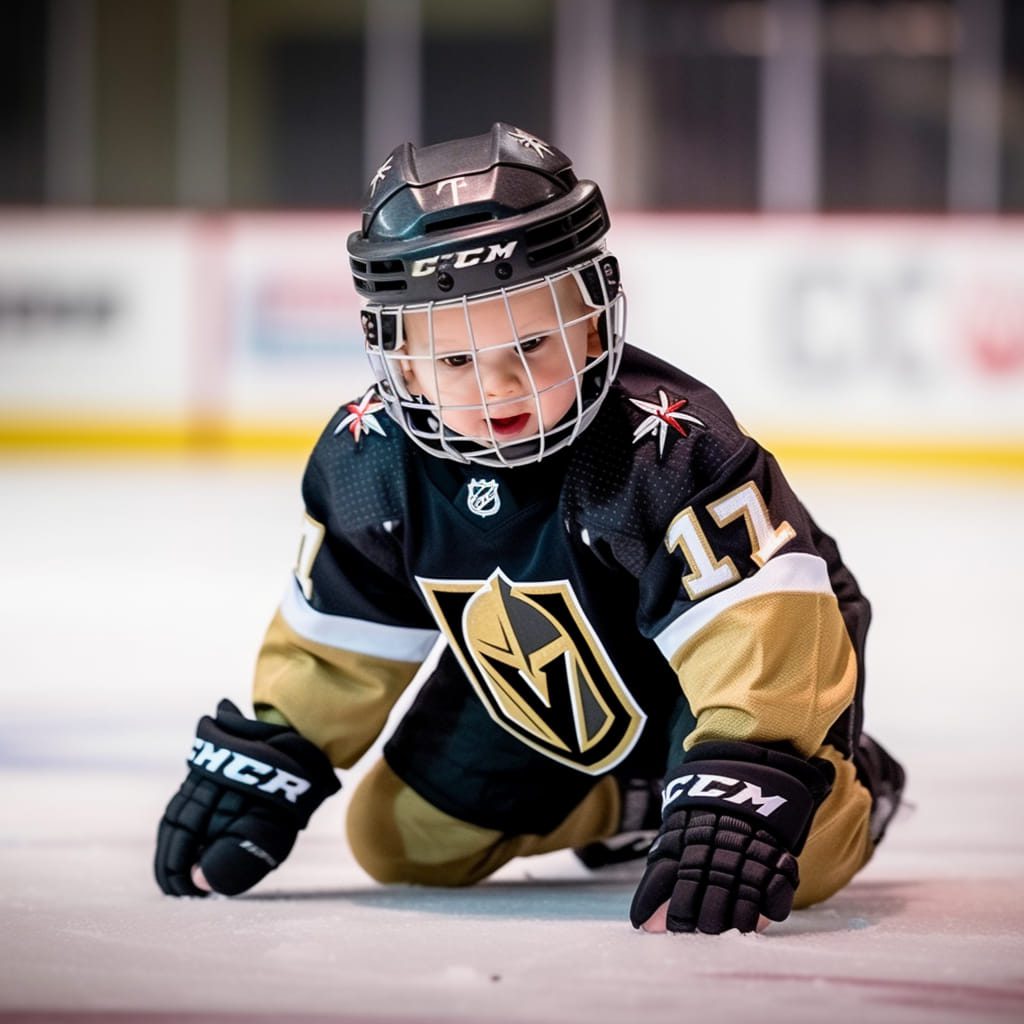 He's definitely the kind of teammate we'd love to have on our side if we were brave enough to join the game! That adorable little uniform brings an extra dose of joy to the scene—it's just too cute! AI outdid itself with this one.
Swimming babies
Check out the whole gang! This trio of water babies is simply adorable. They seem all set to dive in and embark on an exciting adventure together. The group dynamics in this picture are heartwarming. It's a perfect depiction of friendship and shared fun!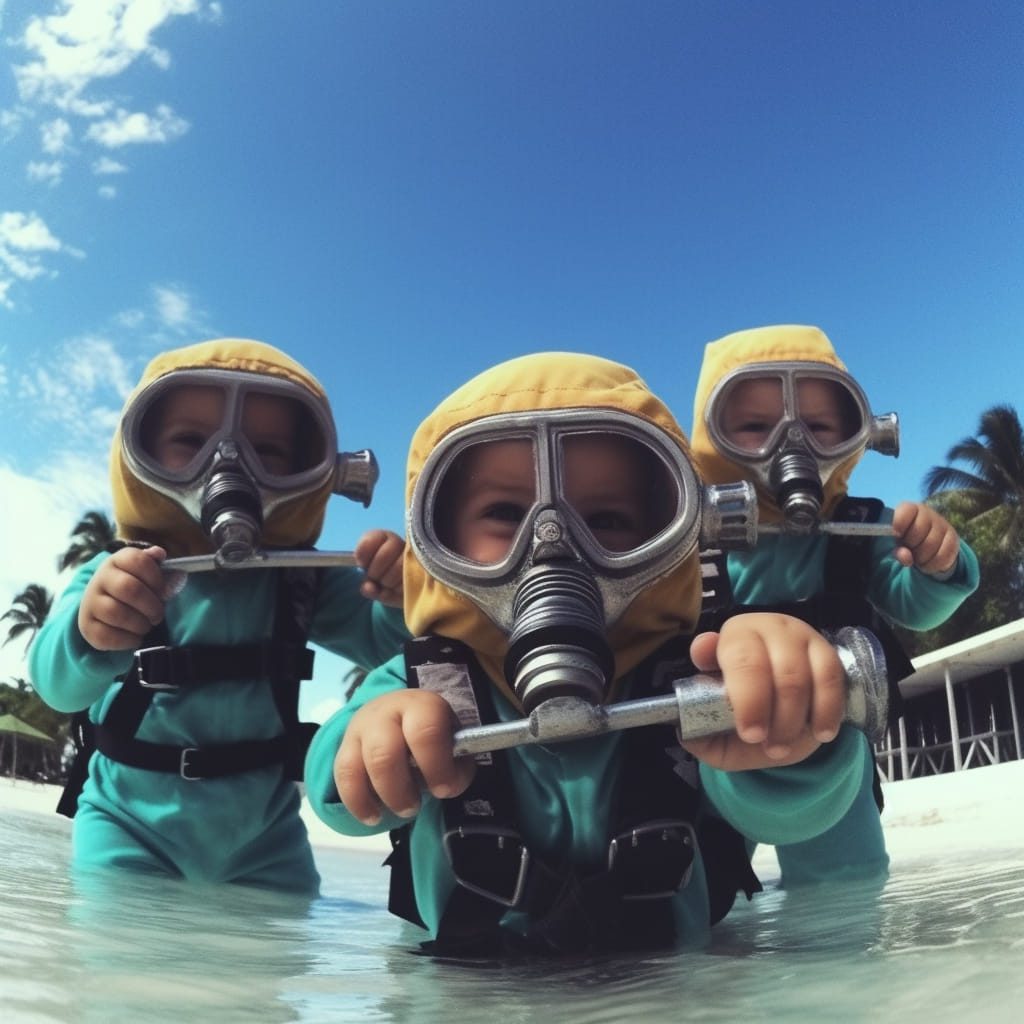 We couldn't agree more—this has to be one of the cutest group selfies we've ever laid eyes on! They're having an absolute blast, bobbing about in the water, splashing around, and having a whale of a time. Keep on swimming, little guys!
Rock climbing baby
Rock climbing is undeniably one of the most thrilling and demanding sports out there—a true adventure in the great outdoors. It's also a pursuit that carries a hint of inherent danger. Not that you would know it from this kid's face.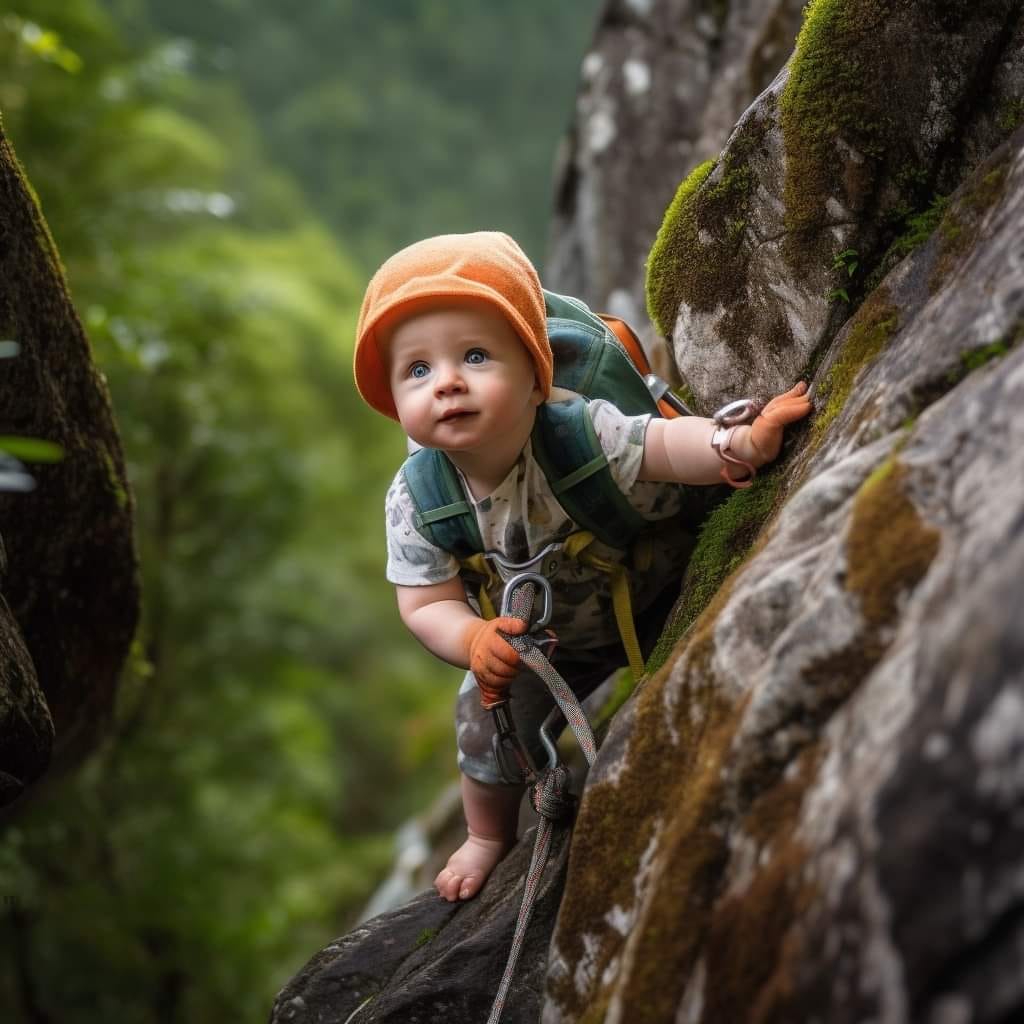 This little baby is on a thrilling adventure, displaying absolute confidence as he scales the rock face. We can't help but admire his fearless spirit! Climbing up the side of a mountain might seem daunting to us, but this little adventurer makes it look like a piece of cake.
Top gun baby
This little man is all about the need for speed! With a Top Gun-inspired image like this, aviation fans will surely be thrilled. He's totally ready for business, striking a pose in front of this imposing-looking aircraft. Watch out because this AI baby pilot means serious business in the skies!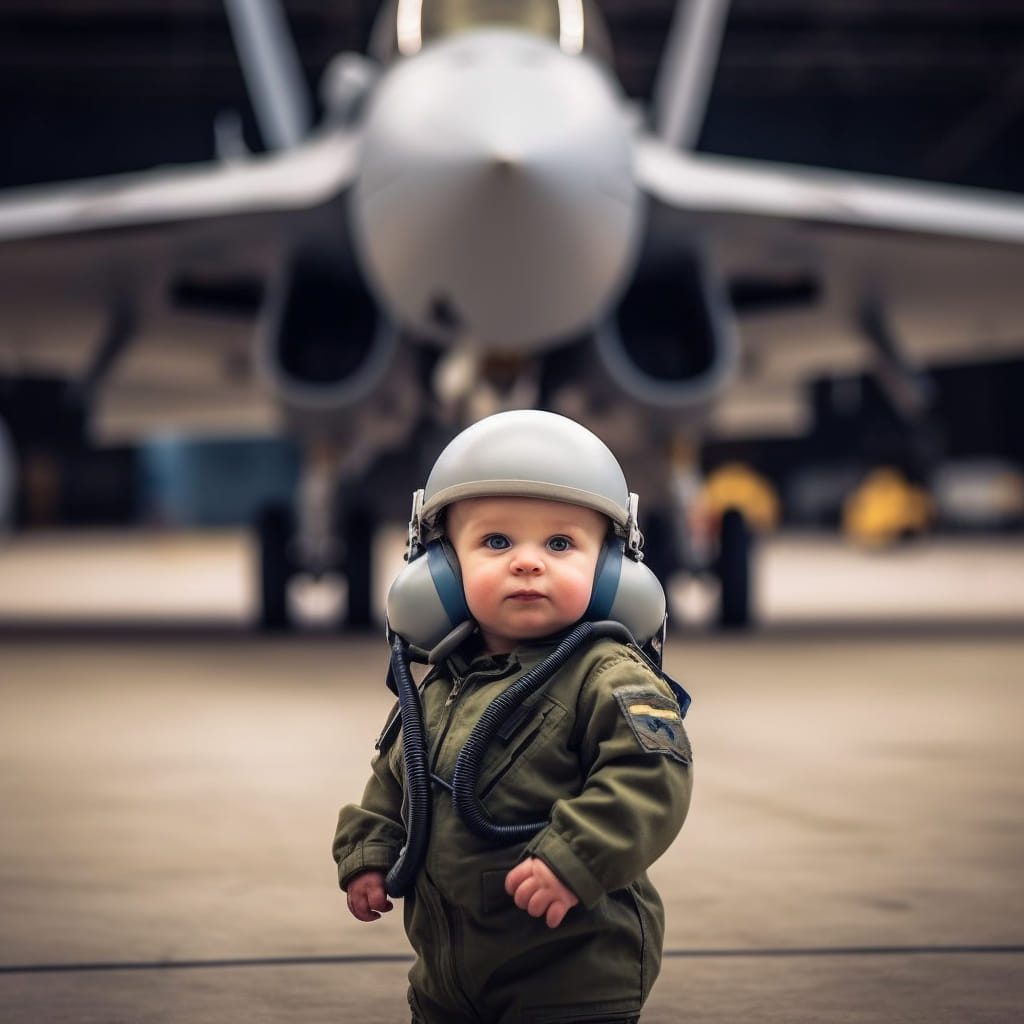 Oh, just imagine the incredible speeds he'll reach once he's strapped inside the cockpit and soaring through the sky! We bet he's got a few tricks up his sleeve too. However, as much as we admire his flying skills, we're more than happy to stay down on the ground as enthusiastic spectators, cheering him on from below!
Two top gun babies
Pilot and co-pilot together, captured in one photo—this dynamic duo is undeniably ready for action! We can just imagine how well they work together as a team, each carrying out their role with the precision of true heroes of the sky.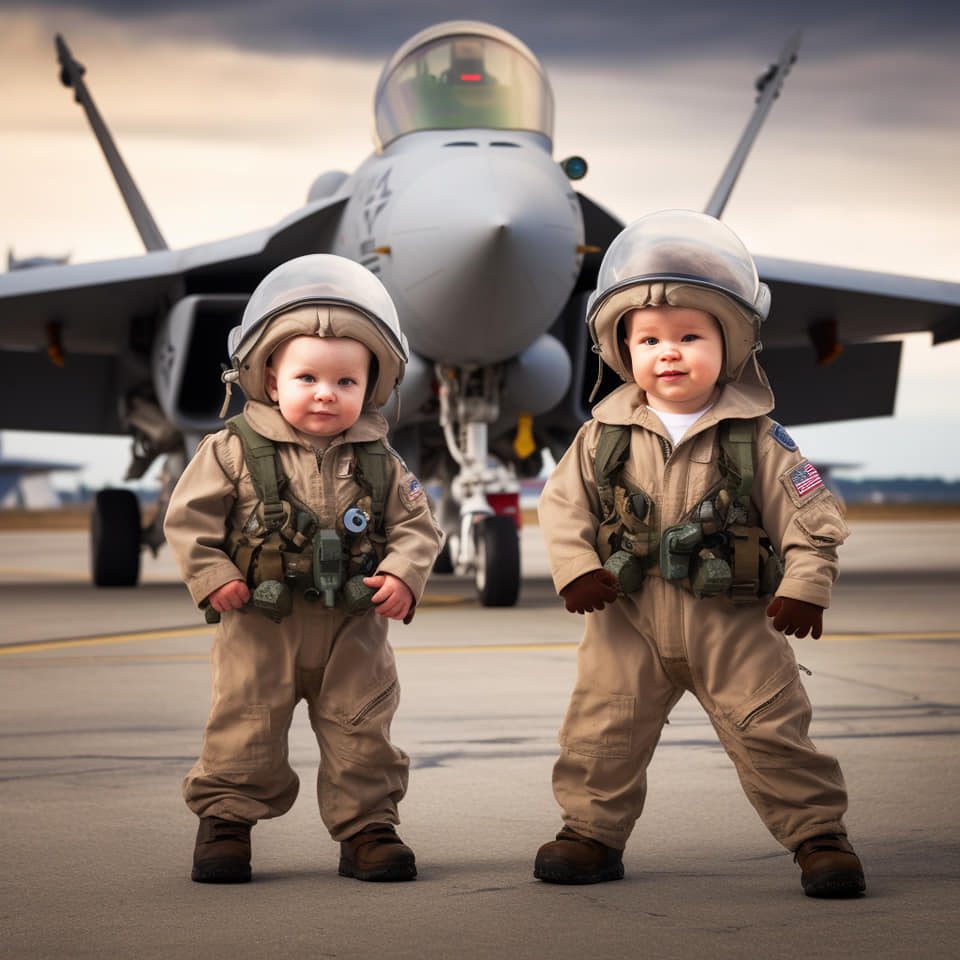 These AI shots of tiny fighter pilots are fantastic! The contrast between the little pilots and the massive fighter plane behind them is downright amusing. We can't help but hope they stay safe up there as they embark on their very own "highway to the danger zone."
Swimming baby #2
Swimming underwater is one of nature's most serene and enchanting experiences, especially when such a captivating environment surrounds you. It's no wonder he's beaming with happiness—he's having an absolute blast down there! It sure looks like a magical underwater paradise we'd all love to explore!
This adorable AI-generated baby has certainly chosen the perfect spot for some free diving fun! The underwater setting looks incredibly serene and pleasant. These computer-generated images have no bounds to their creativity and imagination. The results really are quite superb.
Strapped in and ready to fly
This little guy appears to be all set for takeoff, soaring into the vast blue sky above. With a very serious expression on his little face, it's evident that flying business demands a lot of concentration. But we do not doubt that he's more than up to the challenge!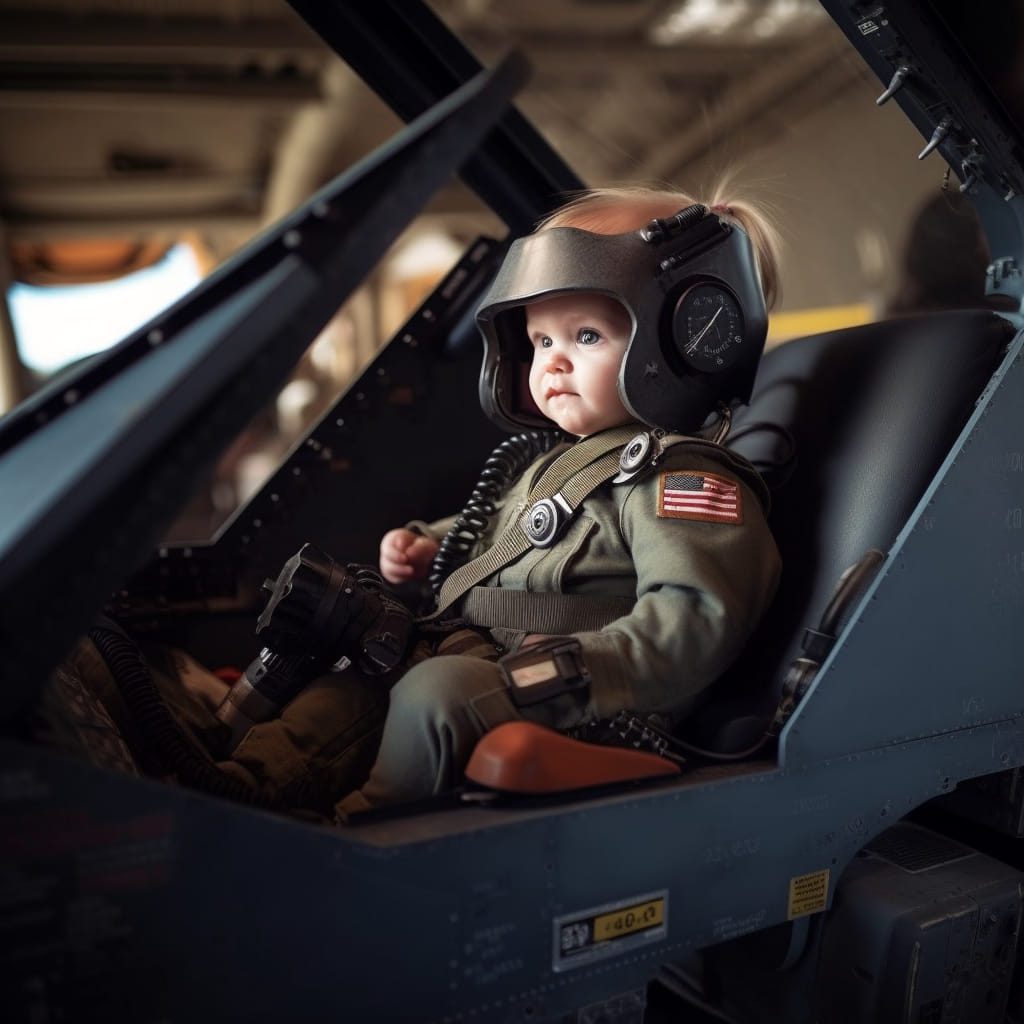 We might not be confident enough to handle such a complicated machine, but this fighter pilot baby exudes all the qualities of a capable aviator. Skillful, brave, and undeniably cute! Watch out, world—here comes a determined aviator in the making!
Helicopter baby
"Get to ze chopper!" as they say! If anything, this aircraft looks even bigger and more imposing than the ones we've seen before. This giant helicopter is a real-life workhorse, transporting people and equipment over vast distances. It's an awe-inspiring machine that commands respect and admiration.
In our imagination, this little ace has loaded his 'copter with all his favorite toys and games, heading to the most epic play date the world has ever witnessed. Good luck to you, little one! Happy flying, and may the adventure be filled with joy and fun beyond imagination!
Helicopter baby #2
This kid is fully geared up and ready to conquer the skies! It's clear that this play date is going to be an exciting and challenging adventure, but we have every confidence that this bambino knows exactly what he's doing. Fearless and determined, he's all set to embark on a daring journey.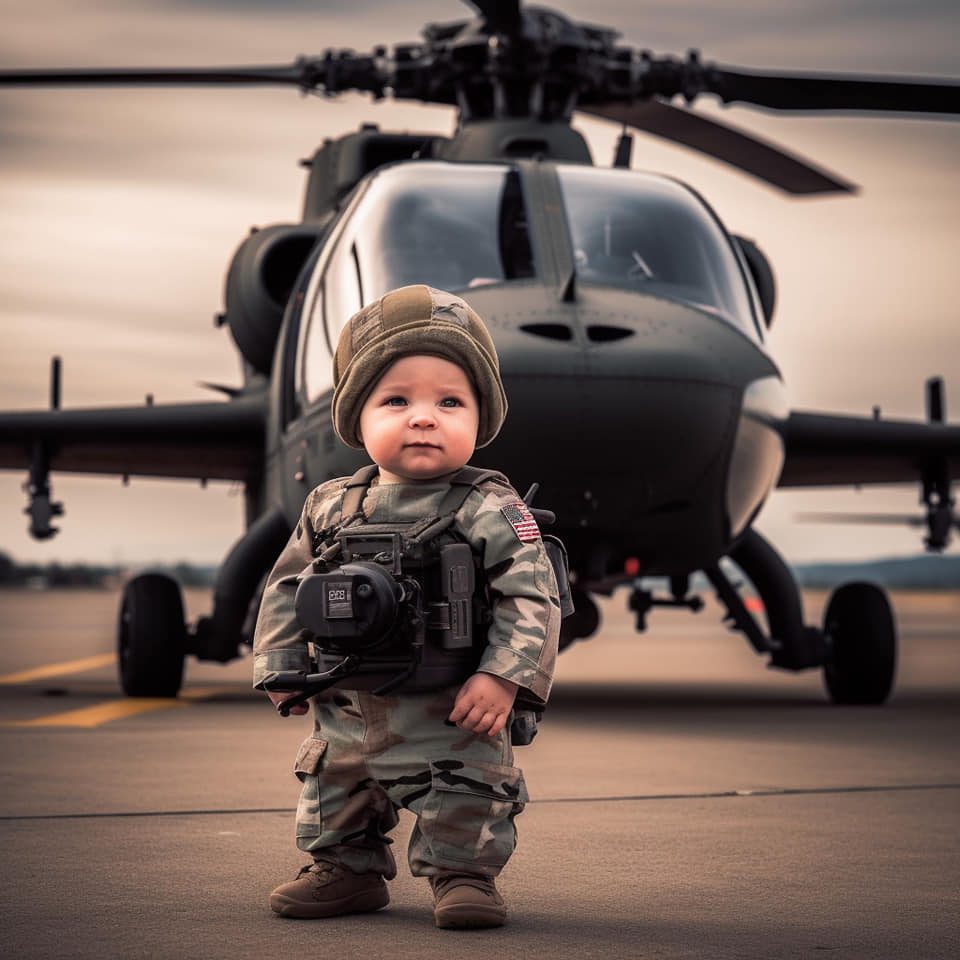 The range and scope of scenarios that these babies find themselves in never fail to make us burst into laughter! It's truly remarkable how the artist can take a baby, who traditionally doesn't do much, and place them in such hilarious and unexpected situations.
Biker baby
This little road hog sure has the attitude of a cool teenager! Rocking his iconic aviator-style sunglasses and sporting that bad-boy look, he's one hip and stylish baby. And that nifty little leather jacket takes his swag to the next level. This baby is the epitome of "too cool for school"!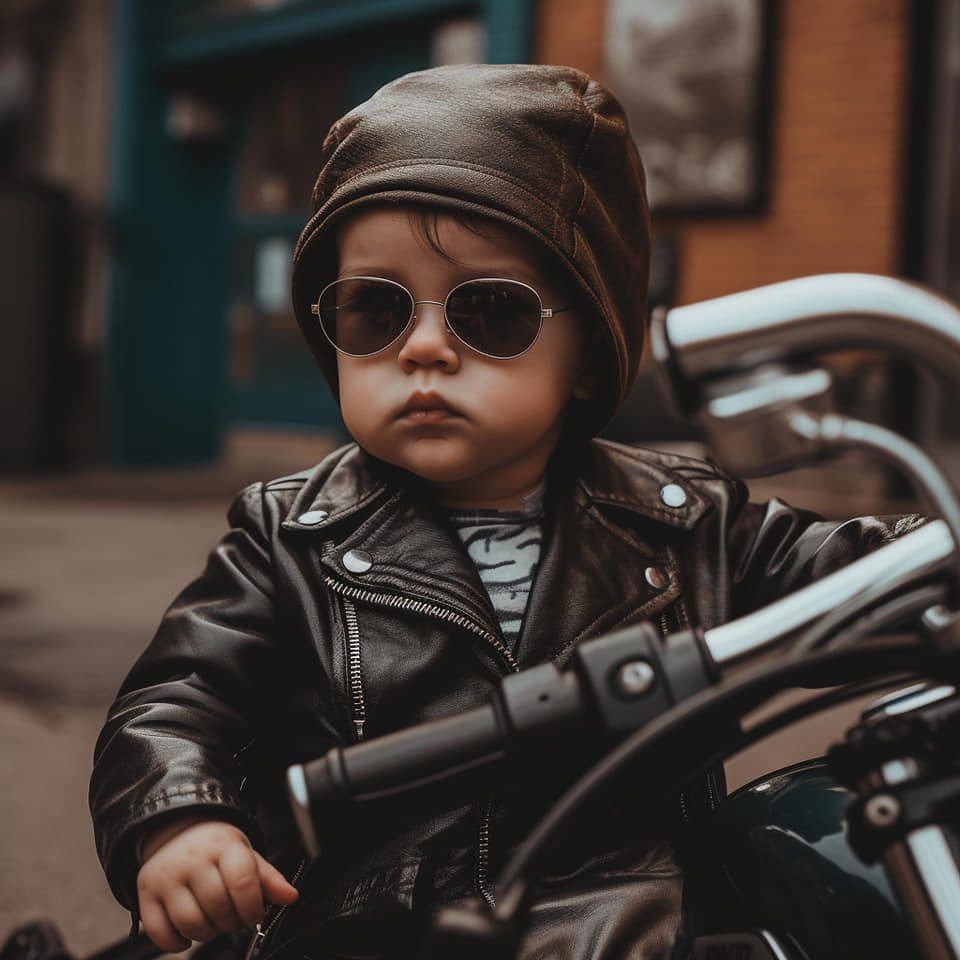 This little one appears to be an infamous baby biker gang member that rides from town to town. We can picture them pulling up at a biker bar, ordering warm milks all round, and leaving a trail of adorable mischief in their wake.
Biker girl
This cool biker chick looks dapper as she poses on her machine. Dressed in the obligatory biker leathers, she's definitely the coolest kid on the block. However, we can't help but wonder if she's got stabilizers on that bike—just to ensure her safety while she cruises with style and sass.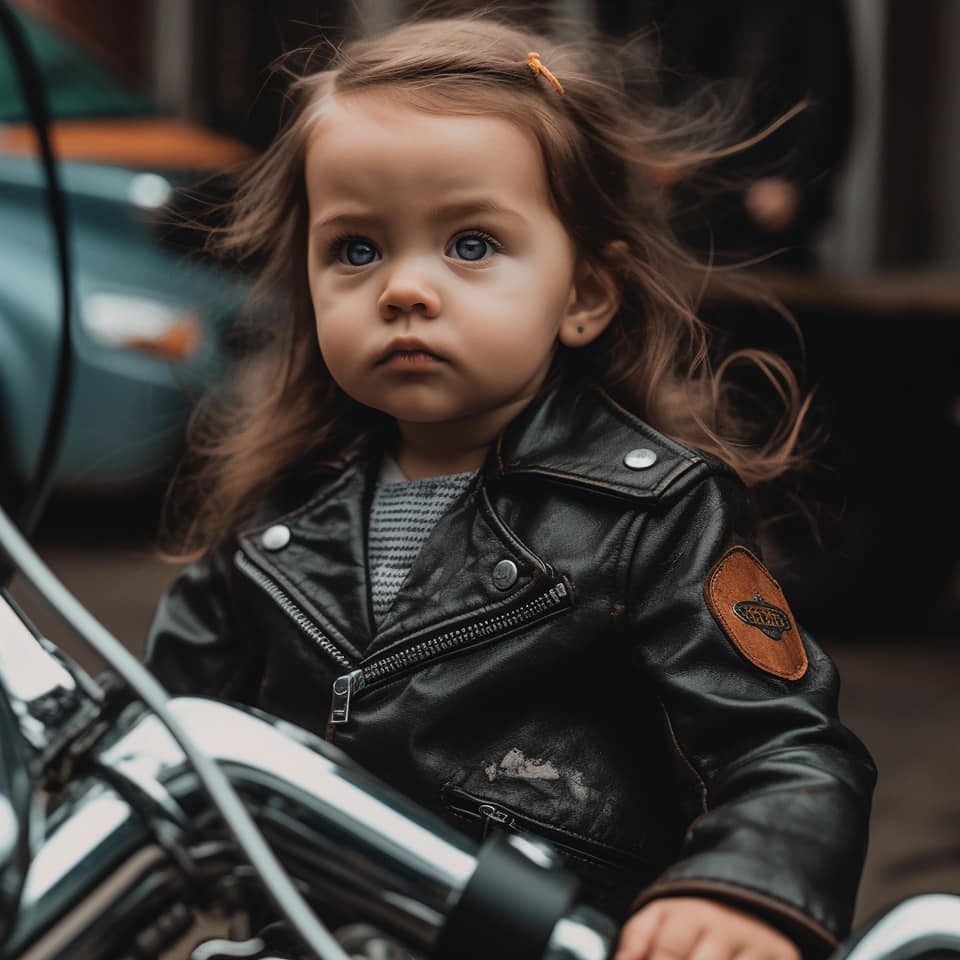 She even has windswept hair that perfectly complements hitting the open road. What an awesome little biker girl she is! The attitude on her face truly tickles our funny bones. There's no doubt about it—this one was definitely born to be wild!
Biker girl #2
With a mean and moody demeanor and fabulous hair, this biker baby is the epitome of coolness. Cruising the mean streets on her motorcycle, she exudes a sense of preparedness and readiness for any adventure that comes her way. She most certainly looks the part of a fearless road warrior!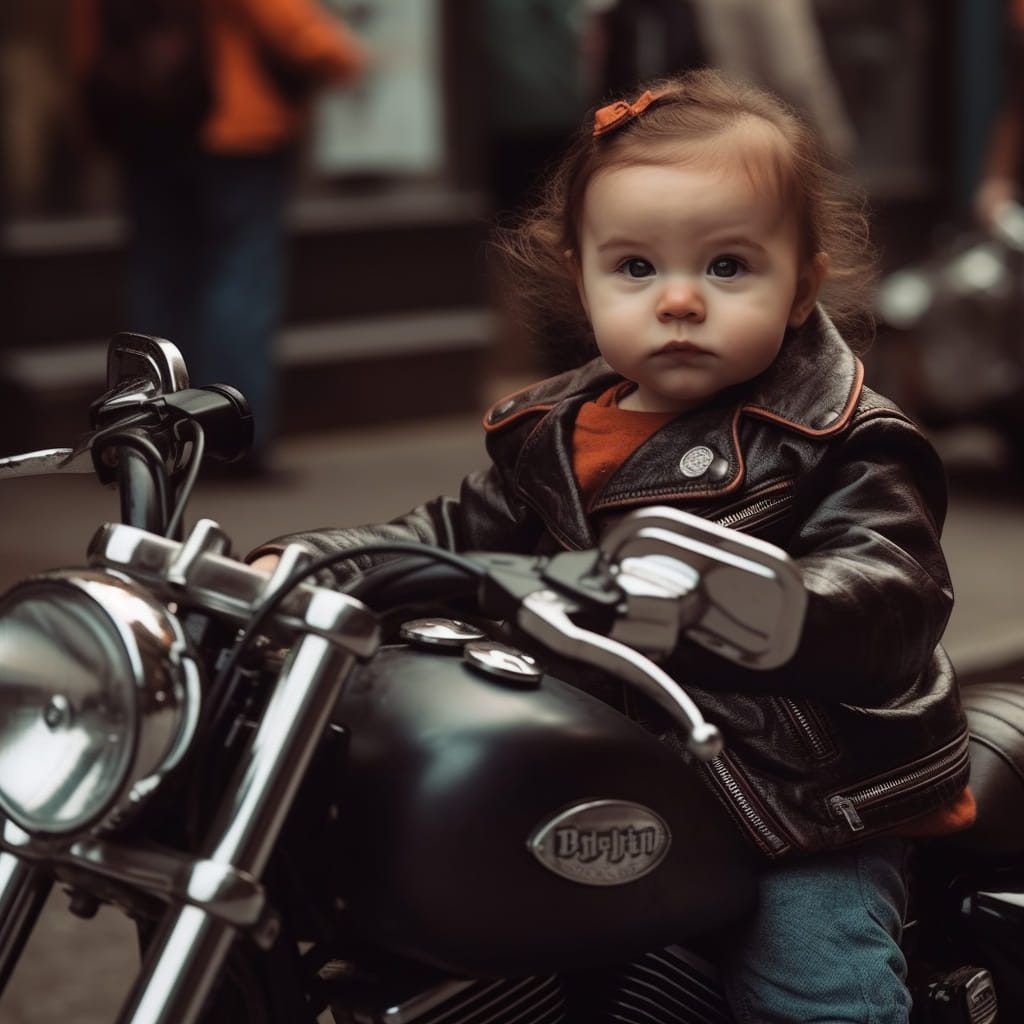 Bikers have been an iconic part of culture ever since Marlon Brando made them popular in the 1950s. It's no wonder that this artist has chosen to incorporate them into their artworks. We absolutely love how they've captured the essence of biker coolness.
Fighter Pilot
This young guy appears a little apprehensive and not entirely convinced about the idea at hand. Nevertheless, he manages to look incredibly cool and cute while doing it. He captures our hearts with that typical bewildered baby look, and we think it's adorable and great!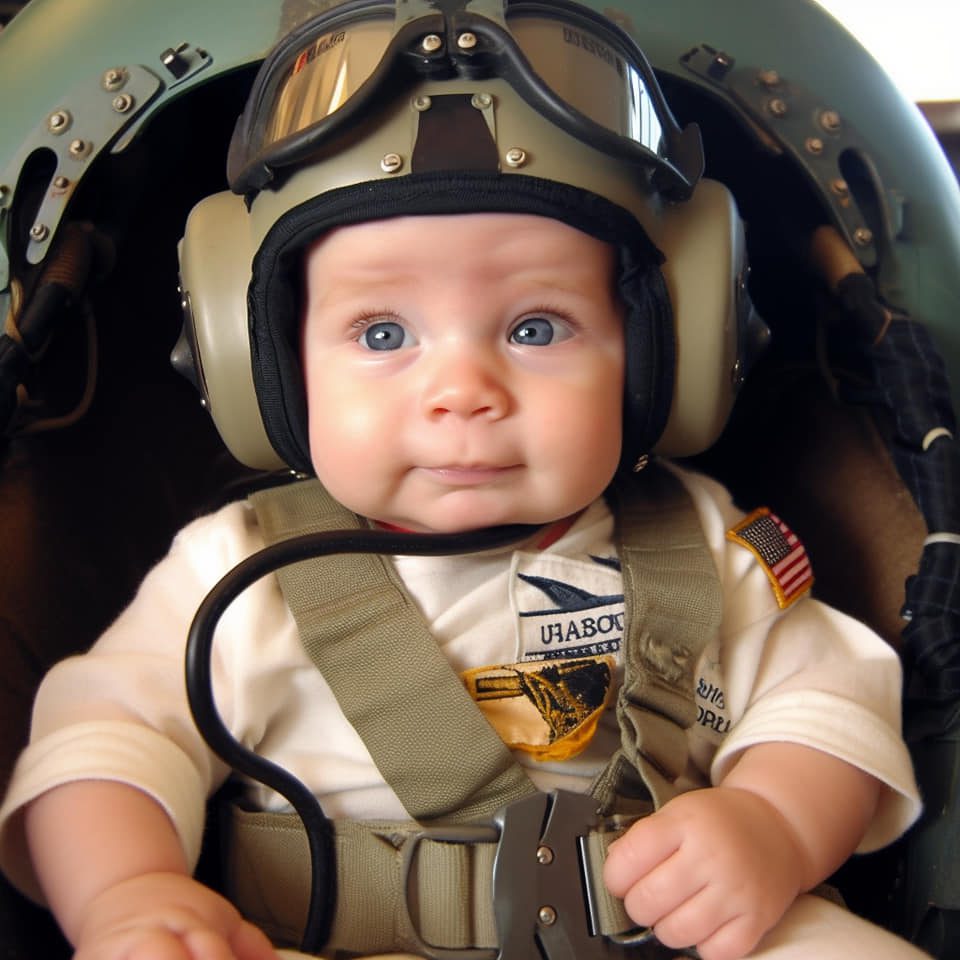 We adore the little flight suit he's wearing! One of the joys of these images is seeing the babies donning tiny versions of adult uniforms. There's something undeniably hilarious about witnessing them transformed into the tiniest versions of their grown-up counterparts.
Microlight duo
This terrific twosome seems to be having an absolute blast up in the boundless big blue sky. Microlighting is a popular and thrilling pastime, and these two are truly living the adventure of a lifetime, soaring high above. It's cuteness overload at its finest!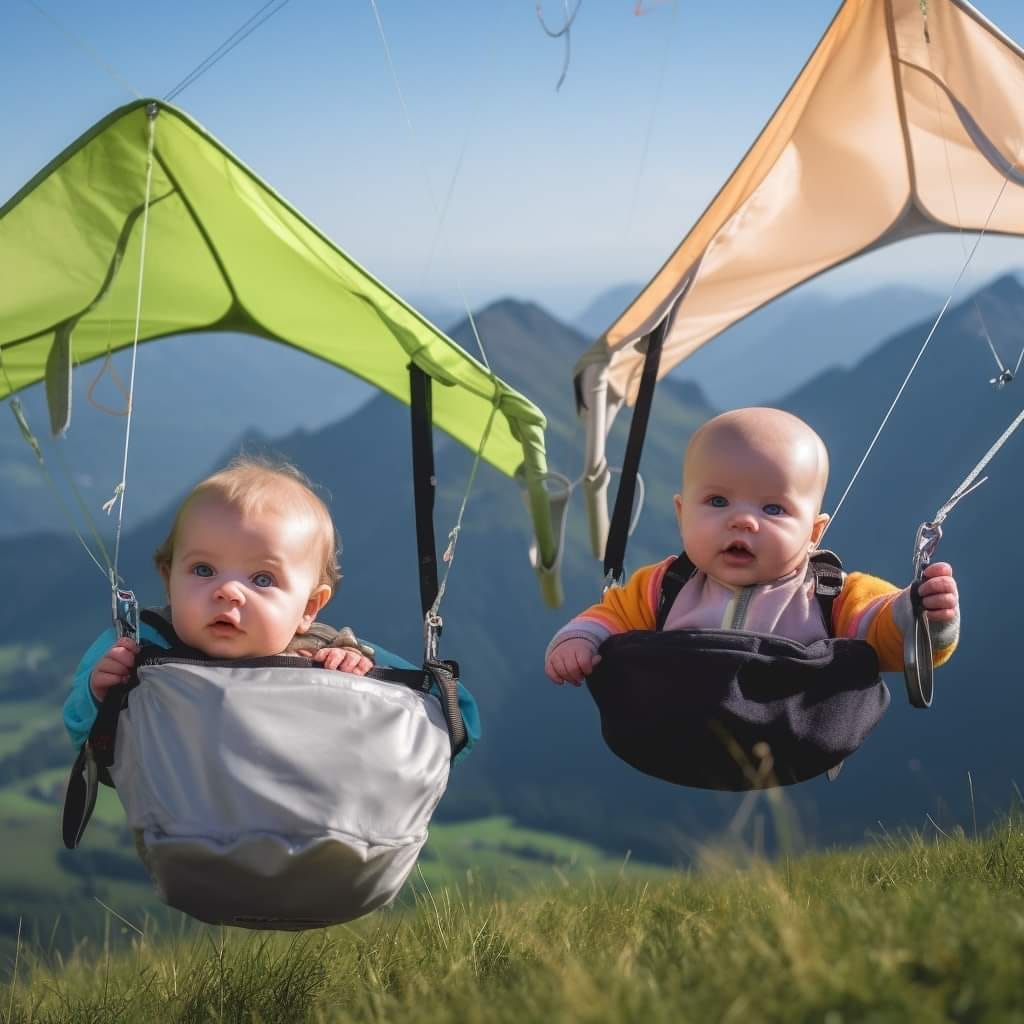 They are sailing along, embracing the freedom of the open sky without a specific destination in mind, and it looks like a delightful way of living life. Simply seeing where the breeze takes them—how serene and carefree! Have fun guys!
Microlight baby
This kid is absolutely having a blast up in the sky! Just look at that giggling face, radiating sheer unbridled joy. The mountain scene in the background looks spectacular from up high, adding to the moment's magic. A fantastic composition.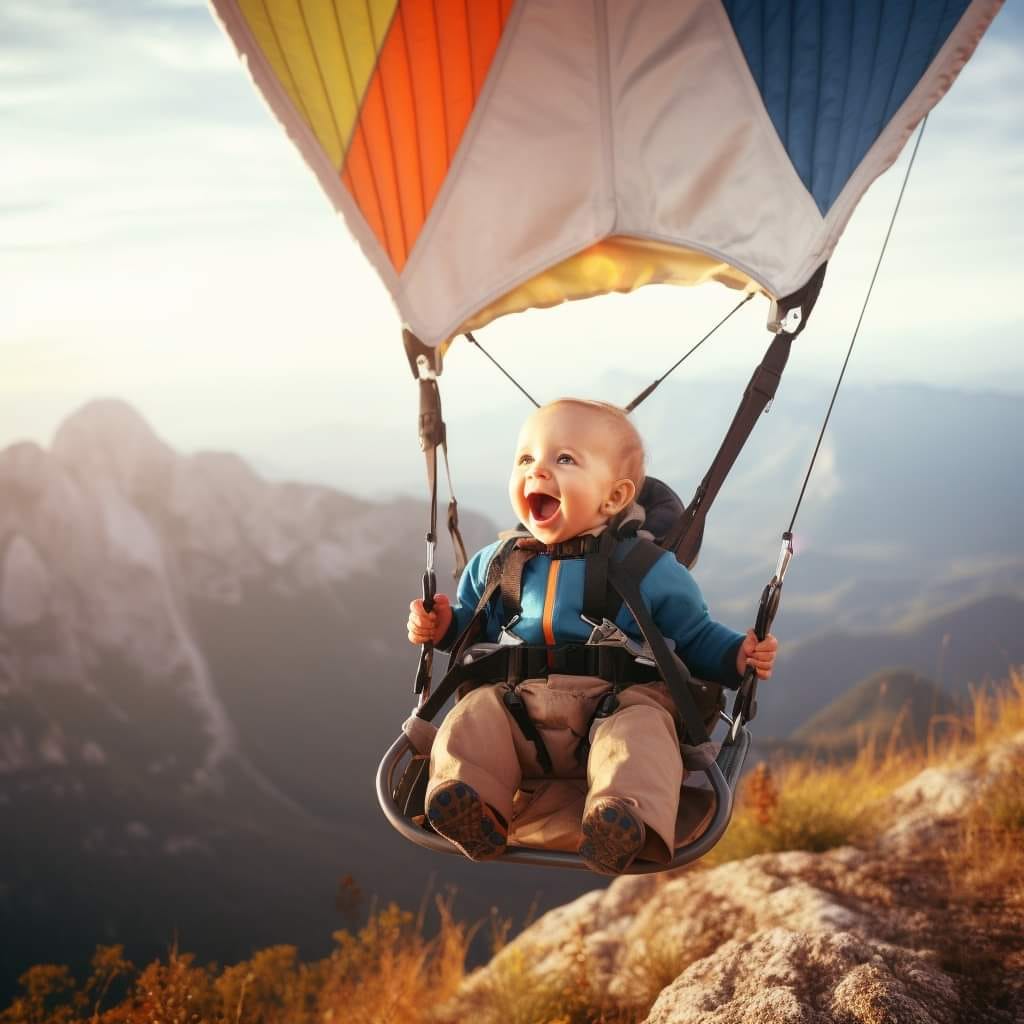 Fun, adventure, and a whole lot of giggles—sounds like a perfect lifestyle to us! Of course, in real life, this kind of situation might raise some safety concerns, but this wonderful AI art piece's all about brilliant fun and excitement.
Space baby #2
This image is undeniably one of the artist's most atmospheric creations, and rightfully so, as space is one of the most mysterious and captivating realms for the imagination to delve into. The artwork beautifully captures that sense of wonder and awe that accompanies the exploration of the cosmos.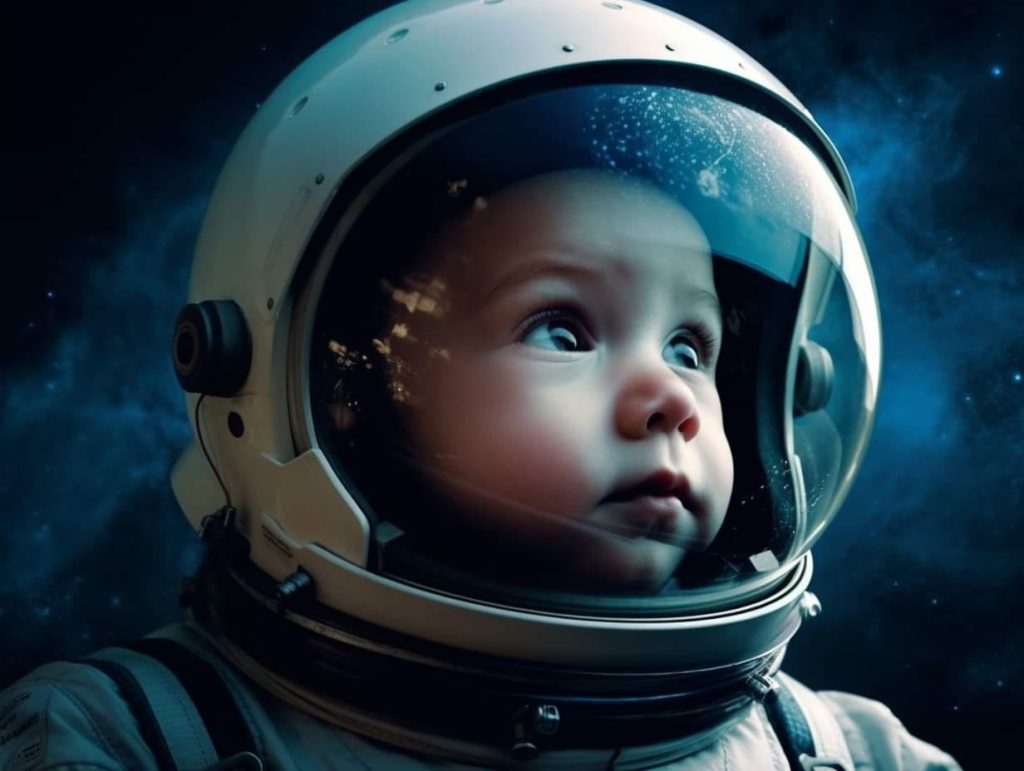 In an unusual twist, the frame is solely occupied by the baby and the goldfish bowl of his space suit helmet. Surrounded by the vast unknown expanse of space, this unique composition enhances the overall effect of the artwork. It beautifully emphasizes the sense of solitude and curiosity that comes with exploring the great unknown.
Underwater baby
"He's behind you!" This underwater baby seems to be in for a nail-biting surprise as that shark closes in. The sense of jeopardy in this image adds an exciting twist to the cute aesthetic that the artist masterfully works with. It's a perfect blend of adorable and thrilling!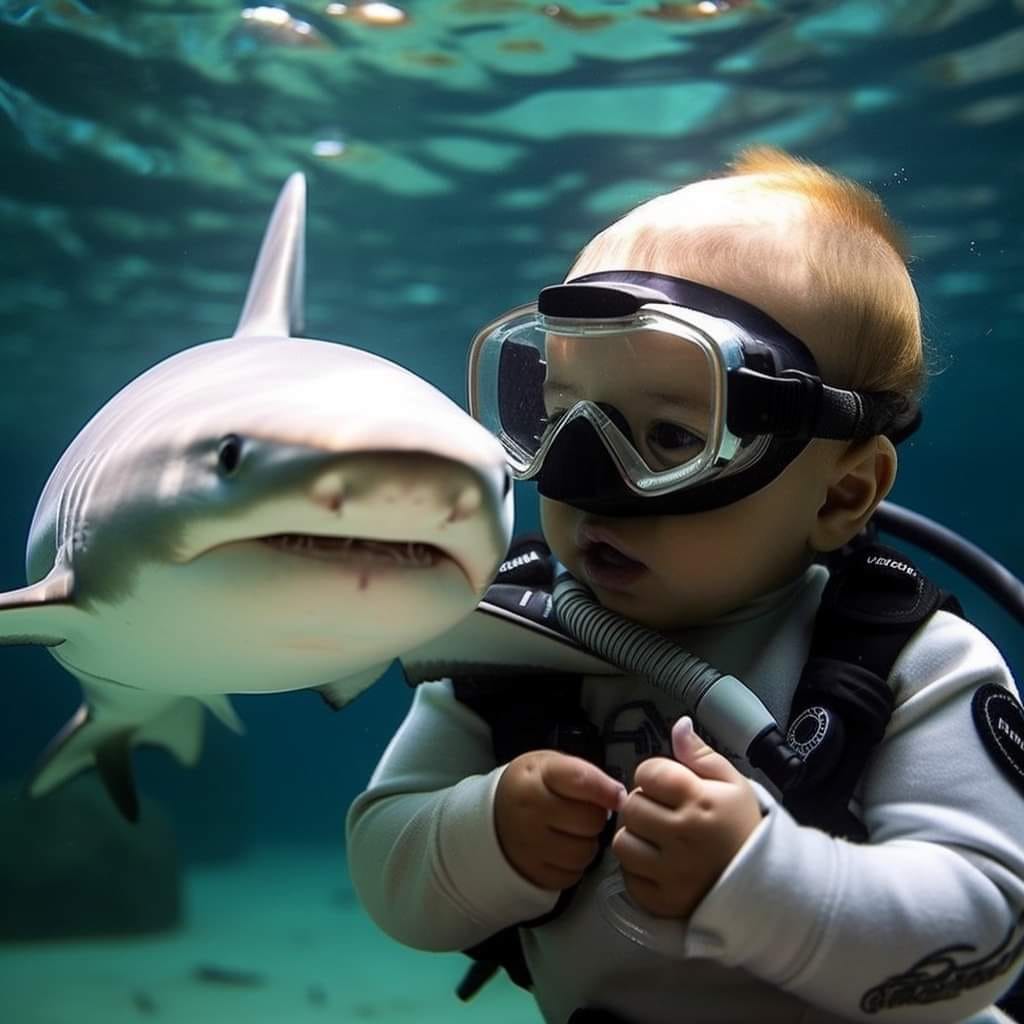 We have a hunch that once the shark actually meets the baby, it'll be utterly smitten with the adorable little fella, and they'll quickly become firm friends. The look of innocent unawareness on the baby's face is absolutely endearing—it's pure cuteness at its finest!
Underwater baby #2
This little AI-generated swimming baby appears to be perfectly at home under the sea, carefree and full of wonder. It's a wondrous depiction of life beneath the waves, with so much to see and explore. The baby's joy and comfort in this underwater world are truly delightful!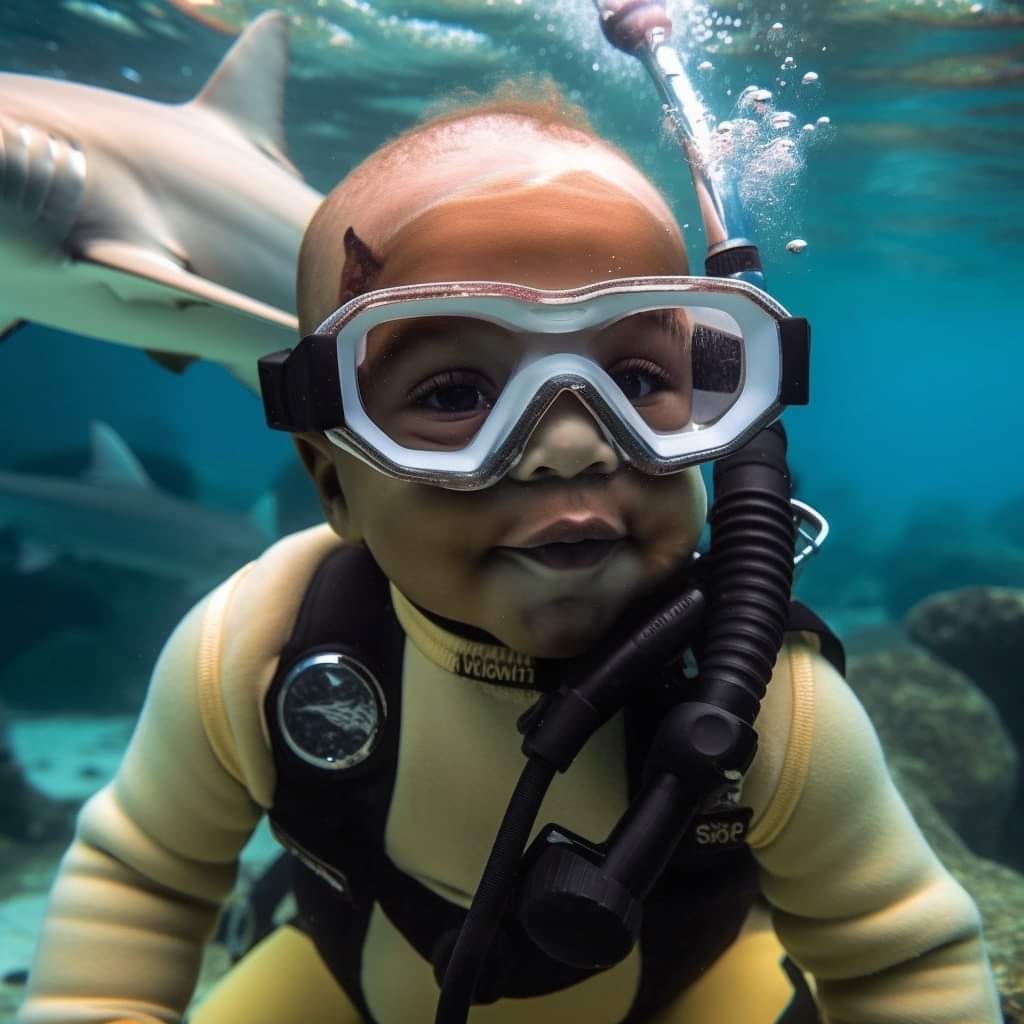 This image captures the wonder of seeing the world through a baby's eyes. Everything appears fascinating and enchanting, and we simply accept it as so without the need to ponder too deeply about the whys and wherefores. It's a reminder of the pure and unfiltered joy that comes with viewing the world through a child's eyes!
Rock climbing baby #4
We adore the determination on this little bubba's face as he courageously pulls himself up the mountainside. His adorable orange suit and hood add an extra dose of cuteness to the scene. It's a very atmospheric image and perfectly illustrates the artist's talent.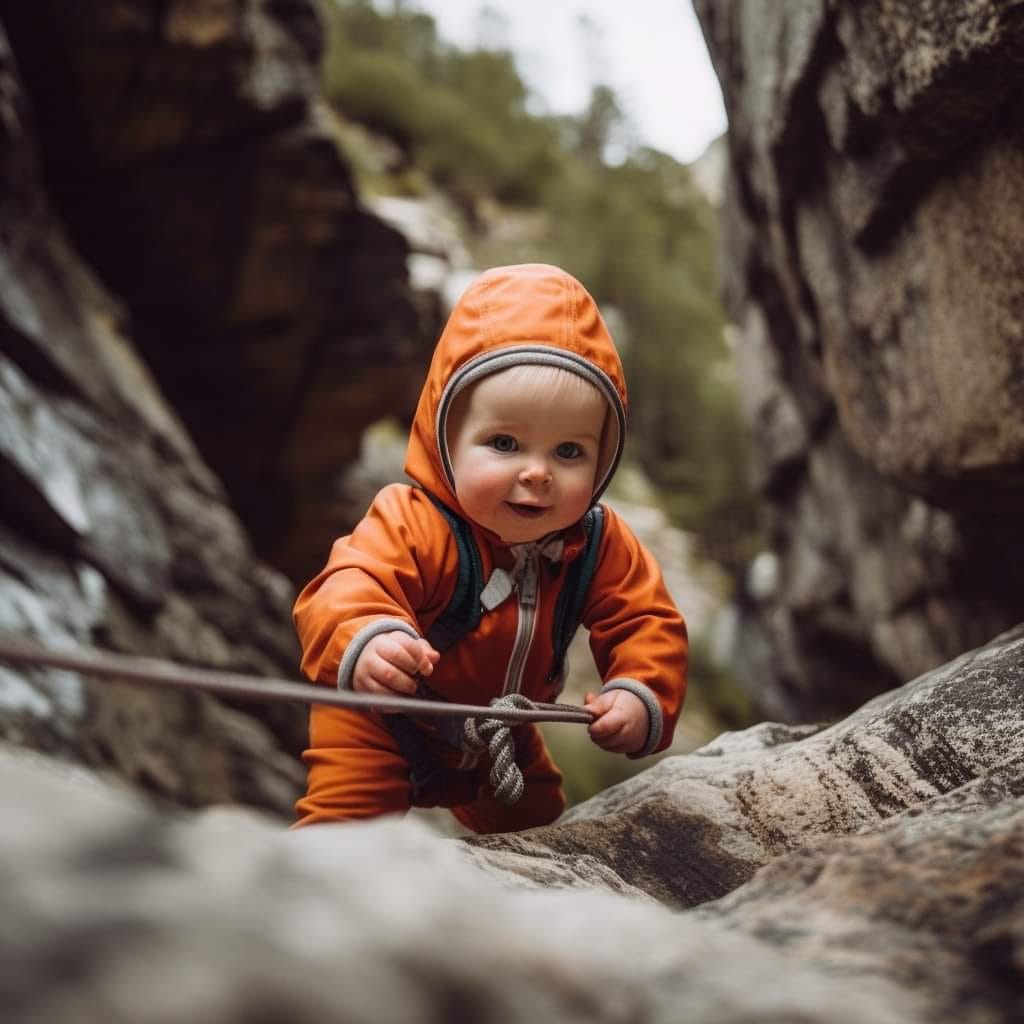 Rock climbing is one of the most challenging and physically demanding sports, but this little kid is making it look like a piece of cake. We can't help but be amazed by the immense feat he's undertaking with such confidence and skill. It's a jaw-dropping display of determination and talent that leaves us in awe!
Ice hockey baby #2
This little dude appears to be grabbing a quick breather before the game continues. Ice hockey is a fast-paced and highly energetic sport, so it's no surprise that he takes a moment to catch his breath whenever he gets the chance. It's a well-deserved rest for this young ice hockey star!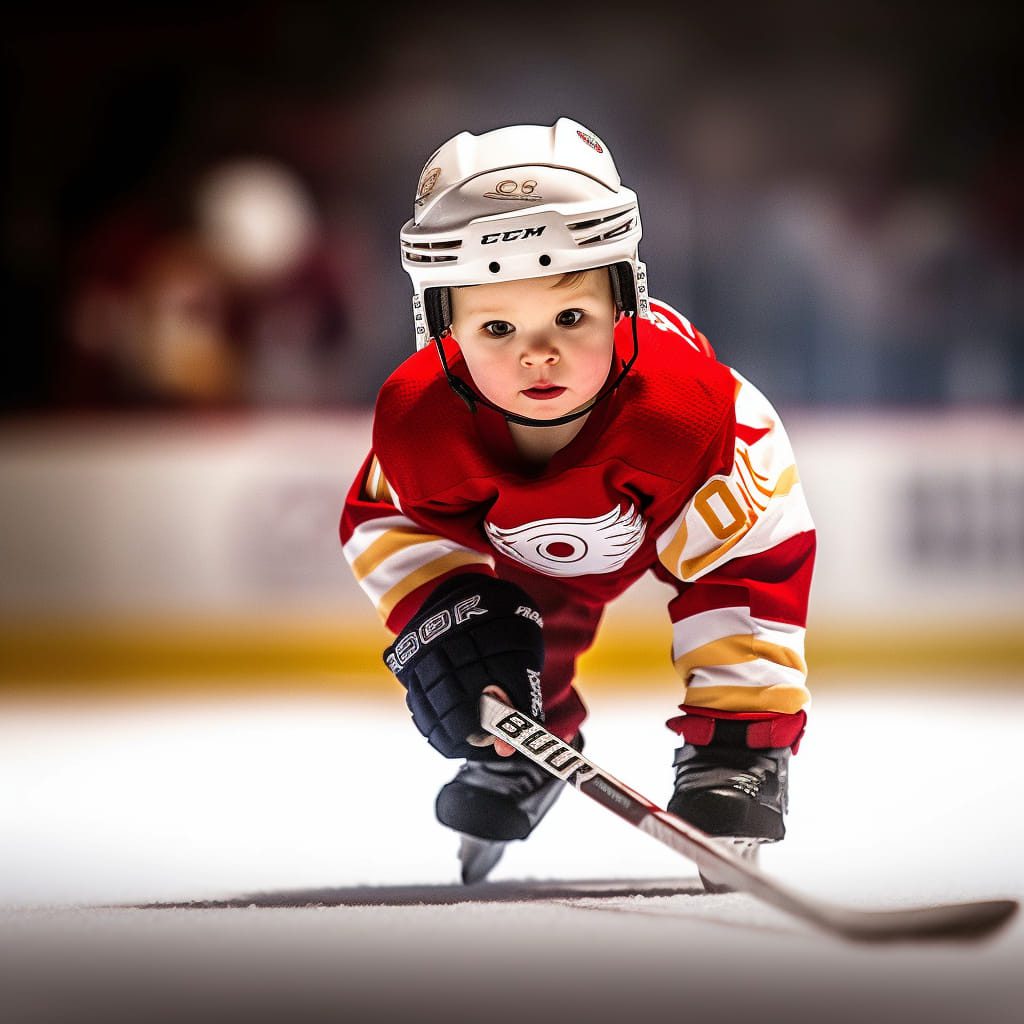 We're certain he'll be back in the game in no time because his team is counting on him! Staying upright on the ice is no easy task; we can only applaud his skills and determination. He's a little ice hockey superstar, and we're cheering him on!
Ice hockey trio
These three tough guys exude a mighty presence, ready to take on any team before they head off for their well-deserved nap naps. But underneath that tough exterior, they seem to prefer hanging out and having snuggles. They're just so irresistibly cute, showcasing the perfect blend of strength and sweetness!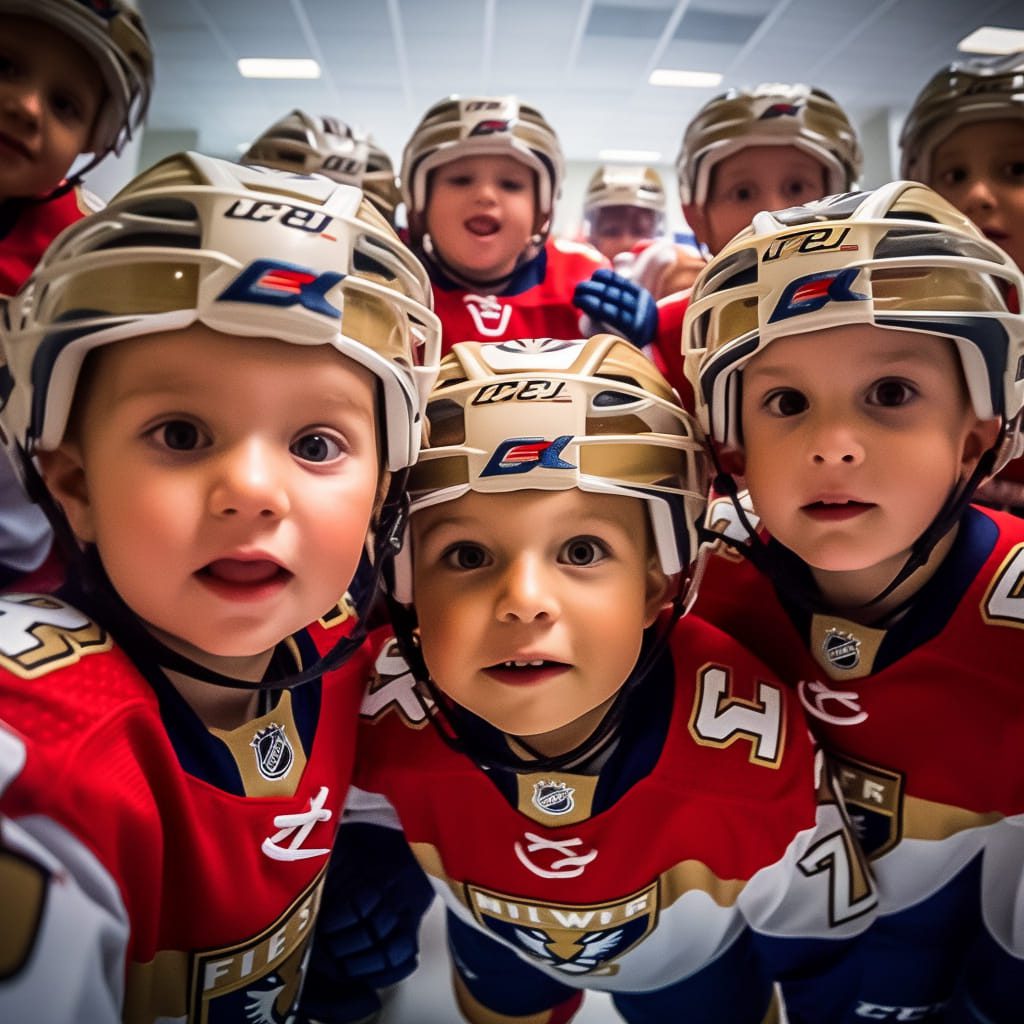 We absolutely adore the way the whole team is captured in the background of this picture. It feels like the perfect team selfie taken in the changing room after their triumphant victory in the cup final. The artist has once again done an incredible job.
Three babies and a helicopter
We're happy to see these cool dudes all bundled up snug and warm for this picture, as it certainly looks freezing at the top of that mountain! Their beaming smiles suggest they are delighted with their accomplishment, and they appear to make an outstanding team.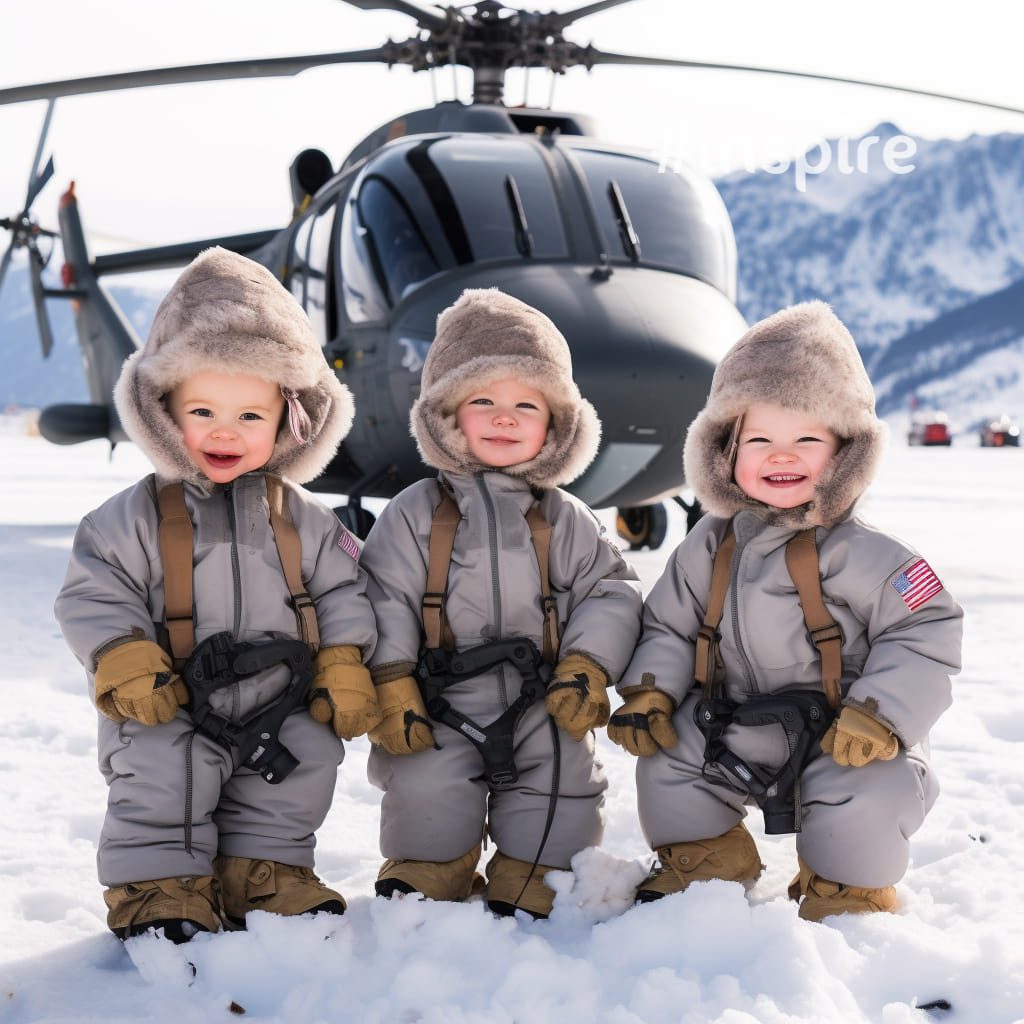 Embarking on adventures with friends is one of life's greatest pleasures, and it's no wonder they are beaming with joy together at the mountain's snowy peak. The helicopter they arrived in might be a tricky machine to fly, but their successful journey makes it all the more worth celebrating!
Rock climbing baby #5
This mountain presents a formidable and challenging climb, with the weather conditions less than ideal for mountaineering. However, this little dude is showcasing his remarkable perseverance and unwavering determination. Thankfully, his coat and hood seem pretty substantial, keeping him well-equipped to face the elements with courage and resilience!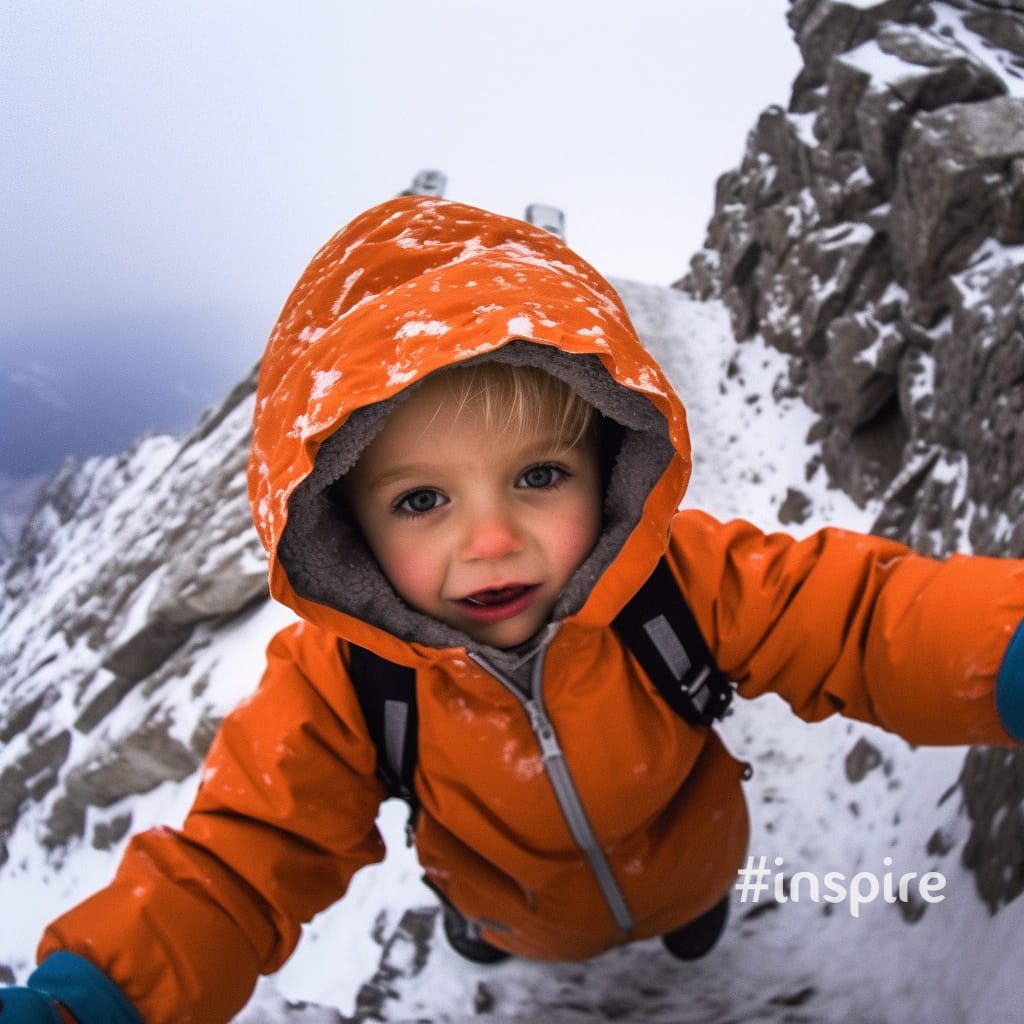 Among epic thrill-seeking adventures, climbing up a mountain as imposing as this ranks right up there as one of the most challenging and demanding activities. The freezing cold conditions at the summit don't deter this determined kid, who keeps pushing forward with incredible tenacity and spirit.
Surfing
This image is brilliant! Right in the middle of the wave and still standing tall. Even more impressive is the fact that he's got a beaming smile on his face as he rides along! Surfing is no easy feat to master, but he's doing exceptionally well, embracing the waves with joy and skill!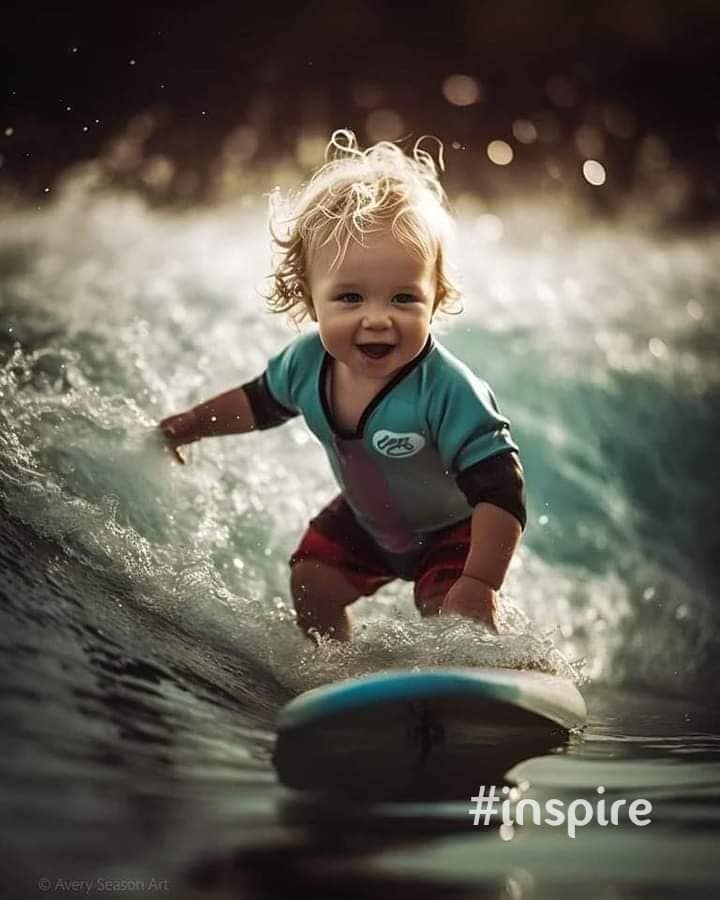 This action shot is truly fantastic, capturing the essence of exhilaration perfectly. The foaming white water adds to the sense of thrill and excitement encapsulated in this image. It's easily one of our favorite pieces among all these AI-generated images.
Parachute baby
This cool little kid seems to be a little bit confused by the big parachute that is strapped to his back. He looks really cute in his little suit though and we can't help but smile at the look of bewilderment on his face.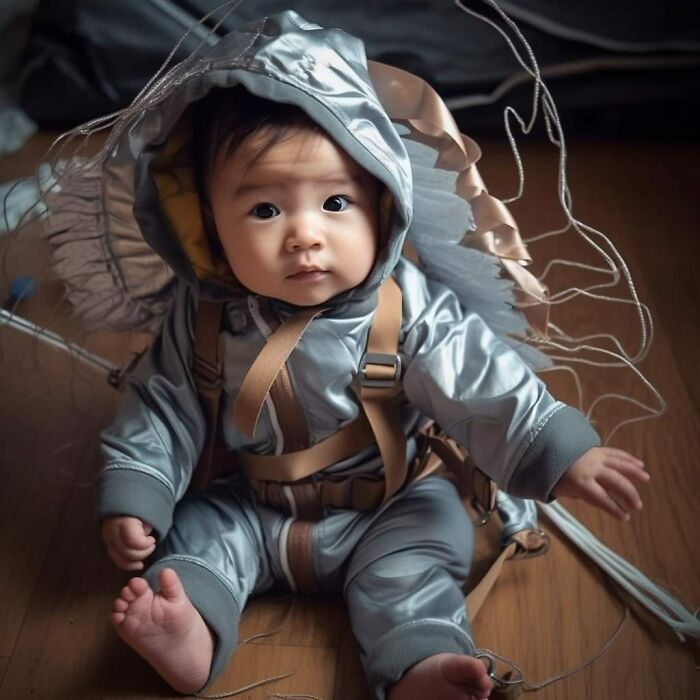 The great thing about using these AI generated babies as the subjects for this type of work is that they are naturally cute, adorable and funny. They are the perfect characters to transpose onto a range of different scenarios.
Hiking baby
This looks like quite the adventure and he looks like he's enjoying hiking along the trail. This fabulous action shot is a great example of the artist incorporating beautiful landscapes into his work. It looks like a great bit of woodland to explore!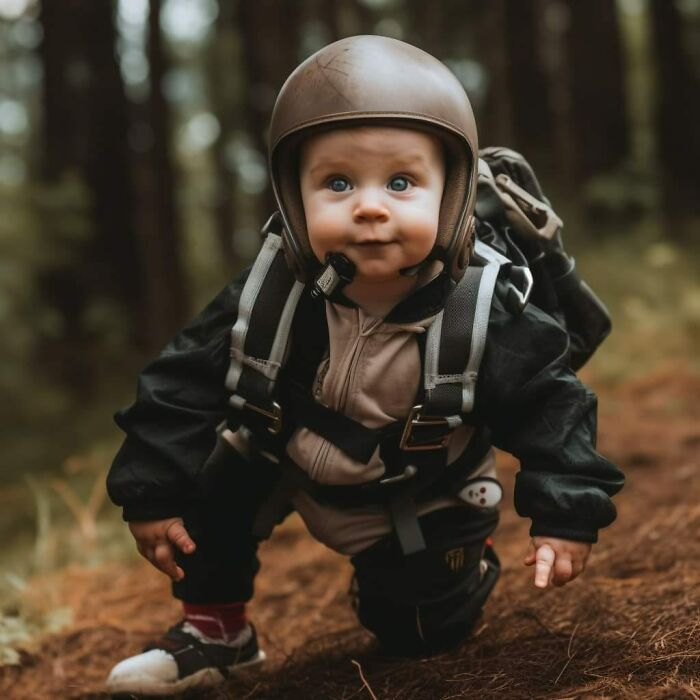 This artist is so good at imagining different situations for the babies to be thrown into and he is skillful and talented enough to turn his imagination into a work of art. We just can't help but laugh along at the adventures of these guys.
Skydiving baby
This little girl doesn't look thrilled to find herself way on up high preparing to jump out of an airplane and who can blame her?! Most of the kids we've seen in these images look perfectly happy to be adventuring, not this one!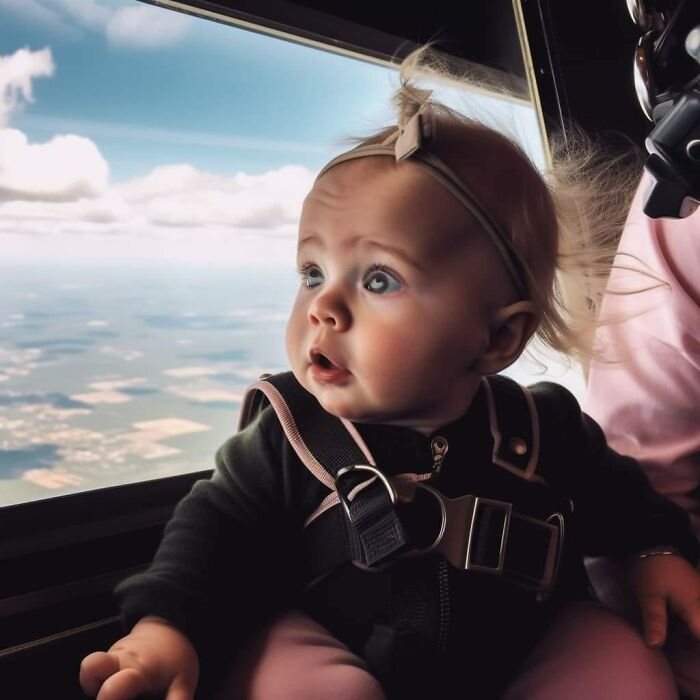 We believe that once she ventures out into freefall, the rush of adrenaline will take over, and she'll be able to laugh, smile, and savor the wild thrill of skydiving. It's a masterpiece that truly captures the joy and excitement of adventure in the skies!
Skydiving baby #2
This adventurous baby is absolutely loving the adrenaline rush of skydiving. You can almost hear the sounds of his chuckles and giggles as he tumbles through the sky. His whole face lights up with laughter, and it's an absolute delight to witness.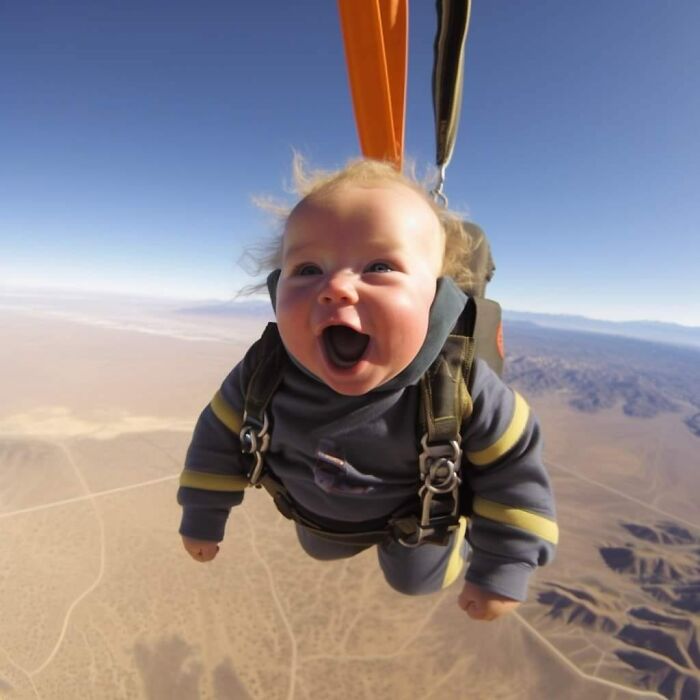 There is an inherent heartwarming charm in watching a baby laugh and smile, and the artist's exceptional skill shines through as they capture that delightful feeling throughout their body of work. Each piece exudes a genuine sense of joy and happiness, making the AI artworks captivating and touching to behold!
Skydiving baby #3
The cool thing about this image is the perception of depth that is given by the clouds in the background of the frame. The composition of this image is really well thought out and put together. The baby is as cute as ever too!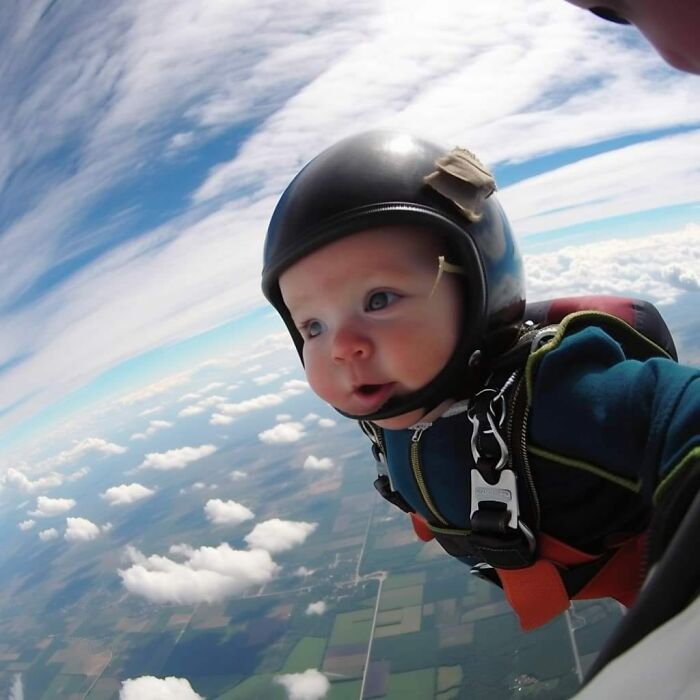 Undoubtedly, the star of the picture is the skydiving baby himself, and the priceless and adorable look on his face as he soars through the clouds steals the show. These pictures are simply too cute to resist, and we find ourselves utterly captivated by the sheer charm and wonder captured in each one.
Skydiving baby #4
This image is all about the anticipation, the baby is preparing to chuck himself out of the plane and the excitement is almost palpable. The expression on his face is one of sheer joy and he looks like he can't wait to jump!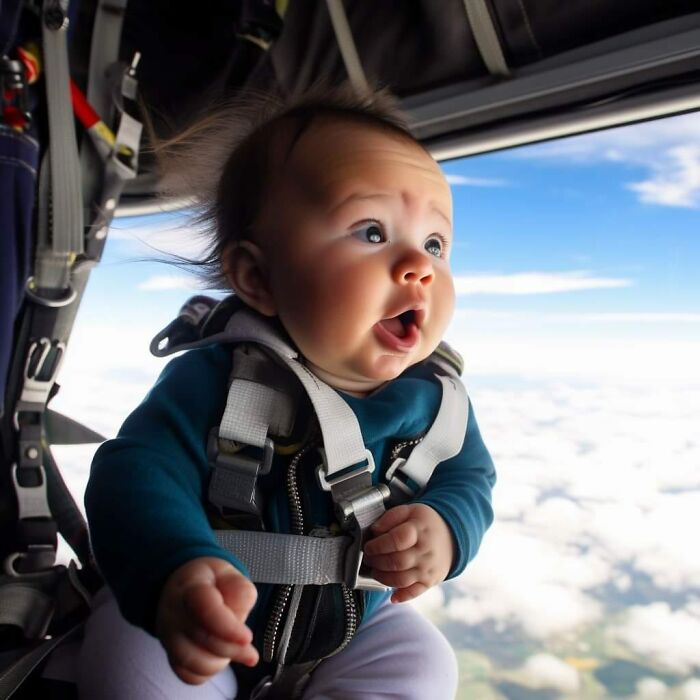 Indeed, sometimes the anticipation of an event can be just as thrilling as the experience itself. As we look at this skydiving baby, we can only imagine how fast his little heart must be beating with excitement. We hope he enjoys his flight!